Synthesis and evaluation of some novel 3-hetarylindole derivatives as antimicrobial and antioxidant agents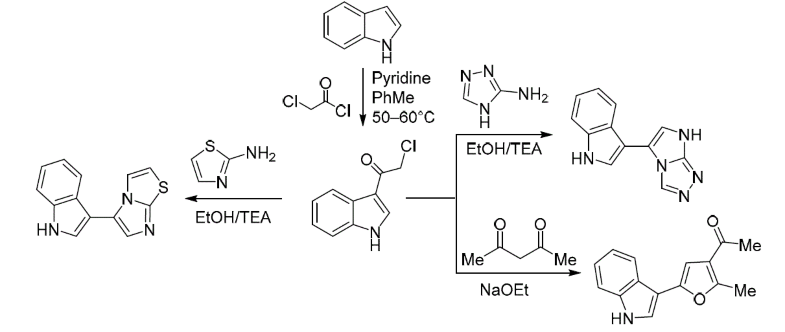 In a continuation of our program to develop a new class of antimicrobial and antioxidant agents, 13 novel 3-substituted indole derivatives incorporating biologically active heterocycles were synthesized and evaluated for their in vitro antimicrobial activity. Among the synthesized compounds, 3-(7H-imidazo[2,1-c][1,2,4]triazol-5-yl)-1H-indole showed activity against E. faecalis equal to that of ampicillin and 50% higher activity than ampicillin against S. aureus and B. subtilis. Also, 3-(7H-imidazo[2,1-c][1,2,4]triazol-5-yl)-1H-indole was found to exhibit strong in vitro antifungal activity against Candida albicans, Aspergillus niger, and Penicillium sp. The antioxidant activity of the obtained indole derivatives was also studied using 2,2'-diphenyl-1-picrylhydrazyl and 2,2'-azino-bis-(3-ethylbenzothiazoline-6-sulfonic acid).
Keywords
benzochromenes 
benzofurans 
furans 
indole derivatives 
antimicrobial activity 
antioxidant activity 
Notes
All of the tested microorganisms were selected based on their clinical and pharmacological importance and were kindly provided by Dr. Metwally, Prof. of Microbiology, Botany Department, Tanta University, Egypt.
Copyright information
© Springer Science+Business Media, LLC, part of Springer Nature 2018