Nickel-catalyzed multicomponent heterocyclization of 2,4-pentanedione to sulfanylmethyl-1H-pyrazoles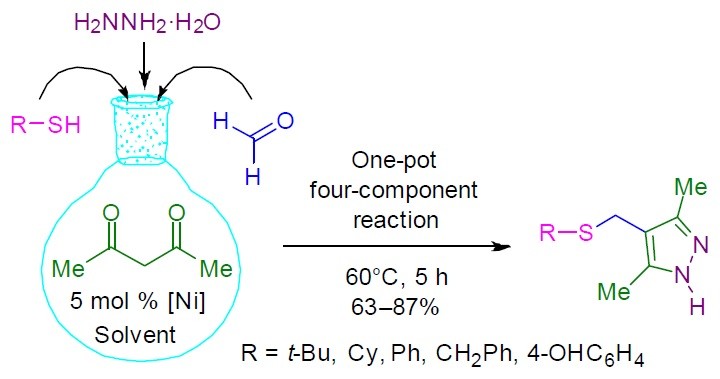 A one-pot synthesis of new sulfanylmethyl-substituted 3,5-dimethyl-1H-pyrazoles with fungicidal activity was based on a nickelcatalyzed four-component condensation of 2,4-pentanedione with formaldehyde, thiols, and hydrazine hydrate.
Keywords
hydrazine hydrate 
2,4-pentanedione 
sulfanylmethyl-substituted pyrazoles 
thiols 
catalysis 
fungicidal activity 
multicomponent reactions 
Notes
This work received financial support from the Russian Foundation for Basic Research and the Academy of Sciences of the Republic of Bashkortostan (project 17-43-020292 r_a), the Grants Council of the President of Russian Federation (grant NSh-5240.2018.3) and within the framework of the Project part of the State Assignment АААА-А17-117012610060-7.
Structural characterization of the obtained compounds was performed on the equipment at the Regional Collective Use Center "Agidel".
Copyright information
© Springer Science+Business Media, LLC, part of Springer Nature 2018