Metal-catalyzed synthesis of cyclic imines: a versatile scaffold in organic synthesis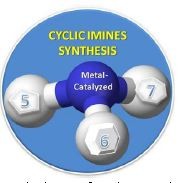 This review decisively focuses on the metal-catalyzed techniques for the synthesis of various five-, six-, and seven-membered cyclic imines. It provides a critical analysis of the catalytic aptitudes of transition metal catalysts in the synthesis of cyclic imines. Enhancement of the existing methodologies in terms of broadened scope, environmentally benign methods, new techniques, and entirely novel catalytic methods is emphasized. The review covers the original literature from 2002 to 2017.
Keywords
cyclic imines 
marine toxins 
metal-catalyzed synthesis 
pharmaceutical industry 
versatile scaffolds 
Notes
This work was financially supported by the Science and Engineering Research Board of the Government of India (grant SER-892-CMD).
Copyright information
© Springer Science+Business Media, LLC, part of Springer Nature 2018