Reactions of pyridin-2-ol, pyridin-3-ol, and pyridin-4-ol with pentafluoro- and pentachloropyridine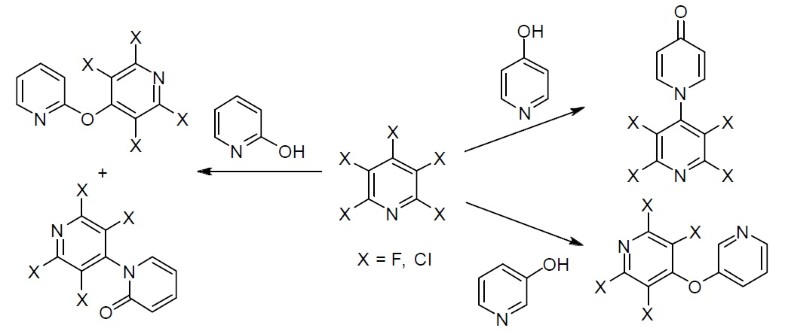 Reactions of pentafluoro- and pentachloropyridines with pyridin-2-ol, pyridin-3-ol, and pyridin-4-ol are reported. Pyridin-4-ol yields product of attack at the nitrogen atom, while pyridin-3-ol reacts at the oxygen atom. Pyridin-2-ol reacts as an ambident nucleophile, providing a mixture of products arising from attack at both the oxygen and the nitrogen atoms. The structures of compounds were confirmed by IR spectroscopy, 1H, 13C, and 19F NMR spectroscopy, as well as elemental analysis and X-ray crystallography.
Keywords
pentachloropyridine 
pentafluoropyridine 
pyridinol 
aromatic nucleophilic substitution 
chemoselectivity 
synthesis 
Notes
The authors wish to thank Vali-e-Asr University of Rafsanjan for partially funding this work.
Copyright information
© Springer Science+Business Media, LLC, part of Springer Nature 2018