Unusual route of hydrogenation of diethyl (4R)-[(4-hydroxy-4,5-dihydrofuran-2-yl)methyl]-phosphonate
It has previously been shown that diethyl (4R)-(4,5-dihydroxypenta-1,2-dienyl)phosphonate (1) undergoes an intramolecular cyclization involving the central carbon atom of the cumulene system and the terminal hydroxyl group under basic catalytic conditions to form diethyl (4R)-[(4-hydroxy-4,5-dihydrofuran-2-yl)methyl]phosphonate (2) [1]. Phosphonate 2 is a highly reactive compound and is of interest as a structural unit for creating biologically active phosphonates.
Continuing a study related to the synthesis and chemical properties of phosphorylated heterocycles we have hydrogenated compound
2
with the aim of synthesizing the tetrahydrofuran derivative. However, it was found that hydrogenation caused opening of the 2,3-dihydrofuran ring. Using column chromatography we were able to isolate the main reaction product as the diethyl (5-hydroxy-2-oxopentyl)phosphonate (
3
).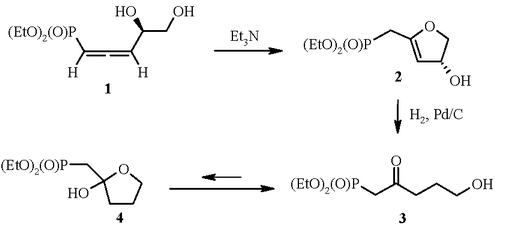 Keywords
dihydrofuran 
phosphoorganic compounds 
hydrogenation 
tautomerism 
Copyright information
© Springer Science+Business Media, Inc. 2012