Synthesis of 7,9,10,11-tetrahydro-8H-chromeno[3,2-h]quinolin-8-ones
Condensed pyrano[3,2-h]quinolines possess a broad spectrum of pharmacological action. Amongst them there are found compounds which are efficient for treatment of the immune system diseases [1,2] and which possess anticancer [3] and antiallergy activity [4].
We have shown that the reaction of the Mannich base
1
with the enamines
2a,b
in refluxing DMF gives the 7,9,10,11-tetrahydro-8
H
-chromeno[3,2-
h
]quinolin-8-ones
3a,b
.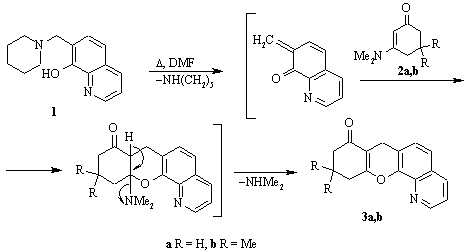 Keywords
enamines 
o-quinone methides 
7,9,10,11-tetrahydro-8H-chromeno[3,2-h]quinolin-8-ones 
Mannich bases 
Copyright information
© Springer Science+Business Media, Inc. 2012