Abstract
Lake Ziway, the only freshwater lake in Ethiopia's Central Rift Valley basin, has been the source for irrigation, floriculture, fish farming and domestic water supply in the region for the last few decades. This study examined the impacts of the planned future agricultural developments and climate change on the lake water balance by an integrated application of the Soil Water Assessment Tool and Water Evaluation and Planning models. The future projections of precipitation and temperature from the Coordinated Regional Downscaling Experiment, CORDEX-AFRICA, under the Representative Concentration Pathways 4.5 and 8.5 were used for the climate change impact assessment. Nine irrigation development and climate change scenarios were developed and simulated to examine the separate and combined impacts on the lake water balance and supply coverages. The study showed that the planned future agricultural developments could result in a mean annual lake water level decline by about 0.15 m, with a considerable reduction (27% to 32%) in the outflow to the downstream Bulbula River. Climate change could increase evaporation losses from the shallow lake resulting in a drastic decrease in the lake water level, especially during the dry season. It could also significantly reduce (by about 74%) the amount of water flowing out of the lake. The combined impacts of future development and climate change are likely to reduce the supply coverages of most of the competing demands. Approaches need to be studied to minimize the lake water evaporation losses and explore water demand/supply management options.
This is a preview of subscription content,
to check access.
Access this article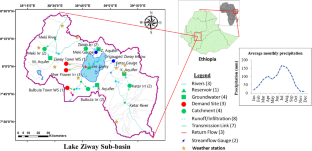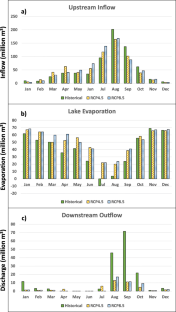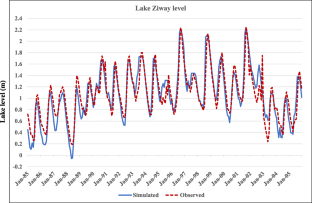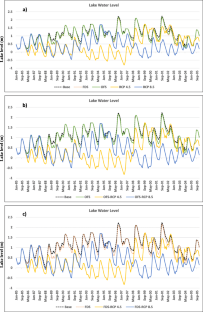 Similar content being viewed by others
References
Abraham L.Z., Roehrig J., Chekol D.A. (2006) Climate change impact on Lake Ziway watershed water availability, Ethiopia. unpublished MSc thesis, Institute for Technology in the Tropics, University of Applied Science, Cologne

Arnold JG, Srinivasan R, Muttiah RS, Williams JR (1998) Large area hydrologic modeling and assessment part I: model development. JAWRA J Am Water Resour Assoc 34:73–89

Ayenew T (2004) Environmental implications of changes in the levels of lakes in the Ethiopian Rift since 1970. Reg Environ Chang 4:192–204

Bouchez C, Goncalves J, Deschamps P, Vallet-Coulomb C, Hamelin B, Doumnang J-C, Sylvestre F (2015) Hydrological, chemical and isotopic budgets of Lake Chad: a quantitative assessment of evaporation, transpiration and infiltration fluxes. Hydrol Earth Syst Sci Discuss 12

Desta H, Fetene A (2020) Land-use and land-cover change in Lake Ziway watershed of the Ethiopian Central Rift Valley Region and its environmental impacts. Land Use Policy 96:104682

Desta H, Lemma B (2017) SWAT based hydrological assessment and characterization of Lake Ziway sub-watersheds, Ethiopia. J Hydrol 13:122–137

Desta H, Lemma B, Gebremariam E (2017) Identifying sustainability challenges on land and water uses: the case of Lake Ziway watershed, Ethiopia. Appl Geogr 88:130–143

Desta H, Lemma B, Stellmacher T, Gebremariam E (2019) Water use and management of Lake Ziway and its watershed, Ethiopia: the perception of experts vis-à-vis the latest state of research. Environ Dev Sustain 22:1–20

Gadissa T, Nyadawa M, Mutua B, Behulu F (2019) Comparative assessment of the effect of climate change and human activities on streamflow regimes in Central Rift Valley Basin, Ethiopia. Am J Water Resour 7:23–29

Getnet M, Hengsdijk H, van Ittersum M (2014) Disentangling the impacts of climate change, land use change and irrigation on the Central Rift Valley water system of Ethiopia. Agric Water Manag 137:104–115. https://doi.org/10.1016/j.agwat.2014.02.014

GOSHIME DW, ABSI R, LEDÉSERT B, DUFOUR F, HAILE AT (2019) Impact of water abstraction on the water level of Lake Ziway, Ethiopia. WIT Trans Ecol Environ 239:67–78

Haile AK, Seid E (2020) The psycho-social context of Lake Ziway/Dembel: Oromia Regional state, Ethiopia. Int J Sociol Anthropol 12:18–28

Halcrow G. (2010) Rift Valley Lakes Basin Integrated Resources Development Master Plan Study Project. Draft Phase 2

Hassan AA, Jin S (2014) Lake level change and total water discharge in East Africa Rift Valley from satellite-based observations. Glob Planet Chang 117:79–90

Hengsdijk H, Jansen H (2006a) Agricultural development in the Central Ethiopian Rift valley: a desk-study on water-related issues and knowledge to support a policy dialogue. Plant Res Int BV, Wageningen 22:28–36

Hengsdijk H., Jansen H. (2006b) Ecosystems for water, food and economic development in the Ethiopian central rift valley (B0-10-006-22): report of inspection mission to Ethiopia and workplan 2006, 27 May-15 June 2006, Plant Research International.

Jansen H., Hengsdijk H., Legesse D., Ayenew T., Hellegers P., Spliethoff P. (2007) Land and water resources assessment in the Ethiopian Central Rift Valley: Project: Ecosystems for water, food and economic development in the Ethiopian Central Rift Valley, Alterra

Kebede S, Travi Y, Alemayehu T, Marc V (2006) Water balance of Lake Tana and its sensitivity to fluctuations in rainfall, Blue Nile basin, Ethiopia. J Hydrol 316:233–247

Legesse D, Ayenew T (2006) Effect of improper water and land resource utilization on the Central Main Ethiopian Rift lakes. Quat Int 148:8–18

Legesse D, Vallet-Coulomb C, Gasse F (2004) Analysis of the hydrological response of a tropical terminal lake, Lake Abiyata (Main Ethiopian Rift Valley) to changes in climate and human activities. Hydrol Process 18:487–504

Lemi T (2019) Threats and opportunities of Central Ethiopia Rift Valley Lakes. Int J Environ Sci Nat Resour 22:52–62

Makin M.J., TJ K., AE W. (1976) Prospects for irrigation development around Lake Zwai, Ethiopia

Mbanguka RP, Lyon SW, Holmgren K, Girons LM, Jarsjö J (2016) Water balance and level change of Lake Babati, Tanzania: sensitivity to hydroclimatic forcings. Water 8:572

Mersha AN, Masih I, De Fraiture C, Wenninger J, Alamirew T (2018) Evaluating the impacts of IWRM policy actions on demand satisfaction and downstream water availability in the upper Awash Basin, Ethiopia. Water 10:892

Musie M, Sen S, Srivastava P (2019) Comparison and evaluation of gridded precipitation datasets for streamflow simulation in data scarce watersheds of Ethiopia. J Hydrol 579:124168

Musie M, Sen S, Chaubey I (2020a) Hydrologic responses to climate variability and human activities in Lake Ziway Basin, Ethiopia. Water 12:164

Musie M, Sen S, Srivastava P (2020b) Application of CORDEX-AFRICA and NEX-GDDP datasets for hydrologic projections under climate change in Lake Ziway sub-basin, Ethiopia. J Hydrol: Regional Studies 31:100721

Neitsch S.L., Arnold J.G., Kiniry J.R., Williams J.R. (2011) Soil and water assessment tool theoretical documentation version 2009, Texas Water Resources Institute

Niang I., Ruppel O., Abdrabo M., Essel A., Lennard C., Padgham J., Urquhart P. (2014) Africa Climate Change 2014: Impacts, Adaptation, and Vulnerability. Part B: Regional Aspects. Contribution of Working Group II to the Fifth Assessment Report of the Intergovernmental Panel on Climate Change ed VR Barros et al, Cambridge Univ Press, Cambridge, UK

Rathjens H., Bieger K., Srinivasan R., Chaubey I., Arnold J. (2016) CMhyd User Manual, Texas

Samuelsson P, Jones CG, Will En U, Ullerstig A, Gollvik S, Hansson U, Jansson E, Kjellstrӧ MC, Nikulin G, Wyser K (2011) The Rossby Centre Regional Climate model RCA3: model description and performance. Tellus A 63:4–23

Schneider P, Sander BO, Wassmann R, Asch F (2019) Potential and versatility of WEAP model (Water Evaluation and Planning System) for hydrological assessments of AWD (Alternate Wetting and Drying) in irrigated rice. Agric Water Manag 224:105559

Scholten W (2007) Agricultural development and water use in the Central Rift Valley of Ethiopia: a rapid appraisal. University of Twente, Enschede

Seyoum WM, Milewski AM, Durham MC (2015) Understanding the relative impacts of natural processes and human activities on the hydrology of the Central Rift Valley lakes, East Africa. Hydrol Process 29:4312–4324. https://doi.org/10.1002/hyp.10490

Shanahan TM, Overpeck JT, Sharp W, Scholz CA, Arko JA (2007) Simulating the response of a closed-basin lake to recent climate changes in tropical West Africa (Lake Bosumtwi, Ghana). Hydrol Process 21:1678–1691

Sieber J. (2006) WEAP water evaluation and planning system

Stocker T., Qin D., Plattner G., Tignor M., Allen S., Boschung J., Nauels A., Xia Y., Bex V., Midgley P. (2013) IPCC, 2013. Climate change

Strandberg G., Bärring L., Hansson U., Jansson C., Jones C., Kjellström E., Kupiainen M., Nikulin G., Samuelsson P., Ullerstig A. (2015) CORDEX scenarios for Europe from the Rossby Centre regional climate model RCA4 SMHI

Teklesadik A, Alemayehu T, Van Griensven A, Kumar R, Liersch S, Eisner S, Tecklenburg J, Ewunte S, Wang X (2017) Inter-model comparison of hydrological impacts of climate change on the Upper Blue Nile basin using ensemble of hydrological models and global climate models. Clim Chang 141:517–532

Vallet-Coulomb C, Legesse D, Gasse F, Travi Y, Chernet T (2001) Lake evaporation estimates in tropical Africa (Lake Ziway, Ethiopia). J Hydrol 245:1–18

Yates D, Sieber J, Purkey D, Huber-Lee A (2005) WEAP21—a demand-, priority-, and preference-driven water planning model: part 1: model characteristics. Water Int 30:487–500
Acknowledgements
The authors would like to acknowledge the Ministry of Water Resources and the National Meteorological Agency of Ethiopia for providing the hydro-meteorological data. We thank the Oromia Irrigation Development Authority for providing the necessary data for the WEAP model. We also acknowledge the CORDEX-AFRICA databank for the projected future climate data. The first author would like to express his appreciation to the Indian Council for Cultural Relations for the financial support during his Ph.D. work and the facilities provided by the Department of Hydrology, Indian Institute of Technology Roorkee. We are grateful for the comments from two reviewers, which helped to improve this manuscript.
Additional information
Publisher's note
Springer Nature remains neutral with regard to jurisdictional claims in published maps and institutional affiliations.
About this article
Cite this article
Musie, M., Momblanch, A. & Sen, S. Exploring future global change-induced water imbalances in the Central Rift Valley Basin, Ethiopia. Climatic Change 164, 47 (2021). https://doi.org/10.1007/s10584-021-03035-x
Received:

Accepted:

Published:

DOI: https://doi.org/10.1007/s10584-021-03035-x
Keywords