Abstract
The politics of climate change are the politics of energy and in turn the politics of Indigenous people's rights. The clash of these political realms is nowhere more vivid than the north slope of Alaska, where the acute impacts of climate change to the livelihoods of Alaska Indigenous peoples places energy development decision-making in a new light. Considering the elevated exposure and sensitivity to the impacts of climate change, the development of oil and gas resources in the Arctic National Wildlife Refuge (ANWR) in Alaska will exacerbate the acute livelihood challenges already being faced by the Indigenous peoples of this region. The tendency to marginalize the rights of Indigenous peoples in US natural resource development planning, moreover, constitutes a missed opportunity for advancing development decision-making toward more effective socio-ecological planning in the context of climate change. Indigenous communities in the North are uniquely qualified, both as sovereign peoples and as knowledge holders, to enrich government policy and decision-making about development in the context of climate change, constituting strong justification for their involvement in the planning process. This article integrates recently published research with an in-depth in-person interview with the Executive Director of the Gwich'in Steering Committee. We argue that accommodation of the cumulative threats posed by climate change and development to the rights of Indigenous communities in oil development plans for the Coastal Plain area of the ANWR will be essential to protect the livelihoods of these communities and the ecosystems within which they live.
This is a preview of subscription content,
to check access.
Access this article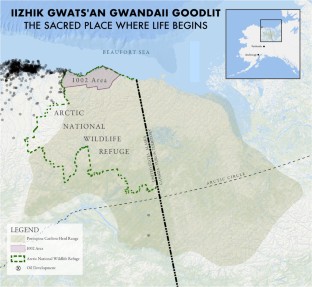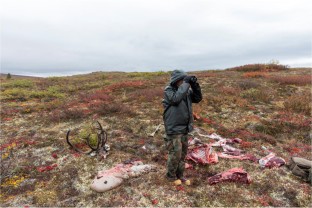 Similar content being viewed by others
Notes
In a few jurisdictions, Indigenous peoples enjoy a higher level of protection and greater inclusion in decision-making regarding environmental issues, climate change, and resource development projects. While Canada has been dealing with its own dark history of injustices toward Indigenous peoples (Youdelis 2016; Mosby 2013), the rights of Indigenous peoples here do appear to have greater levels of protection than in the US, perhaps in part due to the codification of the duty to consult Indigenous peoples concerning new resource development in the Constitution. The courts have upheld this obligation, most recently overturning the government approval of the Trans Mountain pipeline expansion project due to governmental failures to adequately consult with Indigenous peoples. In Canada's Northern Territories, devolution has led to more equitable processes (Natcher 2001). Here, legislative examples may be found in the "Umbrella Final Agreement" of ANWR-bordering Yukon (Council of Yukon First Nations 1993) and the "Yukon Forum," which are regular meetings between the Yukon Government, Yukon First Nations, and the Council of Yukon First Nations—in June 2018 the Yukon Forum added fish and wildlife to its joint priority action plan (Yukon Government 2018). Opportunities for inclusion of Indigenous groups in decision-making can also be used to leverage and assert Indigenous sovereignty and governance. For example, community-based monitoring (CBM) agreements between the Yukon River Inter-Tribal Watershed Council (YRITWC) and the United States Geological Survey (USGS) represents an opportunity for self-governance and maintaining a sense of stewardship. This transboundary collaboration between Alaskan (USA) and Yukon (Canada) Indigenous groups is supported by a memorandum of understanding with the USGS to jointly cooperate in a water monitoring program using USGS protocols and methods, while respecting Indigenous knowledge and worldviews (Wilson et al. 2018). For additional examples of water management and climate modeling that include Indigenous peoples, see Tan et al. 2012 (Australia) and Bark et al. 2012 (USA and Australia).
References
Alaska Regional Assessment Group (1999) The potential consequences of climate variability and change: Alaska. Center for Global Change and Arctic Research, University of Alaska. December, Fairbanks

Anaya JS (2015) Report of the special rapporteur on the rights of indigenous peoples on extractive industries and indigenous peoples. Arizona J Int Comparative Law 32:109–142

Arctic Monitoring and Assessment Programme (AMAP) (2007) Arctic Oil and Gas 2007. Oslo, Norway

Bark RH, Garrick DE, Robinson CJ, Jackson S (2012) Adaptive basin governance and the prospects for meeting indigenous water claims. Environ Sci Policy 19-20:169–177

Berkman PA, Vylegzhanin AN (2013) The challenges of oil spill response in the Arctic. In: Berkman PA, Vylegzhanin AN (eds) Environmental security in the Arctic Ocean. Springer, Netherlands, pp 255–279

Brace C, Geoghegan H (2011) Human geographies of climate change: landscape, temporality, and lay knowledges. Prog Hum Geogr 35(3):284–286

Brinkman TJ, Hansen WD, Stuart Chapin F III, Kofinas G, BurnSilver S, Scott Rupp T (2016) Arctic communities perceive climate impacts on access as a critical challenge to availability of subsistence resources. Clim Chang 139:413–427

Council of Yukon First Nations (1993) Umbrella Final Agreement, c. 12. https://cyfn.ca/ufa/. Accessed 19 Jan 2019

Couzin J (2007) Polar science: opening doors to native knowledge. Science 315(March 16):1518–1519

Dunlap RE, van Liere KD (1984) Commitment to the Dominant Social Paradigm and Concern for Environmental Quality. Soc Sci Q 65:1013–1028

Ford J (2012) Indigenous health and climate change. Am J Public Health 102(7):1260–1266

Gerrard E (2008) Impacts and opportunities of climate change: indigenous participation in environmental markets. Native Title Res Unit 3(13):1–14

Gilberthorpe E, Hilson G (eds) (2014) Natural resource extraction and indigenous livelihoods: development challenges in an era of globalization. Routledge, London

Global Affairs Canada (2018) Agreement between the Government of Canada and the Government of the United States of America on the conservation of the porcupine caribou herd. http://www.treaty-accord.gc.ca/text-texte.aspx?id=100687. Accessed 19 Jan 2019

Green D, Billy J, Tapin A (2010) Indigenous Australian's knowledge of weather and climate. Clim Chang 100:337–354

Gwich'in Niinstayaa 2012 (2012) Resolution to protect the birthplace and nursery grounds of the porcupine Caribou herd. Gwich'in steering Committee. July 27, 2012. NWT, Fort McPherson

Gwich'in Steering Committee (2019) Caribou People. http://ourarcticrefuge.org/about-the-gwichin/caribou-people/. Accessed 19 Jan 2019

Hahn R, Passell P (2001) The economics of allowing more U.S. oil drilling. Energy Econ 32(3):638–650

Hassol SJ (2004) Impacts of a warming Arctic: Arctic climate impact assessment. Cambridge University Press, Cambridge

Houseknecht DW, Bird KJ (2006) Oil and gas resources of the Arctic Alaska Petroleum Province. U.S. Geological Survey Professional Paper 1732-A. https://pubs.usgs.gov/pp/pp1732/pp1732a/pp1732a.pdf. Accessed 24 Jan 2019

HR 1146 Statement (March 26, 2019) Statement of Bernadette Demientieff, Executive Director, Gwich'in Steering Committee to the U.S. House of Representatives Committee on Natural Resources, Subcommittee on Energy and Mineral Resources hearing "The Need to Protect the Arctic National Wildlife Refuge Coastal Plain" on H.R. 1146, The Arctic Cultural and Coastal Plain Protection Act

Hulme M (2011) Meet the humanities. Nat Clim Chang 1(4):179

Indigenous Environmental Services, Jeffries S, Devagiri (2008) A changing climate: indigenous engagement with climate change – impacts, related regulation and the green economy. University of Technology Sydney, Jumbunna Indigenous House of Learning, pp 1–27

IPCC (2018) 2018: Summary for policymakers. In: Masson-Delmotte V et al (eds) Global warming of 1.5°C. an IPCC special report on the impacts of global warming of 1.5°C above pre-industrial levels and related global greenhouse gas emission pathways, in the context of strengthening the global response to the threat of climate change, sustainable development, and efforts to eradicate poverty. World Meteorological Organization, Geneva

Kotchen MJ, Burger NE (2007) Should we drill in the Arctic National Wildlife Refuge? An economic perspective. Energy Policy 35(9):4720–4729

Laidler G (2006) Inuit and scientific perspectives on the relationship between sea ice and climate change: the ideal complement? Clim Chang 78(2)

Laidler G et al (2009) Travelling and hunting in a changing Arctic: assessing Inuit vulnerability to sea ice change in Igloolik, Nunavut. Clim Chang 94:363–397

Larsen JN, Anisimov OA, Constable A, Hollowed AB, Maynard N, Prestrud P, Prowse TD, Stone JMR (2014) Polar regions. In: Barros VR et al (eds) Climate change 2014: impacts, adaptation, and vulnerability. Part B: regional aspects. Contribution of working group II to the fifth assessment report of the intergovernmental panel on climate change. Cambridge University Press, Cambridge

Leduc T (2007) Sila dialogues on climate change: Inuit wisdom for a cross-cultural interdisciplinarity. Clim Chang 85(3)

MacInnes A, Colchester M, Whitmore A (2017) Free, prior and informed consent: how to rectify the devastating consequences of harmful mining for indigenous peoples. Perspect Ecol Conserv 15(3):152–160

Mosby I (2013) Administering colonial science: nutrition research and human biomedical experimentation in aboriginal communities and residential schools, 1942–1952. Soc Hist 46(1):145–172

Natcher DC (2001) Land use research and the duty to consult: a misrepresentation of the aboriginal landscape. Land Use Policy 18(2):113–122

Nursey-Bray M, Palmer R (2018) Country, climate change adaptation and colonisation: insights from an indigenous adaptation planning process, Australia. Heliyon 4. https://doi.org/10.1016/j.heliyon.2018

Pacyna JM, Cousins IT, Halsall C, Rautio A, Pawlak J, Pacyna EG, Sundseth K, Wilson S, Munthe J (2015) Impacts on human health in the Arctic owing to climate-induced changes in contaminant cycling –the EU ArcRisk project policy outcome. Environ Sci Policy 50:200–213

Parlee BL, Caine KJ (eds) (2018) When the caribou do not come: indigenous knowledge and adaptive management in the Western Arctic. UBC Press

Parlee BL, Sandlos J, Natcher DC (2018) Undermining subsistence: barren-ground caribou in a 'tragedy of open access'. Sci Adv 4(2):1–26

Pennesi K, Arokium J, McBean G (2012) Integrating local and scientific weather knowledge as a strategy for adaptation to climate change in the Arctic. Mitig Adapt Strateg Glob Chang 17:897–922

Pincus R, Ali SH (2015) Diplomacy on ice: energy and the environment in the Arctic and Antarctic. Yale University Press, New Haven

Riedlinger D, Fikret Berkes F (2001) Contributions of traditional knowledge to understanding climate change in the Canadian Arctic. Polar Record 37(203)

Sandlos J, Keeling A (2016) Aboriginal communities, traditional knowledge, and the environmental legacies of extractive development in Canada. Extractive Ind Soc 3:278–287

Shearer C (2011) Kivalina: a climate change story. Haymarket Books

Southcott C (2015) Some observations on the social economy in northern Canada. In: Southcott C (ed) Northern communities working together: the social economy of Canada's north. University of Toronto Press, Toronto

Tan P, Bowmer KH, Baldwin C (2012) Continued challenges in the policy and legal framework for collaborative water planning. J Hydrol 747:84–91

United Nations General Assembly resolution 61/295 (2007) United Nations Declaration on the Rights of Indigenous Peoples, A/RES/61/295

United States Fish and Wildlife Service (USFWS) (2012) Overview of refuge purposes. https://www.fws.gov/refuge/arctic/purposes.html. Accessed 26 April 2019

United States Geological Survey (1998) Fact sheet 0028–01: online report - Arctic National Wildlife Refuge, 1002 area, Petroleum Assessment, Including Economic Analysis. https://pubs.usgs.gov/fs/fs-0028-01/fs-0028-01.htm. Accessed 24 Jan 2019

United States Government Accountability Office (2003) Alaska native villages: most are affected by flooding and erosion. December. GAO-04-142. https://www.gao.gov/assets/250/240810.pdf. Accessed 5 May 2019

US Government (1995) House Document 104–141. Veto of H.R. 2491. December 5, 1995. https://www.govinfo.gov/content/pkg/CDOC-104hdoc141/pdf/CDOC-104hdoc141.pdf. Accessed 26 Apr 2019

van Tuyn P (2014) Peak oil and the Arctic National Wildlife Refuge. In: Gates JE, Trauger DL, Czech B (eds) Peak oil, economic growth, and wildlife conservation. Springer, New York, pp 171–190

Walsh NE, Griffith B, McCabe TR (1995) Evaluating growth of the porcupine caribou herd using a stochastic model. J Wildl Manag 59(2):262–272

Weatherhead E, Gearheard S, Barry R (2010) Changes in weather persistence: insight from Inuit knowledge. Glob Environ Chang 20(3)

Wesche SD, Chan HM (2010) Adapting to the impacts of climate change on food security among Inuit in the Western Canadian Arctic. EcoHealth 7(3):361–373

Wilson NJ, Mutter E, Inkster J, Satterfield T (2018) Community-based monitoring as the practice of Indigenous governance: a case study of Indigenous-led water quality monitoring in the Yukon River Basin. J Environ Manag 210:290–298

Wright S (2014) Our ice is vanishing / Sikuvut Nunguliqtuq: a history of Inuit, newcomers, and climate change. McGill-Queen's Native and Northern Series 75

Youdelis M (2016) "They could take you out for coffee and call it consultation!": the colonial antipolitics of indigenous consultation in Jasper National Park. Environ Plan A 48(7):1374–1392

Yukon Government (2018) Yukon Forum. https://yukon.ca/en/your-government/find-out-what-government-doing/yukon-forum. Accessed 13 Jan 2019
Acknowledgments
The authors would like to thank Bernadette Demientieff, Director of the Gwich'in Steering Committee "Iizhik Gwats'an Gwandaii Goodlit" (The Sacred Place Where Life Begins) for her participation. The authors are grateful to Jacob Fooks, Kaitlynn Ritchie, Sandeep Mohapatra, two anonymous referees, and the editor for their insightful comments which improved this article.
Additional information
Publisher's note
Springer Nature remains neutral with regard to jurisdictional claims in published maps and institutional affiliations.
About this article
Cite this article
Zentner, E., Kecinski, M., Letourneau, A. et al. Ignoring Indigenous peoples—climate change, oil development, and Indigenous rights clash in the Arctic National Wildlife Refuge. Climatic Change 155, 533–544 (2019). https://doi.org/10.1007/s10584-019-02489-4
Received:

Accepted:

Published:

Issue Date:

DOI: https://doi.org/10.1007/s10584-019-02489-4