Abstract
Greater than 90% probability that heat waves will increase globally through the twenty-first century, poses a serious threat to China—the world's largest rice producer. Under climate change, understanding whether and how the spatial pattern of rice exposure to heat stress (EHS) in China has changed is urgently required for adaptation optimization; however, it remains unclear. Here, we examined the changes in the area exposed to heat stress and historical movements of the geographical centroid of rice EHS over 1980–2015 across the major irrigated rice-growing areas in mainland China. Our results showed that the rice-planted area exposed to heat stress has generally increased especially over the 2010s and the geographical centroid of rice EHS has moved significantly throughout the past decades. Particularly, the northern parts of the mid-lower reaches of Yangtze River witnessed a substantial spread in rice EHS since the 1990s, mainly detected in Jiangsu province; its EHS centroid moved northeastward significantly over the past decades. In southern China, the rice-planted area exposed to heat stress has increased more than threefold from the 2000s to 2010s, and the EHS centroid mainly wandered in the southern parts over the 2010s.
Access options
Buy single article
Instant access to the full article PDF.
USD 39.95
Price includes VAT (USA)
Tax calculation will be finalised during checkout.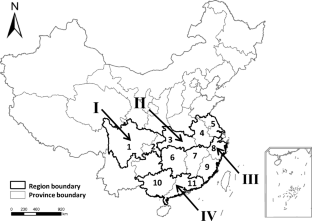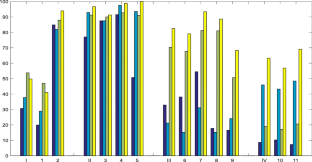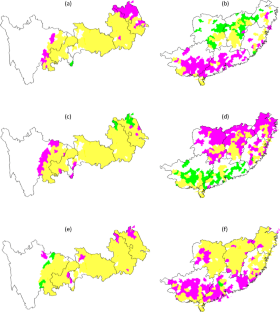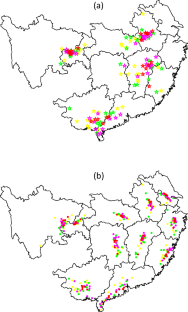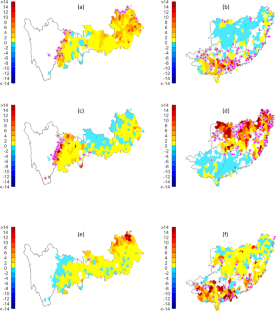 References
Bheemanahalli R, Sathishraj R, Manoharan M, Sumanth HN, Muthurajan R, Ishimaru T, Krishna JS (2017) Is early morning flowering an effective trait to minimize heat stress damage during flowering in rice? Field Crop Res 203:238–242

Butler EE, Huybers P (2013) Adaptation of US maize to temperature variations. Nat Clim Chang 3:68–72

Deryng D, Conway D, Ramankutty N, Price J, Warren R (2014) Global crop yield response to extreme heat stress under multiple climate change futures. Environ Res Lett 9(3):034011

Espe MB, Hill JE, Hijmans RJ, McKenzie K, Mutters R, Espino LA, Linquist BA (2017) Point stresses during reproductive stage rather than warming seasonal temperature determines yield in temperate rice. Glob Chang Biol 23(10):4386–4395

GB/T 21985-2008 (2008) Temperature index of high temperature harm for main crops. China Standards Press, Beijing

Gourdji SM, Sibley AM, Lobell DB (2013) Global crop exposure to critical high temperatures in the reproductive period: historical trends and future projections. Environ Res Lett 8(2):024041

Iizumi T, Furuya J, Shen Z, Kim W, Okada M, Fujimori S, Nishimori M (2017) Responses of crop yield growth to global temperature and socioeconomic changes. Sci Rep 7(1):7800

Lesk C, Rowhani P, Ramankutty N (2016) Influence of extreme weather disasters on global crop production. Nature 529(7584):84–87

Li Z, Liu Z, Anderson W, Yang P, Wu W, Tang H, You L (2015) Chinese rice production area adaptations to climate changes, 1949–2010. Environ Sci Technol 49(4):2032–2037

Liu B, Liu L, Tian L, Cao W, Zhu Y, Asseng S (2014) Post-heading heat stress and yield impact in winter wheat of China. Glob Chang Biol 20(2):372–381

Lobell DB, Sibley A, Ortiz-Monasterio JI (2012) Extreme heat effects on wheat senescence in India. Nat Clim Chang 2(3):186–189

Lobell DB, Banziger M, Magorokosho C, Vivek B (2011) Nonlinear heat effects on African maize as evidenced by historical yield trials. Nat Clim Chang 1(1):42–45

Olesen JE, Trnka M, Kersebaum KC, Skjelvåg AO, Seguin B, Peltonen-Sainio P, Micale F (2011) Impacts and adaptation of European crop production systems to climate change. Eur J Agron 34(2):96–112

Pachauri RK, Allen MR, Barros VR, Broome J, Cramer W, Christ R, Dubash NK (2014) Climate change 2014: synthesis report. Contribution of Working Groups I, II and III to the fifth assessment report of the Intergovernmental Panel on Climate Change. IPCC, 2014

Rezaei EE, Webber H, Gaiser T, Naab J, Ewert F (2015) Heat stress in cereals: mechanisms and modelling. Eur J Agron 64:98–113

Sánchez B, Rasmussen A, Porter JR (2014) Temperatures and the growth and development of maize and rice: a review. Glob Chang Biol 20(2):408–417

Shah F, Huang J, Cui K, Nie L, Shah T, Chen C, Wang K (2011) Impact of high-temperature stress on rice plant and its traits related to tolerance. J Agric Sci 149:545–556

Stott P (2016) How climate change affects extreme weather events. Science 352(6293):1517–1518

Sun W, Huang Y (2011) Global warming over the period 1961-2008 did not increase high-temperature stress but did reduce low-temperature stress in irrigated rice across China. Agric For Meteorol 151(9):1193–1201

Sun Y, Zhang X, Zwiers FW, Song L, Wan H, Hu T, Ren G (2014) Rapid increase in the risk of extreme summer heat in Eastern China. Nat Clim Chang 4(12):1082

Tao F, Zhang S, Zhang Z (2013) Changes in rice disasters across China in recent decades and the meteotological and agronomic causes. Reg Environ Chang 13(4):743–759

Tao F, Zhang Z (2013) Climate change, high-temperature stress, rice productivity, and water use in Eastern China: a new superensemble-based probabilistic projection. J Appl Meteorol Climatol 52:531–551

Teixeira EI, Fischer G, van Velthuizen H, Walter C, Ewert F (2013) Global hot-spots of heat stress on agricultural crops due to climate change. Agric For Meteorol 170:206–215

Tian X, Luo H, Zhou H, Wu C (2009) Research on heat stress of rice in China: progress and prospect. Chin Agric Sci Bull 25(22):166–168

Wang P, Zhang Z, Chen Y, Wei X, Feng B, Tao F (2016) How much yield loss has been caused by extreme temperature stress to the irrigated rice production in China? Clim Chang 134(4):635–650

Wang P, Zhang Z, Song X, Chen Y, Wei X, Shi P, Tao F (2014) Temperature variations and rice yields in China: historical contributions and future trends. Clim Chang 124:777–789

Wang P, Hu T, Kong F, Xu J, Zhang D (2019) Rice exposure to cold stress in China: how has its spatial pattern changed under climate change? Eur J Agron 103:73–79

Zhang Z, Chen Y, Wang C, Wang P, Tao F (2017a) Future extreme temperature and its impact on rice yield in China. Int J Climatol 37(14):4814–4827

Zhang J, Zhang Z, Tao F (2017b) Performance of temperature-related weather index for agricultural insurance of three main crops in China. Int J Disaster Risk Sci 8(1):78–90

Zhang Z, Wang P, Chen Y, Song X, Wei X, Shi P (2014) Global warming over 1960–2009 did increase heat stress and reduce cold stress in the major rice-planting areas across China. Eur J Agron 59:49–56

Zhao C, Piao S, Wang X, Huang Y, Ciais P, Elliott J, Liu Y (2017) Plausible rice yield losses under future climate warming. Nat Plants 3:16202
Funding
This study was supported by National Key Research and Development Plan of China (Grant No. 2016YFB0501404), the National Natural Science Foundation of China (Grant No. 41807506; 41201458), the Science and Technology Program of Hangzhou (Grant No. 20180432B12; 20150533B03), and Natural Science Foundation of Zhejiang (LQ18D010007; LY19D010004).
Additional information
Publisher's note
Springer Nature remains neutral with regard to jurisdictional claims in published maps and institutional affiliations.
Electronic supplementary material
About this article
Cite this article
Wang, P., Hu, T., Kong, F. et al. Changes in the spatial pattern of rice exposure to heat stress in China over recent decades. Climatic Change 154, 229–240 (2019). https://doi.org/10.1007/s10584-019-02433-6
Received:

Accepted:

Published:

Issue Date: