Abstract
Despite broad scientific consensus on climate change, public views may not always correspond with scientific findings. Understanding public perceptions of climate change is thus crucial to both identifying problems and delivering solutions. Investigations of climate change that integrate instrumental records and people's perceptions in the Himalayas are scarce and fragmentary compared to other regions of the world. We analyzed nationally representative data (n = 5060) of local peoples' perception of climate change in Nepal, and assessed annual and seasonal trends of temperature and precipitation, onsets of seasons, and trends of climate extremes, based on gridded climate datasets. We firstly used quantitative and spatial techniques to compare local perceptions and the instrumentally observed trends of climate variables. We then examined the possible association of demographic variables, place attachment, regional differences, and prior understanding of climate change with the accuracy of people's perceptions. Instrumental evidence showed consistent warming, increasing hot days and nights, and increasing annual precipitation, wet spells, heavy precipitation and decreasing dry spells in Nepal. Our results indicate that locals accurately perceived the shifts in temperature but their perceptions of precipitation change did not converge with the instrumental records. We suggest that, in future as exposure to changes in weather, particularly extreme events, continues, people may become more likely to detect change which corresponds with observed trends. With some new methodological insights gained through integrating community perceptions with observed climate data, the results of this study provides valuable information to support policies to reduce climate-related risk and enhance climate change adaptation.
This is a preview of subscription content,
to check access.
Access this article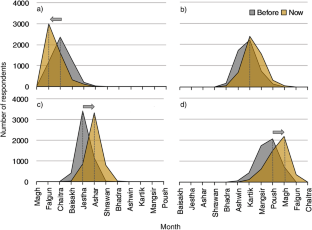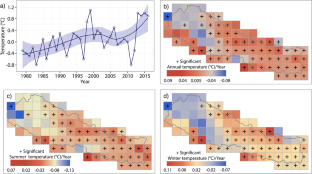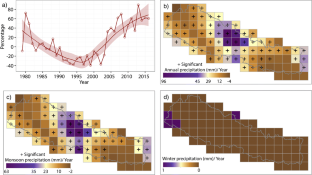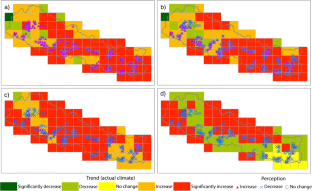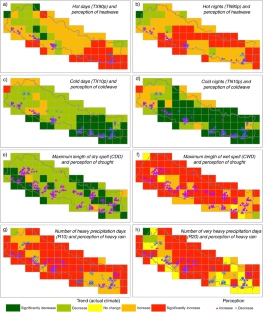 References
Alexander C, Bynum N, Johnson E, King U, Mustonen T, Neofotis P, Oettlé N, Rosenzweig C, Sakakibara C, Marta VS, Waterhouse VJ, Weeks B (2011) Linking indigenous and scientific knowledge of climate change. BioScience 61(6):477–484

Ayal DY, Leal Filho W (2017) Farmers' perceptions of climate variability and its adverse impacts on crop and livestock production in Ethiopia. J Arid Environ 140:20–28

Baidya SK, Shrestha ML, Sheikh MM (2008) Trends in daily climatic extremes of temperature and precipitation in Nepal. J Hydrol Meteorol 5(1):38–51

Baumeister RF, Bratslavsky E, Finkenauer C, Vohs KD (2001) Bad is stronger than good. Rev Gen Psychol 5(4):323–370

Bhattacharjee A, Anadón JD, Lohman DJ, Doleck T, Lakhankar T, Shrestha BB, Thapa P, Devkota D, Tiwari S, Jha A, Siwakoti M, Devkota NR, Jha PK, Krakauer NY (2017) The impact of climate change on biodiversity in Nepal: current knowledge, lacunae, and opportunities. Climate 5(4):80

Bronaugh D (2015) Package 'climdex.pcic'. Version 1.1-6, CRAN Repository. https://CRAN.R-project.org/package=climdex.pcic. Accessed 2 Feb 2018

Bronaugh D, Werner A, (2015) Package 'zyp'. Version 0.10-1, CRAN Repository. https://CRAN.R-project.org/package=zyp. Accessed 2 Feb 2018

Casanueva Vicente A, Rodríguez Puebla C, Frías Domínguez MD, González Reviriego N (2014) Variability of extreme precipitation over Europe and its relationships with teleconnection patterns. Hydrol Earth Syst Sci 18:1–17

CBS (2017) National Climate Change Impact Survey 2016. A Statistical Report, Central Bureau of Statistics, Kathmandu, Nepal

Chaudhary P, Bawa KS (2011) Local perceptions of climate change validated by scientific evidence in the Himalayas. Biol Lett 7(5)767–770

Chaudhary P, Rai S, Wangdi S, Mao A, Rehman N, Chettri S, Bawa KS (2011) Consistency of local perceptions of climate change in the Kangchenjunga Himalaya landscape. Curr Sci 101(4):504–513

Dhimal M, Gautam I, Joshi HD, O'Hara RB, Ahrens B, Kuch U (2015) Risk factors for the presence of chikungunya and dengue vectors (Aedes aegypti and Aedes albopictus), their altitudinal distribution and climatic determinants of their abundance in central Nepal. PLoS Negl Trop Dis 9(3):e0003545

Duncan JM, Biggs EM, Dash J, Atkinson PM (2013) Spatio-temporal trends in precipitation and their implications for water resources management in climate-sensitive Nepal. Appl Geogr 43:138–146

Habtemariam LT, Gandorfer M, Kassa GA, Heissenhuber A (2016) Factors influencing smallholder farmers' climate change perceptions: a study from farmers in Ethiopia. Environ Manag 58(2):343–358

Howe PD, Mildenberger M, Marlon JR, Leiserowitz A (2015) Geographic variation in opinions on climate change at state and local scales in the USA. Nat Clim Chang 5(6):596–603

IPCC (2001) The scientific basis. In: Houghton JT, Ding Y, Griggs DJ, Noguer M, Van der Linden PJ, Dai X, Maskell K, Johnson CA (eds) Contribution of Working Group I to the Third Assessment Report of the Intergovernmental Panel on Climate Change. Cambridge University Press, Cambridge and New York

Karki R, Schickhoff U, Scholten T, Böhner J (2017) Rising precipitation extremes across Nepal. Climate 5(1):4

Kosmowski F, Leblois A, Sultan B (2016) Perceptions of recent rainfall changes in Niger: a comparison between climate-sensitive and non-climate sensitive households. Clim Chang 135(2):227–241

Liu Z, Smith WJ, Safi AS (2014) Rancher and farmer perceptions of climate change in Nevada, USA. Clim Chang 122(1–2):313–327

Macchi M, Gurung AM, Hoermann B (2015) Community perceptions and responses to climate variability and change in the Himalayas. Climate Dev 7(5):414–425

Marin A (2010) Riders under storms: contributions of nomadic herders' observations to analysing climate change in Mongolia. Glob Environ Chang 20(1):162–176

McCright AM (2010) The effects of gender on climate change knowledge and concern in the American public. Popul Environ 32(1):66–87

McLeod AI (2015) Package 'Kendall'. 2.2, CRAN Repository. https://CRAN.R-project.org/package=Kendall. Accessed 2 Feb 2018

Mishra SR, Bhandari PM, Issa R, Neupane D, Gurung S, Khanal V (2015) Climate change and adverse health events: community perceptions from the Tanahu district of Nepal. Environ Res Lett 10(3):034007

Mulenga BP, Wineman A, Sitko NJ (2017) Climate trends and farmers' perceptions of climate change in Zambia. Environ Manag 59(2):291–306

Niles MT, Mueller ND (2016) Farmer perceptions of climate change: associations with observed temperature and precipitation trends, irrigation, and climate beliefs. Glob Environ Chang 39:133–142

Osbahr H, Dorward P, Stern R, Cooper S (2011) Supporting agricultural innovation in Uganda to respond to climate risk: linking climate change and variability with farmer perceptions. Exp Agric 47(2):293–316

Pachauri RK, Allen MR, Barros VR, Broome J, Cramer W, Christ R, ..., Dubash NK (2014) Climate change 2014: synthesis report. Contribution of Working Groups I, II and III to the fifth assessment report of the Intergovernmental Panel on Climate Change (p. 151). IPCC

Pandit MK, Manish K, Koh LP (2014) Dancing on the roof of the world: ecological transformation of the Himalayan landscape. BioScience 64(11):980–992

R Core Team (2017) R: a language and environment for statistical computing, vol 2016. R Foundation for Statistical Computing, Vienna, Austria

Roco L, Engler A, Bravo-Ureta BE, Jara-Rojas R (2015) Farmers' perception of climate change in mediterranean Chile. Reg Environ Chang 15(5):867–879

Savo V, Lepofsky D, Benner JP, Kohfeld KE, Bailey J, Lertzman K (2016) Observations of climate change among subsistence-oriented communities around the world. Nat Clim Chang 6(5):462

Sen PK (1968) Estimates of the regression coefficient based on Kendall's tau. J Am Stat Assoc 63(324):1379–1389

Sheikh MM, Manzoor N, Ashraf J, Adnan M, Collins D, Hameed S, Manton MJ, Ahmed AU, Baidya SK, Borgaonkar HP et al (2015) Trends in extreme daily rainfall and temperature indices over South Asia. Int J Climatol 35(7):1625–1637

Sherwood S, Fu Q (2014) A drier future? Science 343(6172):737–739

Shrestha AB, Aryal R (2011) Climate change in Nepal and its impact on Himalayan glaciers. Reg Environ Chang 11(1):65–77

Shrestha UB, Gautam S, Bawa KS (2012) Widespread Climate Change in the Himalayas and Associated Changes in Local Ecosystems. PLoS ONE 7(5):e36741

Shrestha UB, Bawa KS (2014) Impact of climate change on potential distribution of Chinese caterpillar fungus (Ophiocordyceps sinensis) in Nepal Himalaya. PLoS One 9(9):e106405

Shrestha AB, Wake CP, Mayewski PA, Dibb JE (1999) Maximum temperature trends in the Himalaya and its vicinity: an analysis based on temperature records from Nepal for the period 1971–94. J Clim 12(9):2775–2786

Shrestha AB, Bajracharya SR, Sharma AR, Duo C, Kulkarni A (2017) Observed trends and changes in daily temperature and precipitation extremes over the Koshi river basin 1975–2010. Int J Climatol 37(2):1066–1083

Simelton E, Quinn CH, Batisani N, Dougill AJ, Dyer JC, Fraser ED et al (2013) Is rainfall really changing? Farmers' perceptions, meteorological data, and policy implications. Climate Dev 5(2):123–138

Slegers MF (2008) "If only it would rain": farmers' perceptions of rainfall and drought in semi-arid central Tanzania. J Arid Environ 72(11):2106–2123

Smith TM, Reynolds RW (2005) A global merged land–air–sea surface temperature reconstruction based on historical observations (1880–1997). J Clim 18(12):2021–2036

Sundblad EL, Biel A, Gärling T (2007) Cognitive and affective risk judgements related to climate change. J Environ Psychol 27(2):97–106

Uprety Y, Shrestha UB, Rokaya MB, Shrestha S, Chaudhary RP, Thakali A, Cockfield G, Asselin H (2017) Perceptions of climate change by highland communities in the Nepal Himalaya. Climate Dev 9(7):649–661

Weber EU (2010) What shapes perceptions of climate change? Wiley Interdiscip Rev Clim Chang 1(3):332–342

West CT, Roncoli C, Ouattara F (2008) Local perceptions and regional climate trends on the Central Plateau of Burkina Faso. Land Degrad Dev 19(3):289–304

Wolf J, Moser SC (2011) Individual understandings, perceptions, and engagement with climate change: insights from in-depth studies across the world. Wiley Interdiscip Rev Clim Chang 2(4):547–569

Xie P, Chen M, Shi W (2010) CPC unified gauge-based analysis of global daily precipitation. 24th Conf. on Hydrology, Atlanta, GA, Amer. Meteor. Soc., 2.3A. [Available online at https://ams.confex.com/ams/90annual/techprogram/paper_163676.htm.]. Accessed 19 Jan 2018

Zhang X, Hegerl G, Zwiers FW, Kenyon J (2005) Avoiding inhomogeneity in percentile-based indices of temperature extremes. J Clim 18(11):1641–1651
Additional information
Publisher's note
Springer Nature remains neutral with regard to jurisdictional claims in published maps and institutional affiliations.
About this article
Cite this article
Shrestha, U.B., Shrestha, A.M., Aryal, S. et al. Climate change in Nepal: a comprehensive analysis of instrumental data and people's perceptions. Climatic Change 154, 315–334 (2019). https://doi.org/10.1007/s10584-019-02418-5
Received:

Accepted:

Published:

Issue Date:

DOI: https://doi.org/10.1007/s10584-019-02418-5