Abstract
Over the past decade, the Global Framework for Climate Services (GFCS) has emerged as a major influence on the practice of and discourse about climate services, which aim to reduce the vulnerability of society to climate-related hazards through better provision of climate information and engagement of users of climate services. Yet, there is little research into the relations, practices, and discourses produced and institutionalized through the GFCS. The treatment of vulnerability in climate services, and by the GFCS in particular, remains understudied. To address this gap, we conduct a document analysis of key GFCS reports to interrogate framings of vulnerability and examine their implications for the development and practice of climate services for adaptation. Although we see attention to vulnerability in official GFCS discourse, we find that, with a few exceptions, identifying climate vulnerabilities is largely a cursory exercise that does not meaningfully engage in the complex social processes that contribute to differential vulnerabilities. To meet its own objectives, and the larger vision of climate services, we propose that the GFCS draw upon a rich literature on vulnerability and promote the global development of climate services that considers the coupled physical and social dimensions of vulnerability and prioritizes climate services for the most vulnerable.
Access options
Buy single article
Instant access to the full article PDF.
USD 39.95
Price includes VAT (USA)
Tax calculation will be finalised during checkout.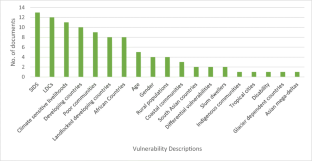 Notes
1.

According to Vaughan and Dessai (2014: 588): "Although climate services are often used in conjunction with information about the weather, climate services are also distinct from weather services, which describe the state of the atmosphere at a given place and time. Rather, climate services convey information about average weather, using the analysis of time series data to estimate trends, departures from average conditions, and low-probability events on timescales from seasons to centuries. Climate services are also distinct from climate research and observations: the former focuses on serving user needs while the latter aims to further our understanding of the climate system."

2.

GFCS documents excluded from this analysis include factsheets and meeting minutes.

3.

We identified instances where the terms "vulnerability" and "vulnerable" appeared.
References
Adger WN (2006) Vulnerability. Glob Environ Chang 16:268–281

Adger WN, Benjaminsen TA, Brown K, Svarstad H (2001) Advancing a political ecology of global environmental discourses. Dev Chang 32:681–715

Archer ERM (2003) Identifying underserved end-user groups in the provision of climate information. Bull Am Meteorol Soc 84:1525–1532

Bettini G (2013) Climate barbarians at the gate? A critique of apocalyptic narratives on 'climate refugees'. Geoforum 45:63–72

Bixler RP (2013) The political ecology of local environmental narratives: power, knowledge, and mountain caribou conservation. J Polit Ecol 20: 273–285.

Boykoff MT (2008) The cultural politics of climate change discourse in UK tabloids. Polit Geogr 27:549–569

Broad K, Pfaff ASP, Glantz MH (2002) Effective and equitable dissemination of seasonal-to-interannual climate forecasts: policy implications from the Peruvian shery during El Niño. Clim Chang 5:415–438

Carr ER, Owusu-Daaku KM (2016) The shifting epistemologies of vulnerability in climate services for development: the case of Mali's agrometeorological advisory programme. Area 48(1):7–17

Carr ER, Thompson MC (2014) Gender and climate change adaptation in agrarian settings: current thinking, new directions, and research frontiers. Geogr Compass 8:182–197

Carr ER, Fleming G, Kalala T (2016) Understanding women's needs for weather and climate information in agrarian settings: the case of Ngetou Maleck, Senegal. Weather Clim Soc 8:247–264

Dewulf A, Brugnach M, Termeer C, Ingram H (2013) Bridging knowledge frames and networks in climate and water governance. In: Edelenbos J, Bressers N, Scholten P (eds) Water governance as connective capacity. Ashgate, Surrey, pp 230–247

Dow K, Carbone G (2007) Climate science and decision making. Geogr Compass 1:302–324

Eakin H, Luers AL (2006) Assessing the vulnerability of social-environmental systems. Annu Rev Environ Resour 31:365–394

Eriksen SH, O'Brien K (2007) Vulnerability, poverty and the need for sustainable adaptation measures. Clim Pol 7(4):337–352

Eriksen C, Simon G (2017) The affluence-vulnerability interface: intersecting scales of risk, privilege and disaster. Environ Plan A 49(2):293–313

Eriksen S, Nightingale AJ, Eakin H (2015) Reframing adaptation: the political nature of climate change adaptation. Glob Environ Chang 35:523–533

Fünfgeld H, McEvoy D (2011) Framing Climate Change Adaptation in Policy and Practice VCCCAR Working Paper 1, VCCCAR Project: Framing Adaptation in the Victorian Context. Melbourne, Australia: Victorian Centre for Climate Change Adaptation Research (VCCCAR)

Georgeson L, Maslin M, Poessinouw M (2017) Global disparity in the supply of commercial weather and climate information services. Sci Adv 3(5):e1602632

Gerlak AK, Guido Z, Vaughan C, Rountree V, Greene C, Liverman D, Trotman AR, Mahon R, Cox SA, Mason SJ, Jacobs KL, Buizer JL, Van Meerbeeck CJ, Baethgen WE (2017) Building a framework for process-oriented evaluation of regional climate outlook forums. Weather Clim Soc 10:225–239

Global Framework for Climate Services (GFCS) (2013) What do we mean by climate services? GFCS Bulletin, Geneva, Switzerland. Retrieved Feb 7, 2019, from https://public.wmo.int/en/bulletin/what-do-we-mean-climate-services

Hammer GL, Hansen JW, Phillips JG, Mjelde JW, Hill H, Love A, Potgieter A (2001) Advances in application of climate prediction in agriculture. Agric Syst 70:515–553

Harjanne A (2017) Servitizing climate science—institutional analysis of climate services discourse and its implications. Glob Environ Chang 46:1–16

Hewitt C, Mason S, Walland D (2012) The global frame- work for climate services. Nat Clim Chang 2:831–832

Hulme M (2010) Problems with making and governing global kinds of knowledge. Glob Environ Chang 20:558–564

Intergovernmental Panel on Climate Change (IPCC) (1990) Climate change 1990: The IPCC Impacts Assessment. Contribution of Working Group II to the First Assessment Report of the Intergovernmental Panel on Climate Change. In: Tegart WJ McG, Sheldon GW, Griffiths DC (eds) Australian Government Publishing Service, Canberra

IPCC (2001) Climate Change 2001: Impacts, Adaptation, and Vulnerability. Contribution of Working Group ii to the Third Assessment Report of the Intergovernmental Panel on Climate Change. In: McCarthy JJ, Canziani OF, Leary N, Dokken DJ, White KS (eds). Cambridge University Press, Cambridge

IPCC (2014) Climate Change 2014: Impacts, Adaptation, and Vulnerability. Contribution of Working Group II to the Fifth Assessment Report of the Intergovernmental Panel on Climate Change. In: Field CB, Barros VR, Dokken DJ, Mach KJ, Mastrandrea MD, Bilir TE, Chatterjee M, Ebi KL, Estrada YO, Genova RC, Girma B, Kissel ES, Levy AN, MacCracken S, Mastrandrea PR, White LL (eds). Cambridge University Press, Cambridge, 1132 pp

Jurgilevich A, Räsänen A, Groundstroem F, Sirkku J (2017) A systematic review of dynamics in climate risk and vulnerability assessments. Environ Res Lett 12:013002

Kandlikar M, Zerriffi H, Lem CH (2011) Science, decision-making and development: managing the risks of climate variation in less-industrialized countries. WIREs Clim Change 2:201–219

Lemos MC, Dilling L (2007) Equity in forecasting climate: can science save the world's poor? Sci Public Policy 35:109–116

Lemos MC, Finan TJ, Fox RW, Nelson DR, Tucker J (2002) The use of seasonal climate forecasting in policymaking: lessons from Northeast Brazil. Clim Chang 55:479–507

Lemos MC, Lo YJ, Nelson DR, Eakin H, Bedran-Martins AM (2016) Linking development to climate adaptation: leveraging generic and specific capacities to reduce vulnerability to drought in NE Brazil. Glob Environ Chang 39:170–179

Manzo K (2010) Imaging vulnerability: the iconography of climate change. Area 42(1):96–107

Mauser W, Klepper G, Rice M, Schmalzbauer BS, Hackmann, Leemans R, Moore H (2013) Transdisciplinary global change research: the co-creation of knowledge for sustainability. Curr Opin Environ Sustain 5:420–431

McDowell J, Ford J, Jones J (2016) Community-level climate change vulnerability research: trends, progress, and future directions. Environ Res Lett 11(3):1–9

Milliken J (1999) The study of discourse in international relations: a critique of research and methods. Eur J Int Relat 5(2):225–254

Nagoda S, Nightingale AJ (2017) Participation and power in climate change adaptation policies: vulnerability in food security programs in Nepal. World Dev 100:85–93

National Research Council (2011) America's climate choices. The National Academies Press, Washington, DC

Nightingale AJ (2017) Power and politics in climate change adaptation efforts: struggles over authority and recognition in the context of political instability. Geoforum 84:11–20

Nightingale AJ, Ojha HR (2013) Rethinking power and authority: symbolic violence and subjectivity in Nepal's Terai forests. Dev Chang 44(1):29–51

O'Brien K, Eriksen S, Nygaard LPO, Schjolden A (2007) Why different interpretations of vulnerability matter in climate change discourses. Clim Pol 7:73–88

Paavola J, Adger WN (2006) Fair adaptation to climate change. Ecol Econ 56:594–609

Phillips N, Lawrence TB, Hardy C (2004) Discourse and institutions. Acad Manag Rev 29(4):635–652

Preston BL, Yuen EJ, Westaway RM (2011) Putting vulnerability to climate change on the map: a review of approaches, benefits, and risks. Sustain Sci 6(2):177–202

Ribot J (2011) Vulnerability before adaptation: toward transformative climate action. Glob Environ Chang 2:1160–1162

Romero-Lankao P, Qin H, Dickinson K (2012) Urban vulnerability to temperature-related hazards: a meta-analysis and meta-knowledge approach. Glob Environ Chang 22:670–683

Roncoli C (2006) Ethnographic and participatory approaches to research on farmers' responses to climate predictions. Clim Res 33(1):81–99

Stone DA (1989) Causal stories and the formation of policy agendas. Polit Sci Q 104(2):281–300

Tadaki M, Salmond J, Le Heron R (2014) Applied climatology: doing the relational work of climate. Prog Phys Geogr 38(4):392–413

Taylor M (2013) Climate change, relational vulnerability and human security: rethinking sustainable adaptation in agrarian environments. Clim Dev 5(4):318–327

Taylor LE, Hurley PT (eds) (2016) Comparative political ecology of exurbia: planning, environmental management and landscape change. Springer, Switzerland

Tschakert P (2007) Views from the vulnerable: understanding climatic and other stressors in the Sahel. Glob Environ Chang 17:381–396

Tschakert P, Das PJ, Pradhan NS, Machado M, Lamadrid A, Buragohain M, Hazarika MA (2016) Micropolitics in collective learning spaces for adaptive decision making. Glob Environ Chang 40:182–194

Turner MD (2016) Climate vulnerability as a relational concept. Geoforum 68:29–38

Vaughan C, Dessai S (2014) Climate services for society: origins, institutional arrangements, and design elements for an evaluation framework. WIREs Clim Change 5:587–603

Weaver CP et al (2014) From global change science to action with social sciences. Nat Clim Chang 4:656–659

Webber S (2013) Performative vulnerability: climate change adaptation policies and financing in Kiribati. Environ Plan A 45:2717–2733

Webber S, Donner SD (2017) Climate service warnings: cautions about commercializing climate science for adaptation in the developing world. WIREs Clim Change 8:e424. https://doi.org/10.1002/wcc.424

WMO (2009) World climate conference 3: conference statement-summary of expert segment. WMO, Geneva

WMO (2015) Priority needs for the operationalization of the GFCS (2016–2018). WMO, Geneva

WMO (2017) GFCS operational and resources plan for the period 2015–2018. WMO, Geneva
Additional information
Publisher's note
Springer Nature remains neutral with regard to jurisdictional claims in published maps and institutional affiliations.
This article is part of a Special Issue on "Putting Climate Services in Contexts: Advancing Multi-disciplinary Understandings" edited by Sophie Webber.
Electronic supplementary material
About this article
Cite this article
Gerlak, A.K., Greene, C. Interrogating vulnerability in the Global Framework for Climate Services. Climatic Change 157, 99–114 (2019). https://doi.org/10.1007/s10584-019-02384-y
Received:

Accepted:

Published:

Issue Date:
Keywords
Climate services

Vulnerability

Adaptation

Climate change

WMO

Global Framework for Climate Services

GFCS