Abstract
Climate change is an increasing threat to global biodiversity. Whilst there is growing evidence about the potential effectiveness of some aspects of climate change adaptation, the role for site-based management to increase the resilience of vulnerable populations to climate change has been little studied. Here, we test whether such management may reduce the negative effects of unfavourable weather upon a southern range margin Welsh black grouse Tetrao tetrix population that is vulnerable to climate change. The Welsh black grouse recovery programme funded a range of interventions that contributed to a 39% population increase over 10 years. One likely mechanism linking black grouse populations to climate change is the sensitivity of chicks to high June rainfall. We modelled the relationship between June rainfall and management interventions which aimed to increase breeding success (habitat management and lethal predator control) to test whether management could increase the resilience of black grouse populations to such unfavourable weather. Importantly, we found that the negative effect of June rainfall upon productivity was eliminated at sites where predator control occurred, and that productivity was maximised when predator and habitat management were combined. Active management therefore reduced the negative effects of June rainfall upon this vulnerable southern range margin black grouse population, although further work is required to quantify any limits to the success of such management. Active management should be considered as a tool for climate change adaptation in other vulnerable populations, particularly where there is limited potential for species to undergo climate-driven range changes.
Access options
Buy single article
Instant access to the full article PDF.
US$ 39.95
Tax calculation will be finalised during checkout.
Subscribe to journal
Immediate online access to all issues from 2019. Subscription will auto renew annually.
US$ 119
Tax calculation will be finalised during checkout.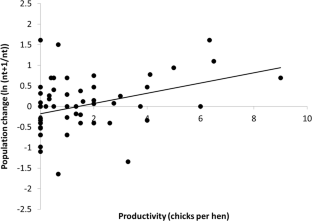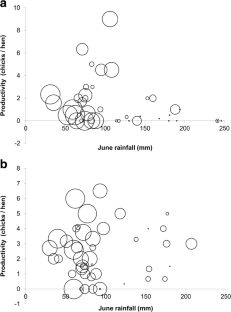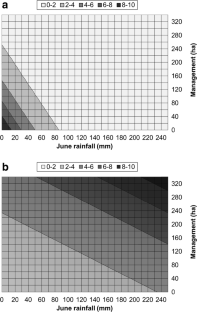 References
Angelstam P, Runfors O, Mikusinki G, Seiler C (2000) Long-term dynamics of three types of black grouse habitat in the centre and at the edge of the distribution range in Sweden 1850–2000. Cah Ethol 20:165–190

Baines D (1996) The implications of grazing and predator management on the habitats and breeding success of black grouse Tetrao tetrix. J Appl Ecol 33:54–62

Bellard C, Bertelsmeier C, Leadley P, Thuiller W, Courchamp F (2012) Impacts of climate change on the future of biodiversity. Ecol Lett 15:365–377

Burnham KP, Anderson DR (2002) Model selection and inference: a practical information-theoretic approach. Springer, Fort Collins Colorado

Calladine J, Baines D, Warren P (2002) Effects of reduced grazing on population density and breeding success of black grouse in northern England. J Appl Ecol 39:772–780

Cayford JT (1990) Distribution and habitat preferences of black grouse in commercial forests in Wales: conservation and management implications. Proc Int Union Game Biol Cong 19:435–447

Cayford JT, Tyler G, Macintosh-Williams L (1989) The ecology and management of black grouse in conifer forests in Wales. RSPB, Sandy, UK

Gillingham PK, Bradbury RB, Roy DB, Anderson BJ, Baxter JM, Bourn NAD, Crick HQP, Findon RA, Fox R, Franco A, Hodgson JA, Holt AR, Morecroft MD, O'Hanlon NJ, Oliver TH, Pearce-Higgins JW, Hill JK, Procter DA, Thomas JA, Walker KJ, Walmsley CA, Wilson RJ, Thomas CD (2015) The effectiveness of protected areas to conserve species undertaking geographic range shifts. Biol J Linn Soc 115:707–717

Grant MC, Cowie N, Donald D, Dugan D, Johnstone I, Lindley P, Moncreiff R, Pearce-Higgins JW, Thorpe R, Tomes D (2009) Black grouse response to dedicated conservation management. Folia Zool 58:195–206

Greenwood O, Mossman HL, Suggitt AJ, Curtis RJ, Maclean IMD (2016) Using in situ management to conserve biodiversity under climate change. J Appl Ecol 53:885–894

Heller NE, Zavaleta ES (2009) Biodiversity management in the face of climate change: a review of 22 years of recommendations. Biol Conserv 142:14–32

Hiley JR, Bradbury RB, Holling M, Thomas CD (2013) Protected areas act as establishment centres for species colonising the United Kingdom. Proc R Soc B 280:1760

Huntley B, Green RE, Collingham YC, Willis SG (2007) A climatic atlas of European breeding birds. Lynx Edicions, Barcelona

IPCC (2014) Climate change 2014 synthesis report. Contribution of working groups I, II, and III to the fifth assessment report of the intergovernmental panel on climate change. IPCC, Geneva, Switzerland

Johnston A, Ausden M, Dodd AM, Bradbury RB, Chamberlain DE, Jiguet F, Thomas CD, Cook ASCP, Newson SE, Ockendon N, Rehfisch MM, Roos S, Thaxter CB, Brown A, Crick HQP, Douse A, McCall RA, Pontier H, Stroud DA, Cadiou B, Crowe O, Deceuninck B, Hornman M, Pearce-Higgins JW (2013) Observed and predicted effects of climate change on species abundance in protected areas. Nat Clim Ch 3:1055–1061

Lindley P, Johnstone I, Thorpe R (2003) The status of black grouse in Wales in 2002 and evidence for population recovery. Welsh Birds 3:318–329

Lindström ER, Andrén H, Angelstam P, Cederlund G, Hörnfeldt B, Jäderberg L, Lemnell P, Martinsson B, Sköld K, Swenson JE (1994) Disease reveals the predator: sarcoptic mange, fox predation, and prey populations. Ecology 75:1042–1049

Littell RC, Milliken GA, Stroup WW, Wolfinger RD (1996) SAS system for mixed models. SAS Institute, Cary

Ludwig GX, Alatalo RV, Helle P, Lindén H, Lindström J, Siitari H (2006) Short- and long-term population dynamical consequences of asymmetric climate change in black grouse. Proc R Soc B 273:2009–2016

Marcström V, Kenward RE, Engren E (1988) The impact of predation on boreal tetraonids during vole cycles: an experimental study. J Anim Ecol 57:859–872

McDonald-Madden E, Runge MC, Possingham HP, Martin TG (2011) Optimal timing for managed relocation of species faced with climate change. Nat Clim Ch 1:261–265

Newson SE, Oliver TH, Gillings S, Crick HQP, Morecroft MD, Duffield SJ, Macgregor NA, Pearce-Higgins JW (2014) Can site and landscape-scale environmental attributes buffer bird populations against weather events? Ecography 37:872–882

Ockendon N, Baker DJ, Carr JA, Almond REA, Amano T, Bertram E, Bradbury RB, Bradley C, Butchart SHM, Doswald N, Foden W, Gill DJC, Green RE, Sutherland WJ, Tanner EVJ, Pearce-Higgins JW (2014) Mechanisms underpinning climatic impacts on natural populations: altered species interactions are more important than direct effects. Glob Ch Biol 20:2221–2229

Oliver TH, Gillings S, Pearce-Higgins JW, Brereton T, Crick HQP, Duffield S, Morecroft MD, Roy DB (2017) Large extents of intensive land use limit community reorganisation during climate warming. Glob Ch Biol 23:2272–2283

Pearce-Higgins JW, Green RE (2014) Birds and climate change: impacts and conservation responses. Cambridge University Press, Cambridge

Pearce-Higgins JW, Grant MC, Robinson MC, Haysom SL (2007) The role of forest maturation in causing the decline of black grouse Tetrao tetrix. Ibis 149:143–155

Pearce-Higgins JW, Wright LJ, Grant MC, Douglas DJT (2016) The role of habitat change in driving black grouse Tetrao tetrix population declines across Scotland. Bird Study 63:66–72

Pearce-Higgins JW, Beale CM, Oliver TH, August TA, Carroll M, Massimino D, Ockendon N, Savage J, Wheatley CJ, Ausden MA, Bradbury RB, Duffield SJ, Macgregor NA, McClean CJ, Morecroft MD, Thomas CD, Watts O, Beckmann BC, Fox R, Roy HE, Sutton PG, Walker KJ, Crick HQP (2017) A national-scale assessment of climate change impacts on species: assessing the balance of risks and opportunities for multiple taxa. Biol Conserv 213:124–134

Perry M, Hollis D (2005) The generation of monthly gridded datasets for a range of climatic variables over the United Kingdom. Int J Climatol 25:1041–1054

Picozzi N, Hepburn LV (1986) A study of black grouse in north-east Scotland. Proc Int Grouse Symp 3:462–481

Scheffers BR, De Meester L, Bridge TCL, Hoffmann AA, Pandolfi JM, Corlett RT et al (2016) The broad footprint of climate change from genes to biomes to people. Science 354:aaf7671

Scridel D, Groom JD, Douglas DJT (2017) Native woodland creation is associated with increase in a black grouse Lyrurus tetrix population. Bird Study 64:70–83

Shoo LP, Hoffmann AA, Garnett S, Pressey RL, Williams YM, Taylor M, Falconi L, Yates CJ, Scott JK, Alagador D, Williams SE (2013) Making decisions to conserve species under climate change. Clim Ch 119:239–246

Sim IMW, Eaton MA, Setchfield RP, Warren P, Lindley P (2008) Abundance of male black grouse Tetrao tetrix in Britain in 2005, and change since 1995–96. Bird Study 55:304–313

Starling-Westerberg A (2001) The habitat use and diet of black grouse Tetrao tetrix in the Pennine hills of northern England. Bird Study 48:76–89

Summers RW, Green RE, Proctor R, Dugan D, Lambie D, Moncrieff R, Moss R, Baines D (2004) An experimental study of the effects of predation on the breeding productivity of capercaillie and black grouse. J Appl Ecol 41:513–525

Thackeray SJ, Henrys PA Hemming D, Bell JR, Botham MS, Burthe S, Halaouet P, Johns DG, Jones ID, Leech DI, Mackay EB, Massimino D, Atkinson S, Bacon PJ, Brereton TM, Carvalho L, Clutton-Brock TH, Duck C, Edwards M, Elliott JM, Hall SJG, Harrington R, Pearce-Higgins JW, Hoye TT, Kruuk LEB, Pemberton JM, Sparks TH, Thompson PM, White I, Winfield IJ, Wanless S (2016) Phenological sensitivity to climate across taxa and trophic levels. Nature 535:241–245

Thomas CD, Gillingham PK, Bradbury RB, Roy DB, Anderson BJ, Baxter JM, Bourn NAD, Crick HQP, Findon RA, Fox R, Hodgson JA, Holt AR, Morecroft MD, O'Hanlon N, Oliver TH, Pearce-Higgins JW, Procter DA, Thomas JA, Walker KJ, Walmsley CA, Wilson RJ, Hill JK (2012) Protected areas facilitate species' range expansions. Proc Natl Acad Sci U S A 109:14063–14068

Warren R, VanDerWal J, Price J, Welbergen JA, Atkinson I, Ramirez-Villegas J, Osborn TJ, Jarvis A, Shoo LP, Williams SE, Lowe J (2013) Quantifying the benefit of early climate change mitigation in avoiding biodiversity loss. Nat Clim Ch 3:678–682

Wheatley CJ, Beale CM, Bradbury RB, Pearce-Higgins JW, Critchlow R, Thomas CD (2017) Climate change vulnerability for species—assessing the assessments. Glob Ch Biol 23:3704–3715

Yasue M, Quinn JL, Cresswell W (2003) Multiple weather effects on the starvation and predation risk trade-off in choice of feeding location in redshanks. Funct Ecol 17:727–736
Acknowledgements
The Welsh Recovery Programme was funded by the European Agricultural Guidance and Guarantee Fund, a Welsh Government Rural Development grant, the Countryside Council for Wales Species Challenge fund and an EU Objective 1 grant with support from Forestry Commission Wales. We are grateful to Jim Symes, David Ogilvy, Gordon Bowker, Daniel Brooks, Mark Hopkins, Chris Mellenchip, Keith Offord and John Lawton-Roberts for assistance with data collection. We are grateful to David Baines (GWCT) for the provision of data from one of the six key areas. Mark Bolton and Will Peach provided useful statistical advice, whilst Jeremy Wilson and Arjun Amar commented on an earlier draft of the manuscript.
Funding
This analysis was primarily funded by the RSPB.
Additional information
Publisher's Note
Springer Nature remains neutral with regard to jurisdictional claims in published maps and institutional affiliations.
Electronic supplementary material
About this article
Cite this article
Pearce-Higgins, J.W., Lindley, P.J., Johnstone, I.G. et al. Site-based adaptation reduces the negative effects of weather upon a southern range margin Welsh black grouse Tetrao tetrix population that is vulnerable to climate change. Climatic Change 153, 253–265 (2019). https://doi.org/10.1007/s10584-019-02372-2
Received:

Accepted:

Published:

Issue Date: