Abstract
This study examines the climatic drivers of ice-off dates for lakes and rivers across the Northern Hemisphere. Most lakes and rivers have trended toward earlier ice-off dates over the last century, as would be expected from long-term climate change. However, we also identify modes of climate variability that significantly impact the short-term behavior of ice-off time series. In particular, the North Atlantic Oscillation (NAO), Pacific-North American Pattern (PNA), and to a lesser degree the El Niño-Southern Oscillation (ENSO) explain a substantial fraction of the interannual variance in melt dates, while the Pacific Decadal Oscillation (PDO) and Atlantic Multidecadal Oscillation (AMO) generally do not. Furthermore, the spatial pattern of the early or late ice-off dates associated with the NAO, PNA, and ENSO matches a priori expectations due to the known surface temperature patterns associated with these oscillations. In all regions, the strongest correlation to ice-off is with one of the high-frequency modes—the NAO or PNA, suggesting that short-term weather variations play a stronger role than lower-frequency climate variability (ENSO, PDO, AMO) in driving ice-off.
Access options
Buy single article
Instant access to the full article PDF.
USD 39.95
Price includes VAT (USA)
Tax calculation will be finalised during checkout.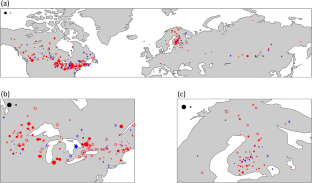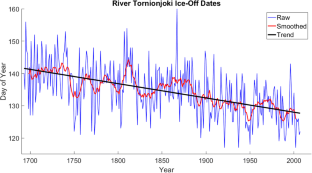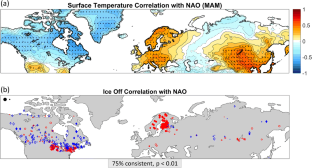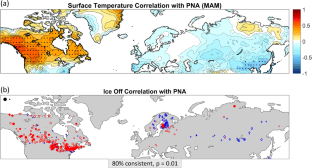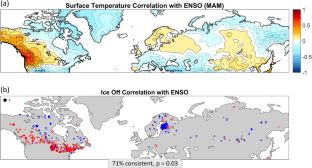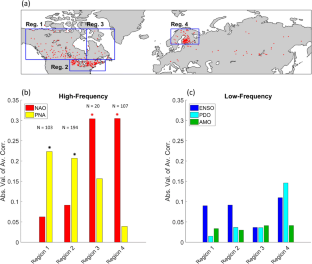 Acknowledgements
The time series of the PNA and PDO are freely available from the NOAA Climate Prediction Center and National Centers for Environmental Information, respectively. The Niño 3.4 index and AMO time series are available from the NOAA Earth System Research Laboratory. The NAO time series is available from the National Center for Atmospheric Research Climate Data Guide.
Funding
This project was supported by start-up funding awarded to KMG by the University of Virginia and the National Science Foundation grant DEB-1456151 awarded to MLP.
Ethics declarations
Conflict of interest
The authors declare that they have no conflicts of interest.
Additional information
Publisher's Note
Springer Nature remains neutral with regard to jurisdictional claims in published maps and institutional affiliations.
Electronic supplementary material
About this article
Cite this article
Schmidt, D.F., Grise, K.M. & Pace, M.L. High-frequency climate oscillations drive ice-off variability for Northern Hemisphere lakes and rivers. Climatic Change 152, 517–532 (2019). https://doi.org/10.1007/s10584-018-2361-5
Received:

Accepted:

Published:

Issue Date: