Abstract
Over the past decade, there has been a growing focus on resilience-building work by international humanitarian and development organizations; however, development policies have historically given less attention to the different perceptions and experiences of women and various ethnic groups. Drawing on empirical evidence from Isiolo County, Kenya, the objective of this paper is to highlight how resilience-building work should pay more attention to differing perceptions of livelihood resilience between genders and members of different ethnic groups, specifically through an intersectional lens. A total of 338 quantitative household surveys were conducted: 152 in Kinna and 187 in Burat. Perceptions of livelihood resilience were measured using the Household Livelihood Resilience Approach (HLRA). Results found that perceptions of livelihood resilience were lower for females and did vary between the four ethnic groups involved in the study. An intersectional analysis of gender and ethnicity found more nuanced results than looking at gender or ethnicity alone. Further, while perceptions of changes in drought severity and frequency were not significantly different between genders, they did vary by ethnic group and major livelihood practice. Overall, research results demonstrate how perceptions of household livelihood resilience, and the impacts of climate change, vary based on the intersectionality of demographic characteristics. Integrating a diversity of perceptions into resilience-building work can lead to more successful outcomes for a greater number of individuals, achieving overall poverty reduction.
Access options
Buy single article
Instant access to the full article PDF.
USD 39.95
Price excludes VAT (USA)
Tax calculation will be finalised during checkout.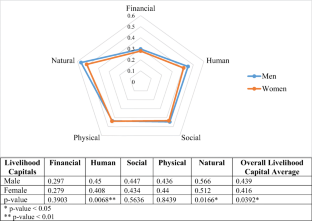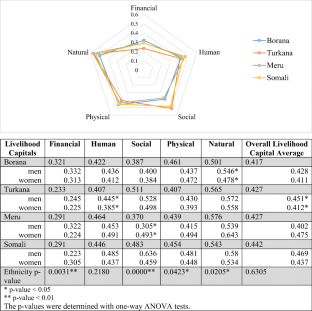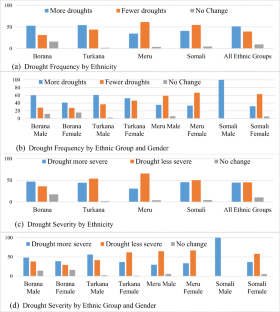 References
Ajulu R (2002) Politicised ethnicity, competitive politics and conflict in Kenya: a historical perspective. Afr Stud 61(2):251–268. https://doi.org/10.1080/000201802200032947

Aregu L, Darnhofer I, Tegene A, Hoekstra D, Wurzinger M (2016) The impact of gender-blindness on social-ecological resilience: the case of a communal pasture in the highlands of Ethiopia. Ambio 45(3):287–296

Babulo B, Muys B, Nega F, Tollens E, Nyssen J, Deckers J, Mathis E (2008) Household livelihood strategies and forest dependence in the highlands of Tigray, Northern Ethiopia. Agric Syst 98:147–155. https://doi.org/10.1016/j.agsy.2008.06.001

Bene C, Al-Hassan RM, Amarasinghe O, Fong P, Oscran J, Onumah E, Ratuniata R, Van Tuyen T, McGregor JA, Mills DJ (2016) Is resilience socially constructed? Empirical evidence from Fiji, Ghana, Sri Lanka, and Vietnam. Global Environ Chang 38:153–170

Bedasso BE (2017) For richer, for poorer: why ethnicity often trumps economic cleavages in Kenya. Rev Afr Polit Econ 44(151):10–29. https://doi.org/10.1080/03056244.2016.1169164

Boye RS, Kaarhus R (2011) Competing claims and contested boundaries: legitimizing land rights in Isiolo District, Northern Kenya. Afr Spectr 46(2):99–124

Brown K (2014) Global environmental change 1: a social turn for resilience? Prog Hum Geog 38(1):107–117. https://doi.org/10.1177/0309132513498837

Burbidge D, Cheeseman N (2017) Trust, ethnicity and integrity in East Africa: experimental evidence from Kenya and Tanzania. J Race Ethnicity Politics 2:88–123. https://doi.org/10.1017/rep2016.20

Campbell B, Sayer JA, Frost P, Vermeulen S, Ruiz Perez M, Cunningham A, Prabhu R (2001) Assessing the performance of natural resource systems. Conserv Ecol 5(2):22

Carney D (1998) Implementing the sustainable rural livelihoods approach. In: Carney D(ed) Sustainable rural livelihoods: what contribution can we make? DFID, London, UK.

Carr ER, Thompson MC (2014) Gender and climate change adaptation in agrarian settings: current thinking, new directions, and research frontiers. Geogr Compass 8(3):182–197

Chambers R, Conway G (1992) Sustainable rural livelihoods: practical concepts for the 21st Century, IDS Discussion Paper 296. Institute of Development Studies, Brighton

Constas M, et al (2014) A common analytical model for resilience management – causal framework and methodological options. Resilience Measurement Technical Working Group, FSiN Technical Series Paper No. 2, World Food Program and Food and Agriculture Organization, 52pg

Enns C, Bersaglio B (2015) Exploring the implications of oil and gas development for livelihood resilience in Turkana, Kenya. For the PRISE small grant programme of the Overseas Development Institute. Overseas Development Institute, London, UK.

IPCC (2014) Climate change 2014: synthesis report. Contribution of Working Groups I, II, and III to the Fifth Assessment Report of the Intergovernmental Panel on Climate Change [Core Writing Team, Pachauri RK, Meyer LA (eds.)]. IPCC, Geneva, Switzerland, 151 pp.

Jones L, Tanner T (2015) Measuring subjective resilience: using people's perceptions to quantify household resilience, Overseas Development Institute Working Paper 423. https://doi.org/10.13140/RG.2.1.2438.1289

Kanji N, Tan SF, Toulmin C (2007) Introduction: Boserup revisited. In: E. Boserup, Womens Role in Economic Development, Earthscane, New York

Keating A, Campbell K, Szoenyi M, McQuistan C, Nash D, Burer M (2016) Development and testing of a community flood resilience measurement tool. Nat Hazard Earth Sys. https://doi.org/10.5194/nhess-2016-188

Kristjanson P, Bryan E, Bernier Q, Twyman J, Meinzen-Dick R, Kieran C, Ringler C, Jost C, Doss C (2017) Addressing gender in agricultural research for development in the face of a changing climate: where are we and where should we be going? Int J Agr Sustain 15(5):482–500. https://doi.org/10.1080/14735903.2017.1336411

Le Masson V (2016) Gender and resilience: from theory to practice. Building Resilience and Adaptation to Climate Extremes and Disasters (BRACED) Working paper.

Lebel L, Lebel P, Lebel B (2017) Gender and the management of climate-related risks in Northern Thailand. UNESCO: 147-158.

Linstädter A, Kuhn A, Naumann C, Rasch S, Sandhage-Hofmann A, Amelung W, Jordaan J, Du Preez CC, Bollig M (2016) Assessing the resilience of a real-world social-ecologicla system: lessons from a multidisciplinary evaluation of a South African pastoral system. Ecol Soc 21(3):35. https://doi.org/10.5751/ES-08737-210335

Mishra AK, Singh VP (2010) A review of drought concepts. J Hydrol 391:202–216

Mullins A, Soetanto R (2013) Ethnic differences in perceptions of social responsibility: informing risk communication strategies for enhancing community resilience to flooding. Disaster Prev Manag 22(2):119–131

Ngigi MW, Mueller U, Birner R (2017) Gender differences in climate change adaptation strategies and participation in group-based approaches: an intra-household analysis from rural Kenya. Ecol Econ 138:99–108

Nielsen JO, Reenberg A (2010) Cultural varies to climate change adaptation: a case study from northern Burkina Faso. Global Environ Chang 20(1):142–152

Perez C, Jones C, Kristjanson P, Cramer L, Thornton PK, Forch W, Barahona C (2015) How resilient are farming households and communities to a changing climate in Africa? A gender-based perspective. Global Environ Chang 34:95–107

Quandt A (2018) Household livelihood resilience approach: a sustainable livelihoods approach for measuring livelihood resilience. World Dev 107:253–263. https://doi.org/10.1016/j.worlddev.2018.02.024.

Quandt A, Kimathi A (2016) Adapting livelihoods to climate change in arid Kenya: local perspectives and insights. Afr J Rural Dev 1(1):51–60

Quandt A, Kimathi A (2017) Perceptions of the effects of floods and droughts on livelihoods: lessons from arid Kenya. Int J Clim Chang Str 9(3). https://doi.org/10.1108/IJCCSM-11-2014-0132

Quandt A, Neufeldt H, McCabe JT (2018) Building livelihood resilience: what role does agroforestry play? Clim Dev. https://doi.org/10.1080/17565529.2018.1447903

Quandt A, Neufeldt H, McCabe JT (2017) The role of agroforestry in building livelihood resilience to floods and droughts in semi-arid Kenya. Ecol Soc 22(3). https://doi.org/10.5751/ES-09461-220310

Rakodi C (1999) A capital assets framework for analyzing household livelihood strategies: implications for policy. Dev Policy Rev 17:315–342. https://doi.org/10.1111/1467-7679.00090

Rocheleau D, Thomas-Slayter B, Wangari E (1996) Chapter 1: gender and environment: a feminist political ecology perspective. In: Rocheleau D, Thomas-Slayter B, Wangari E (eds) Feminist political ecology: global issues and local experiences. Routledge, New York, pp 3–23

Singh PK, Chudasama H (2017) Pathways for drought resilient livelihoods based on people's perceptions. Clim Chang 140:179–193

Slegers MFW (2008) "If only it would rain": farmers' perceptions of rainfall and drought in semi-arid Central Tanzania. J Arid Environ 72:2106–2123

Soetanto R, Mullis A, Achour A (2016) The perceptions of social responsibility for community resilience to flooding: the impact of past experience, age, gender and ethnicity. Nat Hazards 86(3):1105–1126. https://doi.org/10.1007/s11069-016-2732-z

Tanner T, Lewis D, Wrathall D, Bronen R, Cradock-Henry N, Huq S, Lawless C et al (2015) Livelihood resilience in the face of climate change. Nat Clim Chang (1):23–26. https://doi.org/10.1038/NCLIMATE2431

Thulstrup AW (2015) Livelihood resilience and adaptive capacity: tracing changes in household access to capital and Central Vietnam. World Dev 74:352–362. https://doi.org/10.1016/j.worlddev.2015.05.019

Tschakert P, Machado M (2012) Gender justice and rights in climate change adaptation: opportunities and pitfalls. Ethics and Social Welfare 6:275–289

Van Dijk H, Bose P (2016) Dryland landscapes: forest management, gender and social diversity in Asian and Africa. In: Dryland forests. Management and social diversity in Africa and Asia. Springer, New York, pp 3–21

Walker B, Salt D (2006) Resilience thinking: sustaining ecosystems and people in a changing world. Island Press, USA

Warner MW, Kydd JG (1997) Beyond gender roles? Conceptualizing the social and economic lives of rural peoples in Sub-Saharan Africa. Dev Change 28:143–168

Wilhite DA (2000) Chapter 1: drought as a natural hazard: concepts and definitions. In: Wilhite DA (ed) Drought: a global assessment, Vol. 1, pp. 3–18
Acknowledgments
Most importantly, I would like to acknowledge the communities of Burat and Kinna that so graciously welcomed me and to the households that spent sometimes hours answering our endless questions. Second, this research would not have been possible without the assistance of the World Agroforestry Centre in Nairobi, and the Kenya Red Cross Society—Isiolo Branch, in Isiolo. Red Cross Volunteers played an integral role in all stages of data collection, and a special thanks goes to Noor Hussein. I would also like to thank J. Terrence McCabe, Henry Neufeldt, Joel Harrter, Lisa Dilling, Myles Osborne, and Max Boykoff for their feedback.
Funding
This work was supported by a US Borlaug Fellows in Global Food Security Graduate Research Grant (grant number 206766) which supported field and research costs for Quandt.
Ethics declarations
Research participants provided informed consent to take part in this research. This research was approved by the Institutional Review Board at the University of Colorado under protocol no. 14-0059.
Conflict of interest
The author declares that she has no conflict of interest.
Additional information
Publisher's Note
Springer Nature remains neutral with regard to jurisdictional claims in published maps and institutional affiliations.
Electronic supplementary material
About this article
Cite this article
Quandt, A. Variability in perceptions of household livelihood resilience and drought at the intersection of gender and ethnicity. Climatic Change 152, 1–15 (2019). https://doi.org/10.1007/s10584-018-2343-7
Received:

Accepted:

Published:

Issue Date:

DOI: https://doi.org/10.1007/s10584-018-2343-7