Abstract
Using an ensemble of 10 statistically downscaled global climate model (GCM) simulations, we project future climate change impacts on the state of Indiana (IN) for two scenarios of greenhouse gas concentrations (a medium scenario—RCP4.5 and a high scenario—RCP 8.5) for three future time periods (2020s, 2050s, 2080s). Relative to a 1971–2000 baseline, the projections show substantial changes in temperature (T) for IN, with a change in the annual ensemble mean T for the 2080s RCP8.5 scenario of about 5.6 °C (10.1 °F). Such changes also indicate major changes in T extremes. For southern IN, the number of days with daily maximum T above 35 °C (95 °F) is projected to be about 100 days per year for the 2080s RCP8.5 scenario, as opposed to an average of 5 days for the historical baseline climate. Locations in northern IN could experience 50 days per year above 35 °C (95 °F) for the same conditions. Energy demand for cooling, as measured by cooling degree days (CDD), is projected to increase nearly fourfold in response to this extreme warming, but heating demand as measured by heating degree days (HDD) is projected to decline by 30%, which would result in a net reduction in annual heating/cooling energy demand for consumers. The length of the growing season is projected to increase by about 30 to 50 days by the 2080s for the RCP8.5 scenario, and USDA hardiness zones are projected to shift by about one full zone throughout IN. By the 2080s, all GCM simulations for the RCP8.5 scenario show higher annual precipitation (P) over the Midwest and IN. Projected seasonal changes in P include a 25–30% increase in winter and spring by the 2080s for the RCP8.5 scenarios and a 1–7% decline in summer and fall P (although there is a low model agreement in the latter two seasons). Rising T is projected to cause systematic decreases in the snow-to-rain ratio from Nov-Mar. Snow is projected to become uncommon in southern IN by the 2080s for the RCP8.5 scenario, and snowfall is substantially reduced in other areas of the state. The combined effects of these changes in T, P, and snowfall will likely result in increased surface runoff and flooding during winter and spring.
Access options
Buy single article
Instant access to the full article PDF.
USD 39.95
Price includes VAT (USA)
Tax calculation will be finalised during checkout.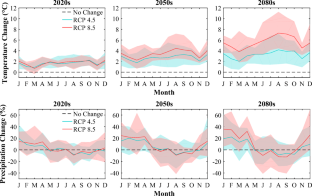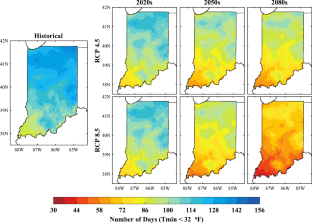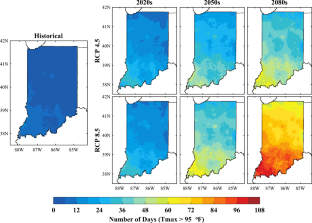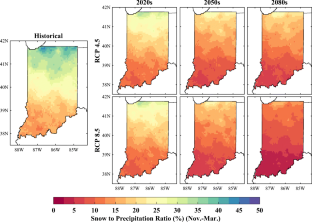 References
Byun K, Hamlet AF (2018) Projected changes in future climate over the Midwest and Great Lakes region using downscaled CMIP5 Ensembles. Int J Climatol 38:e531–e553. https://doi.org/10.1002/joc.5388

Byun K, Chiu CM, Hamlet AF (2019) Effects of 21st century climate change on seasonal flow regimes and hydrologic extremes over the Midwest and Great Lakes region of the US. Science of The Total Environment 650:1261-1277. https://doi.org/10.1016/j.scitotenv.2018.09.063

Chin N, Byun K, Hamlet AF, Cherkauer KA (2018) Assessing potential winter weather response to climate change and implications for tourism in the U.S. Great Lakes and Midwest. Journal of Hydrology: Regional Studies 19:42-56. https://doi.org/10.1016/j.ejrh.2018.06.005

Daly C, Halbleib M, Smith JI, Gibson WP, Doggett MK, Taylor GH, Curtis J, Pasteris PP (2008) Physiographically sensitive mapping of climatological temperature and precipitation across the conterminous United States. Int J Climatol 28:2031–2064. https://doi.org/10.1002/joc.1688

Ensor LA, Robeson SM (2008) Statistical characteristics of daily precipitation: comparisons of gridded and point datasets. J Appl Meteorol Climatol 47(9):2468–2476

Hamlet AF, Lee SY, Mickelson KEB, Elsner MM (2010) Effects of projected climate change on energy supply and demand in the Pacific Northwest and Washington State. Clim Chang 102(1–2). https://doi.org/10.1007/s10584-010-9857-y

Hamlet AF, Elsner MM, Mauger G, Lee S-Y, Tohver I, Norheim RA (2013) An overview of the Columbia Basin Climate Change Scenarios Project: approach, methods, and summary of key results. Atmosphere-Ocean 51:392–415. https://doi.org/10.1080/07055900.2013.819555

IPCC, 2013, Climate Change 2013: The physical basis. Contribution of Working Group 1 to the Fifth Assessment Report of the IPCC, Cambridge University Press, 1535pp

Liu C, Ikeda K, Rasmussen R, Barlage M, Newman AJ, Prein AF, Chen F, Chen L, Clark M, Dai A, Dudhia J (2016) Continental-scale convection-permitting modeling of the current and future climate of North America. Clim Dyn:1–25

Moss, R.; Mustafa Babiker; Sander Brinkman; Eduardo Calvo; Tim Carter; Jae Edmonds; Ismail Elgizouli; Seita Emori; Lin Erda; Kathy Hibbard; Roger Jones; Mikiko Kainuma; Jessica Kelleher; Jean Francois Lamarque; Martin Manning; Ben Matthews; Jerry Meehl; Leo Meyer; John Mitchell; Nebojsa Nakicenovic; Brian O'Neill; Ramon Pichs; Keywan Riahi; Steven Rose; Paul Runci; Ron Stouffer; Detlef van Vuuren; John Weyant; Tom Wilbanks; Jean Pascal van Ypersele & Monika Zurek, 2008: Towards new scenarios for analysis of emissions, climate change, impacts, and response strategies, Geneva: intergovernmental panel on Climate Change. p. 132

Mueller ND, Butler EE, McKinnon KA, Rhines A, Tingley M, Holbrook NM, Huybers P (2016) Cooling of US Midwest summer temperature extremes from cropland intensification. Nat Clim Chang 6(3):317–322

Prein AF, Liu C, Ikeda K, Trier SB, Rasmussen RM, Holland GJ, Clark MP (2018) Increased rainfall volume from future convective storms in the US. Nat Clim Chang (7):880–884

Raymond L, Gotham D, McClain W, Mukherjee S, Nateghi R, Preckel PV, Schubert P, Singh S, Wachs L Projected climate change impacts on Indiana's energy demand and supply. Climatic Change (in press)

Rupp DE, Abatzoglou JT, Hegewisch KC, Mote PW (2013) Evaluation of CMIP5 20th century climate simulations for the Pacific Northwest USA. J Geophys Res Atmos 118(10):884–10,906. https://doi.org/10.1002/jgrd.50843

Schoof JT, Robeson SM (2016) Projecting changes in regional and local climate extremes in the United States. Weather and Climate Extremes 11:28–40

Sharma A, Hamlet AF, Fernando HJS, Catlett CE, Horton DE, Kotamarthi VR, Kristovich DAR, Packman AI, Tank JL, Wuebbles DJ (2018) The Need for an Integrated Land-Lake-Atmosphere Modeling System, Exemplified by North America's Great Lakes Region. Earth's Future 6(10):1366-1379. https://doi.org/10.1029/2018EF000870

Smith SJ, Mizrahi A (2013) Near-term climate mitigation by short-lived forcers. Proc Natl Acad Sci 110(35):14202–14206

Taylor KE, Stouffer RJ, Meehl GA (2012) An overview of CMIP5 and the experiment design. Bull Am Meteorol Soc 93:485–498. https://doi.org/10.1175/BAMS-D-11-00094.1

Tohver IM, Hamlet AF, Lee SY (2014) Impacts of 21st-century climate change on hydrologic extremes in the Pacific Northwest Region of North America. J Am Water Resour Assoc 50:1461–1476. https://doi.org/10.1111/jawr.12199

USGCRP (2017) In: Wuebbles DJ, Fahey DW, Hibbard KA, Dokken DJ, Stewart BC, Maycock TK (eds) Climate science special report: fourth national climate assessment, volume I. U.S. Global Change Research Program, Washington, DC, p 470

Winkler JA, Arritt RW, Pryor SC (2012) Climate projections for the Midwest: availability, interpretation and synthesis. US Natl Clim Assess Midwest Tech Input Rep 24:9781610915113

Wood AW, Maurer EP, Kumar A, Lettenmaier DP (2002) Long range experimental hydrologic forecasting for the eastern U.S. J Geophys Res 107(D20):4429. https://doi.org/10.1029/2001JD000659

Wood AW, Leung LR, Sridhar V, Lettenmaier DP (2004) Hydrologic implications of dynamical and statistical approaches to downscaling climate model outputs. Clim Chang 62:189–216. https://doi.org/10.1023/B:CLIM.0000013685.99609.9e
Acknowledgements
This paper is a contribution to the Indiana Climate Change Impacts Assessment (INCCIA). The INCCIA is organized and financially supported by the Purdue Climate Change Research Center.
Additional information
Publisher's Note
Springer Nature remains neutral with regard to jurisdictional claims in published maps and institutional affiliations.
This article is part of a Special Issue on "The Indiana Climate Change Impacts Assessment" edited by Jeffrey Dukes, Melissa Widhalm, Daniel Vimont, and Linda Prokopy.
Electronic supplementary material
About this article
Cite this article
Hamlet, A.F., Byun, K., Robeson, S.M. et al. Impacts of climate change on the state of Indiana: ensemble future projections based on statistical downscaling. Climatic Change 163, 1881–1895 (2020). https://doi.org/10.1007/s10584-018-2309-9
Received:

Accepted:

Published:

Issue Date: