Abstract
Advances in event attribution have improved scientific confidence in linking climate change to extreme weather severity and frequency, but this confidence varies by event type. Yet, scholars and activists argue that extreme weather events may provide the best opportunity to raise awareness and prompt action on climate change. We focus on four cases of extreme weather with low attribution (tornado outbreaks in Laurel County, Kentucky, and Winston County, Mississippi; wildfires in Yavapai County, Arizona, and Lake County, California). We survey county residents to examine the role of event proximity, community- and event-specific characteristics, and reported harm in shaping climate change views post-event. Using multilevel regression analysis, we find that reported personal and community harm aligns with event proximity and larger community damages. For our respondents' climate change views, however, political ideology dominates, suggesting the importance of motivated reasoning in individual interpretations of extreme weather events. At the same time, while event proximity is irrelevant, we find reported harm to be related to climate change views. Thus, while respondents appear to be making connections between extreme weather events and climate change among our four cases, these connections seem to be most likely to occur in communities where belief in climate change is already high, the event caused significant impacts and is more attributable to climate change, and elites frame the event in these terms—as in Lake County. Our findings are particularly relevant for policymakers and activists looking to such events as catalysts for climate change mitigation and adaptation efforts.
This is a preview of subscription content,
to check access.
Access this article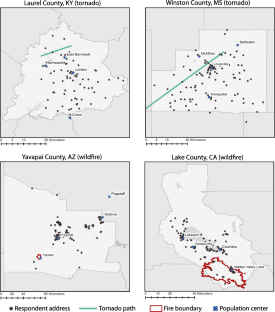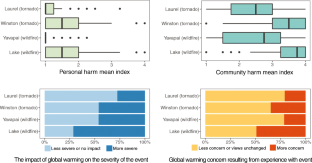 Notes
We use the term global warming, rather than climate change, for comparability to downscaled national surveys (Howe et al. 2015).

As highlighted in Corner et al. (2012), actual attitude change would have required a "before-and-after" method, where respondents would have been asked to state their current views about climate change both before and after the extreme weather event. Reported attitude change is measured only once, after the event, and asks respondents to assess whether their attitudes have changed since before the event. Psychological research comparing actual to reported attitude changes in experimental settings indicates that reported attitudinal changes might show more evidence of attitude polarization (e.g., between non-skeptics and skeptics of climate change) than actual measures (Corner et al. 2012). For our purposes, reported attitude change was our only option given that we only conducted post-event surveys.

Alternatively, we modeled five-point scale versions of the climate change view measures using ordinal logistic multilevel regression and found that the proportional odds ratio assumption was violated.

The R package lavaan does not accommodate multilevel modeling at the time of conducting this research, so the results of this analysis are not directly comparable to the models we present throughout this article. We will provide them upon reader request.
References
Akerlof K, Maibach EW, Fitzgerald D et al (2013) Do people "personally experience" global warming, and if so how, and does it matter? Glob Environ Chang 23:81–91. https://doi.org/10.1016/j.gloenvcha.2012.07.006

Bates D, Mächler M, Bolker B, Walker S (2014) Fitting linear mixed-effects models using lme4. arXiv preprint arXiv:14065823

Blennow K, Persson J, Tomé M, Hanewinkel M (2012) Climate change: believing and seeing implies adapting. PLoS One 7:e50182. https://doi.org/10.1371/journal.pone.0050182

Bohr J (2017) Is it hot in here or is it just me? Temperature anomalies and political polarization over global warming in the American public. Clim Chang 142:271–285

Borick CP, Rabe BG (2017) Personal experience, extreme weather events, and perceptions of climate change. https://doi.org/10.1093/acrefore/9780190228620.013.311

Broomell SB, Budescu DV, Por H-H (2015) Personal experience with climate change predicts intentions to act. Glob Environ Chang 32:67–73. https://doi.org/10.1016/j.gloenvcha.2015.03.001

Brulle RJ, Carmichael J, Jenkins JC (2012) Shifting public opinion on climate change: an empirical assessment of factors influencing concern over climate change in the US, 2002–2010. Clim Chang 114:169–188

Carlton JS, Mase AS, Knutson CL et al (2016) The effects of extreme drought on climate change beliefs, risk perceptions, and adaptation attitudes. Clim Chang 135:211–226. https://doi.org/10.1007/s10584-015-1561-5

Cody EM, Stephens JC, Bagrow JP et al (2017) Transitions in climate and energy discourse between Hurricanes Katrina and Sandy. J Environ Stud Sci 7:87–101. https://doi.org/10.1007/s13412-016-0391-8

Corner A, Whitmarsh L, Xenias D (2012) Uncertainty, scepticism and attitudes towards climate change: biased assimilation and attitude polarisation. Clim Chang 114:463–478. https://doi.org/10.1007/s10584-012-0424-6

Demski C, Capstick S, Pidgeon N et al (2017) Experience of extreme weather affects climate change mitigation and adaptation responses. Clim Chang 140:149–164. https://doi.org/10.1007/s10584-016-1837-4

Deryugina T (2013) How do people update? The effects of local weather fluctuations on beliefs about global warming. Clim Chang 118:397–416. https://doi.org/10.1007/s10584-012-0615-1

Dillman DA, Smyth JD, Christian LM (2014) Internet, phone, mail, and mixed-mode surveys: the tailored design method. Wiley

Extreme weather and climate change in the American mind April 2013. In: Yale Program on Climate Change Communication. http://climatecommunication.yale.edu/publications/extreme-weather-and-climate-change-in-the-american-mind-april-2013/. Accessed 18 Apr 2018

Hamilton LC, Hartter J, Lemcke-Stampone M et al (2015) Tracking public beliefs about anthropogenic climate change. PLoS One 10:e0138208. https://doi.org/10.1371/journal.pone.0138208

Hamilton LC, Wake CP, Hartter J et al (2016) Flood realities, perceptions and the depth of divisions on climate. Sociology 50:913–933. https://doi.org/10.1177/0038038516648547

Howe PD, Boudet H, Leiserowitz A, Maibach EW (2014) Mapping the shadow of experience of extreme weather events. Clim Chang 127:381–389. https://doi.org/10.1007/s10584-014-1253-6

Howe PD, Mildenberger M, Marlon JR, Leiserowitz A (2015) Geographic variation in opinions on climate change at state and local scales in the USA. Nat Clim Chang 5:596–603. https://doi.org/10.1038/nclimate2583

Konisky DM, Hughes L, Kaylor CH (2016) Extreme weather events and climate change concern. Clim Chang 134:533–547. https://doi.org/10.1007/s10584-015-1555-3

Lake County (2017) Lake County, CA GIS Portal. http://gispublic.co.lake.ca.us/portal/home/. Accessed 15 Aug 2017

Lang C (2014) Do weather fluctuations cause people to seek information about climate change? Clim Chang 125:291–303. https://doi.org/10.1007/s10584-014-1180-6

Lujala P, Lein H, Rød JK (2015) Climate change, natural hazards, and risk perception: the role of proximity and personal experience. Local Environ 20:489–509. https://doi.org/10.1080/13549839.2014.887666

Magill B (2015) Climate firestorm leaves mass destruction in California. In: Scientific American. https://www.scientificamerican.com/article/firestorm-leaves-mass-destruction-in-california/. Accessed 25 Mar 2018

Maibach EW, Leiserowitz A, Roser-Renouf C, Mertz CK (2011) Identifying like-minded audiences for global warming public engagement campaigns: an audience segmentation analysis and tool development. PLoS One 6:e17571. https://doi.org/10.1371/journal.pone.0017571

Marquart-Pyatt ST, McCright AM, Dietz T, Dunlap RE (2014) Politics eclipses climate extremes for climate change perceptions. Glob Environ Chang 29:246–257. https://doi.org/10.1016/j.gloenvcha.2014.10.004

McAdam D (2017) Social movement theory and the prospects for climate change activism in the United States. Ann Rev Polit Sci 20:189–208

McCright AM, Dunlap RE, Marquart-Pyatt ST (2016) Political ideology and views about climate change in the European Union. Environ Polit 25:338–358. https://doi.org/10.1080/09644016.2015.1090371

McDonald RI, Chai HY, Newell BR (2015) Personal experience and the 'psychological distance' of climate change: an integrative review. J Environ Psychol 44:109–118. https://doi.org/10.1016/j.jenvp.2015.10.003

Myers TA, Maibach EW, Roser-Renouf C et al (2013) The relationship between personal experience and belief in the reality of global warming. Nat Clim Chang 3:343–347. https://doi.org/10.1038/nclimate1754

National Academies of Sciences E (2016) Attribution of extreme weather events in the context of climate change

NOAA (2017) NOAA's National Weather Service Storm Prediction Center. http://www.spc.noaa.gov/gis/svrgis/. Accessed 15 Aug 2017

Ogunbode CA, Liu Y, Tausch N (2017) The moderating role of political affiliation in the link between flooding experience and preparedness to reduce energy use. Clim Chang:1–14. https://doi.org/10.1007/s10584-017-2089-7

Ray A, Hughes L, Konisky DM, Kaylor C (2017) Extreme weather exposure and support for climate change adaptation. Glob Environ Chang 46:104–113

Renn O (2011) The social amplification/attenuation of risk framework: application to climate change: social amplification/attenuation of risk framework. Wiley Interdiscip Rev Clim Chang 2:154–169. https://doi.org/10.1002/wcc.99

Reser JP, Bradley GL, Ellul MC (2014) Encountering climate change: 'seeing' is more than 'believing. WIREs Clim Change 5:521–537. https://doi.org/10.1002/wcc.286

Rosseel Y (2012) Lavaan: an R package for structural equation modeling and more. J Stat Softw 48:1–36

Shepard S, Boudet H, Zanocco CM et al (2018) Community climate change beliefs, awareness, and actions in the wake of the September 2013 flooding in Boulder County, Colorado. J Environ Stud Sci:1–14. https://doi.org/10.1007/s13412-018-0479-4

Sisco MR, Bosetti V, Weber EU (2017) When do extreme weather events generate attention to climate change? Clim Chang 143:227–241. https://doi.org/10.1007/s10584-017-1984-2

Spence A, Poortinga W, Pidgeon N (2012) The psychological distance of climate change. Risk Anal 32:957–972. https://doi.org/10.1111/j.1539-6924.2011.01695.x

Trope Y, Liberman N (2010) Construal-level theory of psychological distance. Psychol Rev 117:440–463. https://doi.org/10.1037/a0018963

U.S. Census Bureau (2017) 2011–2015 American community survey 5-year estimates

U.S. Geological Survey (2014) 1997–2014 Edition of the National Atlas of the United States

van der Linden S (2015) The social-psychological determinants of climate change risk perceptions: towards a comprehensive model. J Environ Psychol 41:112–124. https://doi.org/10.1016/j.jenvp.2014.11.012

Vaske J (2008) Survey research and analysis: applications in parks, recreation and human dimensions. Venture Publishing, Inc., State College

Winston County Journal (2014) Gov. Bryant holds press conferences on storms that hit county. http://winstonnewsonline.com/class/043014WCJ.pdf. Accessed 15 Aug 2017

Yavapai County Sheriff's Office (2013) The destruction of Yarnell hill fire. https://www.arcgis.com/home/webmap/viewer.html?webmap=31965427fa784da4b57b89cff9bf3c6d. Accessed 15 Aug 2017
Acknowledgements
We would like to acknowledge the many individuals from Laurel, Winston, Yavapai, and Lake Counties who graciously offered their time and perspectives for interviews and surveys. We would also like to thank our project collaborators for their invaluable assistance, including Doug McAdam, Jenna Knobloch, Ika Widiyasari, Noel Downing, Courtney Flathers, and Stephanie Shepard.
Funding
This research was funded in part by the National Science Foundation Sociology Program grant no. 1357055, Community Reactions to Extreme Weather Events.
Electronic supplementary material
About this article
Cite this article
Zanocco, C., Boudet, H., Nilson, R. et al. Place, proximity, and perceived harm: extreme weather events and views about climate change. Climatic Change 149, 349–365 (2018). https://doi.org/10.1007/s10584-018-2251-x
Received:

Accepted:

Published:

Issue Date:

DOI: https://doi.org/10.1007/s10584-018-2251-x