Abstract
Spring frosts are feared by farmers, fruit growers, and wine growers as they can cause significant damage to crops when they occur during the development of the plants. In the second half of April 2017, following a very warm period that had caused premature vegetation growth, a cold air mass from the Arctic penetrated central and western Europe, causing severe damage to natural and cultivated vegetation over broad areas. Here, we analyze how exceptional this event was in Switzerland and Germany in relation to the accumulated growing degree days (GDD), used as a proxy for plant phenology advancement. Although this damaging frost was not the latest on record in terms of calendar days, our results show that it was, in some regions, unprecedented in relation to the accumulated warmth during the preceding period, at least since the beginning of instrumental temperature records (1864). Our results also highlight how global warming has considerably increased the number of days with mean temperature above 5 °C in late winter and early spring, especially since 1970 (+ 16.8 ± 4.7 °C days decade−1). However, in spite of earlier spring phenology due to climate warming, our results suggest that the risk of damaging frost events to vegetation has remained unchanged over the last 150 years in lowlands of Switzerland and Germany, due to the concurring earlier occurrence of the last potentially damaging frosts (about − 20 days since 1864). Our analyses reveal therefore that the April 2017 damaging frost was a true outlier in terms of risk of frost damage to plants.
This is a preview of subscription content,
to check access.
Access this article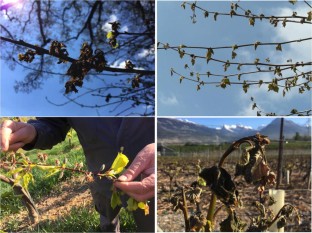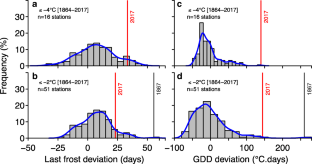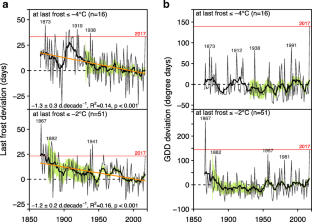 Similar content being viewed by others
References
Akyüz FA, Ransom JK (2015) Growing degree day calculation method comparison between two methods in the northern edge of the US Corn Belt. J Serv Climatol 2015:1–9

Asse D, Chuine I, Vitasse Y, Yoccoz NG, Delpierre N, Badeau V, Delestrade A, Randin CF (2018) Warmer winters reduce the advance of tree spring phenology induced by warmer springs in the alps. Agric For Meteorol 252:220–230

Augspurger CK (2009) Spring 2007 warmth and frost: phenology, damage and refoliation in a temperate deciduous forest. Funct Ecol 23:1031–1039

Augspurger CK (2013) Reconstructing patterns of temperature, phenology, and frost damage over 124 years: spring damage risk is increasing. Ecology 94:41–50

Begert M, Schlegel T, Kirchhofer W (2005) Homogeneous temperature and precipitation series of Switzerland from 1864 to 2000. Int J Climatol 25:65–80

Bernadette L, Bouchard-Aerts V (2017) Une production viticole 2017 estimée, au 1er octobre, en baisse de 18% par rapport à la moyenne quinquennale. Agreste Infos Rapides - Viticultures - Octobre 2017 n°2017-147

Chmielewski FM, Gotz KP, Weber KC, Moryson S (2018) Climate change and spring frost damages for sweet cherries in Germany. Int J Biometeorol 62:217–228

Chuine I (2000) A unified model for budburst of trees. J Theor Biol 207:337–347

Coville FV (1920) The influence of cold in stimulating the growth of plants. Proc Natl Acad Sci U S A 6:434–435

Delpierre N, Vitasse Y, Chuine I, Guillemot J, Bazot S, Rutishauser T, Rathgeber CBK (2016) Temperate and boreal forest tree phenology: from organ-scale processes to terrestrial ecosystem models. Ann For Sci 73:5–25

Easterling DR, Horton B, Jones PD, Peterson TC, Karl TR, Parker DE, Salinger MJ, Razuvayev V, Plummer N, Jamason P, Folland CK (1997) Maximum and minimum temperature trends for the globe. Science 277:364–367

FAO (2007) Interdepartmental Working Group on Climate Change. Rome (Italy). Adaptation to climate change in agriculture, forestry and fisheries: perspective, framework and priorities

Fu YH, Piao S, Op de Beeck M, Cong N, Zhao H, Zhang Y, Menzel A, Janssens IA (2014) Recent spring phenology shifts in western Central Europe based on multiscale observations. Glob Ecol Biogeogr 23:1255–1263

Fu YH, Zhao H, Piao S, Peaucelle M, Peng S, Zhou G, Ciais P, Huang M, Menzel A, Penuelas J, Song Y, Vitasse Y, Zeng Z, Janssens IA (2015) Declining global warming effects on the phenology of spring leaf unfolding. Nature 526:104–107

Fu YH, Liu Y, De Boeck HJ, Menzel A, Nijs I, Peaucelle M, Peñuelas J, Piao S, Janssens IA (2016) Three times greater weight of daytime than of night-time temperature on leaf unfolding phenology in temperate trees. New Phytol 212:590–597

Gepts P (2006) Plant genetic resources conservation and utilization. Crop Sci 46:2278–2292

Gu L, Hanson PJ, Mac Post W, Kaiser DP, Yang B, Nemani R, Pallardy SG, Meyers T (2008) The 2007 eastern US spring freezes: increased cold damage in a warming world? Bioscience 58:253–262

Gusewell S, Furrer R, Gehrig R, Pietragalla B (2017) Changes in temperature sensitivity of spring phenology with recent climate warming in Switzerland are related to shifts of the preseason. Glob Chang Biol 23:5189–5202

Hänninen H (1991) Does climatic warming increase the risk of frost damage in northern trees? Plant Cell Environ 14:449–454

Hänninen H (2016) The annual cycle under changing climatic conditions. Boreal and temperate trees in a changing climate: Modelling the Ecophysiology of Seasonality. Springer Netherlands, Dordrecht, pp 263–335

Hansen J, Sato M, Ruedy R (1995) Long-term changes of the diurnal temperature cycle: implications about mechanisms of global climate change. Atmos Res 37:175–209

Hufkens K, Friedl MA, Keenan TF, Sonnentag O, Bailey A, O'Keefe J, Richardson AD (2012) Ecological impacts of a widespread frost event following early spring leaf-out. Glob Chang Biol 18:2365–2377

IPCC (2013) Summary for policymakers. In: Stocker TF, Qin D, Plattner G-K, Tignor M, Allen SK, Boschung J, Nauels A, Xia Y, Bex V, Midgley PM (eds) Climate change 2013: the physical science basis. Contribution of Working Group I to the Fifth Assessment Report of the Intergovernmental Panel on Climate Change. Cambridge University Press, Cambridge, pp 1–30

Karl TR, Knight RW, Gallo KP, Peterson TC, Jones PD, Kukla G, Plummer N, Razuvayev V, Lindseay J, Charlson RJ (1993) A new perspective on recent global warming: asymmetric trends of daily maximum and minimum temperature. Bull Am Meteorol Soc 74:1007–1023

Kistner E, Kellner O, Andresen J, Todey D, Morton LW (2018) Vulnerability of specialty crops to short-term climatic variability and adaptation strategies in the Midwestern USA. Clim Chang 146:1–14

Kreyling J, Stahlmann R, Beierkuhnlein C (2012) Spatial variation in leaf damage of forest trees and the regeneration after the extreme spring frost event in May 2011. For Jagdzeitung 183:15–22

Lenz A, Hoch G, Vitasse Y, Korner C (2013) European deciduous trees exhibit similar safety margins against damage by spring freeze events along elevational gradients. New Phytol 200:1166–1175

Lenz A, Hoch G, Körner C, Vitasse Y (2016) Convergence of leaf-out timing towards minimum risk of freezing damage in temperate trees. Funct Ecol 30:1480–1490

Lindner M, Maroschek M, Netherer S, Kremer A, Barbati A, Garcia-Gonzalo J, Seidl R, Delzon S, Corona P, Kolstrom M, Lexer MJ, Marchetti M (2010) Climate change impacts, adaptive capacity, and vulnerability of European forest ecosystems. For Ecol Manage 259:698–709

Linderholm HW, Walther A, Chen D (2008) Twentieth-century trends in the thermal growing season in the greater Baltic area. Clim Chang 87:405–419

Marino GP, Kaiser DP, Gu L, Ricciuto DM (2011) Reconstruction of false spring occurrences over the southeastern United States, 1901–2007: an increasing risk of spring freeze damage? Environ Res Lett 6:024015

Matiu M, Ankerst DP, Menzel A (2016) Asymmetric trends in seasonal temperature variability in instrumental records from ten stations in Switzerland, Germany and the UK from 1864 to 2012. Int J Climatol 36:13–27

Ningre F, Colin F (2007) Frost damage on the terminal shoot as a risk factor of fork incidence on common beech (Fagus sylvatica L.). Ann For Sci 64:79–86

Osaer A, Vaysse P, Berthoumieu J, Audubert A, Trillot M (1998) Gel de printemps. Protection des vergers. Centre technique interprofessionnel des fruit et legumes, Paris

Post E, Steinman BA, Mann ME (2018) Acceleration of phenological advance and warming with latitude over the past century. Sci Rep 8:3927

R Core Team (2015) cianR: A language and environment for statistical computing. R Foundation for Statistical Computing, Vienna http://www.R-project.org/

Rebetez M (2001) Changes in daily and nightly day-to-day temperature variability during the twentieth century for two stations in Switzerland. Theor Appl Climatol 69:13–21

Rebetez M, Reinhard M (2008) Monthly air temperature trends in Switzerland 1901–2000 and 1975–2004. Theor Appl Climatol 91:27–34

Rigby JR, Porporato A (2008) Spring frost risk in a changing climate. Geophys Res Lett 35:5

Rodrigo J (2000) Spring frosts in deciduous fruit trees - morphological damage and flower hardiness. Sci Hortic 85:155–173

Sacks WJ, Kucharik CJ (2011) Crop management and phenology trends in the US Corn Belt: impacts on yields, evapotranspiration and energy balance. Agric For Meteorol 151:882–894

Scheifinger H, Menzel A, Koch E, Peter C (2003) Trends of spring time frost events and phenological dates in Central Europe. Theor Appl Climatol 74:41–51

Snyder RL, Melo-Abreu JP (2005) Frost protection: fundamentals, practice and economics, vol 1. FAO, Rome, pp 1–240

Trnka M, Olesen JE, Kersebaum KC, Skjelvåg AO, Eitzinger J, Seguin B, Peltonen-Sainio P, Rötter R, Iglesias ANA, Orlandini S, Dubrovsky M, Hlavinka P, Balek J, Eckersten H, Cloppet E, Calanca P, Gobin A, Vucetic V, Nejedlik P, Kumar S, Lalic B, Mestre A, Rossi F, Kozyra J, Alexandrov V, Semerádová D, Zalud Z (2011) Agroclimatic conditions in Europe under climate change. Glob Chang Biol 17:2298–2318

Vandvik V, Halbritter A, Telford R (2018) Greening up the mountain. Proc Natl Acad Sci 201721285

Vitasse Y, Basler D (2013) What role for photoperiod in the bud burst phenology of European beech. Eur J For Res 132:1–8

Vitasse Y, Francois C, Delpierre N, Dufrene E, Kremer A, Chuine I, Delzon S (2011) Assessing the effects of climate change on the phenology of European temperate trees. Agric For Meteorol 151:969–980

Vitasse Y, Lenz A, Koerner C (2014) The interaction between freezing tolerance and phenology in temperate deciduous trees. Front Plant Sci 5:1–12

Vitasse Y, Schneider L, Rixen C, Christen D, Rebetez M (2018a) Increase in the risk of exposure of forest and fruit trees to spring frosts at higher elevations in Switzerland over the last four decades. Agric For Meteorol 248:60–69

Vitasse Y, Signarbieux C, Fu YH (2018b) Global warming leads to more uniform spring phenology across elevations. Proc Natl Acad Sci U S A 115:1004–1008

Vitra A, Lenz A, Vitasse Y (2017) Frost hardening and dehardening potential in temperate trees from winter to budburst. New Phytol 216:113–123

Wang E, Engel T (1998) Simulation of phenological development of wheat crops. Agric Syst 58:1–24

Wypych A, Sulikowska A, Ustrnul Z, Czekierda D (2017a) Variability of growing degree days in Poland in response to ongoing climate changes in Europe. Int J Biometeorol 61:49–59

Wypych A, Ustrnul Z, Sulikowska A, Chmielewski FM, Bochenek B (2017b) Spatial and temporal variability of the frost-free season in Central Europe and its circulation background. Int J Climatol 37:3340–3352
Acknowledgements
Long-term series of temperature data and the spring phenological index data were provided by MeteoSwiss, the Swiss Federal Office of Meteorology, and Climatology (https://gate.meteoswiss.ch/idaweb, access upon request). We thank Flurin Sutter for his support in drawing the map of the selected stations shown in Fig. 2. We are grateful to Regula Gehrig from MeteoSwiss for providing the data of the Swiss spring phenology index. We are grateful to John Innes for his useful comments and suggestions. The research leading to these results was funded by the Swiss Federal Office for the Environment (FOEN; grant number 09.0064.PJ/P453-1685 and A200.0001).
Electronic supplementary material
About this article
Cite this article
Vitasse, Y., Rebetez, M. Unprecedented risk of spring frost damage in Switzerland and Germany in 2017. Climatic Change 149, 233–246 (2018). https://doi.org/10.1007/s10584-018-2234-y
Received:

Accepted:

Published:

Issue Date:

DOI: https://doi.org/10.1007/s10584-018-2234-y