Abstract
This study investigates the possibly changing relationship between non-fossil fuel energy sources (biomass, geothermal, hydro, nuclear, solar, and wind) and CO2 emissions over the temporal period 2000 to 2013. The results from two-way fixed effects longitudinal models demonstrate that the carbon elasticities of these energy sources change over time but not symmetrically. Wind's association with CO2 emissions became increasingly negative after the Great Recession (i.e., suppressed emissions at a greater rate). Nuclear's association with CO2 resembled a distorted U-shaped curve over time. Biomass' elasticity fluctuated between positive and negative values. Solar and geothermal's elasticity remained fairly consistent over the course of the analysis, and hydro's elasticity increased over time but remained negative throughout the study's temporal period. The study provides several tentative explanations for these findings. Overall, the results suggest there are various processes at play that influence an energy source's relation to CO2 emissions.
Access options
Buy single article
Instant access to the full article PDF.
USD 39.95
Price includes VAT (USA)
Tax calculation will be finalised during checkout.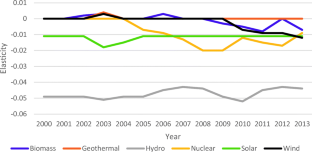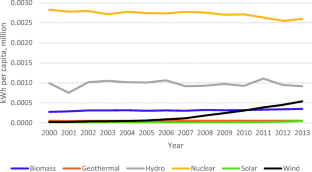 Notes
1.

These models also control for GDP per capita, total population, urban population, trade openness, and fossil fuel production. The results for the full model are found in Supplementary Material Table 7.

2.

3.

Due to space constraints, the temporal elasticities for each energy source are presented in the same graph. However, the elasticities are estimated with a different sample and should not be compared to one another.
References
Allison P (2009) Fixed effects regression models. Sage, Thousand Oaks

Baum CF (2006) An introduction to modern econometrics using Stata. Stata Press, College Station

Beck N, Katz J (1995) What to do (and not do) with time-series cross-section data. Am Polit Sci Rev 89:634–647

Bruckner T, Bashmakov IA, Mulugetta Y, Chum H, de la Vega Navarro A, Edmonds J, Faaij A, Fungtammasan B, Garg A, Hertwich E, Honnery D, Infield D, Kainuma M, Khennas S, Kim S, Nimir HB, Riahi K, Strachan N, Wiser R, Zhang X (2014) Energy systems. In: Edenhofer O, Pichs-Madruga R, Sokona Y, Farahani E, Kadner S, Seyboth K, Adler A, Baum I, Brunner S, Eickemeier P, Kriemann B, Savolainen J, Schlömer S, von Stechow C, Zwickel T, Minx JC (eds) Climate change 2014: mitigation of climate change. Contribution of Working Group III to the Fifth Assessment Report of the Intergovernmental Panel on Climate Change. Cambridge University Press, Cambridge, pp 511–597

Chiu CL, Chang TH (2009) What proportion of renewable energy supplies is needed to initially mitigate CO2 emissions in OECD member countries? Renew Sust Energ Rev 13(6):1669–1674

Commoner B (1971) The closing circle. Knopf, New York

Commoner B, Corr M, Stamler PJ (1971) The causes of pollution. Environment 13:2–19

Ehrlich P, Holdren J (1970) The people problem. Saturday Rev:42–43

Ehrlich P, Holdren J (1972) A bulletin dialogue on the 'closing circle': critique: one-dimensional ecology. Bull At Sci 28:16–27

Evans A, Strezov V, Evans T (2009) Assessment of sustainability indicators for renewable energy technologies. Renew Sust Energ Rev 13:1082–1088

Fargione JE, Plevin RJ, Hill JD (2010) The ecological impact of biofuels. Annu Rev Ecol Evol Syst 41:351–377

Farrell AE, Plevin RJ, Turner BT, Jones AD, O'Hare M, Kammen DM (2006) Ethanol can contribute to energy and environmental goals. Science 311:506–508

Feng K, Davis SJ, Sun L, Hubacek K (2015) Drivers of the US CO2 emissions from 1997-2013. Nat Commun 6:1–8

Fitzgerald JB, Jorgenson AK, Clark B (2015) Energy consumption and working hours: a longitudinal analysis of developed and developing nations, 1990-2008. Environ Sociol 1(3):213–233

Greening LA, Greene DL, Difiglio C (2000) Energy efficiency and consumption—the rebound effect—a survey. Energy Policy 28:389–401

International Renewable Energy Agency (2017) Renewable capacity headlights. International Renewable Energy Agency. http://www.irena.org/-/media/Files/IRENA/Agency/Publication/2017/Mar/RE_stats_highlights_2017.pdf?la=en &hash=7C535399F0994173AE445772FE62FF8C156D39DE. Accessed 30 November 2017

IPCC (2014) Summary for policymakers. In: Edenhofer O, Pichs-Madruga R, Sokona Y, Farahani E, Kadner S, Seyboth K, Adler A, Baum I, Brunner S, Eickemeier P, Kriemann B, Savolainen J, Schlömer S, von Stechow C, Zwickel T, Minx JC (eds) Climate change 2014, mitigation of climate change. Contribution of Working Group III to the Fifth Assessment Report of the Intergovernmental Panel on Climate Change. Cambridge University Press, Cambridge

Jorgenson AK (2012) The sociology of ecologically unequal exchange and carbon dioxide emissions, 1960-2005. Soc Sci Res 41(2):242–252

Jorgenson AK (2014) Economic development and the carbon intensity of human well-being. Nat Clim Chang 4:186–189

Jorgenson AK, Clark B (2010) Assessing the temporal stability of the population/environment relationship in comparative perspective: a cross-national panel study of carbon dioxide emissions, 1960-2005. Popul Environ 32:27–41

Jorgenson AK, Clark B (2012) Are the economy and the environment decoupling? A comparative international study, 1965-2005. Am J Sociol 118:1–44

Jorgenson AK, Auerbach D, Clark B (2014) The (de-) carbonization of urbanization, 1960-2010. Clim Chang 127:561–575

Mundaca L, Richter JL (2015) Assessing the 'green economy' stimulus packages: evidence from the U.S. programs targeting renewable energy. Renew Sust Energ Rev 42:1174–1186

Obama B (2017) The irreversible momentum of clean energy. Science:1–9

Roberts JT, Parks BC (2007) A climate of injustice: global inequality, north-south politics, and climate policy. MIT Press, Cambridge

Sinn HW (2012) The green paradox: a supply-side approach to global warming. The MIT Press, Cambridge

Thombs RP (2017) The paradoxical relationship between renewable energy and economic growth: a cross-national panel study, 1990-2013. J World Syst Res 23(2):540–564

Thombs RP (2018) The transnational tilt of the treadmill and the role of trade openness on carbon emissions: a comparative international study, 1965-2010. Sociol Forum 33(2)

United Nations (2017) Energy statistics database. http://data.un.org/Explorer.aspx?d=EDATA. Accessed 20 June 2017

World Bank (2017) World development indicators. The World Bank. http://data.worldbank.org/data-catalog/world-development-indicators. Accessed 28 July 2017

World Resources Institute (2017) Climate analysis indicators tool: WRI's climate data explorer. World Resources Institute. http://www.wri.org/resources/data-sets/cait-historical-emissions-data-countries-us-states-unfccc. Accessed 4 Mar 2017

York R (2012) Do alternative energy sources displace fossil fuels? Nat Clim Chang 2(6):441–443

York R, McGee JA (2016) Understanding the Jevons paradox. Environ Sociol 2:77–87

York R, McGee JA (2017) Does renewable energy development decouple economic growth from CO2 emissions? For Soc 3:1–6

York R, Rosa EA, Dietz T (2003) Footprints on the earth: the environmental consequences of modernity. Am Sociol Rev 68(2):279–300
Electronic supplementary material
About this article
Cite this article
Thombs, R. Has the relationship between non-fossil fuel energy sources and CO2 emissions changed over time? A cross-national study, 2000–2013. Climatic Change 148, 481–490 (2018). https://doi.org/10.1007/s10584-018-2215-1
Received:

Accepted:

Published:

Issue Date: