Abstract
The people in remote areas of Nepal, like Dhye Village, have adjusted their agriculture-based livelihood to arid environment and have been balancing their needs with what nature provided. However, the livelihood of residence of Dhye was becoming more difficult due to impact of climate change (CC). This research had attempted to evaluate the potential adaptation measures to avoid CC-induced migration based on analysis of hydro-meteorological data, documented bio-physical and socio-economic effects of CC, locally available natural resources, and recommended best adaptation measures. The study assessed that low rainfall and erratic pattern, shifting snowfall pattern, decreasing humidity, and increased air temperature created the water stress as the result dried up the spring and dropping of soil moisture which had direct negative impact on supporting healthy plant growth and animals had to travel further for fodder and water. In realized that fact residents in village have adopted different adaptation strategy mainly seasonal migration, started selling their properties and leaving the village for the collective-survival of the community, the Dhye farmers unanimously decided to leave their habitats enmasse and resettle at Thangchung (near the bank of Dhye River), thus become climate refugee. The findings revealed that there was a direct link between the changes in climate parameters in Dhye Village and its consequences, and suggesting the resettlement of them to Thangchung as the best adaption option with need to make proper policy on climate change adaptation, and its timely implementation that could have averted this unfortunate situation.
Access options
Buy single article
Instant access to the full article PDF.
US$ 39.95
Tax calculation will be finalised during checkout.
Subscribe to journal
Immediate online access to all issues from 2019. Subscription will auto renew annually.
US$ 119
Tax calculation will be finalised during checkout.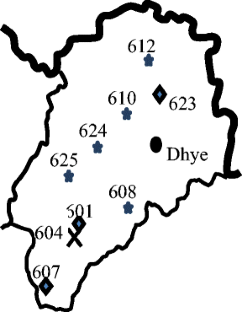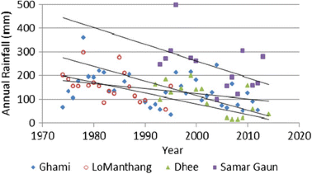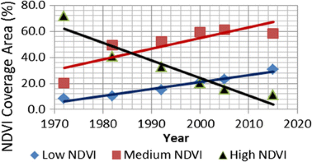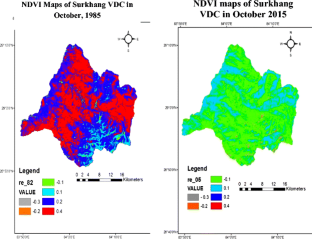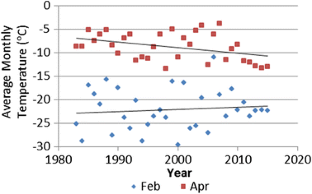 Notes
1.

Based on KII conducted with the local residents who collected and sold jimbu in study area.
References
Bernet D, Pittet D, Kappenberger G, Passardi M, Shrestha R (2012) Moving down or not? A key question for Samzong, Yara and Dhyee, three villages in Upper Mustang, Mustang District, Nepal, part IV, Dhyee, November 2012

Bista DR, Amgain LP, Shrestha S (2013) Food security scenario, challenges, and agronomic research directions of Nepal. Agron J Nepal 3:42–52

Devkota F (2015) The last yak herder of Dhe: Part 1 and 2. https://youtu.be/gwfU3GfdpGI

Electra de Peyster (2014) Drought-Resistamt crops and varieties, Santa Rosa, Sonoma County, California. http://ucanr.edu/sites/scmg/Food_Gardening_Specialists/

Finkel M (2012) Sky caves of Nepal, National Geographic. http://ngm.national geographic.com/2012/10/mustang-caves/finkel-text

Hamel S, Garel M, Festa-Bianchet M, Gaillard JM, Côté SD (2009) Spring normalized difference vegetation index (NDVI) predicts annual variation in timing of peak faecal crude protein in mountain ungulates. J Appl Ecol 46,ISSN 0021–8901s:582–589. https://doi.org/10.1111/j.1365-2664.2009.01643.x

ICIMOD (2010) Sensitivity of mountain ecosystems to climate change, climate change impact and vulnerability in the Eastern Himalayas—Synthesis Report. http://lib.icimod.org/record/26835/files/c_attachment_696_5906.pdf

IPCC (2001) Climate Change 2001: The Scientific Basis. Contribution of Working Group I to the Third Assessment Report of the Intergovernmental Panel on Climate Change [Houghton JT, Ding Y, Griggs DJ, Noguer M, van der Linden PJ, Dai X, Maskell K, Johnson CA (eds)]. Cambridge University Press, Cambridge, United Kingdom and New York, NY, USA, 881pp, Summary to Policy Makers, page 2. http://www.grida.no/climate/ipcc_tar/wg1/pdf/wg1_tar-front.pdf

IPCC (2013) Assessment Report V, Working Group I, Climate Change 2103, The Physical Science Basis. https://www.ipcc.ch/pdf/assessment-report/ar5/wg1/WGIAR5_SPM_brochure_en.pdf

Kam for Sud (2014) Moving down or not?, phase II: Dheye, water supply related technical support for the necessary resettlement of Dheye village in Thangchung, Kam for Sud, Switzerland

Lamm FR (2002) Advantages and disadvantages of subsurface drip irrigation, northwest research-extension center Kansas State University, Int'l Meeting on Advances in Drip/Micro Irrigation, Canary Islands. http://ucanr.edu/sites/adi/files/204430.pdf

NASA/POWER (2016) Agroclimatology daily averaged data, Dates (month/day/year). http://power.larc.nasa.gov/common/AgroclimatologyMethodology/Agro1d0_Methodology_Content.html

Plass GN (1956) The carbon dioxide theory of climatic change. Tellus 8(2):140–154

Practical Action (2009) Temporal and spatial variability of climate change over Nepal, ISBN: 978–9937–8135-2-5. https://practicalaction.org/file/region_nepal/ClimateChange1976-2005.pdf

Root TL, Price JT, Hall KR, Schneider SH, Rosenzweig C, Pounds JA (2005) The impact of climatic change on wild animals and plants: a meta-analysis, USDA Forest Service, GTR, PSW-GTR-191. http://www.fs.fed.us/psw/publications/documents/psw_gtr191/psw_gtr191_1115-1118_root.pdf

Sharma D (2010) Climate refugees in mustang, Nepal Samacharpatra

Sharma B, Clevers J, Graff RD, Chapagain NR (2003) Assessing the landcover situation in Surkhang, upper mustang, Nepal, using an ASTER image. Himal J Sci 1(2):91–98

Sherpa AR, Ayadi DP, Pradhan P, Pradhan P (2015) Overview of climate change: impact and adaptation in Nepal's Himalayas, Climate Alliance of Himalayan Communities (CAMC)

Shrestha AB (2009) Climate change in the Himalayas, ICIMOD, Information Sheet 03/09, page 4. http://lib.icimod.org/record/26524/files/attachment_608.pdf

Shrestha AB, Wake CP, Mayewski PA, Dibb JE (1999) Maximum temperature trends in the Himalaya and its vicinity: an analysis based on temperature records from Nepal for the period 1971 – 94. J Clim 12:2775–2789

Shrestha HK, Manandhar HK, Regmi PP (2012) Variety development cost versus variety adaptation in major cereals in Nepal, Nepal. J Sci Technol 13(1):7–15

Surkhang VDC (2013) Profile, Mustang, (hard copy in Nepali language)

Tiwari KR, Balla MM, Pokharel RK, Rayamajhi S (2012) Climate change impact, adaptation practices and policy in Nepal Himalaya, Climate change and development policy

USGS (2016) US Department of the Interior, US Geological Survey, http://earthexplorer.usgs.gov, maps and data downloaded during the course of the study in 2015 and 2016
About this article
Cite this article
Prasain, S. Climate change adaptation measure on agricultural communities of Dhye in Upper Mustang, Nepal. Climatic Change 148, 279–291 (2018). https://doi.org/10.1007/s10584-018-2187-1
Received:

Accepted:

Published:

Issue Date: