Abstract
Extreme weather events are projected to be more frequent and severe across the globe because of global warming. This poses challenging problems for critical infrastructures, which could be dramatically affected (or disrupted), and may require adaptation plans to the changing climate conditions. The INTACT FP7-European project evaluated the resilience and vulnerability of critical infrastructures to extreme weather events in a climate change scenario. To identify changes in the hazard induced by climate change, appropriate extreme weather indicators (EWIs), as proxies of the main atmospheric features triggering events with high impact on the infrastructures, were defined for a number of case studies and different approaches were analyzed to obtain local climate projections. We considered the influence of weighting and bias correction schemes on the delta approach followed to obtain the resulting projections, considering data from the Euro-CORDEX ensemble of regional future climate scenarios over Europe. The aim is to provide practitioners, decision-makers, and administrators with appropriate methods to obtain actionable and plausible results on local/regional future climate scenarios. Our results show a small sensitivity to the weighting approach and a large sensitivity to bias correcting the future projections.
Access options
Buy single article
Instant access to the full article PDF.
US$ 39.95
Tax calculation will be finalised during checkout.
Subscribe to journal
Immediate online access to all issues from 2019. Subscription will auto renew annually.
US$ 119
Tax calculation will be finalised during checkout.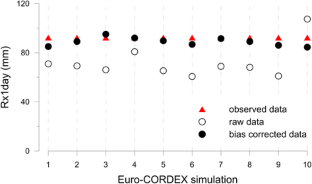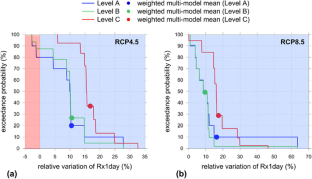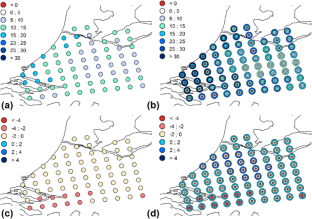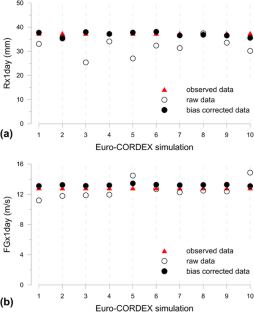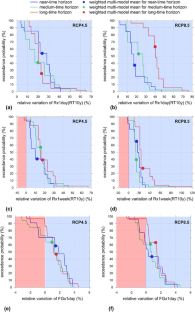 References
Bucchignani E, Montesarchio M, Zollo AL, Mercogliano P (2015) High-resolution climate simulations with COSMO-CLM over Italy: performance evaluation and climate projections for the XXI century. Int J Climatol. https://doi.org/10.1002/joc.4379

Ciervo F, Rianna G, Mercogliano P, Papa MN (2017) Effects of climate change on shallow landslides in a small coastal catchment in southern Italy. Landslides 14(3):1043–1055. https://doi.org/10.1007/s10346-016-0743-1

De Vita P, Piscopo V (2002) Influences of hydrological and hydrogeological conditions on debris flows in peri-vesuvian hillslopes. Nat Hazards Earth Syst Sci 2:27–35. https://doi.org/10.5194/nhess-2-27-2002

EEA (2017) Climate change adaptation and disaster risk reduction in Europe EEA Report No 15/2017. ISBN:978-92-9213-893-6

European Commission (2008) Council Directive 2008/114/EC of 8 December 2008 on the identification and designation of European critical infrastructures and the assessment of the need to improve their protection. Available from http://eur-lex.europa.eu/LexUriServ/LexUriServ.do?uri=OJ:L:2008:345:0075:0082:EN:PDF

Giorgi F, Mearns LO (2002) Calculation of average, uncertainty range, and reliability of regional climate changes from AOGCM simulations via the "reliability ensemble averaging" (REA) method. J Clim 15:1141–1158. https://doi.org/10.1175/1520-0442(2002)015<1141:COAURA>2.0.CO;2

Giorgi F, Mearns LO (2003) Probability of regional climate change based on the reliability ensemble averaging (REA) method. Geophys Res Lett 30(12):1629. https://doi.org/10.1029/2003GL017130

Gutiérrez JM, Maraun D, Widmann M, Huth R et al (2018) An intercomparison of a large ensemble of statistical downscaling methods over Europe: results from the VALUE perfect predictor cross‐validation experiment. Int J Climatol. https://doi.org/10.1002/joc.5462

Jacob D, Petersen J, Eggert B et al (2014) EURO-CORDEX: new high-resolution climate change projections for European impact research. Reg Environ Chang 14:563–578. https://doi.org/10.1007/s10113-013-0499-2

Knutti R, Furrer R, Tebaldi C, Cermak J, Meehl GA (2010) Challenges in combining projections from multiple climate models. J Clim 23:2739–2758. https://doi.org/10.1175/2009JCLI3361.1

Maraun D (2016) Bias correcting climate change simulations—a critical review. Curr Clim Chang Rep 2(4):211–220. https://doi.org/10.1007/s40641-016-0050-x

Maraun D, Shepherd TG, Widmann M et al (2017) Towards process-informed bias correction of climate change simulations. Nat Clim Chang 7:764–773. https://doi.org/10.1038/nclimate3418

Meinshausen M, Smith SJ, Calvin K et al (2011) The RCP greenhouse gas concentrations and their extensions from 1765 to 2300. Clim Chang 109:213–224. https://doi.org/10.1007/s10584-011-0156-z

O'Gorman PA (2015) Precipitation extremes under climate change. Curr Clim Chang Rep 1(2):49–59. https://doi.org/10.1007/s40641-015-0009-3

Pagano L, Picarelli L, Rianna G, Urciuoli G (2010) A simplified approach for timely prediction of precipitation-induced landslides in unsaturated pyroclastic soils. Landslides 7(3):273–289. https://doi.org/10.1007/s10346-010-0216-x

Räisänen J, Palmer TN (2001) A probability and decision-model analysis of a multi-model ensemble of climate change simulations. J Clim 14:3212–3226. https://doi.org/10.1175/1520-0442(2001)014<3212:APADMA>2.0.CO;2

Reder A, Rianna G, Mercogliano P, Pagano L (2016) Assessing the potential effects of climate changes on landslide phenomena affecting pyroclastic covers in Nocera area (Southern Italy). Proc Earth Planet Sci 16:166–176. https://doi.org/10.1016/j.proeps.2016.10.018

Reder A, Rianna G, Pagano L (2018) Physically based approaches incorporating evaporation for early warning predictions of rainfall-induced landslides. Nat Hazard Earth Syst Sci 18:613–631. https://doi.org/10.5194/nhess-18-613-2018

Rianna G, Reder A, Mercogliano P, Pagano L (2017a) Evaluation of variations in frequency of landslide events affecting pyroclastic covers in Campania region under the effect of climate changes. Hydrology 4(3):34. https://doi.org/10.3390/hydrology4030034

Rianna G, Reder A, Villani V, Mercogliano P (2017b) Variations in landslide frequency due to climate changes through high resolution Euro-CORDEX ensemble. In: Mikoš M, Casagli N, Yin Y, Sassa K (eds) Advancing culture of living with landslides. WLF 2017. Springer, Cham, pp 237–242. https://doi.org/10.1007/978-3-319-53485-5_27

Sham Bhat K, Haran M, Terando A, Keller K (2011) Climate projections using Bayesian model averaging and space–time dependence. J Agric Biol Environ Stat 16(4):606–628. https://doi.org/10.1007/s13253-011-0069-3

Stephenson DB (2008) Definition, diagnosis, and origin of extreme weather and climate events. In: Diaz HF, Murnane RJ (eds) Climate Extremes and Society. Cambridge University Press, Cambridge, pp 11–22

UNISDR (2015) Sendai Framework for Disaster Risk Reduction 2015–2030. United Nations Office for Disaster Risk Reduction, Geneva

van Ruiten K, Bles T, Kiel J (2016) EU-INTACT-case studies: impact of extreme weather on critical Infrastructure. FLOODrisk 2016 - E3S Web of Conferences 7:07001. https://doi.org/10.1051/e3sconf/20160707001

Villani V, Rianna G, Mercogliano P, Zollo AL (2015) Statistical approaches versus weather generator to downscale RCM outputs to slope scale for stability assessment: a comparison of performances. Electron J Geotech Eng 20(4):1495–1515. https://doi.org/10.4090/juee.2013.v8n2.142-154

Wehner M (2013) Methods of projecting future changes in extremes. In: AghaKouchak A, Easterling D, Hsu K, Schubert S, Sorooshian S (eds) Extremes in a changing climate detection, analysis and uncertainty. Springer, London, pp 223–237

Wilby RL (2017) Climate change in practice topics for discussion with group exercises. Cambridge University Press, Cambridge. https://doi.org/10.1017/9781316534588

Zollo AL, Rillo V, Bucchignani E, Montesarchio M, Mercogliano P (2015) Extreme temperature and precipitation events over Italy: assessment of high resolution simulations with COSMO-CLM and future scenarios. Int J Climatol. https://doi.org/10.1002/joc.4401
Acknowledgements
This work has been carried out within the activities of INTACT project, receiving funding from the European Union Seventh Framework Programme (FP7/2007-2013) under grant agreement n° FP7-SEC-2013-1-606799. The information and views set out in this paper are those of the authors and do not necessarily reflect the opinion of the European Union.
We acknowledge the World Climate Research Programme's Working Group on Regional Climate, and the Working Group on Coupled Modeling, former coordinating body of CORDEX and responsible panel for CMIP5.
Electronic supplementary material
About this article
Cite this article
Reder, A., Iturbide, M., Herrera, S. et al. Assessing variations of extreme indices inducing weather-hazards on critical infrastructures over Europe—the INTACT framework. Climatic Change 148, 123–138 (2018). https://doi.org/10.1007/s10584-018-2184-4
Received:

Accepted:

Published:

Issue Date: