Abstract
In this study, we investigate the impacts of aerosols on tropical cyclone (TC) precipitation that occurred from 1980 to 2014 over China mainland. The TC-induced precipitation is objectively identified based on Western North Pacific (WNP) TC historical track data and daily precipitation data from meteorological stations. Aerosol optical depth (AOD) from the Second Modern-Era Retrospective Analysis for Research and Applications (MERRA-2) is used to represent the amount of aerosol pollution. The long-term variations in AOD and TC precipitation from the past 35 years are analyzed. A significant increasing trend is found for both the relative percentage of TC rainstorm days and the amount of aerosol loading. Together with the decreasing trend in the annual number of TCs affecting China, this indicates that aerosols are invigorating TC precipitation. For the TC precipitation during the study period, the relative occurrence of light rain shows a decreasing trend, while the proportion of heavy rain and rainstorms shows an increasing trend. Meanwhile, the intensity of the TC daily precipitation increases with the elevated pollution level, particularly during the TC initial period and for heavy TC rainfall. These statistical results based on long-term observations suggest that aerosols have a substantial impact on TC precipitation through microphysical effects and have the potential to impact the track, intensity, size, and lifespan of TCs over Southeast Asia.
This is a preview of subscription content,
to check access.
Access this article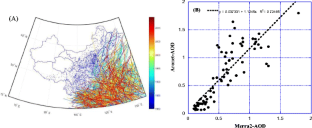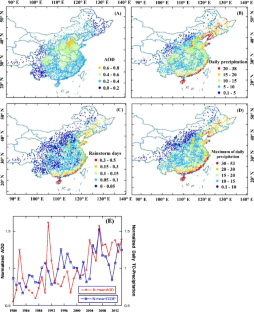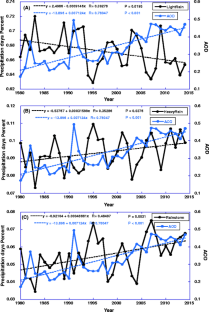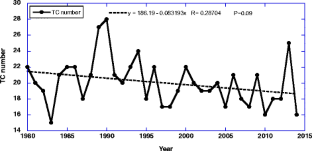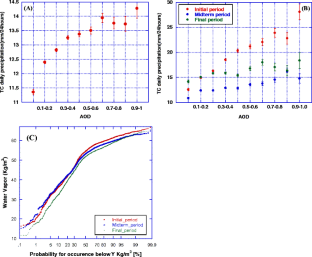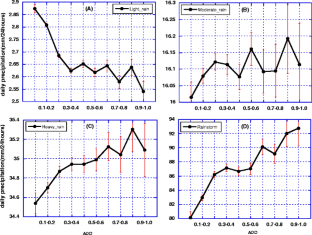 Similar content being viewed by others
References
Bell TL, Rosenfeld D, Kim KM, Yoo JM, Lee MI, Hahnenberger M (2008) Midweek increase in U.S. summer rain and storm heights suggests air pollution invigorates rainstorms. J Geophys Res Atmos 113:D02209. https://doi.org/10.1029/2007JD008623

Bosilovich MG, Lucchesi R, Suarez M (2016) MERRA-2: file specification. GMAO Office Note No. 9 (Version 1.1), 73. http://gmao.gsfc.nasa.gov/pubs/office_notes

Chen J, Wen Z, Wang X (2017) Relationship over southern China between the summer rainfall induced by tropical cyclones and that by monsoon. Atmos Ocean Sci Lett 10(1):96–103. https://doi.org/10.1080/16742834.2017.1248756

Chiacchio M, Pausata FSR, Messori G, Hannachi A, Chin M, Önskog T, Ekman AML, Barrie L (2017) On the links between meteorological variables, aerosols, and tropical cyclone frequency in individual ocean basins. J Geophys Res Atmos 122. https://doi.org/10.1002/2015JD024593

Chin M, Chu A, Levy A, Remer L, Kaufman Y, Holben B, Eck T, Ginoux P, Gao Q (2004) Aerosol distribution in the Northern Hemisphere during ACE-Asia: results from global model, satellite observations, and Sun photometer measurements. J Geophys Res 109:D23S90. https://doi.org/10.1029/2004JD004829

Cotton WR, Zhang H, McFarquhar GM, Saleeby SM (2007) Should we consider polluting hurricanes to reduce their intensity? J Weather Modif 39:70–73

Cotton WR, Krall GM, Carrió GG (2012) Potential indirect effects of aerosol on tropical cyclone intensity: convective fluxes and cold-pool activity. Trop Cyclone Res Rev 1(3):293–306. https://doi.org/10.6057/2012TCRR03.05

Evan AT, Kossin JP, Chung CE, Ramanathan V (2011) Arabian Sea tropical cyclones intensified by emissions of black carbon and other aerosols. Nature 479:94–97. https://doi.org/10.1038/nature10552

Fan J, Leung LR, Li Z, Morrison H, Chen H, Zhou Y, Qian Y, Wang Y (2012) Aerosol impacts on clouds and precipitation in eastern China: results from bin and bulk microphysics. J Geophys Res 117:D00K36. https://doi.org/10.1029/2011JD016537

Fu S, Li D, Sun J, Si D, Li J, Tian F (2016) A 31-year trend of the hourly precipitation over South China and the underlying mechanisms. Atmos Sci Lett 17(3):216–222. https://doi.org/10.1002/asl.645

Guo X, Tan ZM (2017) Tropical cyclone fullness: a new concept for interpreting storm intensity. Geophys Res Lett 44. https://doi.org/10.1002/2017GL073680

Huang RJ, Zhang Y, Bozzetti C (2014) High secondary aerosol contribution to particulate pollution during haze events in China pollution during haze events in China. Nature 514:218–222. https://doi.org/10.1038/nature13774

Jiang B, Huang B, Lin W, Xu S (2016) Investigation of the effects of anthropogenic pollution on typhoon precipitation and microphysical processes using WRF-Chem. J Atmos Sci 73(4):1593–1610. https://doi.org/10.1175/JAS-D-15-0202.1

Khain A, Cohen N, Lynn B, Pokrovsky A (2008) J Atmos Sci 65:3652–3677. Possible aerosol effects on lightning activity and structure of hurricanes. https://doi.org/10.1175/2008JAS2678.1

Liu R, Liu SC, Cicerone RJ, Shiu CJ, Li J, Wang JL, Zhang YH (2015) Trends of extreme precipitation in eastern China and their possible causes. Adv Atmos Sci 32(8):1027–1037. https://doi.org/10.1007/s00376-015-5002-1

Ni X, Zhang Q, Ma D, Wu L, Ren F (2015) Climatology and trends of tropical cyclone high wind in mainland China: 1959–2011. J Geophys Res Atmos 120. https://doi.org/10.1002/2015JD024031

Qian W, Fu J, Yan Z (2007) Decrease of light rain events in summer associated with a warming environment in China during 1961–2005. Geophys Res Lett 34:L11705. https://doi.org/10.1029/2007GL029631

Qian Y, Gong D, Fan J, Leung LR, Bennartz R, Chen D, Wang W (2009) Heavy pollution suppresses light rain in China: observations and modeling. J Geophys Res Atmos 114:D00K02. https://doi.org/10.1029/2008JD011575

Rao VB, Ferreira CC, Franchito SH, Ramakrishna SSVS (2008) In a changing climate weakening tropical easterly jet induces more violent tropical storms over the north Indian Ocean. Geophys Res Lett 35:L15710. https://doi.org/10.1029/2008GL034729

Ren F, Gleason B, Easterling D (2001) A numerical technique for partitioning cyclone tropical precipitation. J Tropical Meteorol 17(3). https://doi.org/10.16032/j.issn.1004-4965.2001.03.015

Ren F, Wu G, Dong W, Wang X, Wang Y, Ai W, Li W (2006) Changes in tropical cyclone precipitation over China. Geophys Res Lett 33:L20702. https://doi.org/10.1029/2006GL027951

Ren F, Wang Y, Wang X, Li W (2007) Estimating tropical cyclone precipitation from station observations. Adv Atmos Sci 24(4):700–711. https://doi.org/10.1007/s00376-007-0700-y

Ren F, Liang J, Wu G, Dong W, Yang X (2011) Reliability analysis of climate change of tropical cyclone activity over the western North Pacific. J Clim 24(22):5887–5898. https://doi.org/10.1175/2011JCLI3996.1

Richard C, Li Y, Zhou W (2015) Interdecadal changes in summertime tropical cyclone precipitation over Southeast China during 1960–2009. J Clim 28(4):1494–1509

Rosenfeld D, Khain A, Lynn B, Woodley WL (2007) Simulation of hurricane response to suppression of warm rain by sub-micron aerosols. Atmos Chem Phys 7:3411–3424. https://doi.org/10.5194/acp-7-3411-2007

Rosenfeld D, Lohmann U, Raga GB, O'Dowd CD, Kulmala M, Fuzzi S, Reissell A, Andreae MO (2008) Flood or drought: how do aerosols affect precipitation? Science 321(5894):1309–1313. https://doi.org/10.1126/science.1160606

Rosenfeld D, Clavner M, Nirel R (2011) Pollution and dust aerosols modulating tropical cyclones intensities. Atmos Res 102(1–2):66–76. https://doi.org/10.1016/j.atmosres.2011.06.006

Rosenfeld D, Woodley WL, Khain A, Cotton WR, Carrió G, Ginis I, Golden JH (2012) Bull Am Meteorol Soc 93:987–1001. Aerosol effects on microstructure and intensity of tropical cyclones. https://doi.org/10.1175/BAMS-D-11-00147.1

Tao W, Chen J, Li Z, Wang C, Zhang C (2012) Impact of aerosols on convective clouds and precipitation. Rev Geophys 50(2):RG2001. https://doi.org/10.1029/2011RG000369

Tie X, Cao J (2009) Aerosol pollution in China: present and future impact on environment. Particuology 7(6):426–431. https://doi.org/10.1016/j.partic.2009.09.003

Wang Y (2015) Air pollution or global warming: attribution of extreme precipitation changes in eastern China—comments on "trends of extreme precipitation in eastern China and their possible causes". Adv Atmos Sci 32(10):1444–1446. https://doi.org/10.1007/s00376-015-5109-4

Wang Y, Lee KH, Lin Y, Levy M, Zhang R (2014) Distinct effects of anthropogenic aerosols on tropical cyclones. Nature Clim Chang 4:368–373. https://doi.org/10.1038/nclimate2144

Wang Y, Ma PL, Jiang JH, Su H, Rasch PJ (2016) Toward reconciling the influence of atmospheric aerosols and greenhouse gases on light precipitation changes in Eastern China. J Geophys Res Atmos 121. https://doi.org/10.1002/2016JD024845

Webster PJ, Holland GJ, Curry JA, Chang HR (2005) Changes in tropical cyclone number, duration, and intensity in a warming environment. Science 309:1844–1846

Wu MC, Yeung KH, Chang WL (2006) Trends in western North Pacific tropical cyclone intensity. Eos Trans 87(48):537–538

Yang J, Gong DY (2010) Intensified reduction in summertime light rainfall over mountains compared with plains in Eastern China. Clim Chang 100(3):807. https://doi.org/10.1007/s10584-010-9863-0

Yang X, Li Z (2014) Increases in thunderstorm activity and relationships with air pollution in southeast China. J Geophys Res Atmos 119:1835–1844. https://doi.org/10.1002/2013JD021224

Yang X, Yao Z, Li Z (2013) Heavy air pollution suppresses summer thunderstorms in central China. J Atmos Solar-Terres Phys 95–96:28–40. https://doi.org/10.1016/j.jastp.2012.12.023

Yang X, Li Z, Liu L, Zhou L, Cribb M, Zhang F (2016) Distinct weekly cycles of thunderstorms and a potential connection with aerosol type in China. Geophys Res Lett 43:8760–8768. https://doi.org/10.1002/2016GL070375

Ying M, Chen B, Wu G (2011) Climate trends in tropical cyclone‐induced wind and precipitation over mainland China. Geophys Res Lett 38:L01702. https://doi.org/10.1029/2010GL045729

Yoshida K, Sugi M, Mizuta R, Murakami H, Ishii M (2017) Future changes in tropical cyclone activity in high-resolution large-ensemble simulations. Geophys Res Lett 44. https://doi.org/10.1002/2017GL075058

Zhang H, McFarquhar GM, Cotton WR, Deng Y (2009) Direct and indirect impacts of Saharan dust acting as cloud condensation nuclei on tropical cyclone eyewall development. Geophys Res Lett 36:L06802. https://doi.org/10.1029/2009GL037276

Zhu L, Quiring SM (2013) Variations in tropical cyclone precipitation in Texas (1950 to 2009). J Geophys Res Atmos 118:3085–3096. https://doi.org/10.1029/2012JD018554
Funding
This study was supported by the Ministry of Science and Technology of China (2017YFC1501403), the National Natural Science Foundation of China (41575143), the State Key Laboratory of Earth Surface Processes and Resources Ecology (2017-KF-13), and the Fundamental Research Funds for the Central Universities.
About this article
Cite this article
Yang, X., Zhou, L., Zhao, C. et al. Impact of aerosols on tropical cyclone-induced precipitation over the mainland of China. Climatic Change 148, 173–185 (2018). https://doi.org/10.1007/s10584-018-2175-5
Received:

Accepted:

Published:

Issue Date:

DOI: https://doi.org/10.1007/s10584-018-2175-5