Abstract
The summer 2010 floods hitting Pakistan were the severest on record. Coinciding with these events was the 2010 heatwave over eastern Europe and Russia, which also ranks among the severest ever recorded in the region. Both events were related to an anomalously widespread and intense quasi-stationary anticyclonic circulation anomaly over western Russia which provided favourable conditions, in combination with monsoonal forcing factors, for the Pakistan precipitation events. Here, a data assimilation technique is used which results in a climate model simulation which has its mean upper atmospheric circulation shifted in the direction of the anomalous anticyclonic circulation of summer 2010. This primes the climate model to reproduce, much more frequently than in a climate simulation without this technique, to simulate the conditions which led to the Pakistan 2010 floodings. These experiments are conducted under both present-day and future climatic conditions. In the present-day climate, the main features of the 2010 Pakistan precipitation events are modeled realistically, although the amplitude of the extreme precipitation is underestimated. The simulated future equivalent of the observed extreme precipitation events shows a stronger precipitation over the Bay of Bengal to Kashmir in northern India and northern Pakistan, and from the Arabian Sea to northern Pakistan. In the model context, these precipitation increases are substantial with 50–100% increases in rainfall rates. This implies that the future equivalent of the 2010 Pakistan floodings may have even stronger socio-economic impacts.
This is a preview of subscription content,
to check access.
Access this article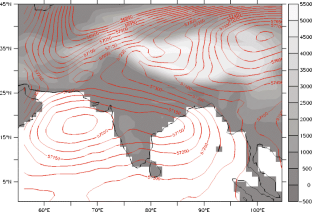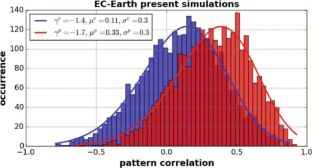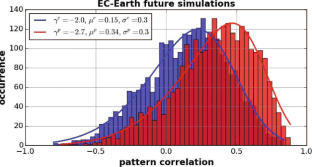 References
Akram Anjum M (2010) Super flood 2010. Meteorological analysis of the Pakistan meteorological department, Internal document

Balsamo G, Viterbo P, Beljaars A, van den Hurk B, Hirschi M, Betts AK, Scipal K (2009) A revised hydrology for the ECMWF model: verification from field site to terrestrial water storage and impact in the integrated forecast system. J Hydrometeor 10:623. https://doi.org/10.1175/2008JHM1068.1

Barkmeijer J, Iversen T, Palmer TN (2003) Forcing singular vectors and other sensitive model structures. Quart J R Met Soc 129:2401–2423. https://doi.org/10.1256/qj.02.126

Christensen J, Krishna Kumar K, Aldrian E, An SI, Cavalcanti I, de Castro M, Dong W, Goswami P, Hall A, Kanyanga J, Kitoh A, Kossin J, Lau NC, Renwick J, Stephenson DS-PX, Zhou T (2013) Climate phenomena and their relevance for future regional climate change. In: Stocker T, Qin D, Plattner GK, Tignor M, Allen S, Boschung J, Nauels A, Xia Y, Midgley BVP (eds) Climate change 2013: the physical science basis. Contribution of working group I to the 5th assessment report of the intergovernmental panel on climate change. Cambridge University Press, Cambridge

Dee DP, Uppala SM, Simmons AJ, Berrisford P, Poli P, Kobayashi S, Andrae U, Balmaseda MA, Balsamo G, Bauer P, Bechtold P, Beljaars ACM, van de Berg L, Bidlot J, Bormann N, Delsol C, Dragani R, Fuentes M, Geer AJ, Haimberger L, Healy SB, Hersbach H, Hólm EV, Isaksen L, Kallberg P, Köhler M, Matricardi M, McNally AP, Monge-Sanz BM, Morcrette JJ, Park BK, Peubey C, de Rosnay P, Tavolato C, Thépaut JN, Vitart F (2011) The ERA-Interim reanalysis: configuration and performance of the data assimilation system. Quart J R Met Soc 137:553–597. https://doi.org/10.1002/qj.828

Dickson RR (1984) Eurasian snow cover versus Indian monsoon rainfall—an extension of the Hahn-Shukla results. J Clim Appl Meteorol 23:171–173

Fichefet T, Maqueda MAM (1997) Sensitivity of a global sea ice model to the treatment of ice thermodynamics and dynamics. J Geophys Res (Oceans) 102:12,609. https://doi.org/10.1029/97JC00480

Galarneau TJ Jr, Hamill TM, Dole RM, Perlwitz J (2012) A multiscale analysis of the extreme weather events over western Russia and Northern Pakistan during July 2010. Mon Wea Rev 140:1639–1664. https://doi.org/10.1175/MWR-D-11-00191.1

Halder S, Dirmeyer P (2017) Relation of Eurasian snow cover and Indian summer monsoon rainfall: importance of the delayed hydrological effect. J Climate 30:1273–1289. https://doi.org/10.1175/JCLI-D-16-0033.1

Harris I, Jones PD, Osborn TJ, Lister DH (2013) Updated high-resolution grids of monthly climatic observations—the CRU TS 3.10 Dataset. Int. J. Climatol. https://doi.org/10.1002/joc.3711

Hazeleger W, Severijns C, Semmler T, Stefanescu S, Yang S, Wang X, Wyser K, Dutra E, Baldasano JM, Bintanja R, Bougeault P, Caballero R, Ekman A, Christensen JH, van den Hurk B, Jimenes P, Jones C, Kallberg P, Koenigk T, McGrath R, Miranda P, van Noije T, Palmer T, Parodi JA, Schmith T, Selten F, Storelvmo T, Sterl A, Tapamo H, Vancoppenolle M, Viterbo P, Willén U (2010) EC-earth: a seamless earth-system prediction approach in action. Bull Amer Meteor Soc 91:1357–1363. https://doi.org/10.1175/2010BAMS2877.1

Hazeleger W, Wang X, Severijns C, Stefanescu S, Bintanja R, Sterl A, Wyser K, Semmler T, Yang S, van den Hurk B, van Noije T, van der Linden E, van der Wiel K (2012) EC-Earth v2.2: description and validation of new seamless Earth prediction model. Climate Dyn 39:2611–2629. https://doi.org/10.1007/s00382-011-1228-5

Hong CC, Hsu HH, Lin NH, Chiu H (2011) Roles of European blocking and tropical-extratropical interaction in the 2010 Pakistan flooding. Geophys Res Lett 38:L13,806. https://doi.org/10.1029/2011GL047583

Houze RA Jr, Rasmussen KL, Medina S, Brodzik SR, Romatschke U (2011) Anomalous atmospheric events leading to the summer 2010 floods in Pakistan. Bull Amer Meteor Soc 92:291–298. https://doi.org/10.1175/2010BAMS3173.1

Huffman GJ, Bolvin DT, Nelkin EJ, Wolff DB, Adler RF, Gu G, Hong Y, Bowman KP, Stocker EF (2007) The TRMM multisatellite precipitation analysis (TMPA): quasi-global, multiyear, combined-sensor precipitation estimates at fine scales. J Hydrometeor 8:38–55. https://doi.org/10.1175/JHM560.1

Kumar KK, Patwardhan SK, Kulkarni A, Kamala K, Rao KK, Jones R (2011) Simulated projections for summer monsoon climate over India by a high-resolution regional climate model (PRECIS). Curr Sci 101(3):312–326

Lau WKM, Kim K-M (2012) The 2010 Pakistan flood and Russian heat wave: teleconnection of hydrometeorological extremes. J Hydrometeor 13:392–403. https://doi.org/10.1175/JHM-D-11-016.1

Madec G (2008) NEMO ocean engine. Note du Pole modelisation. Tech. Rep. sNo 27 ISSN No 1288-1619. Institute Pierre-Simon Laplace (IPSL), France

Martius O, Sodemann H, Joos H, Pfahl S, Winschall A, Croci-Maspoli M, Graf M, Madonna E, Mueller B, Schemm S, Sedlácek J, Sprenger M, Wernli H (2013) The role of upper-level dynamics and surface processes for the Pakistan flood of July 2010. Quart J R Met Soc 139:1780–1797. https://doi.org/10.1002/qj.2082

McGregor GR, Nieuwolt S (1998) Tropical climatology. Wiley, New York

Nie J, Shaevitz DA, Sobel AH (2016) Forcings and feedbacks on convection in the 2010 Pakistan flood: modeling extreme precipitation with interactive large-scale ascent. J Adv Model Earth Syst 8:1055–1072. https://doi.org/10.1002/2016MS000663

Rasmijn LM, van der Schrier G, Barkmeijer J, Sterl A, Hazeleger W (2015) On the use of the forced sensitivity method in climate studies. Quart J R Met Soc 688:845–853. https://doi.org/10.1002/qj/2402

Rasmijn LM, van der Schrier G, Barkmeijer J, Sterl A, Hazeleger W (2016) The extreme 2013/2014 winter in a future climate. J Geophys Res (Atmospheres) 121:5680–5698. https://doi.org/10.1002/2015JD023585

Rasmijn LM, van der Schrier G, Bintanja R, Barkmeijer J, Sterl A, Hazeleger W (2018) Future equivalent of 2010 Russian heatwave intensified by weakening soil moisture constraints. Nature Climate Change, https://doi.org/10.1038/s41558-018-0114-0

Rayner NA, Brohan P, Parker DE, Folland CK, Kennedy JJ, Vanicek M, Ansell T, Tett SFB (2006) Improved analyses of changes and uncertainties in sea surface temperature measured in situ since the mid-nineteenth century: the HadSST2 data set. J Climate 19:446–469

Rodewald M (1936) Bemerkungen zu: Karl Wien, Die Wetterverhältnisse am Nanga Parbat während der Katastrophe auf der deutschen Himalaja-Expedition 1934. Meteorol Zeitschr Mai:182–186

Sharmila S, Joseph S, Sahai AK, Abhilash S, Chattopadhyay R (2015) Future projection of Indian summer monsoon variability under climate change scenario: an assessment from CMIP5 climate models. Glob Planet Chang 124:62–78. https://doi.org/10.1016/j.gloplacha.2014.11.004

Sterl A, Bintanja R, Brodeau L, Gleeson E, Koenigk T, Schmith T, Semmler T, Severijns C, Wyser K, Yang S (2012) A look at the ocean in the EC-Earth climate model. Climate Dyn 39:2631–2657. https://doi.org/10.1007/s00382-011-1239-2

Trenberth KE, Fasullo JT (2012) Climate extremes and climate change: the Russian heat wave and other climate extremes of 2010. J Geophys Res (Atmospheres) 117:D17,103. https://doi.org/10.1029/2012JD018020

Turner AG, Aannamalai H (2012) Climate change and the South Asian summer monsoon. Nat Clim Change 2:587–595. https://doi.org/10.1038/NCLIMATE1495

Turner AG, Slingo JM (2011) Using idealized snow forcing to test teleconnections with the Indian summer monsoon in the Hadley Centre GCM. Climate Dyn 36:1717–1735. https://doi.org/10.1007/s00382-010-0805-3

van der Schrier G, Barkmeijer J (2005) Bjerknes' hypothesis on the coldness during 1790–1820 AD revisited. Climate Dyn 25:537–553. https://doi.org/10.1007/s00382-005-0053-0

van der Schrier G, Barkmeijer J (2007) North American 1818–1824 drought and 1825–1840 pluvial and their possible relation to the atmospheric circulation. J Geophys Res (Atmospheres) 112:D13,102. https://doi.org/10.1029/2007JD008429

Wien K (1936) Die Wetterverhältnisse am Nanga Parbat während der Katastrophe auf der deutschen Himalaja-Expedition 1934. Meteorol. Zeitschr. Januar:26–32
Funding
The research leading to these results has been funded by the Dutch national research programme "Knowledge for Climate" and the EU FP7 Collaborative Project UERRA, Grant agreement 607193.
Electronic supplementary material
Below is the link to the electronic supplementary material.
About this article
Cite this article
van der Schrier, G., Rasmijn, L.M., Barkmeijer, J. et al. The 2010 Pakistan floods in a future climate. Climatic Change 148, 205–218 (2018). https://doi.org/10.1007/s10584-018-2173-7
Received:

Accepted:

Published:

Issue Date:

DOI: https://doi.org/10.1007/s10584-018-2173-7