Abstract
Heat waves are occurring more frequently across the globe and are likely to increase in intensity and duration under climate change. Much work has already been completed on attributing causes of observed heat waves and on modeling their future occurrence, but such efforts are often lacking in exploration of spatial relationships. Based on principles of landscape ecology, we utilized fragmentation metrics to examine the spatiotemporal changes in heat wave shape and occurrence across North America. This methodological approach enables us to examine area, shape, perimeter, and other key metrics. The application of these shape metrics to high-resolution historical (1950–2013) climate data reveals that the total number and spatial extent of heat waves are increasing over the continent, but at an individual heat wave patch level, they are becoming significantly smaller in extent and more complex in shape, indicating that heat waves have become a more widespread and fragmented phenomena.
Access options
Buy single article
Instant access to the full article PDF.
USD 39.95
Price includes VAT (USA)
Tax calculation will be finalised during checkout.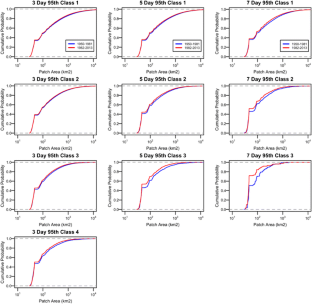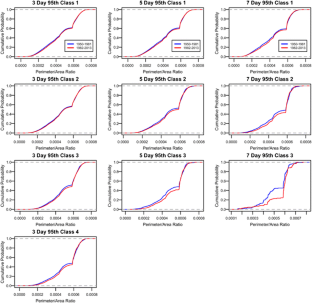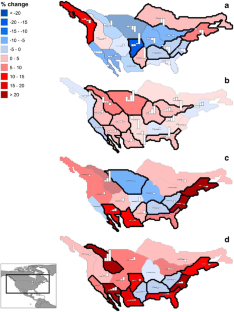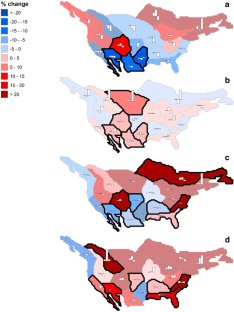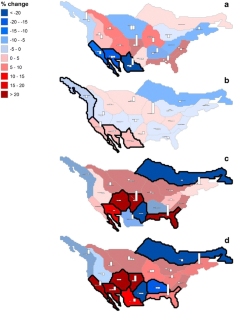 References
Anderson BG, Bell ML (2009) Weather-related mortality. Epidemiology 20:205–213. https://doi.org/10.1097/EDE.0b013e318190ee08

Barriopedro D, Fischer EM, Luterbacher J et al (2011) The hot summer of 2010: redrawing the temperature record map of Europe. Science 332(80):220–224. https://doi.org/10.1126/science.1201224

Bernard SM, Samet JM, Grambsch A et al (2001) The potential impacts of climate variability health effects in the United States. Environ Health Perspect 109:199–209. https://doi.org/10.2307/3435010

Centers for Disease Control and Prevention (CDC) U (2006) Heat-related deaths--United States, 1999-2003. MMWR Morb Mortal Wkly Rep 55:796–798

Chen Y, Li Y (2017) An inter-comparison of three heat wave types in China during 1961–2010: observed basic features and linear trends. Sci Rep 7:45619. https://doi.org/10.1038/srep45619

Ciais P, Reichstein M, Viovy N et al (2005) Europe-wide reduction in primary productivity caused by the heat and drought in 2003. Nature 437:529–533. https://doi.org/10.1038/nature03972

Comrie A (2007) Climate change and human health. Geogr Compass 1:325–339. https://doi.org/10.1111/j.1749-8198.2007.00037.x

Coumou D, Rahmstorf S (2012) A decade of weather extremes. Nat Clim Chang 2:491–496. https://doi.org/10.1038/nclimate1452

Coumou D, Robinson A (2013) Historic and future increase in the global land area affected by monthly heat extremes. Environ Res Lett 8:34018. https://doi.org/10.1088/1748-9326/8/3/034018

Curriero FC, Heiner KS, Samet JM et al (2002) Temperature and mortality in 11 cities of the eastern United States. Am J Epidemiol 155:80–87. https://doi.org/10.1093/aje/155.1.80

DeGaetano AT, Allen RJ (2002) Trends in twentieth-century temperature extremes across the United States. J Clim 15:3188–3205. https://doi.org/10.1175/1520-0442(2002)015<3188:TITCTE>2.0.CO;2

Diffenbaugh NS, Ashfaq M (2010) Intensification of hot extremes in the United States. Geophys Res Lett. https://doi.org/10.1029/2010GL043888

Easterling DR, Meehl GA, Parmesan C et al (2000) Climate extremes: observations, modeling, and impacts. Science 289:2068–2074. https://doi.org/10.1126/science.289.5487.2068

Ebi KL (2008) Using health models to prepare for and cope with climate change. Clim Change 88(1):1–3

Gaffen DJ, Ross RJ (1998) Increased summertime heat stress in the US. Nature 396:529–530. https://doi.org/10.1038/25030

Grose MR, Risbey JS, Whetton PH (2017) Tracking regional temperature projections from the early 1990s in light of variations in regional warming, including "warming holes". Clim Chang 140:307–322. https://doi.org/10.1007/s10584-016-1840-9

Hajat S, Kovats RS, Atkinson RW, Haines A (2002) Impact of hot temperatures on death in London: a time series approach. J Epidemiol Community Health 56:367–372. https://doi.org/10.1136/jech.56.5.367

Hajat S, Armstrong B, Baccini M et al (2006) Impact of high temperatures on mortality: is there an added heat wave effect? Epidemiology 17:632–638. https://doi.org/10.1097/01.ede.0000239688.70829.63

Hansen J, Sato M, Ruedy R (2012) Perception of climate change. Proc Natl Acad Sci U S A 109:E2415–E2423. https://doi.org/10.1073/pnas.1205276109

Hattis D, Ogneva-Himmelberger Y, Ratick S (2012) The spatial variability of heat-related mortality in Massachusetts. Appl Geogr 33:45–52. https://doi.org/10.1016/j.apgeog.2011.07.008

IPCC (2014) Climate change 2014: synthesis report. Contribution of working groups I, II and III to the fifth assessment report of the intergovernmental panel on climate change. IPCC, Geneva

Keellings D, Waylen P (2014a) Increased risk of heat waves in Florida: characterizing changes in bivariate heat wave risk using extreme value analysis. Appl Geogr 46:90–97. https://doi.org/10.1016/j.apgeog.2013.11.008

Keellings D, Waylen P (2014b) Investigating teleconnection drivers of bivariate heat waves in Florida using extreme value analysis. Clim Dyn 44:3383–3391. https://doi.org/10.1007/s00382-014-2345-8

Kendall MG (1955) Rank correlation methods. Charles Griffin, London

Kumar S, Kinter J, Dirmeyer PA et al (2013) Multidecadal climate variability and the "warming hole" in north america: results from CMIP5 twentieth- and twenty-first-century climate simulations. J Clim 26:3511–3527. https://doi.org/10.1175/JCLI-D-12-00535.1

Kunkel KE, Liang X-Z, Zhu J, Lin Y (2006) Can CGCMs simulate the twentieth-century "warming hole" in the central United States? J Clim 19:4137–4153. https://doi.org/10.1175/JCLI3848.1

Kunst AE, Looman CW, Mackenbach JP (1993) Outdoor air temperature and mortality in The Netherlands: a time-series analysis. Am J Epidemiol 137:331–341

Leibensperger EM, Mickley LJ, Jacob DJ et al (2012) Climatic effects of 1950-2050 changes in US anthropogenic aerosols-part 2: climate response. Atmos Chem Phys 12:3349–3362. https://doi.org/10.5194/acp-12-3349-2012

Livneh B, Bohn TJ, Pierce DW et al (2015) A spatially comprehensive, hydrometeorological data set for Mexico, the U.S., and southern Canada 1950-2013. Sci data 2:150042. https://doi.org/10.1038/sdata.2015.42

Mann HB (1945) Nonparametric tests against trend. Mann Source Econom 13:245–259. https://doi.org/10.1017/CBO9781107415324.004

Matyas C (2008) Shape measures of rain shields as indicators of changing environmental conditions in a landfalling tropical storm. Meteorol Appl 15:259–271. https://doi.org/10.1002/met.70

Maurer EP, Wood AW, Adam JC et al (2002) A long-term hydrologically based dataset of land surface fluxes and states for the conterminous United States*. J Clim 15:3237–3251. https://doi.org/10.1175/1520-0442(2002)015<3237:ALTHBD>2.0.CO;2

Mazdiyasni O, AghaKouchak A (2015) Substantial increase in concurrent droughts and heatwaves in the United States. Proc Natl Acad Sci 112:11484–11489. https://doi.org/10.1073/pnas.1422945112

McGarigal K (2015) Fragstats help 2015. Available online: http://www.umass.edu/landeco/research/fragstats/documents/fragstats.help.4.2.pdf

Mearns LO, Arritt R, Biner S et al (2012) The north American regional climate change assessment program. Bull Am Meteorol Soc 93:1337–1362. https://doi.org/10.1175/BAMS-D-II-00223.1

Meehl GA, Tebaldi C (2004) More intense, more frequent, and longer lasting heat waves in the 21st century. Science 305(80-):994–997. https://doi.org/10.1126/science.1098704

Meehl GA, Arblaster JM, Branstator G (2012) Mechanisms contributing to the warming hole and the consequent U.S. east-west differential of heat extremes. J Clim 25:6394–6408. https://doi.org/10.1175/JCLI-D-11-00655.1

Meehl GA, Arblaster JM, Chung CTY (2015) Disappearance of the southeast U.S. "warming hole" with the late 1990s transition of the Interdecadal Pacific oscillation. Geophys Res Lett 42:5564–5570. https://doi.org/10.1002/2015GL064586

Mora C, Dousset B, Caldwell IR et al (2017) Global risk of deadly heat. Nat Clim Chang 7:501–506. https://doi.org/10.1038/nclimate3322

Pan Z, Liu X, Kumar S et al (2013) Intermodel variability and mechanism attribution of central and southeastern U.S. anomalous cooling in the twentieth century as simulated by CMIP5 models. J Clim 26:6215–6237. https://doi.org/10.1175/JCLI-D-12-00559.1

Peng RD, Bobb JF, Tebaldi C, McDaniel L, Bell ML, Dominici F (2011). Toward a quantitative estimate of future heat wave mortality under global climate change. Environ Health Perspect 119(5):701

Perkins SE, Pitman AJ, Sisson SA (2013) Systematic differences in future 20 year temperature extremes in AR4 model projections over Australia as a function of model skill. Int J Climatol 33:1153–1167. https://doi.org/10.1002/joc.3500

Photiadou C, Jones MR, Keellings D, Dewes CF, (2014) Modeling european hot spells using extreme value analysis. Clim Res 58(3):193–207

Robinson WA, Reudy R, Hansen JE (2002) General circulation model simulations of recent cooling in the east-central United States. J Geophys Res Atmos. https://doi.org/10.1029/2001JD001577

Schlenker W, Roberts MJ (2009) Nonlinear temperature effects indicate severe damages to U.S. crop yields under climate change. Proc Natl Acad Sci 106:15594–15598. https://doi.org/10.1073/pnas.0906865106

Sekhon JS (2011) Multivariate and propensity score matching software with automated balance optimization: the matching package for R. J Stat Softw 42(7):1–52.

Shepard DS (1984) Computer mapping: The SYMAP interpolation algorithm. In: Gaile GL and Willmott CJ (eds) Spatial statistics and models. Springer, Dordrecht, pp. 133–145.

Stephens MA (1970) Use of the Kolmogorov-Smirnov, Cramer-von Mises and related statistics without extensive tables. J R Stat Soc Ser B 32:115–122. https://doi.org/10.1038/203024b0

Tan J, Zheng Y, Song G, Kalkstein L, Kalkstein A, Tang X (2007) Heat wave impacts on mortality in Shanghai, 1998 and 2003. Int J Biometeorol 51(3):193–200

Toomey M, Roberts DA, Still C et al (2011) Remotely sensed heat anomalies linked with Amazonian forest biomass declines. Geophys Res Lett. https://doi.org/10.1029/2011GL049041

Vautard R, Honore C, Beekmann M, Rouil L (2005) Simulation of ozone during the august 2003 heat wave and emission control scenarios. Atmos Environ 39:2957–2967

Wang H, Schubert S, Suarez M et al (2009) Attribution of the seasonality and Regionality in climate trends over the United States during 1950–2000. J Clim 22:2571–2590. https://doi.org/10.1175/2008JCLI2359.1

Wang XL, Swail VR (2001) Changes of extreme Wave Heights in northern hemisphere oceans and related atmospheric circulation regimes. J Clim 14:2204–2221. https://doi.org/10.1175/1520-0442(2001)014<2204:COEWHI>2.0.CO;2

Widmann M, Bretherton CS (2000) Validation of mesoscale precipitation in the NCEP reanalysis using a new gridcell dataset for the northwestern United States. J Clim 13:1936–1950. https://doi.org/10.1175/1520-0442(2000)013<1936:VOMPIT>2.0.CO;2

Yu S, Alapaty K, Mathur R et al (2014) Attribution of the United States "warming hole": aerosol indirect effect and precipitable water vapor. Sci Rep 4:6929. https://doi.org/10.1038/srep06929

Zaitchik B, Macalady AK, Bonneau LR, Smith RB (2006) Europe's 2003 heatwave: a satellite view of impacts and land-atmosphere feedbacks. Int J Climatol 26:743–769

Zamuda C, Mignone B, Bilello D, Hallett KC, Lee C, Macknick J, Newmark R, Steinberg D (2013) US energy sector vulnerabilities to climate change and extreme weather (No. DOE/PI-0013). Department of Energy, Washington DC

Zick SE, Matyas CJ (2016) A shape metric methodology for studying the evolving geometries of synoptic-scale precipitation patterns in tropical cyclones. Ann Am Assoc Geogr 106:1217–1235. https://doi.org/10.1080/24694452.2016.1206460
Acknowledgements
This work was funded in part by the Emerging Pathogens Institute at the University of Florida and the College of Liberal Arts and Sciences, as part of the University of Florida Preeminence Initiative.
Electronic supplementary material
About this article
Cite this article
Keellings, D., Bunting, E. & Engström, J. Spatiotemporal changes in the size and shape of heat waves over North America. Climatic Change 147, 165–178 (2018). https://doi.org/10.1007/s10584-018-2140-3
Received:

Accepted:

Published:

Issue Date: