Abstract
In world climate science, Bangladesh is considered a poster child of vulnerability. The primary stressors that affect the vulnerability of the Bangladeshi population include sea-level rise, biodiversity degradation, saltwater intrusion, desertification, social exclusion, unstable political conditions, and weak governance systems. Governance is an important non-climatic stressor that has not received sufficient attention. Within this framework, this paper explores the impacts of bribery and extortion on livelihoods and adaptive capacity in the face of climate change and argues that corruption significantly reduces the ability to respond to climatic stressors. Findings draw attention to this critical issue in climate change adaptation and international development in general, particularly for developing countries.
Access options
Buy single article
Instant access to the full article PDF.
USD 39.95
Price excludes VAT (USA)
Tax calculation will be finalised during checkout.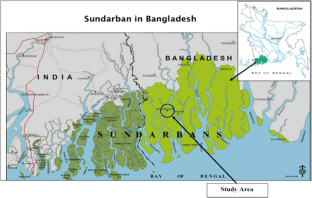 Notes
Mastaan is a Bengali word that refers to the rule of thugs backed by political elites. For details, please see Rahman (2015).

Food for Work is a government-sponsored project in order to generate supplementary wage employment. The program started after the 1974 famine to support rural poor people. Government builds and maintain rural infrastructure through this project.
References
Agrawal A, Perrin N (2009) Climate adaptation, local institutions and rural livelihoods. In: Adger WN, Lorenzoni I, O'Brien KL (eds) Adapting to climate change: thresholds, values, governance. Cambridge University Press, Cambridge

Ahmed AU, Alam M, Rahman AA (1999) Adaptation to climate change in Bangladesh: future outlook. In: Huq S, Karim Z, Asaduzzaman M, Mahtab F (eds) Vulnerability and adaptation to climate change for Bangladesh. Springer, Dordrecht

Ali A (1999) Climate change impacts and adaptation assessment in Bangladesh. Clim Res 12:109–116

Bardhan P (1997) Corruption and development: a review of issues. J Econ Lit 35:1320–1346

Becker G, Stigler G (1974) Law enforcement, malfeasance, and compensation of enforcers. J Leg Stud 3(1):1–18

Cannon T (2015) Disaster, climate change, and the significance of 'culture', Krüger, Fred; Bankoff, Greg; Cannon, Terry, Cultures and Disasters. Taylor and Francis. Retrieved 5 July 2015, from http://www.myilibrary.com?ID=768191

Chambers R (1987) Sustainable livelihoods, environment and development: putting poor rural people first. Discussion Paper No. 240. Institute of Development Studies (IDS), Brighton

Chambers R, Conway GR (1992) Sustainable rural livelihoods: practical concepts for the 21st century (Vol. IDS Discussion paper 296). Institute for Development Studies, Brighton

Colfer CJP (2011) Marginalized forest peoples' perceptions of the legitimacy of governance: an exploration. World Dev 39(12):2147–2164

Crate SA, Nuttall M (2016) Anthropology and climate change: from actions to transformations. Routledge, New York and London

Disaster Management Bureau (DMB) (2010) National plan for disaster management 2010–2015. Disaster Management and Relief Division, Government of the People's Republic of Bangladesh, Dhaka

Engle NL, Lemos MC (2010) Unpacking governance: building adaptive capacity to climate change of river basins in Brazil. Glob Environ Chang 20:4–13

Georgieva I (2017) Corruption—definition and characteristics. In: using transparency against corruption in public procurement. Studies in European Economic Law and Regulation, vol 11. Springer, Cham

Hossain N (2017) The aid lab: understanding Bangladesh's unexpected success Oxford. Oxford University Press, New York, NY

Hunt J, Laszlo S (2012) Is bribery really regressive? Bribery's costs, benefits, and mechanisms. World Dev 40(2):355–372. https://doi.org/10.1016/j.worlddev.2011.06.001

IFRC (International Federation of Red Cross and Red Crescent Societies) (2014) In: Cannon T, Schipper L, Bankoff G, Krüger F (eds) World disasters report 2014: focus on culture and disasters. IFRC, Geneva

Iftekharuzzaman (2005) "Corruption and Human Insecurity in Bangladesh (Draft)." Paper presented at the seminar organized by Transparency International Bangladesh to mark the International Anti-corruption on day 9 December 2005. http://www.ti-bangladesh.org/research/Corruption&HumanSecurity091205.pdf. Accessed 20 Jan 2018

Inman M (2009) Where warming hits hard. Nat Clim Chang 3:18–21

Intergovernmental Panel on Climate Change (IPCC) (2014) 2014: Asia. In: Hijioka Y, Lin E, Pereira JJ, Corlett RT, Cui X, Insarov GE, Lasco RD, Lindgren E, Surjan A (eds) Climate change 2014: impacts, adaptation, and vulnerability. Part B: regional aspects. Contribution of Working Group II to the Fifth Assessment Report of the Intergovernmental Panel on Climate Change. Cambridge University Press, Cambridge, pp 1327–1370

Joakim E (2013) Resilient disaster recovery: a critical assessment of the 2006 Yogyakarta, Indonesia earthquake using a vulnerability, resilience and sustainable livelihoods framework (Doctoral thesis). Waterloo: University of Waterloo. Retrieved from https://uwspace.uwaterloo.ca/bitstream/handle/0012/7315/Joakim_Erin.pdf?sequence=1

Keane A, Jones J, Milner-Gulland EJ (2008) The sleeping policeman: understanding issues of enforcement and compliance in conservation. Anim Conserv 11(2):75–82

Khan MH (2013) Bangladesh economic growth in a vulnerable limited access order, in North, Douglass. In: Wallis J, Webb S, Weingast B (eds) In the shadow of violence: politics, economics and the problems of development. Cambridge University Press, Cambridge, pp 24–69

Maplecroft (2015) Climate change and environmental risk Atlas 2015. Maplecroft, Verisk Maplecroft, Bath

North DC, Wallis JJ, Webb SB, Weingast BR (2007) Limited access orders in the developing world: a new approach to the problems of development. The World Bank, Independent Evaluation Group, Country Relations Division. http://econweb.umd.edu/~wallis/MyPapers/Limted_Access_Orders_in_the_Developing_WorldWPS4359.pdf. Accessed 20 Jan 2018

Olken BA, Barron P (2007) The simple economics of extortion: evidence from trucking in Aceh, Working Paper 13145. National Bureau of Economic Research, Cambridge URL: http://www.nber.org/papers/w13145

Parizeau K (2015) When assets are vulnerabilities: an assessment of informal recyclers' livelihood strategies in Buenos Aires, Argentina. World Dev 67:161–173

Philp M (2013) Corruption definition and measurement. In: Shacklock A, Sampford C, Connors C (eds) Measuring corruption. Ashgate Publishing Ltd, London

Polinsky M, Shavell S (2000) Corruption and optimal law enforcement. J Public Econ 81:1–24

Rabbani G, Rahman A, Khandaker M, Shoef IJ (2013) Loss and damage from salinity intrusion in Sathkira District, coastal Bangladesh. Loss and damage in vulnerable countries initiative, case study reports. United Nations University Institute for Environment and Human Security, Bonn

Rahman MA (2015) Governance matters: Power, Corruption, Social Exclusion, and Climate change in Bangladesh. Unpublished doctoral dissertation, University of Arizona, Tucson

Reid H (ed) (2017) Community-based adaptation: mainstreaming into national and local planning. Routledge, London

Roy M, Hanlon J, Hulme D (2016) Bangladesh confronts climate change: keeping our heads above water. Anthem Press, London, New York

Scoones I (2009) Livelihoods perspectives and rural development. J Peasant Stud 36(1):1–26

Sobhan R (2004) Structural dimensions of Malgovernance in Bangladesh. Econ Polit Wkly 39(36):4101–4108

Sobhan R (2007) The political economy of malgovernance in Bangladesh (Collected works of Rehman Sobhan), Volume 3. Centre for Policy Dialogue, Dhaka

Soil Resources Development Institute (SRDI) (2010) Saline soils of Bangladesh. SRDI, Ministry of Agriculture, Dhaka, Bangladesh

Sundstrom A (2015) Covenants with broken swords: corruption and law enforcement in governance of the commons. Glob Environ Chang 31(2015):253–262

Tanner et al (2015) Livelihood resilience in the face of climate change. Nat Clim Chang 5:23–26. https://doi.org/10.1038/nclimate2431

Transparency International (2009) Global corruption report 2009: corruption and the private sector. Cambridge University Press, Cambridge

Transparency International (2016) Corruption Perception Index 2015. Transparency International, Berlin

Transparency International Bangladesh (2006) Corruption database report 2005 (released on July 5, 2006). Transparency International Bangladesh, Dhaka

Transparency International Bangladesh (TIB) (2010) Corruption in the service sectors: National Household Survey 2010. Transparency International Bangladesh, Dhaka

Transparency International Bangladesh (2013) Annual Report 2013. Transparency International Bangladesh, Dhaka

Treisman D (2000) The causes of corruption: a cross-national study. J Public Econ 76:399–457

Wickberg S (2012) Overview of corruption and anti-corruption in Bangladesh. Transparency International, Berlin, 7 November 2012, Number: 353

World Bank (1999) The fight against corruption: a World Bank perspective, by Ian Bannon as an input for workshop, Central America Country Management Unit, Latin American and the Caribbean Region Stockholm, Sweden, 25–28 May 1999

World Bank (2000) Corruption in Bangladesh: costs and Cures. World Bank, Dhaka

World Bank (2010) Poverty Maps of Bangladesh 2010. The World Bank, Dhaka

World Bank (2014) Risk and Opportunity: managing risk for development, World Development Report, The World Bank , Washington DC

Yates JS (2012) Uneven interventions and the scalar politics of governing livelihood adaptation in rural Nepal. Glob Environ Chang 22:537–546

Zaman I, Manzoor e-K (2011) Climate change and corruption leave the world's mangrove forest in peril, In Global Corruption Report: climate Change, Transparency International, Berlin, Germany
Electronic supplementary material
About this article
Cite this article
Rahman, M. Governance matters: climate change, corruption, and livelihoods in Bangladesh. Climatic Change 147, 313–326 (2018). https://doi.org/10.1007/s10584-018-2139-9
Received:

Accepted:

Published:

Issue Date:

DOI: https://doi.org/10.1007/s10584-018-2139-9