Abstract
The collapse of the Eastern Türk Empire (ETE, ca. 584–630 CE) in 630 CE marked the rise of Tang China as the paramount power on the Silk Road. It was followed by the Tang defeat of the Western Türk Empire in 659 and opened a phase of Chinese expansion into central Asia. Climate-induced environmental changes as well as economic and political consequences are mentioned in medieval Chinese records as major factors in the ETE collapse. The role of cooler temperatures has also been discussed in current scholarship. Here, we re-evaluate this question by assessing the available historical sources in the light of a global network of 16 tree-ring chronologies for this period, which reveal distinct summer cooling in the ETE heartland between 626 and 632 CE. Reconstructed peak cooling of up to − 3.4 °C in 627 and 628 CE (relative to the 1961–90 mean climatology) coincided with heavy snowfall and severe frost events in the territory of the ETE. A strong sulfate spike in Greenland ice cores that has been dated circa 626 CE is implicated in the abrupt surface cooling. We argue that the climatic perturbation and associated reduction in vegetation growth and livestock mortality are relevant in understanding the causes of the fall of the ETE but these indirect drivers must be evaluated within a comprehensive analysis of political relations within both the Türk and the Tang leadership. Our study underscores and contextualizes the vulnerability of past nomadic societies to small and episodic climate fluctuations, particularly when coupled with concurrent socioeconomic, political, and demographic changes.
Access options
Buy single article
Instant access to the full article PDF.
USD 39.95
Price includes VAT (USA)
Tax calculation will be finalised during checkout.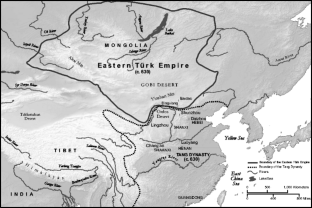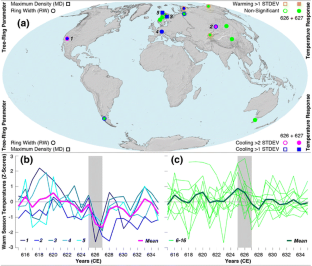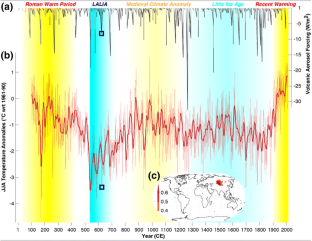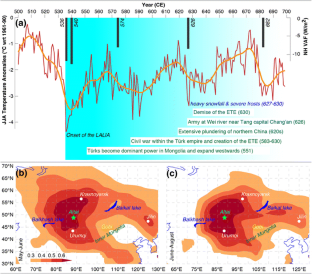 References
Batima P, Natsagdorj L, Gombluudev P, Erdenetsetseg B (2005) Observed climate change in Mongolia. AIACC Working Papers 12:1–26

Begzsuren S, Ellis JE, Ojima DS, Coughenour MB, Chuluun T (2004) Livestock responses to droughts and severe winter weather in the Gobi Three Beauty National Park, Mongolia. J Arid Environ 59(4):785–796

Büntgen U, Tegel W, Nicolussi K, McCormick M, Frank D, Trouet V, Kaplan J, Herzig F, Heussner U, Wanner H, Luterbacher J, Esper J (2011) 2500 years of European climate variability and human susceptibility. Science 331:578–582

Büntgen U, Hellmann L, Tegel W, Normand S, Myer-Smith I, Kirdyanov A, Nievergelt D, Schweingruber FH (2015) Temperature-induced recruitment pulses of Arctic dwarf shrub communities. J Ecol 103:489–501

Büntgen U, Myglan VS, Charpentier Ljungqvist F, McCormick M, Di Cosmo N, Sigl M, Jungclaus J, Wagner S, Krusic PJ, Esper J, Kaplan JO, de Vaan MAC, Luterbacher J, Wacker L, Tegel W, Kirdyanov AV (2016) Cooling and societal change during the Late Antique Little Ice Age from 536 to around 660 AD. Nat Geosci 9:231–236

Büntgen U, Myglan VS, Charpentier Ljungqvist F, McCormick M, Di Cosmo N, Sigl M, Jungclaus J, Wagner S, Krusic PJ, Esper J, Kaplan JO, de Vaan MAC, Luterbacher J, Wacker L, Tegel W, Solomina ON, Nicolussi K, Oppenheimer C, Reinig F, Kirdyanov AV (2017) Reply to 'Limited Late Antique cooling'. Nat Geosci 10:243

CFYG (1967) Cefu yuangui. Zhonghua shuju, Taiwan

Cole-Dai J (2010) Volcanoes and climate. WIRES Clim Change 1:824–839

Drompp MR (1991) Supernumerary sovereigns: superfluity and mutability in the elite power structure of the early Türks. In: Seaman G, Marks D (eds) Rulers from the steppe: state formation on the Eurasian periphery, vol 92-115. Ethnographics Press, Los Angeles, pp 349–352

Drompp MR (2005) Tang China and the collapse of the Uighur Empire: a documentary history. Leiden, Brill

Ecsedy I (1977) Tribe and empire, tribe and society in the Turk age. Acta Orientalia Academiae Scientiarum Hungaricae 31(1):3–15

Eisenberg A (1997) Warfare and political stability in medieval North Asian regimes. T'oung Pao Second Series 83-4(5):300–328

Esper J, Schneider L, Krusic PJ, Luterbacher J, Büntgen U, Timonen M, Sirocko F, Zorita E (2013) European summer temperature response to annually dated volcanic eruptions over the past nine centuries. B Volcanol 75:736–750

Fei J (2008) Circa AD 627 climatic cooling and the sudden collapse of the Eastern Turkic Khanate. (in Chinese). Ganhan qu ziyuan yu huanjing (Journal of Arid Land Resources and Environment) 22(9):37–42

Fei J, Zhou J, Hou Y (2007) Circa AD 626 volcanic eruption, climatic cooling, and the collapse of the Eastern Turkic Empire. Clim Chang 81(3):469–475

Fernandez-Gimenez ME, Batkhishig B, Batbuyan B, Ulambayar T (2015) Lessons from the dzud: community-based rangeland management increases the adaptive capacity of Mongolian herders to winter disasters. World Dev 68:48–65

Field CB et al (2012) Managing the risks of extreme events and disasters to advance climate change adaptation: special report of the intergovernmental panel on climate change. Cambridge University Press, Cambridge

Graff D (2002) Strategy and contingency the tang defeat of the Eastern Turks, 629-630. In: Di Cosmo N (ed) Warfare in inner Asian history: 500–1800. Brill, Leiden, pp 33–71

Guillet S, Corona C, Stoffel M, Khodri M, Lavigne F, Ortega P, Eckert N, Selenniou P, Daux V, Churakova (Sidorova) O, Davi N, Edouard JL, Yong Z, Luckman BH, Myglan VS, Guiot J, Beniston M, Masson-Delmotte V, Oppenheimer C (2017) Climate response to the 1257 Samalas eruption revealed by proxy records. Nat Geosci 10:123–128

Hartman C (2012) Chinese historiography in the age of maturity, 960–1368. In: Foot S, Robinson CF (eds) The Oxford history of historical writing. Vol 2, 400–1400. Oxford University Press, Oxford, pp 37–57

Hartman C, De Blasi A (2012) The Growth of Historical Method in Tang China. The Oxford History of Historical Writing: Volume 2, 400–1400:17–36

JTS (1965) Jiu Tang shu by Liu Xiu, Beijing

Kurz JL (2007) The compilation and publication of the Taiping yulan and the Cefu yuangui. Extrême-Orient Extrême-Occident, hors serie: 39–76

Mahoney J, Rueschemeyer D (2003) Comparative historical analysis in the social sciences. Cambridge University Press, Cambridge

Morinaga Y, Tian SF, Shinoda M (2003) Winter snow anomaly and atmospheric circulation in Mongolia. Int J Climatol 23(13):1627–1636

Ng OC, Wang QE (2005) Mirroring the past: the writing and use of history in imperial China. University of Hawaii Press, Honolulu

Oppenheimer C (2003) Climatic, environmental and human consequences of the largest known historic eruption: Tambora volcano (Indonesia) 1815. Prog Phys Geogr 27:230–259

Oppenheimer C (2011) Eruptions that shook the world. Cambridge University Press, Cambridge

Oppenheimer C (2015) Eruption politics. Nat Geosci 8(4):244–245

Oppenheimer C, Wacker L, Xu J, Galván JD, Stoffel M, Guillet S, Corona C, Sigl M, Di Cosmo N, Hajdas I, Pan B (2017) Multi-proxy dating the 'Millennium Eruption' of Changbaishan to late 946 CE. Quat Sci Rev 158:164–171

Pan Y (1997) Son of heaven and heavenly Qaghan: Sui-Tang China and its neighbors. Western Washington University, Bellingham

Raible CC, Brönnimann S, Auchmann R, Brohan P, Frölicher TL, Graf HF, Jones P, Luterbacher J, Muthers S, Neukom R, Robock A (2016) Tambora 1815 as a test case for high impact volcanic eruptions: earth system effects. WIRES Clim Change 7(4):569–589

Rao MP et al (2015) Dzuds, droughts, and livestock mortality in Mongolia. Environ Res Lett 10:074012

Robock A (2000) Volcanic eruptions and climate. Rev Geophys 38:191–219

Rohde R et al (2013) A new estimate of the average earth surface land temperature spanning 1753 to 2011. Geoinf Geostat: An overview 1:1–7. https://doi.org/10.4172/2327-4581.1000101

Sewell WH Jr (2005) Logics of history: social theory and social transformation. University of Chicago Press, Chicago

Sigl M et al (2015) Timing and climate forcing of volcanic eruptions for the past 2500 years. Nature 523:543–549

Sinor D (1990) The establishment and dissolution of the Türk empire. The Cambridge history of early inner Asia. Cambridge University Press, Cambridge, pp 285–316

Skaff JK (2012) Sui-Tang China and its Turko-Mongol neighbors: culture, power, and connections, 580–800. Oxford University Press, Oxford

Sternberg T (2010) Unravelling Mongolia's extreme winter disaster of 2010. Nomadic Peoples 14(1):72–86

Stoffel M, Khodri M, Corona C, Guillet S, Poulain V, Bekki S, Guiot J, Luckman BH, Oppenheimer C, Lebas N, Beniston M (2015) Estimates of volcanic-induced cooling in the Northern Hemisphere over the past 1,500 years. Nat Geosci 8(10):784–788

Stothers RB (1984) The great Tambora eruption in 1815 and its aftermath. Science 224:1191–1198

Stothers RB (2002) Cloudy and clear stratospheres before A.D. 1000 inferred from written sources. J Geophys Res 107(D23):4718. https://doi.org/10.1029/2002JD002105

Stothers RB, Rampino MR (1983) Volcanic eruptions in the Mediterranean before A.D. 630 from written and archaeological sources. J Geophys Res 88(138):6357–6371

Tachiiri K, Shinoda M, Klinkenberg B, Morinaga Y (2008) Assessing Mongolian snow disaster risk using livestock and satellite data. J Arid Environ 72(12):2251–2263

Tan Q et al. (1982) The historical atlas of China Zhongguo lishi ditu ji. Shanghai 5

Thordarson Th, Self S (2003) Atmospheric and environmental effects of the 1783–1784 Laki eruption: A review and reassessment. J Geophys Res 108(D1):4011. https://doi.org/10.1029/2001JD002042

Timmreck C (2012) Modeling the climatic effects of large explosive volcanic eruptions. WIRES Clim Change 3:545–564

Togan I (2016) The use of sociopolitical terminology for nomads: an excursion into the term Buluo in Tang China. In: Biran M, Amitai R (eds) Nomads as agents of cultural change: the Mongols and their Eurasian predecessors. Hawai'i University Press, Honolulu, pp 88–117

TPYL. T Yulan, L Fangzuan et al. (1968) Shangwu yinshuguan, Taiwan

United Nations and Government of Mongolia (2001) Mongolia winter disaster Dzud: appeal for International Assistance (February – May 2001)

Wang Z (2013) Tang China in multi-polar Asia. University of Hawai'i Press, Honolulu

Yang LS (1961) The organization of Chinese official historiography: principles and methods of the standard histories from the T'ang through the Ming dynasty. In: Beasley WG, Pulleyblank EG (eds) Historians of China and Japan. University of London, London, pp 44–59

XTS (1965) Xin Tang shu by Ouyang Xiu, Beijing

Zhang C (2002) Natural disasters and the decline and fall of the eastern Turk in the early of Tang dynasty (in Chinese). Nationalities Research in Qinghai 13(4):53–56

ZLTRB (1986) Zhongguo lidai tianzai renhuo biao (historical tables of China's natural and human disasters). Ed. Chen Gaoyong et al. Shanghai, 2 vols

ZSQJZ (2004) Zhongguo sanqiannian qixiang jilu zongji (compendium of Chinese meteorological records of the last 3000 years). Ed. Zhang De'er, 4 vols. Nanjing

ZZTJ (1993) Zizhi Tongjian, by Sima Guang, Beijing
Funding
Ulf Büntgen received funding from the Ministry of Education, Youth, and Sports of Czech Republic within the National Sustainability Program I (NPU I), grant number LO1415.
Nicola Di Cosmo received funding from the National Science Foundation (NSF).
Electronic supplementary material
About this article
Cite this article
Di Cosmo, N., Oppenheimer, C. & Büntgen, U. Interplay of environmental and socio-political factors in the downfall of the Eastern Türk Empire in 630 CE. Climatic Change 145, 383–395 (2017). https://doi.org/10.1007/s10584-017-2111-0
Received:

Accepted:

Published:

Issue Date:
Keywords
Paleoclimatology

Volcanism

Tree rings

Asian history