Abstract
Even as US partisan polarization shapes climate and energy attitudes, substantial heterogeneity in climate opinions still exists among both Republicans and Democrats. To date, our understanding of this partisan heterogeneity has been limited to analysis of national- or, less commonly, state-level opinion poll subsamples. However, the dynamics of political representation and issue commitments play out over more finely resolved state and local scales. Here we use previously validated multilevel regression and post-stratification (MRP) models (Howe et al., Nat Clim Chang 5(6):596–603 2015; Mildenberger et al., PLoS One 11(8):e0159774 2016) combined with a novel approach to measuring the distribution of party members to model, for the first time, the spatial distribution of partisan climate and energy opinions. We find substantial geographic variation in Republican climate opinions across states and congressional districts. While Democratic party members consistently think human-caused global warming is happening and support climate policy reforms, the intensity of their climate beliefs also varies spatially at state and local scales. These results have policy-relevant implications for the trajectory of US climate policy reforms.
Access options
Buy single article
Instant access to the full article PDF.
USD 39.95
Price includes VAT (USA)
Tax calculation will be finalised during checkout.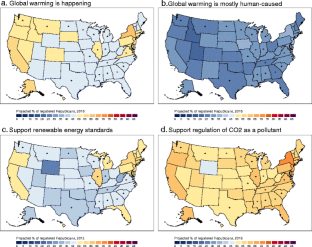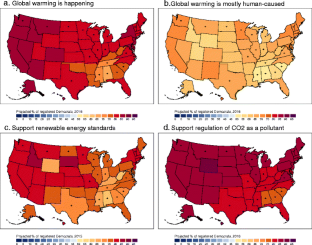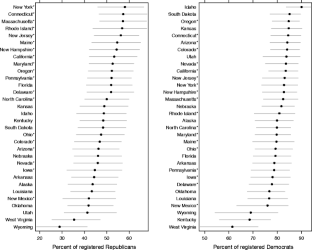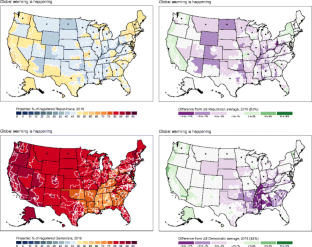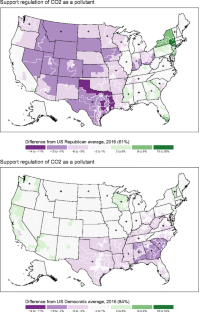 References
Buttice MK, Highton B (2013) How does multilevel regression and poststratification perform with conventional national surveys?. Polit Anal 21(4):449–467

Carley S (2011) The era of state energy policy innovation: a review of policy instruments. Rev Policy Res 28(3):265–294

Egan PJ, Mullin M (2017) Climate change: US public opinion. Annu Rev Polit Sci 20:209–227

Guber DL (2013) A cooling climate for change? party polarization and the politics of global warming. Am Behav Sci 57(1):93–115

Howe P, Mildenberger M, Marlon J, Leiserowitz A (2015) Geographic variation in opinions on climate change at state and local scales in the USA. Nat Clim Chang 5(6):596–603

Lax JR, Phillips JH (2009) How should we estimate public opinion in the states?. Am J Polit Sci 53(1):107–121

Leiserowitz T, Maibach E, ReserRenouf C, Rosenthal S, Cutler M (2017) Trump voters and global warming. Yale University and George Mason Project on Climate Change Communication

McCright AM, Dunlap RE (2011a) Cool dudes: the denial of climate change among conservative white males in the United States. Glob Environ Chang 21(4):1163–1172

McCright AM, Dunlap RE (2011b) The politicization of climate change and polarization in the American public's views of global warming, 2001–2010. Sociol Q 52 (2):155–194

Mildenberger M (2015) Fiddling while the world burns: the logic of double representation in comparative climate policymaking. PhD thesis, Yale University, New Haven

Mildenberger M, Howe P, Lachapelle E, Stokes L, Marlon J, Gravelle T (2016) The distribution of climate change public opinion in Canada. PLoS One 11 (8):e0159774

Park DK, Gelman A, Bafumi J (2006) State-level opinions from national surveys: poststratification using multilevel logistic regression. In: Cohen JE (ed) Public opinion in state politics. Stanford University Press. 209–228

Pew Research Center (2016) The politics of climate

Rabe BG (2004) Statehouse and greenhouse: the emerging politics of American climate change policy. Brookings Institution Press, Washington, D.C.

Raymond L (2016) Reclaiming the atmospheric commons: the regional greenhouse gas initiative and a new model of emissions trading. MIT Press, Cambridge

Warshaw C, Rodden J (2012) How should we measure district-level public opinion on individual issues?. J Polit 74(01):203–219
Acknowledgments
Thanks to Baobao Zhang, Chris Warshaw, Lyle Scruggs, and two anonymous reviewers for comments on an earlier draft of this paper.
Electronic supplementary material
Below is the link to the electronic supplementary material.
About this article
Cite this article
Mildenberger, M., Marlon, J.R., Howe, P.D. et al. The spatial distribution of Republican and Democratic climate opinions at state and local scales. Climatic Change 145, 539–548 (2017). https://doi.org/10.1007/s10584-017-2103-0
Received:

Accepted:

Published:

Issue Date: