Abstract
This paper investigates the role of intra-regional trade on food availability within the context of global climatic change in the Economic Community of West African States (ECOWAS). To that end, the study uses a module of trade cost minimization built within a bio-economic optimization model of cropland allocation. The results show that the climate-induced trade pattern in ECOWAS depends on the prevailing socio-economic conditions during the century. No specific pattern of trade flows is predicted but several countries may become dependent on food imports outside of ECOWAS. An adjustment of the common external tariffs (CET) may reduce food import costs. Also, doubling crop yields by 2050 could significantly reduce outside dependence. Finally, actions are urgently needed to be taken to foster agricultural production in ECOWAS.
This is a preview of subscription content,
to check access.
Access this article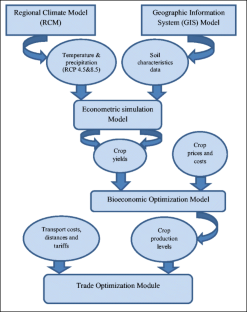 References
Bajželj B, Keith SR, Allwood JM, Pete S, Dennis JS, Curmi E, Gilligan CA (2014) Importance of food-demand management for climate mitigation. Nat Clim Chang 4:924–929

Brown WV (1982) The ECOWAS: a strategy for AID support. Agency for International Development, Washington DC

Chang CC (2002) The potential impact of climate change on Taiwan's agriculture. Agric Econ 27:51–64

Dantzig GB (1963) Linear programming and extensions. Princeton University Press, Princeton

Decreux Y, Valin H (2007) MIRAGE, updated version of the model for trade policy analysis focus on agriculture and dynamics, CEPII Working Paper No 2007–15

ECOWAS (2006) ECOWAS common external tariff, list of type "B" exceptions of member states. ECOWAS commission, Abuja

Egbendewe-Mondzozo A, Swinton MS, Izaurralde C, Manowitz D, Zhang X (2011) Biomass supply from alternative cellulosic crops and crop residues: a spatially explicit bioeconomic modelling approach. Biomass Bioenergy 35(1):4636–4637

ENDA CACID (2012) L'état du commerce en Afrique de l'Ouest. Rapport annuel, Dakar

FAO (2015) Climate change and food systems: global assessments and implications for food security and trade. Food Agriculture Organization (FAO), Rome

Gornott C, Wechsung F (2016) Statistical regression models for assessing climate impacts on crop yields: a validation study for winter wheat and silage maize in Germany. Agric For Meteorol 217:89–100

Hazell PBR, Norton RD (1986) Mathematical programming for economic analysis in agriculture. Macmillan, New York

Howitt RE (1995) Positive mathematical programming. Am J Agric Econ 62(1):82–102

IPCC (2014) Climate change impacts, adaptations and vulnerability, contribution of working group 2 to the fifth assessment report of the Intergovernmental Panel on Climate Change. Cambridge University Press, Cambridge

Izaurralde RC, Williams JR, McGill WB, Rosenberg NJ, Jakas MCQ (2006) Simulating soil C dynamics with EPIC: model description and testing against long-term data. Ecol Model 192(3–4):362–384

Julia R, Duchin F (2007) World trade as the adjustment mechanism of agriculture to climate change. Clim Chang 82:393–409

Lokonon OKB, Egbendewe-Mondzozo, A., Coulibaly, N. and Atewamba, C., 2016. Spatial implication of climate change on land allocation and agricultural production in ECOWAS. UNU-working paper

McCarl BA, Spreen TH (1980) Price endogenous mathematical programming as a tool for sector analysis. Am J Agric Econ 62(1):87–102

Nin-Pratt A, Johnson M, Magalhaes E, You L, Diao X, Chamberlin J (2010) Yield gaps and potential agricultural growth in West and Central Africa. International Food Policy Institute, Washington, D.C.

O'Neill CB, Kriegler E, Riahi K, Ebi LK, Hallegatte S, Carter RT, Mathur R, van Vuuren PD (2014) A new scenario framework for climate change research the concept of shared socioeconomic pathways. Climatic Change 122(3):387–400

Palazzo A et al (2014) Simulating stakeholder-driven food and climate scenarios for policy development in Africa, Asia and Latin America: a multi-regional synthesis, Copenhagen, Denmark: CGIAR Research Program on climate change, agriculture, CCAFS Working paper no. 109

Pinstrup-Andersen P (2009) Food security: definition and measurement. Food Security 1:5–7

Ray DK, Mueller ND, West PC, Foley JA (2013) Yield trends are insufficient to double global crop production by 2050. PLoS One 8(6):e66428

Rosenzweig C, Parry M (1994) Potential impact of climate change on world food supply. Nature 367:133–138

Sanchez PA (2010) Tripling crop yields in tropical Africa. Nat Geosci 3:299–300

Sanchez PA, Swaminathan MS (2005) Hunger in Africa: the link between unhealthy people and unhealthy soils. Lancet 365(9457):442–444

Stephan G, Schenker O (2008) International trade and the adaptation to climate change and variability. Center for European Economic Research, Discussion Paper No. 12–008

Sylla MB, Gaye AT, Jenkins GS (2012) On the fine-scale topography regulating changes in the atmospheric hydrological cycle and extreme rainfall over West Africa in a regional climate model projections. Int J Geophys 2012:981649 15 pages

USAID, 2012. Impact of road transport industry liberalization in West Africa, Technical Report

Wilkinson A, Eidinow E (2008) Evolving practices in environmental scenarios: a new scenario typology. Environ Res Lett 3:1–11
Acknowledgements
We thank the United Nations University Institute for Natural Resources in Africa (UNU-INRA), Accra, Ghana, and the African Climate Policy Centre of the United Nations Economic Commission for Africa for respectively hosting and sponsoring the study. We are also grateful to Dr. Elias T. Ayuk, Dr. Sylla, and the CGIAR research group.
Electronic supplementary material
About this article
Cite this article
Egbendewe, A.Y., Lokonon, B.O.K., Atewemba, C. et al. Can intra-regional food trade increase food availability in the context of global climatic change in West Africa?. Climatic Change 145, 101–116 (2017). https://doi.org/10.1007/s10584-017-2083-0
Received:

Accepted:

Published:

Issue Date:

DOI: https://doi.org/10.1007/s10584-017-2083-0