Abstract
The evolution of relative sea level (RSL) in Venice, Italy, is crucial for the safeguarding of the city and it is now possible to extend our knowledge back to 1350, including the whole Little Ice Age and modern global warming. The existing tide gauge record is extensive, going back to 1871, but it is affected by the superposition of multidecadal swings and short-term fluctuations, including both natural and manmade forcing factors. A biological proxy, i.e. the green algae belt reported on paintings made with the help of a camera obscura by the Venetian painters Canaletto and Bellotto (eighteenth century) and Veronese (sixteenth century), helps us to go back to 1571. This paper presents an exceptionally long series (i.e. 664 years) and adds a novel proxy: the submersion of water stairs of the historic palaces facing the Grand Canal. Originally, the bottom step of the water stairs was built in relation to the sea level and the slippery algae belt, while today, the water stairs are mostly submerged. An underwater survey of 78 water stairs has provided new data about the RSL since 1350. The results show that RSL in Venice was always rising at an increasingly fast rate. By subtracting local land subsidence (LLS) from RSL, absolute (eustatic) sea level (ASL) has been calculated. For both RSL and ASL, the apparent acceleration is +0.0030 ± 0.0004 mm year−2. This figure becomes unstable when the record length is reduced. A discussion is made about the interpolation functions, i.e. the second-order polynomial and the exponential that provide almost the same best-fit over the common period. The RSL and ASL trend lines and the possibility of turning points are also discussed and compared with other scholarly studies. A eustatic turning point is suggested for the mid fifteenth century, consistent with the literature. However, the comparison between scholarly papers is difficult due to geographic and geological differences between sites and record durations.
This is a preview of subscription content, log in to check access.
Access options
Buy single article
Instant access to the full article PDF.
US$ 39.95
Price includes VAT for USA
Subscribe to journal
Immediate online access to all issues from 2019. Subscription will auto renew annually.
US$ 199
This is the net price. Taxes to be calculated in checkout.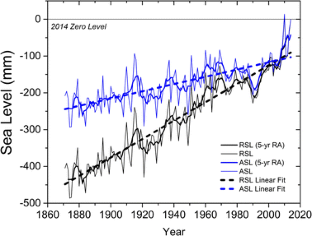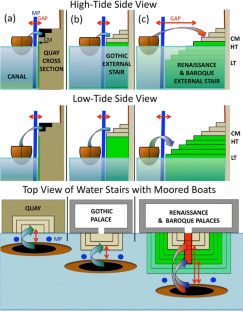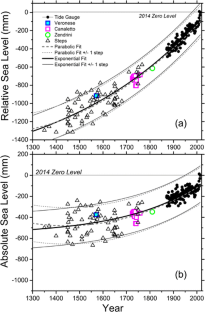 References
Historical references
Cornaro A (1560) Trattato di acque. Percacino, Padua

de Barbari J (1500) View of Venice. Xylography cl. XLIV n.0057. Museum Correr, Venice

Gallicciolli GB (1795) Delle memorie venete antiche profane ed ecclesiastiche, vol 1. Fracasso, Venice

Sabbadino C (1545) Discorsi sulla Laguna. Handwritten Codex XXIV Naniana Library, Venice

Sabbadino C (1550 ca) Handwritten document b.231, folder No.5, Libri dell'ingegnere Sabbadini e Cornaro circa la Laguna, located in: Savi et esecutori alle Acque, State Archive of Venice

Serlio S (1600) Tutte l'opere d'architettura et prospettiva. Franceschi, Venice

Temanza T (1761) Dissertazione sopra l'antichissimo territorio di Sant'Ilario nella diocesi di OlivoloPasquali, Venice

Zendrini B (1811) Memorie storiche dello stato antico e moderno delle lagune di Venezia. Stamperia Seminario, Padua
Modern references
Ammerman AJ (2005) The third dimension in Venice. In: Fletcher CA, Spencer T (eds) Flooding and environmental challenges for Venice: state of knowledge. Cambridge University Press, Cambridge, pp 107–115

Barlow NLM, Shennan I, Long AJ, Gehrels WR, Saher MH, Woodroffe SA, Hillier C (2013) Salt marshes as geological tide gauges. Glob Planet Chang 106:90–110

Bondesan M, Gatti M, Russo P (2001) Vertical ground movements obtained from IGM levelling surveys. In: Castiglioni GB, Pellegrini GB (eds) Illustrative notes of the geomorphological map of the Po plain. Suppl Geogr Fis Dinam Quat 4, pp 141–148

Bondesan A, Bassan V, Vitturi A. (eds) (2008) Geologia Urbana di Venezia. SIGEA Geologia dell'Ambiente, (3):1–191

Camuffo D (2010) Le niveau de la mer à Venise d'après l'œuvre picturale de Véronèse, Canaletto et Bellotto. Rev Hist Mod Contemp 57(3):92–110

Camuffo D, Sturaro G (2003) Sixty-cm submersion of Venice discovered thanks to Canaletto's paintings. Clim Chang 58:333–343

Camuffo D, Sturaro G (2004) Use of proxy-documentary and instrumental data to assess the risk factors leading to sea flooding in Venice. Glob Planet Chang 40:93–103

Camuffo D, Secco C, Brimblecombe P, Martin-Vide J (2000) Sea storms in the Adriatic Sea and the western Mediterranean during the last millennium. Clim Chang 46:209–223

Camuffo D, Bertolin C, Schenal P (2014a) Climate change, sea level rise and impact on monuments in Venice. In: Rogerio-Candelera MA (ed) Science, technology and cultural heritage. CRC Press - Taylor & Francis, London, pp 1–18

Camuffo D, Bertolin C, Schenal P, Craievich A, Granziero R (2014b) The Little ice age in Italy from documentary proxies and early instrumental records. In: Morange C, Darques R (eds) Le Petit Age Glaciaire autour de la Méditerranée. Méditerranée, 122:17–30

Camuffo D, Zennaro R, Salviati F (1972) Affidabilità dei dati ottenibili con un mareografo SIAP ID5692. TR 26, CNR LSDGM Venice

Carbognin L, Taroni G (1996) Eustatismo a Venezia e Trieste nell'ultimo secolo. Atti Istituto Veneto Scienze Lettere ed Arti 154:281–298

Carbognin L, Teatini P, Tosi L (2004) Eustacy and land subsidence in the Venice lagoon at the beginning of the new millennium. J Marine Syst 51:345–353

Carminati E, Doglioni C, Scrocca D (2005) Magnitude and causes of long-term subsidence of the Po plain and Venetian region. In: Fletcher CA, Spencer T (eds) Flooding and environmental challenges for Venice and its lagoon: state of knowledge. Cambridge University Press, Cambridge, pp 21–28

Cavaggioni I, Lionello A (2009) Le fondazioni storiche a Venezia. In: Biscontin G, Izzo F, Rinaldi E (eds) Il sistema delle fondazioni lignee a Venezia. Corila, Multigraf, Venice, pp 9–29

Church JA, White NJ (2006) A 20th century acceleration in global sea-level rise. Geophys Res Lett 33:L10602

Church JA, White NJ (2011) Sea-level rise from the late 19th to the early 21st century. Surv Geophys 32:585–602

Douglas B (1992) Global sea level acceleration. J Geophys Res 97(C8):12,699–12,706

Enzi S, Camuffo D (1995) Documentary sources of sea surges in Venice from a.D. 787 to 1867. Nat Hazards 12:225–287

Gambolati G (1998) CENAS: coastline evolution of the upper Adriatic Sea due to sea level rise and natural and anthropogenic land subsidence. Springer – Kluwer Science, Dordrecht

Gehrels WR, Kirby JR, Prokoph A, Newnham RM, Achterberg EP, Evans H, Black S, Scott DB (2005) Onset of recent rapid sea-level rise in the western Atlantic Ocean. Quat Sci Rev 24:2083–2100

Grinsted A, Moore JC, Jevrejeva S (2009) Reconstructing sea level from paleo and projected temperatures 200 to 2100 AD. Clim Dynam 34:461–472

Hunter J (2013) Comment on 'lower bounds to future sea-level rise'. IJOCS 4(4):227–229

Hunter J (2014) Comment on 'sea-level trend analysis for coastal management' by a. Parker, M. Saad Saleem and M. Lawson. Ocean Coast Manag 87:114–115

Hansen J, Sato M, Hearty P, Ruedy R, Kelley M, Masson-Delmotte V, Russell G, Tselioudis G, Cao J, Rignot E, Velicogna I, Tormey B, Donovan B, Kandiano E, von Schuckmann K, Kharecha P, Legrande AN, Bauer M, Lo KW (2016) Ice melt, sea level rise and superstorms: evidence from paleoclimate data, climate modeling, and modern observations that 2 °C global warming could be dangerous. Atmos Chem Phys 16:3761–3812

Jevrejeva S, Moore JC, Grinsted A, Matthews AP, Spada G (2014) Trends and acceleration in global and regional sea levels since 1807. Glob Planet Chang 113:11–22

Jevrejeva S, Moore JC, Grinsted A, Woodworth PL (2008) Recent global sea level acceleration started over 200 years ago? Geophys Res Lett 35:L08715

Jevrejeva S, Grinsted A, Moore JC, Holgate S (2006) Nonlinear trends and multi-year cycle in sea level records. J Geophys Res 111:C09012

Kemp AC, Horton BP, Donnelly JD, Mann ME, Vermeer M, Rahmstorf S (2011) Climate related sea-level variations over the past two millennia. Proc National Academy of Tufts University Sciences 108(27):11017–11022

Kopp RE, Kemp AC, Bittermann K, Horton BP, Donnelly JP, Gehrels WR, Hay CC, Mitrovica JX, Morrow ED, Rahmstorf S (2016) Temperature-driven global sea-level variability in the common era. Proc Natl Acad Sci USA (PNAS) 113(11):E1434–E1441

Lambeck K, Antonioli F, Purcell A, Silenzi S (2004) Sea-level change along the Italian coast for the past 10,000 yr. Quat Sci Rev 23:1567–1598

Lambeck K, Woodroffe CD, Antonioli F, Anzidei M, Gehrels WD, Laborel J, Wright A (2010) Paleoenvironmental records, geophysical modelling and reconstruction of sea level trends and variability on centennial and longer time scales. In: Church JA, Woodworth PL, Arup T, Wilson WS (eds) Understanding Sea level rise and variability. Wiley-Blackwell, London

Long AJ, Barlow NLM, Gehrels WR, Saher MH, Woodworth PL, Scaife RG (2014) Contrasting records of sea-level change in the eastern and western North Atlantic during the last 300 years. Earth Planet Sci Lett 388:110–122

Meyssignac B, Cazenave A (2012) Sea level: a review of present-day and recent-past changes and variability. J Geodyn 58:96–109

Miller KG, Sugarman PJ, Browning JV, Horton BP, Stanley A, Kahn A, Uptegrove J, Aucott M (2009) Sea level rise in New Jersey over the past 5000 years: implications to anthropogenic changes. Glob Planet Chang 66:10–18

Miozzi E (1968) Venezia nei secoli. La Laguna, vol III. Trevisan, Castelfranco Veneto, pp 403–464

Olivieri M, Spada G (2013) Intermittent sea level acceleration. Glob Planet Chang 109:64–72

Parker BB (1991) Tidal hydrodynamics. Wiley & Sons, New York

Parker A, Saleem MS, Lawson M (2013) Sea-level trend analysis for coastal management. Ocean Coast Manag 73:63–81

Rusconi A (1983) Il Comune Marino a Venezia: ricerche e ipotesi sulle sue variazioni altimetriche e sui fenomeni naturali che le determinano, Uff. Idrogr. Magistrato Acque, TR 157, Venice

Spada G, Olivieri M, Galassi G (2015) A heuristic evaluation of long-term global sea level acceleration. Geophys Res Lett 42:4166–4172

Stewart IS, Morhange C (2009) Coastal geomorphology and sea-level change. In: Woodward JC (ed) The physical geography of the Mediterranean. Oxford University Press, Oxford, pp 385–413

Ting M, Kushnir Y, Seager R, Li C (2011) Robust features of Atlantic multi-decadal variability and its climate impacts. Geophys Res Lett 38:L17705

Tosi L, Teatini P, Strozzi T (2013) Natural versus anthropogenic subsidence of Venice. Nature Scientific Reports 3:2710

Tosi L, Da Lio C, Strozzi T, Teatini P (2016) Combining L- and X-band SAR interferometry to assess ground displacements in heterogeneous coastal environments: the Po River Delta and Venice lagoon. Italy Remote Sens 8(308):1–22

Tsimplis MN, Baker TF (2000) Sea level drop in the mediterranean: An indicator of deep water salinity and temperature changes?. Geophys Res Lett 27(12):1731–1734

UNESCO (1969) Rapporto su Venezia. UNESCO Paris and Mondadori, Milano

Vacchi M, Marriner N, Morhange C, Spada G, Fontana A, Rovere A (2016) Multiproxy assessment of Holocene relative sealevel changes in the western Mediterranean: Sea-level variability and improvements in the definition of the isostatic signal. Earth Sci Rev 155:172–197

Visser H, Dangendorf S, Petersen AC (2015) A review of trend models applied to sea level data with reference to the "acceleration-deceleration debate". J Geophys Res Oceans 120:3873–3895

Woodworth PL, White NJ, Jevrejeva S, Holgate SJ, Church JA, Gehrels WR (2009) Evidence for the accelerations of sea level on multidecade and century time scales. Int J Climatol 29:777–789
Acknowledgments
The authors are especially grateful to the Frogmen Team of the Italian National Police, Venice, who made the underwater measurements concerning the monumental stairs in the Grand Canal. Their kind contribution has been absolutely essential to this study. Many thanks are also due to Giorgio Spada (University of Urbino); Mario Piana (University of Venice); Fabio Trincardi, Roberto Zonta and Luigi Tosi (CNR-ISMAR, Bologna and Venice); Antonio della Valle and Francesco De Biasio (CNR-ISAC, Padua); Elena Fumagalli and Daniele Resini (Insula spa, Venice); Alberto Craievich and Rossella Granziero (Correr Museum, Venice); and Albert Ammerman (Colgate University) for their very useful discussions, support and documentation. This study has been made in the framework of the EU-funded project Climate for Culture (Grant 226973).
Electronic supplementary material
About this article
Cite this article
Camuffo, D., Bertolin, C. & Schenal, P. A novel proxy and the sea level rise in Venice, Italy, from 1350 to 2014. Climatic Change 143, 73–86 (2017). https://doi.org/10.1007/s10584-017-1991-3
Received:

Accepted:

Published:

Issue Date: