Abstract
Drawing from an original dataset of urban metropolitan carbon footprints, we explore the correlations between national level climate change commitments and sub-national level inventories. We ask: Does voluntary reporting allow a city to perform better than national average? Does ambitiousness in commitment have an impact on performance in footprint reduction? Does having long-term commitments affect performance in footprint reduction? Do binding national level commitments (such as those under the Kyoto Protocol) affect performance at the city level in terms of footprint reduction? To provide answers, we synthesize data from the largest repository of voluntary sub-national commitments and actions towards footprint reduction and greenhouse gas inventories from around the world, the Carbonn platform. More than 500 cities report at least one action, commitment or inventory to this database. We find, using a subset of this database, perhaps counter intuitively that cities with more ambitious commitments do not necessarily have steeper reductions in emissions. Our data also suggest that having long-term self-reported goals does not make the cities perform better in terms of footprint reduction. This appears to be true for both government and community commitments reported. Lastly, and positively, our data did reveal a statistically significant effect for cities belonging to countries that had committed to the Kyoto Protocol, suggesting the necessity of binding national (and supranational) climate targets.
Access options
Buy single article
Instant access to the full article PDF.
US$ 39.95
Tax calculation will be finalised during checkout.
Subscribe to journal
Immediate online access to all issues from 2019. Subscription will auto renew annually.
US$ 119
Tax calculation will be finalised during checkout.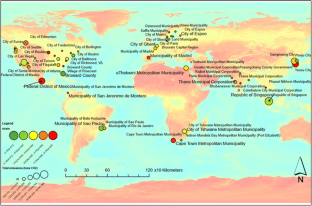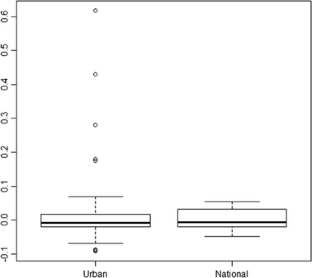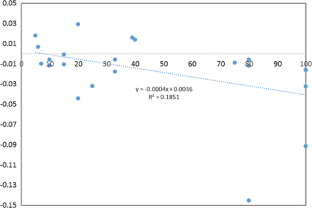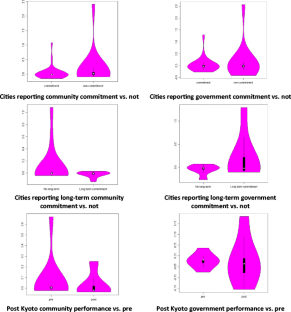 References
Al-areqi S, Kriewald S, Lamprecht A, Reusser D, Wrobel M, Margaria T (2004) Agile Workflows for Climate Impact Risk Assessment based on the ci: grasp Platform and the jABC Modeling Framework. In: International Environmental Modelling and Software Society (iEMSs) 7th Intl. Congress on Env. Modelling and Software (accepted, 2014)

Bleischwitz R, Nikolas B (2009) Measuring urban greenhouse gas emissions: the challenge of comparability. SAPIENS 2:7–21

Butler TM, Lawrence MG (2009) The influence of megacities on global atmospheric chemistry: a modelling study. Environ Chem 6:219–225. doi:10.1071/EN08110

Butler TM, Lawrence MG, Gurjar BR, van Aardenne J, Schultz M, Lelieveld J (2008) The representation of emissions from megacities in global emission inventories. Atmos Environ 42:703–719. doi:10.1016/j.atmosenv.2007.09.060

Corfee-Morlot J, et al. (2009) Cities, Climate Change and Multilevel Governance. OECD Publishing

De Sherbinin A, Chen RS (2005) Global spatial data and information: development, dissemination and use: report of a workshop... 21–23 September 2004, Lamont-Doherty earth observatory, Columbia university, Palisades. Trustees of Columbia University,

Dhakal S (2010) GHG emissions from urbanization and opportunities for urban carbon mitigation. Curr Opin Environ Sustain 2:277–283. doi:10.1016/j.cosust.2010.05.007

Dodman D (2009) Blaming cities for climate change? An analysis of urban greenhouse gas emissions inventories. Environ Urban 21:185–201. doi:10.1177/0956247809103016

Duren RM, Miller CE (2012) Measuring the carbon emissions of megacities nature. Clim Chang 2:560–562

Gately CK, Hutyra LR, Sue Wing I (2015) Cities, traffic, and CO2: a multidecadal assessment of trends, drivers, and scaling relationships. Proc Natl Acad Sci 112:4999–5004. doi:10.1073/pnas.1421723112

Grubler A, Fisk D (2013) Energizing sustainable cities: assessing urban energy. Routledge

Gupta A (2010) Transparency in global environmental governance: a coming of age? Glob Environ Politics 10:1–9. doi:10.1162/GLEP_e_00011

Hanssen GS, Mydske PK, Dahle E (2013) Multi-level coordination of climate change adaptation: by national hierarchical steering or by regional network governance? Local Environ 18:869–887. doi:10.1080/13549839.2012.738657

Hoornweg D, Sugar L, Trejos Gómez CL (2011) Cities and greenhouse gas emissions: moving forward. Environ Urban 23:207–227

Hsu A, Cheng Y, Weinfurter A, Xu K, Yick C (2016) Track climate pledges of cities and companies. Nature 532:303

Ibrahim N, Sugar L, Hoornweg D, Kennedy C (2012) Greenhouse gas emissions from cities: comparison of international inventory frameworks. Local Environ 17:223–241

ICLEI, C40, UCLG (2015) Carbonn. ICLEI. http://carbonn.org/. Accessed May 28 2015

ICLEI, Institute WR, C40 (2013) Global protocol for community scale greenhouse gas emission inventories. ICLEI, WRI, C40

Kennedy CA, Ramaswami A, Carney S, Dhakal S (2011) Greenhouse gas emission baselines for global cities and metropolitan regions. In: Hoornweg D, Freire M, Lee MJ, Bhada-Tata P, Yuen B (eds) Cities and climate change: Responding to an urgent agenda. Urban Development Series. The World Bank, Washington, pp 15–54

Kennedy C, Demoullin S, Mohareb E (2012) Cities reducing their greenhouse gas emissions. Energy Policy 49:774–777. doi:10.1016/j.enpol.2012.07.030

Kennedy CA, Ibrahim N, Hoornweg D (2014) Low-carbon infrastructure strategies for cities nature. Clim Chang 4:343–346. doi:10.1038/nclimate2160

Lee T, Koski C (2015) Multilevel governance and urban climate change mitigation. Environ Plan C: Government and Policy 33:1501–1517. doi:10.1177/0263774x15614700

Marcotullio PJ, Sarzynski A, Albrecht J, Schulz N (2014) A top-down regional assessment of urban greenhouse gas emissions in Europe. Ambio 43:957–968. doi:10.1007/s13280-013-0467-6

Mohareb EA, Kennedy CA (2014) Scenarios of technology adoption towards low-carbon cities. Energy Policy 66:685–693. doi:10.1016/j.enpol.2013.10.070

Nordhaus W (2015) Climate clubs: overcoming free-riding in international climate policy. Am Econ Rev 105:1339–1370. doi:10.1257/aer.15000001

Ostrom E (2010) Polycentric systems for coping with collective action and global environmental change. Glob Environ Chang 20:550–557. doi:10.1016/j.gloenvcha.2010.07.004

Reilly J et al. (1999) Multi-gas assessment of the Kyoto protocol. Nature 401:549–555

Satterthwaite D (2008) Cities' contribution to global warming: notes on the allocation of greenhouse gas emissions. Environ Urban 20:539–549. doi:10.1177/0956247808096127

Sovacool BK, Brown MA (2010) Twelve metropolitan carbon footprints: a preliminary comparative global assessment. Energy Policy 38:4856–4869. doi:10.1016/j.enpol.2009.10.001

Strauss BH, Kulp S, Levermann A (2015) Carbon choices determine US cities committed to futures below sea level. Proc Natl Acad Sci 112:13508–13513. doi:10.1073/pnas.1511186112

United Nations (2010) World urbanization prospects: The 2009 revision. UN

US Census Bureau (2007) US economic census 2007. US Census Bureau. http://www.census.gov/econ/census07/. Accessed September 2011

US Census Bureau (2010) US census 2010. US Census Bureau. http://www2.census.gov/census_2010/04-Summary_File_1/. Accessed September 2011

Victor DG (2004) The collapse of the Kyoto Protocol and the struggle to slow global warming. Princeton University Press

Victor DG (2006) Toward effective international cooperation on climate change: numbers, interests and institutions. Glob Environ Politics 6:90–103. doi:10.1162/glep.2006.6.3.90

World Bank (2011) World Bank Open Data. World Bank. http://data.worldbank.org/. Accessed February 26 2014

WWF (2015) Earth Hour City Challenge. WWF. http://www.panda.org/ehcc. Accessed May 28 2015 2015

Xu X, Tan Y, Chen S, Yang G, Su W (2015) Urban household carbon emission and contributing factors in the Yangtze River D elta, China. PLoS ONE 10:e0121604. doi:10.1371/journal.pone.0121604
Acknowledgments
The authors are appreciative to the Research Councils United Kingdom (RCUK) for Energy Program Grant EP/K011790/1 "Center on Innovation and Energy Demand" and the Worldwide Fund for Nature, WWF and the Luc Hoffmann Institute for Grant 2015-06 "Identifying High Leverage Points for Reducing the Carbon Footprint of Cities," which have supported elements of the work reported here. Any opinions, findings, and conclusions or recommendations expressed in this material are those of the authors and do not necessarily reflect the views of RCUK Energy Program, the WWF, or the Luc Hoffmann Institute.
Electronic supplementary material
About this article
Cite this article
Khan, F., Sovacool, B.K. Testing the efficacy of voluntary urban greenhouse gas emissions inventories. Climatic Change 139, 141–154 (2016). https://doi.org/10.1007/s10584-016-1793-z
Received:

Accepted:

Published:

Issue Date:
Keywords
Carbon Emission

Kyoto Protocol

Carbon Footprint

City Level

Commitment Period