Abstract
While climate change is projected to increase displacement of people, knowledge on this issue remains limited and fragmented. In his paper we focus on the micro-level and study the effects of individual perceptions of different types of environmental events (i.e., sudden/short-term vs. slow-onset/long-term) on migration decisions. Our results based on newly collected micro-level survey data from Vietnam shows that while slow-onset environmental events, such as droughs, significantly decrease the likelihood of migration, short-term events, such as floods, are positively related to migration, although not in a statistically significant way. When contrasting individual level perceptions with actual climatic events we observe that migrants and non-migrants perceive both long-term as well as sudden-onset environmental events in different ways. While non-migrants are slightly better in judging the actual extremeness of events such as floods and hurricanes, it is the migrants who are slightly better in judging the actual extremeness in the case of droughts.
Access options
Buy single article
Instant access to the full article PDF.
US$ 39.95
Tax calculation will be finalised during checkout.
Subscribe to journal
Immediate online access to all issues from 2019. Subscription will auto renew annually.
US$ 119
Tax calculation will be finalised during checkout.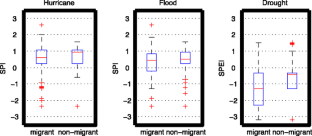 Notes
1.

We use the term "environmental migration" as relating to persons who are displaced primarily for environmental reasons; see Dun and Gemenne (2008) for a discussion on the definition of environmental migration.

2.

While there exists research that shows that environmental change can lead to international migration (Nawrotzki et al. 2015a; Nawrotzki et al. 2013; Gray and Bilsborrow 2013), in this paper, we focus on internal migration because there is strong consensus in the literature that most migration flows associated with environmental factors are of an internal nature (Hunter et al. 2015: 3; Foresight 2011).

3.

4.

Furthermore, the decision whether to migrate or to stay and adapt in the presence of environmental change should not depend on whether this decision is taken by an individual or as a household strategy. As we argue below certain environmental events, such as hurricanes, should be so severe that adaption is hardly possible. Other events, such as droughts, should allow for adaption and existing bonds to individuals' original location should keep both individuals and their entire household at their current location. Having said that we acknowledge the possibility that in the context of these slow-onset events households might want to send individual members to other locations to increase/supplement their family income. In our data, however, this phenomenon does not seem to play a crucial role.

5.

This corresponds to about one billion Euro.

6.

This sampling method is frequently used in sociological studies of such hidden populations (Laczko and Aghazarm 2009).

7.

The response rate for the non-migrants was 76.6 % (783 contacted, 600 interviewed) and for the migrants 65.43 % (917 contacted, 600 interviewed). It is important to note that we do not look at forced migration.

8.

In the Appendix to this paper we provide further regression models including other variables, for example a respondents' profession. Furthermore, we show that our results are robust to excluding those migrants who did not migrate within the last five years but before, which might induce the so-called recall bias. We also show that our results are robust to controlling for the time since an individual has left her former location.

9.

Since two respondents did not answer the question whether a household member has already migrated our estimations are based on 1198 observations instead of 1200.

10.

We used GPS coordinates to map interviewees' present and former location.
References
Adger NW, Arnell NW, Black R, Dercon S, Geddes A, Thomas DSG (2015) Focus on environmental risks and migration: causes and consequences. Environ Res Lett 10(1): 060201.

Bardsley DK, Hugo GJ (2010) Migration and climate change: Examining thresholds of change to guide effective adaptation decision-making. Population & Environment 32(2):238–262

Becker A, Finger P, Meyer-Christoffer A, Rudolf B, Schamm K, Schneider U, Ziese M (2013) A description of the global land-surface precipitation data products of the Global Precipitation Climatology Centre with sample applications including centennial (trend) analysis from 1901–present. Earth Syst. Sci. Data 5:71–99. doi:10.5194/essd-5-71-2013

Black R, Collyer M (2014) Populations 'Trapped' at Times of Crisis. Forced Migration Review 45:52–56

Black R, Kniveton D, Schmidt-Verkerk K (2011a) Migration and climate change: towards an integrated assessment of sensitivity. Environ Plan 43(2):431–450

Black R, Adger WN, Arnell NW, Dercon S, Geddes A, Thomas DSG (2011b) The effect of environmental change on human migration. Glob Environ Chang 21(S1):S3–S11

Black R, Arnell NW, Adger WN, Thomas D, Geddes A (2013) Migration, immobility, and displacement outcomes of extreme events in nature and society. Environmental Science and Policy 27(1):S32–S43

Bohra-Mishra P, Oppenheimer M, Hsiang SM (2014) Nonlinear permanent migration response to climatic variations but minimal response to disasters. Proceeding of the National. Acad Sci 111(27):9780–9785

Bylander M (2013) Depending on the sky: environmental distress, migration, and coping in rural Cambodia. Int Migr 53(5):135–147

Dasgupta S, Laplante B, Meisner C, Wheeler D, Yan J (2009) The impact of sea level rise on developing countries. A comparative analysis. Clim Chang 93:379–388

Dessai S, Adger WN, Hulme M, Turnpenny J, Köhler J, Warren R (2004) Defining and experiencing dangerous climate change: an editorial essay. Clim Chang 64:11–25

Dun O (2011) Migration and displacement triggered by floods in the Mekong Delta, Vietnam. Int Migr 49(S1):e200–e223

Dun O, Gemenne F (2008) Defining environmental migration. Forced Migration Review 31:10–11

Findley S (1994) Does drought increase migration? A study of migration from rural Mali during the 1983-1985 drought. Int Migr Rev 28(3):539–553

Foresight Migration and Global Environmental Change (2011) Final Project Report. The Government Office for Science, London. http://www.bis.gov.uk/foresight/migration.

Gemenne F (2011) Why the numbers don't add up: a review of estimates and predictions of people displaced by environmental changes. Glob Environ Chang 21:S41–S49

General Statistics Office of Vietnam (2013) Socio-economic situation in 2013. http://www.gso.gov.vn/default_en.aspx?tabid=622&ItemID=13848

Gray CL, Bilsborrow R (2013) Environmental influences on human migration in rural Ecuador. Demography 50:1217–1241

Gray C, Mueller V (2012) Natural disasters and population mobility in Bangladesh. Proc Natl Acad Sci 109(16):6000–6005

Greene William H (2003) Econometric analysis, 5th edn. Upper Saddle River, New Jersey

Guha-Sapir D, Below R, Hoyois Ph (2016) EM-DAT: The OFDA/CRED International Disaster Database. Université Catholique de Louvain, Brussels (Belgium), www.emdat.be.

Harris I, Jones PD (2015) CRU TS3.23: Climatic Research Unit (CRU) Time-Series (TS) Version 3.23 of High Resolution Gridded Data of Month-by-month Variation in Climate (Jan. 1901- Dec. 2014). Centre for Environmental Data Analysis, 09 November 2015. doi:10.5285/4c7fdfa6-f176-4c58-acee-683d5e9d2ed5.

Harris JR, Todaro MP (1970) Migration, unemployment, and development: a two-sector analysis. Am Econ Rev 60(1):126–142

Hunter LM, Luna JK, Norton RM (2015) Environmental dimensions of migration. Annu Rev Sociol 41(6):1–21

Internal Displacement Monitoring Centre (IDMC) (2015) Global Estimates 2015. People displaced by disasters. IDMC, Geneva. www.internal-displacement.org/publications/2015/global-estimates-2015-people-displaced-by-disasters/.

IPCC Fifth Assessment Report (AR5) (2014a) Climate Change 2014: Synthesis Report. http://www.ipcc.ch/pdf/assessment-report/ar5/syr/SYR_AR5_LONGERREPORT.pdf

IPCC Fifth Assessment Report (AR5) (2014b) Climate Change 2014: Impacts, Adaptation, And Vulnerability. Part B: Regional Aspects. Chapter 24: Asia, p.1355 https://ipcc-wg2.gov/AR5/images/uploads/WGIIAR5-Chap24_FINAL.pdf

Kniveton D, Schmidt-Verkerk K, Smith C, Black R (2008) Climate Change and Migration: Improving Methodologies to Estimate Flows. Migration Research Series No. 33. Geneva: International Organization for Migration.

Koubi V, Spilker G, Schaffer L, Bernauer T (2016) Environmental stressors and migration: evidence from Vietnam. World Dev 79:197–210

Laczko F, Aghazarm C (Eds) (2009). Migration, Environment and Climate Change: Assessing the Evidence. Geneva, CH: International Organization for Migration (IOM).

Loewenstein G, Weber EU, Hsee CK, Welch N (2001) Risk as feelings. Psychol Bull 127(2):267–286

Massey DS (1990a) The social and economic origins of immigration. Annals of the American Academy of Political and Social Science 510(1):60–72

Massey DS (1990b) Social structure, household strategies, and the cumulative causation of migration. Population Index 56(1):3–26

Massey DS, Axinn W, Ghimire D (2010) Environmental change and out-migration: evidence from Nepal. Popul Environ 32(1):109–136

McKee T B, Doesken N J, Kleist J (1993) The relationship of drought frequency and duration of time scales. Eighth Conference on Applied Climatology, American Meteorological Society, Jan17–23, 1993, Anaheim CA, pp.179–186.

McKee T B, Doesken N J and Kleist J (1995) Drought monitoring with multiple time scales. Ninth Conference on Applied Climatology, American Meteorological Society, Jan15–20, 1995, Dallas TX, pp.233–236.

McLeman R (2012) Developments in modeling of climate change-related migration. Clim Chang 117(3):599–611

McLeman R (2014) Climate and human migration: past, experiences, future challenges. Cambridge University Press, Cambridge

Meze-Hausken E (2004) Contrasting climate variability and meteorological drought with perceived drought and climate change in northern Ethiopia. Clim Res 27:19–31

Meze-Hausken E (2008) On the (im-)possibilities of defining human climate thresholds. Clim Chang 89:299–324

Mortreux C, Barnett J (2009) Climate change, migration and adaptation in Funafuti, Tuvalu. Glob Environ Chang 19:105–112

Mueller V, Gray C, Kosec K (2014) Heat stress increases long-term human migration in rural Pakistan. Nat Clim Chang 4:182–185

Myers N (2002) Environmental refugees: a growing phenomenon of the twenty-first century. Philos Trans R Soc 357(1420): 609–613.

Nawrotzki RJ, Bakhtsiyarava M (2016) International climate migration: Evidence for the climate inhibitor mechanism and the agricultural pathway. Population, Space & Place, Online, pp. 1–16. doi:10.1002/psp.2033

Nawrotzki RJ, Riosmena F, Hunter LM (2013) Do rainfall deficits predict U.S.-bound migration from rural Mexico? Evidence from the Mexican census. Popul Res Policy Rev 32(1):129–158

Nawrotzki RJ, Riosmena F, Hunter LM, Runfola DM (2015a) Amplification or suppression: social networks and the climate change-migration association in rural Mexico. Glob Environ Chang 35:463–474

Nawrotzki RJ, Riosmena F, Hunter LM, Runfola DM (2015b) Undocumented migration in response to climate change. International. Journal of Population Studies 1(1):60–74

Penning-Rowsell E, Sultana P, Thompson PM (2013) The 'last resort'? Population movement in response to climate-related hazards in Bangladesh. Environmental Science and Policy 27 s: s44-s59.

Piguet E (2010) Linking climate change, environmental degradation, and migration: a methodological overview. Climate Change 1(4):517–524

Renaud FG, Dun O, Warner C, Bogardi J (2011) A decision framework for environmentally induced migration. Int Migr 49(1):e3–e29

Schapendonk J (2015) What if networks move? Dynamic social networking in the context of African migration to Europe. Population, Space and Place 21(8):809–819

Slegers MFW (2008) If only it would rain: farmers' perceptions of rainfall and drought in semi-arid Central Tanzania. J Arid Environ 72:2106–2123

Stark O, Bloom DE (1985) The new economics of labor migration. Am Econ Rev 75(1):173–178

Todaro MP (1969) A model of labor migration and urban unemployment in less developed countries. Am Econ Rev 59(1):138–148

Van der Geest K, de Jeu R (2008) Ghana. In M. Couldrey and M. Herson (eds.), Climate Change and Displacement. Forced Migration Review, issue 31. Oxford: Refugee Studies Centre, University of Oxford, UNEP 16.

Vicente-Serrano SM, Beguería S, Lopez-Moreno J-I (2010) A multi-scalar drought index sensitive to global warming: the standardized precipitation evapotranspiration index – SPEI. J Clim 23:1686–1718
Electronic supplementary material
About this article
Cite this article
Koubi, V., Stoll, S. & Spilker, G. Perceptions of environmental change and migration decisions. Climatic Change 138, 439–451 (2016). https://doi.org/10.1007/s10584-016-1767-1
Received:

Accepted:

Published:

Issue Date:
Keywords
Environmental Event

Standardize Precipitation Index

Migration Decision

Environmental Perception

Actual Extremeness