Abstract
With the Paris Agreement, countries have pledged to promote strategies and policies to substantially reduce their carbon emissions. To align public sentiment with potentially expensive climate mitigation policy, climate change education is considered an essential tool in tackling climate change, particularly for the young generation. However, a general lack of engagement is driven by the perception that climate change is irrelevant at local and individual scales. Based on a modified version of the Theory of Planned Behaviour, we implemented a new climate change educational programme, in 12 rural areas of China, where adolescents communicated with local seniors (aged ≥ 60 years) in focus groups to discuss local climate over the past decades. Seniors' memories of extreme climatic events generally were in concordance with meteorological data. The adolescents' uncertainty about climate change exhibited significant change after the programme, followed by concern, risk perception, and perceived behavioural control. Based on mediation analysis, the shift in adolescent concern and perceived behavioural control translated into greater willingness to support climate change mitigation. Thus, we suggest that climate change education should emphasize place-based strategies that highlight the relevance of global climate change through local impacts and individual experiences vis-a-vis inter-generational communication to promote greater engagement with climate change.
Access options
Buy single article
Instant access to the full article PDF.
US$ 39.95
Tax calculation will be finalised during checkout.
Subscribe to journal
Immediate online access to all issues from 2019. Subscription will auto renew annually.
US$ 119
Tax calculation will be finalised during checkout.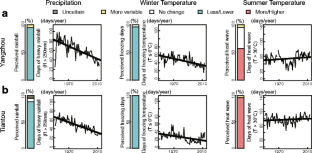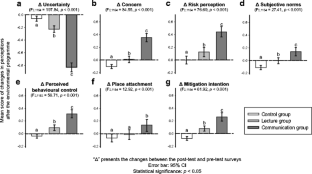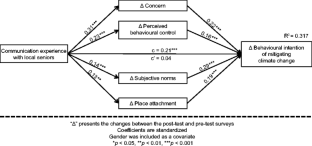 References
Adger WN, Barnett J, Brown K, Marshall N, O'Brien K (2012) Cultural dimensions of climate change impacts and adaptation. Nat Clim Chang 3(2):112–117

Ajzen I (1991) The theory of planned behavior. Organ Behav Hum Dec 50:179–211

Akerlof K, Maibach EW, Fitzgerald D, Cedeno AY, Neuman A (2013) Do people "personally experience" global warming, and if so how, and does it matter? Glob Environ Chang 23(1):81–91

Andersen SM, Berk MS (1998) Transference in everyday experience: Implications of experimental research for relevant clinical phenomena. Rev Gen Psychol 2(1):81

Bostrom A, Böhm G, O'Connor RE (2013) Targeting and tailoring climate change communication to audiences. WIREs Clim. Change 4(5):447–455

Byg A, Salick J (2009) Local perspectives on a global phenomenon—Climate change in Eastern Tibetan villages. Glob Environ Chang 19(2):156–166

Capstick SB, Pidgeon NF (2014) Public perceptions of cold weather events as evidence for and against climate change. Clim Chang 122:695–708

Capstick S, Whitmarsh L, Poortinga W, Pidgeon N, Upham P (2015) International trends in public perceptions of climate change over the past quarter century. WIREs Clim Chang 6:35–61

China 4C (2012) Public climate change awareness and climate change communication in China. The China Center for Climate Change Communication. http://www.oxfam.org.cn/uploads/soft/20130428/1367137980.pdf

Clark JK, Thiem KC (2015) Group communicators, perceived entitativity, and persuasion: A self-validation analysis. J Exp Soc Psychol 61:5–11

Clayton S et al. (2015) Psychological research and global climate change. Nat Clim Chang 5(7):640–646

Corner A, Roberts O, Chiari S, et al. (2015) How do young people engage with climate change? The role of knowledge, values, message framing, and trusted communicators. WIRs Clim Chang 6(5):523–534

De Leeuw A, Valois P, Ajzen I, Schmidt P (2015) Using the theory of planned behavior to identify key beliefs underlying pro-environmental behavior in high-school students: Implications for educational interventions. J Environ Psychol 42:128–138

Duvall J, Zint M (2007) A review of research on the effectiveness of environmental education in promoting intergenerational learning. J Environ Educ 38(4):14–24

Flora JA, Saphir M, Lappé M, Roser-Renouf C, Maibach EW, Leiserowitz AA (2014) Evaluation of a national high school entertainment education program: The Alliance for Climate Education. Clim Chang 127(3–4):419–434

Giddens A (1991b) Structuration Theory: Past, Present and Future. Giddens' Theory of Structuration: A Critical Appreciation. Routledge, London, pp. 201–221

Greaves M, Zibarras LD, Stride C (2013) Using the theory of planned behavior to explore environmental behavioral intentions in the workplace. J Environ Psychol 34:109–120

Hatton-Yeo A (2006) Intergenerational practice: active participation across the generations. Beth Johnson Foundation, Stoke-on-Trent

Hobson K, Niemeyer S (2011) Public responses to climate change: The role of deliberation in building capacity for adaptive action. Glob Environ Chang 21(3):957–971

Hong DY, Fan YC (2013) Public perceptions and behaviors to climate change: A cross-national comparison. Sociol Rev 4:3–15 (In Chinese)

Howe PD, Markowitz EM, Lee TM, Ko C-Y, Leiserowitz A (2012) Global perceptions of local temperature change. Nat Clim Chang 3(4):352–356

IPCC (2007) Climate Change 2007: The physical science basis. Contribution of working group I to the fourth assessment report of the intergovernmental panel on climate change. Cambridge University Press, Cambridge

IPCC (2013) Climate Change 2013: Impacts, adaptation, and vulnerability. Contribution of working group II to the fifth assessment report of the intergovernmental panel on climate change. https://www.ipcc.ch/pdf/assessment-report/ar5/wg2/

Jiang Z et al. (2012) Extreme climate events in China: IPCC-AR4 model evaluation and projection. Clim Chang 110(1–2):385–401

Lang C (2014) Do weather fluctuations cause people to seek information about climate change? Clim Chang 125(3–4):291–303

Le Quéré C et al. (2015) Global carbon budget 2014. Earth Syst. Sci. Data 7:47–85. doi:10.5194/essd-7-47-2015

Lorenzoni I, Nicholson-Cole S, Whitmarsh L (2007) Barriers perceived to engaging with climate change among the UK public and their policy implications. Glob Environ Chang 17(3):445–459

Mannion G (2012) Intergenerational education: The significance of reciprocity and place. J Intergenerational Relatsh 10(4):386–399

Mannion G, Adey C (2011) Place-based education is an intergenerational practice. Child Youth Environ 21(1):35–58

Meeusen C (2014) The intergenerational transmission of environmental concern: the influence of parents and communication patterns within the family. J Environ Educ 45(2):77–90

Monroe MC (2003) Two avenues for encouraging conservation behaviours. Hum Ecology Rev 10:113–125

Myers TA, Maibach EW, Roser-Renouf C, Akerlof K, Leiserowitz AA (2012) The relationship between personal experience and belief in the reality of global warming. Nat Clim Chang 3(4):343–347

Norgaard KM (2009) Cognitive and behavioral challenges in responding to climate change. World Bank Policy Research Working Paper Series, Vol, 2009

Ojala M (2012) How do children cope with global climate change? Coping strategies, engagement, and well-being. J Environ Psychol 32(3):225–233

Pisarski A, Ashworth P (2013) The citizen's round table process: Canvassing public opinion on energy technologies to mitigate climate change. Clim Chang 119(2):533–546

Scannell L, Gifford R (2010) The relations between natural and civic place attachment and pro-environmental behavior. J Environ Psychol 30(3):289–297

Schindler FH (1999) Development of the survey of environmental issue attitudes. J Environ Educ 30(3):12–16

Sellmann D, Bogner FX (2013) Climate change education: Quantitatively assessing the impact of a botanical garden as an informal learning environment. Environ Educ Res 19(4):415–429

Smith GA (2007) Place-based education: breaking through the constraining regularities of public school. Environ Educ Res 13(2):189–207

Spaargaren G, Van Vliet B (2000) Lifestyles, Consumption and the environment: the ecological modernization of domestic consumption. Environ Politics 9(1):50–76

Spence A, Poortinga W, Butler C, Pidgeon NF (2011) Perceptions of climate change and willingness to save energy related to flood experience. Nat Clim Chang 1(1):46–49

Spence A, Poortinga W, Pidgeon N (2012) The psychological distance of climate change. Risk Anal 32(6):957–972

Stevenson KT, Peterson MN, Bondell HD, Moore SE, Carrier SJ (2014) Overcoming skepticism with education: Interacting influences of worldview and climate change knowledge on perceived climate change risk among adolescents. Clim Chang 126(3–4):293–304

Stokes B, Wike R, Carle J (2015) Global concern about climate change, broad support for limiting emissions. Pew Research Centrer. http://www.pewglobal.org/2015/11/05/global-concern-about-climate-change-broad-support-for-limiting-emissions/. Accessed 5 November 2015

Strazdins L, Skeat H (2011) Weathering the future: Climate Change, children and young people, and decision-making. Australian Research Alliance for Children and Youth, Canberra

Weber EU (2006) Experience-based and description-based perceptions of long-term risk: why global warming does not scare us (yet). Clim Chang 77(1–2):103–120

Wei S (2015) Enhanced Actions on Climate Change: China's Intended Nationally Determined Contributions. http://www4.unfccc.int/submissions/INDC/Published%20Documents/China/1/China's%20INDC%20-%20on%2030%20June%202015.pdf. Accessed: 30 June 2015

Whitmarsh L, Seyfang G, O'Neill S (2011) Public engagement with carbon and climate change: To what extent is the public 'carbon capable'? Glob Environ Chang 21(1):56–65

Wibeck V (2014) Enhancing learning, communication and public engagement about climate change–some lessons from recent literature. Environ Educ Res 20(3):387–411

Wolf J, Moser SC (2011) Individual understandings, perceptions, and engagement with climate change: Insights from in-depth studies across the world. WIRs. Clim Chang 2(4):547–569

Zaval L, Keenan EA, Johnson EJ, Weber EU (2014) How warm days increase belief in global warming. Nat Clim Chang 4(2):143–147
Acknowledgments
This research was funded by Xishuangbanna Tropical Botanical Garden. The authors acknowledge all the teachers and students for implementing the programme, Zexin Fan for providing the meteorological data, Richard T. Corlett, Christos Mammides and Charlotte Chang for revising earlier drafts of the manuscript. The authors also thank anonymous reviewers for their comments.
Electronic Supplementary Material
About this article
Cite this article
Hu, S., Chen, J. Place-based inter-generational communication on local climate improves adolescents' perceptions and willingness to mitigate climate change. Climatic Change 138, 425–438 (2016). https://doi.org/10.1007/s10584-016-1746-6
Received:

Accepted:

Published:

Issue Date:
Keywords
Climate Change

Risk Perception

Behavioural Control

Perceive Behavioural Control

Place Attachment