Abstract
Climate change poses a severe threat to agriculture and rural populations around the world, with the potential to devastate lives and livelihoods. Farmers need to adapt their farming methods and land management decisions to reduce the negative consequences associated with climate change. Understanding farmers' beliefs and perceptions regarding climate change is a good starting point for addressing current and future policy. As there is no one-size-fits-all strategy to promote adaptation, local adaptation-support strategies must be tailored to the particular needs and constraints of specific groups of farmers. To determine the policy implications of such strategies, a prudent and cost-effective approach is to categorize farmers into homogenous groupings using Q methodology to establish their perceptual frameworks with respect to climate change. Forty six farmers completed the Q sort procedure in this study. Data analysis identified that there are three different types of farmers' attitudes to climate change: fatalism, support seekers, and technocrats. These findings are critical for decision makers to help them develop more appropriate adaptation strategies for the agricultural sector.
Access options
Buy single article
Instant access to the full article PDF.
US$ 39.95
Tax calculation will be finalised during checkout.
Subscribe to journal
Immediate online access to all issues from 2019. Subscription will auto renew annually.
US$ 119
Tax calculation will be finalised during checkout.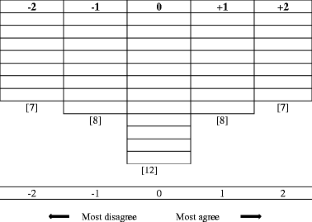 References
Akhtar-Danesh N, Baxter P, Valaitis RK, Stanyon W, Sproul S (2009) Nurse faculty perceptions of simulation use in nursing education. West J Nurs Res

Arbuckle Jr, J. G., Morton, L. W., and Hobbs, J. (2013). Farmer beliefs and concerns about climate change and attitudes toward adaptation and mitigation: Evidence from Iowa. Clim Chang, 118(3–4), 551–563.

Barnes AP, Toma L (2012) A typology of dairy farmer perceptions climate change. Clim Chang 112(2):507–522

Barnes AP, Willock J, Toma L, Hall C (2011) Utilising a farmer typology to understand farmer behaviour towards water quality management: nitrate vulnerable zones in Scotland. J Environ Plan Manag 54(4):477–494

Barry J, Proops J (1999) Seeking sustainability discourses with Q methodology. Ecol Econ 28(3):337–345

Brodt S, Klonsky K, Tourte L (2006) Farmer goals and management styles: implications for advancing biologically based agriculture. Agric Syst 89(1):90–105

Brown SR (1980) Political subjectivity: applications of Q methodology in political science. Yale University Press

Brown SR (1993) A primer on Q methodology. Operant subjectivity 16(3/4):91–138

Campos M, McCall MK, González-Puente M (2014) Land-users' perceptions and adaptations to climate change in Mexico and Spain: commonalities across cultural and geographical contexts. Reg Environ Chang 14(2):811–823

Davies, B. B., and Hodge, I. D. (2007). Exploring environmental perspectives in lowland agriculture: AQ methodology study in East Anglia, UK. Ecol Econ, 61(2), 323–333.

Dryzek JS, Berejikian J (1993) Reconstructive democratic theory. Am Polit Sci Rev 87(01):48–60

Emtage N, Herbohn J, Harrison S (2006) Landholder typologies used in the development of natural resource management programs in Australia—a review. Australasian Journal of Environmental Management 13(2):79–94

Forouzani M, Karami E, Zamani GH, Moghaddam KR (2013) Agricultural water poverty: using Q-methodology to understand stakeholders' perceptions. J Arid Environ 97:190–204

Grothmann T, Patt A (2005) Adaptive capacity and human cognition: the process of individual adaptation to climate change. Glob Environ Chang 15(3):199–213

Gwimbi P (2009) Cotton farmers' vulnerability to climate change in Gokwe District (Zimbabwe): impact and influencing factors. JAMBA: J Disaster Risk Studies 2(2):81–92

Hayati D, Yazdanpanah M, Karbalaee F (2010) Coping with drought. Psychol Dev Soc 22(2):361–383

Hobson, K., & Niemeyer, S. (2012). "What sceptics believe": the effects of information and deliberation on climate change scepticism. Public Underst Sci, 0963662511430459.

Holloway LE, Ilbery BW (1996) Farmers' attitudes towards environmental change, particularly global warming, and the adjustment of crop mix and farm management. Appl Geogr 16(2):159–171

Hyland JJ, Jones DL, Parkhill KA, Barnes AP, Williams AP (2015) Farmers' perceptions of climate change: identifying types. Agric Hum Values:1–17

Le Dang H, Li E, Nuberg I, Bruwer J (2014) Understanding farmers' adaptation intention to climate change: a structural equation modelling study in the Mekong delta, Vietnam. Environ Sci Pol 41:11–22

Mertz O, Mbow C, Reenberg A, Diouf A (2009) Farmers' perceptions of climate change and agricultural adaptation strategies in rural Sahel. Environ Manag 43(5):804–816

National Climate Change Office (2010). Iran second national communication to UNFCC National climate change office at the department of environment on behalf of the government of the Islamic republic of Iran. http://unfccc.int/resource/docs/natc/iranc2.pdf

Niemeyer S, Petts J, Hobson K (2005) Rapid climate change and society: assessing responses and thresholds. Risk Anal 25(6):1443–1456

O'Brien KAREN, Eriksen S, Nygaard LP, Schjolden A (2007) Why different interpretations of vulnerability matter in climate change discourses. Clim Pol 7(1):73–88

Patt AG, Schröter D (2008) Perceptions of climate risk in Mozambique: implications for the success of adaptation strategies. Glob Environ Chang 18(3):458–467

Previte J, Pini B, Haslam-McKenzie F (2007) Q methodology and rural research. Sociol Rural 47(2):135–147

Raadgever GT, Mostert E, Van De Giesen NC (2008) Identification of stakeholder perspectives on future flood management in the Rhine basin using Q methodology. Hydrol Earth Syst Sci 12:1097–1109

Semenza JC, Hall DE, Wilson DJ, Bontempo BD, Sailor DJ, George LA (2008) Public perception of climate change: voluntary mitigation and barriers to behavior change. Am J Prev Med 35(5):479–487

Stenner PHD, Cooper D, Skevington SM (2003) ). Putting the Q into quality of life; the identification of subjective constructions of health-related quality of life using Q methodology. Soc Sci Med 57(11):2161–2172

Stephenson, W. (1953). The study of behavior; Q-technique and its methodology

Tielen M, van Staa AL, Jedeloo S, van Exel NJA, Weimar W (2008) Q-methodology to identify young adult renal transplant recipients at risk for no adherence. Transplantation 85(5):700–706

Tukker A, Butter M (2007) Governance of sustainable transitions: about the 4 (0) ways to change the world. J Clean Prod 15(1):94–103

Valbuena D, Verburg PF, Bregt KB (2008) A method to define a typology for agent-based analysis in regional land use. Agric Ecosyst Environ 128(1–2):27–36

Valenta AL, Wigger U (1997) Q methodology: definition and application in health care informatics. J Am Med Inform Assoc 4(6):501–510

Van Exel, J., de Graaf, G. (2005). Q methodology: A sneak preview. Online document. http://www. qmethodology. Net/PDF/Q methodology.

Watts S, Stenner P (2005) Doing Q methodology: theory, method and interpretation. Qual Res Psychol 2(No.1):67–91

Yazdanpanah M, Hayati D, Hochrainer-Stigler S, Zamani GH (2014a) Understanding farmers' intention and behavior regarding water conservation in the middle-east and North Africa: a case study in Iran. J Environ Manag 135:63–72

Yazdanpanah M, Hayati D, Thompson M, Zamani GH, Monfared N (2014b) Policy and plural responsiveness: taking constructive account of the ways in which Iranian farmers think about and behave in relation to water. J Hydrol 514:347–357

Yazdanpanah M, Monfared N, Hochrainer-Stigler S (2013a) Inter-related effects due to droughts for rural populations: A qualitative field study for farmers in Iran. Int J Mass Emerg Disasters (IJMED) 31(2):106–129

Yazdanpanah M, Rahimi Feyzabad F, Forouzani M, Mohammadzadeh S, Burton RJF (2015) Predicting farmers' water conservation goals and behaviour in Iran: a test of social cognitive theory. Land Use Policy 47:401–407

Yazdanpanah M, Thompson M, Hayati D, Zamani GH (2013b) A new enemy at the gate: tackling Iran's water super crisis by way of a transition from government to governance. Prog Dev Stud 13(3):177–194

Zheng Y, Byg A (2014) Coping with climate change: households" response strategies to drought and hailstorm in Lijiang, China. Environ Hazards 13(3):211–228
Acknowledgments
We express appreciation to the respondents who kindly gave their time to make this research possible and the Research Deputy of Ramin Agriculture and Natural Resources University of Khuzestan for support of this study.
About this article
Cite this article
Zobeidi, T., Yazdanpanah, M., Forouzani, M. et al. Climate change discourse among Iranian farmers. Climatic Change 138, 521–535 (2016). https://doi.org/10.1007/s10584-016-1741-y
Received:

Accepted:

Published:

Issue Date:
Keywords
Climate change

Climate discourses

Q methodology

Iranian farmers