Abstract
This paper analyzes public discourse on Reducing Emissions from Deforestation and Forest Degradation (REDD+) as it is portrayed in the media and examines how this influences effective and equitable outcomes of REDD+ in Nepal. It draws on analysis of articles in three national newspapers and interviews with radio and newspaper journalists, governmental and non-governmental stakeholders, and technical experts. Findings show that REDD+ coverage has been limited in the Nepalese print media and overall reporting on REDD+ has declined over time. The discourse is currently dominated by a small number of experts and development project implementers who portray REDD+ optimistically as an opportunity to benefit from carbon markets, while contributing to sustainable forest management. There was limited representation of the interests and concerns of marginalized groups and local communities in the public debate, thus underplaying the complexities and challenges of REDD+ development and implementation in Nepal. While the absence of debate on potential negative impacts can be explained partly by the dominance of optimistic voices in the media, it was also attributed to journalists' limited access to independent knowledge and understanding of the issue. The resulting lack of balanced information in the public domain could undermine both the effectiveness of REDD+ implementation and its equitable outcome.
Access options
Buy single article
Instant access to the full article PDF.
US$ 39.95
Tax calculation will be finalised during checkout.
Subscribe to journal
Immediate online access to all issues from 2019. Subscription will auto renew annually.
US$ 119
Tax calculation will be finalised during checkout.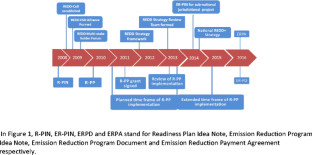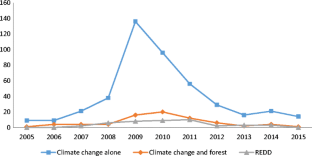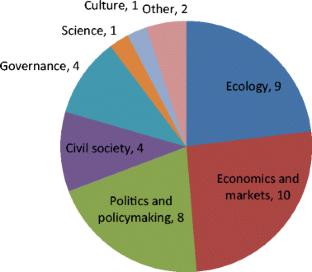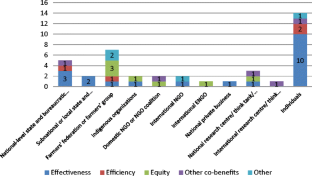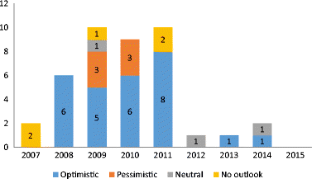 Notes
1.

FECOFUN is a national network of more than 15,000 community forest user groups across Nepal that has the core objective of defending community rights in forest resources.

2.

NEFIN is a national-level umbrella organization of indigenous people which consists of 48 indigenous member organizations across Nepal.

3.

An official from the REDD-Cell (interviewed in 2011), referred to an internal assessment note of the World Bank, 'the bank appreciated the Nepal's R-PP for [its] level of stakeholder participation during its preparation'.

4.

In 2015, Kantipur, Gorkhapatra and The Himalayan Times published 3,80,000, 45,000 and 71,000 copies per day respectively.

5.

Note that, in the first research phase, we identified and coded articles from 2005 to 2011, and updated the database in early 2016 to cover articles up to the end of 2015. The same methods were applied, and calibration of the coding was conducted by the same researchers.

6.

Fifteen interviews were conducted in 2011–2012 that included journalists (9), government officials (1), CSO representatives (2) and experts (3). In 2015, we conducted 11 interviews with journalists (6), experts (2), a government official (1) and CSO representatives (2).

7.

During a workshop organized to share finding of this research in December 2013 (ForestAction and CIFOR ForestAction 2013).

8.

1 USD was equivalent to 105 Nepalese rupees in 2015.

9.

Economics and markets: The topic refers mostly to economic aspects related to industry, commerce, markets (including carbon markets), business groups, business lobbyists, specific products or spokespeople of business interests. It includes economic impacts upon society.

10.

Ecology: The topic refers mostly to ecological or 'green' issues such as forests, plants, biodiversity, conservation and forest protection, or CO2 emissions/stocks/sequestration in relation to deforestation and forest degradation. This topic is primarily concerned with the natural science aspects reported in the media following the categorization used by Boykoff (2008).

11.

Politics and policy making: The topic refers mostly to individuals, processes or claims of governments and other political actors (parties), whether international, national, opposition, the civil service, quasi-NGOs or local authorities. This includes policy design and implementation.

12.

Governance: This refers mainly to general governance conditions (corruption, law enforcement, monitoring and verification mechanisms) in a country and their implications for REDD+.

13.

Radio Sagarmatha was the first community radio in South Asia to prioritize environmental issues.
References
Anderson A (2009) Media, politics and climate change: towards a new research agenda. Soc Compass 3:166–182

Billett S (2010) Dividing climate change: global warming in the Indian mass media. Clim Chang 99:1–16

Boykoff M (2008) The cultural politics of climate change discourse in UK tabloids. Polit Geogr 27:549–569

Boykoff M (2010) Indian media representations of climate change in a threatened journalistic ecosystem. Clim Chang 99:17–25

Boykoff MT (2014) Media discourse on the climate slowdown. Nature Clim Change 4(3):156–158

Boykoff MT, Yulsman T (2013) Political economy, media, and climate change: sinews of modern life. Clim Chang 4:359–371

Brockhaus M, Di Gregorio M (2012) A brief overview: Component 1 on national REDD+ policies and processes. InfoBrief No. 13. Center for International Forestry Research, Bogor, Indonesia

Bushley BR (2014) REDD+ policy making in Nepal: toward state-centric, polycentric, or market-oriented governance? Ecol Soc 19(3):34

Byrne S, Shrestha G (2014) A compromising consensus? Legitimising local government in post-conflict Nepal. Int Dev Plann Rev 36(4):435–453

Chhatre A, Agrawal A (2009) Trade-offs and synergies between carbon storage and livelihood benefits from forest commons. Proc Natl Acad Sci U S A 106(42):17667–17670

Cronin T, Santoso L (2010) REDD+ politics in the media: a case study from Indonesia. CIFOR Working Paper (no. 49, p 40p). Center for International Forestry Research (CIFOR), Bogor, Indonesia

Cronin T, Santoso L, Di Gregorio M, Brockhaus M, Mardiah S, Muharrom E (2015) Moving consensus and managing expectations: media and REDD+ in Indonesia. Clim Chang:1–14. doi:10.1007/s10584-015-1563-3

Crow AD (2010) Local media and experts: sources of environmental policy initiation? Policy Stud J 38(1):143–164

Di Gregorio M, Price S, Saunders C, Brockhaus M (2012) Code book for the analysis of media frames in articles on REDD. Center for International Forestry Research. Bogor, Indonesia

Di Gregorio M, Brockhaus M, Cronin T, Muharrom E, Santoso L, Mardiah S, Büdenbende M (2013) Equity and REDD+ in the media: a comparative analysis of policy discourses. Ecol Soc 18(2):39

Di Gregorio M, Brockhaus M, Cronin T, Muharrom E, Mardiah S, Santoso L (2015) Deadlock or transformational change? Exploring public discourse on REDD+ across seven countries. Global Environ Polit 15(4):63–84

ForestAction CIFOR (2013) Sharing of research findings on: REDD+, media and policy actors. Forest Action Nepal and Center for International Forestry Research, Kathmandu

GoN] Government of Nepal (2010) Readiness preparation proposal, Nepal. Government of Nepal, Kathmandu

Khatri DB and Paudel NS (2013) Is Nepal getting ready for REDD + ? An assessment of REDD+ readiness process in Nepal. Discussion Paper Series 12.2. ForestAction Nepal, Kathmandu

Lawoti M (2008) Exclusionary democratization in Nepal, 1990–2002. Democratization 15(2):363–385

Luttrell C, Loft L, Gebara MF, Kweka D (2012) Who should benefit and why? Discourses on REDD+ benefit sharing. In: Angelsen A, Brockhaus M, Sunderlin WD, Verchot L (eds) Analysing REDD+: challenges and choices. Center for International Forestry Research, Bogor, Indonesia, pp. 129–151

Luttrell C, Loft L, Gebara MF, Kweka D, Brockhaus M, Angelsen A, Sunderlin WD (2013) Who should benefit from REDD+? Rationales and realities. Ecol Soc. doi:10.5751/ES-05834-180452

McDermott CL, Coad L, Helfgott A, Schroeder H (2012) Operationalizing social safeguards in REDD+: actors, interests and ideas. Environ Sci Pol 21:63–72

McDermott M, Mahanty S, Schreckenberg K (2013) Examining equity: a multidimensional framework for assessing equity in payments for ecosystem services. Environ Sci Pol 33:416–427

O'Brien K, Eriksen S, Nygaard LP, Schjolden A (2007) Why different interpretations of vulnerability matter in climate change discourses. Clim Policy 7(1):73–88

Ojha H, Khatri DB, Shrestha KK, Bushley B, Sharma N (2013) Carbon, community and governance: is Nepal getting ready for REDD + ? FTL 22(4):216–229

Ojha HR, Ghimire S, Pain A, Nightingale A, Khatri DB, Dhungana H (2015) Policy without politics: technocratic control of climate change adaptation policy making in Nepal. Clim Policy:1–19. doi:10.1080/14693062.2014.1003775

Painter J (2010) Challenges, summoned by science: reporting climate change at Copenhagen and beyond. Institute for the Study of Journalism, London

Paudel NS, Vedeld PO, Khatri DB (2015) Prospects and challenges of tenure and forest governance reform in the context of REDD+ initiatives in Nepal. For Policy Econ 52:1–8

Pham TT (2011) REDD+ politics in the media: a case study from Vietnam. Working Paper 53. Center for International Forestry Research, Bogor, Indonesia

Phelps J, Webb EL, Agrawal A (2010) Does REDD+ threaten to recentralize forest governance. Science 328(5976):312–313

Poudel M, Thwaites R, Race D, Dahal GR (2014) REDD+ and community forestry: implications for local communities and forest management. A case study from Nepal. Int For Rev 16(1):39–54

Schmidt A, Ivanova A, Schäfer MS (2013) Media attention for climate change around the world: a comparative analysis of newspaper coverage in 27 countries. Global Environ Chang 23(5):1233–1248

Schroeder H, McDermott C (2014). Beyond carbon: enabling justice and equity in REDD+ across levels of governance. Ecol Soc19 (1):31

Shrestha S, Karky BS, Karki S (2014) Case study report: REDD+ pilot project in community forests in three watersheds of Nepal. Forests 5:2425–2439

Vijge MJ, Brockhaus M, Di Gregorio M, Muharrom E (2016) Framing REDD+ in the national political arena: a comparative discourse analysis of Cameroon, Indonesia, Nepal, PNG, Vietnam. Peru and Tanzania, Global Environmental Change (in press)

Weingart P, Engels A, Pansegrau P (2000) Risks of communication: discourses on climate change in science, politics, and the mass media. Public Underst Sci 9(3):261–283
Acknowledgments
This research is part of the policy component of the Global Comparative Study of REDD+ of the Center for International Forestry Research (CIFOR) (http://www.forestsclimatechange.org/global-comparative-study-on-redd.html). We would like to thank Niru Gurung and Lochana Rana for their contribution in terms of media content analysis. Funding for CIFOR's research was provided by the Norwegian Agency for Development Cooperation, the Australian Agency for International Development, the UK Department for International Development, the European Commission and the US Agency for International Development.
About this article
Cite this article
Khatri, D.B., Pham, T.T., Di Gregorio, M. et al. REDD+ politics in the media: a case from Nepal. Climatic Change 138, 309–323 (2016). https://doi.org/10.1007/s10584-016-1731-0
Received:

Accepted:

Published:

Issue Date:
Keywords
REDD +

Nepal

Media discourse

Policy process