Abstract
In this paper, we analyse the impact of spring temperature (ST) and soil water (SW) on wine production volume (WPV) for the period 1933 to 2013 in the Douro region. We employ a state-space regression model to capture possible structural changes in wine production caused by a change in ST and/or SW. We find that the ST explains about 65 % of the variability of WPV. In contrast, the summer SW level increases the R adj-square to 83 % and the Akaike criterion value was lower. We also find interesting dynamic properties of SW and ST. The immediate impact of an increase in SW is negative for WPV, while the SW that is in the ground, i.e. from the previous 2 and 3 years, have a positive effect on actual WPV. Moreover, the individual changes of ST and SW have similar dynamic impact on WPV. Our main finding is that climate change does not only change the variables in question but also the winegrape vineyards adding to the negative impact on WPV levels. As a result we observe a shift of the relative importance away from ST to SW.
Access options
Buy single article
Instant access to the full article PDF.
US$ 39.95
Tax calculation will be finalised during checkout.
Subscribe to journal
Immediate online access to all issues from 2019. Subscription will auto renew annually.
US$ 119
Tax calculation will be finalised during checkout.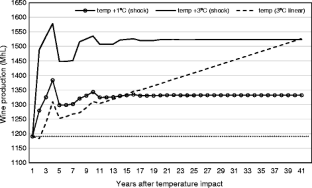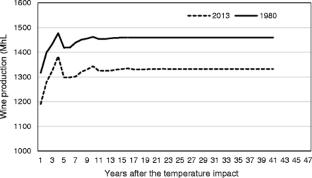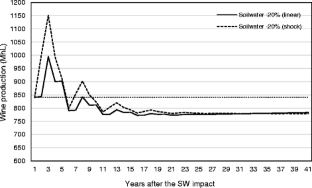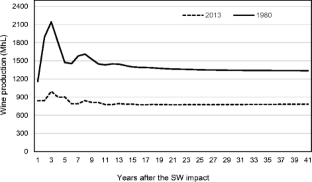 Notes
1.

This ability of the Kalman Filter to allow estimated coefficients to vary over time is precisely the reason why we are using it.
References
Ainsworth EA, Long SP (2005) What have we learned from 15 years of free-air CO2 enrichment (FACE)? A meta-analytic review of the responses of photosynthesis, canopy properties and plant production to rising CO2. New Phytol 165:351–372

Bindi M, Fibbi L, Gozzini B, Orlandini S, Miglietta F (1996) Modelling the impact of future climate scenarios on yield and yield variability of grapevine. Clim Res 7:213–224

Bindi M, Fibbi L, Lanini M, Miglietta F (2001) Free Air CO2 enrichment (FACE) of grapevine (Vitis vinifera L.): I. development and testing of the system for CO2 enrichment. Eur J Agron 14:135–143

Bock A, Sparks TH, Estrella N, Menzel A (2013) Climate-induced changes in grapevine yield and must sugar content in Franconia (Germany) between 1805 and 2010. PLoS One 8, e69015

Bouman BAM, vanKeulen H, vanLaar HH, Rabbinge R (1996) The 'School of de Wit' crop growth simulation models: a pedigree and historical overview. Agric Syst 52:171–198

Briche E, Beltrando G, Somot S, Quenol H (2014) Critical analysis of simulated daily temperature data from the ARPEGE-climate model: application to climate change in the champagne wine-producing region. Clim Chang 123:241–254

Chaves M, Rodrigues L (1987) Photosynthesis and water relations in grapevines response to environmental factors. In: Dea TJ (ed) Plant response to stress-functional analyses in Mediterranean ecosystems. Springer, Berlin, pp 279–290

Chen C, Chang C (2005) The impact of weather on crop yield distribution in Taiwan: some new evidence from panel data models and implications for crop insurance. Agric Econ 33(S3):503–511

Clingeleffer P, Dunn G, Krstic M, Martin S (2001) Crop development, crop estimation and crop control to secure quality and production of major wine grape varieties: a national approach. Technical report, Australian Grape and Wine Authority, Adelaide, Australia, 136 pp

Cola G, Mariani L, Salinari F, Civardi S, Bernizzoni F, Gatti M, Poni S (2014) Description and testing of a weather-based model for predicting phenology, canopy development and source-sink balance in Vitis vinifera L. cv. Barbera. Agric For Meteorol 184:117–136

Cunha M, Richter C (2012) Measuring the impact of temperature changes on the wine production in the Douro region using the short time Fourier transform. Int J Biometeorol 56:357–370

Cunha M, Richter C (2014) A time-frequency analysis on the impact of climate variability on semi-natural mountain meadows. IEEE Trans Geosci Remote Sens 52:6156–6164

Cunha M, Abreu I, Pinto P, Castro R (2003) Airborne pollen samples for early-season estimates of wine production in a Mediterranean climate of northern Portugal. Am J Enol Vitic 54:189–194

Cunha M, Marcal ARS, Silva L (2010) Very early prediction of wine yield based on satellite data from vegetation. Int J Remote Sens 31:3125–3142

Cunha M, Ribeiro H, Abreu I (2016) Pollen-based predictive modelling of wine production: application to an arid region. Eur J Agron 73:42–54

Deschenes O, Kolstad C (2011) Economic impacts of climate change on California agriculture. Clim Chang 109:365–386

Dunn MR, Lindesay JA, Howden M (2015) Spatial and temporal scales of future climate information for climate change adaptation in viticulture: a case study of user needs in the Australian winegrape sector. Aust J Grape Wine Res 21:226–239

Fraga H, Malheiro AC, Moutinho-Pereira J, Santos JA (2014) Climate factors driving wine production in the Portuguese Minho region. Agric For Meteorol 185:26–36

Fraga H, Costa R, Moutinho-Pereira J, Correia CM, Dinis L-T, Goncalves I, Silvestre J, Eiras-Dias J, Malheiro AC, Santos JA (2015) Modeling phenology, water status, and yield components of three Portuguese grapevines using the STICS crop model. Am J Enol Vitic 66:482–491

Fraga H, Santos JA, Malheiro AC, Oliveira AA, Moutinho-Pereira J, Jones GV (2016) Climatic suitability of Portuguese grapevine varieties and climate change adaptation. Int J Climatol 36:1–12

Giorgi F, Lionello P (2008) Climate change projections for the Mediterranean region. Glob Planet Chang 63:90–104

Gouveia C, Liberato MLR, Da Camara CC, Trigo RM, Ramos AM (2011) Modelling past and future wine production in the Portuguese Douro Valley. Clim Res 48:349–362

Guilpart N, Metay A, Gary C (2014) Grapevine bud fertility and number of berries per bunch are determined by water and nitrogen stress around flowering in the previous year. Eur J Agron 54:9–20

Hughes H, Richter AC (2009) Economics in the backyard: how much convergence is there between China and her special regions? World Econ 32:819–861

IPCC (2007) Climate change 2007: the AR4 synthesis report. In: Pachauri RK, IPCC Chairman, Resinger A (eds) Head of technical support unit, the core writing team. Published by IPCC, Geneva, Switzerland, 114 pp. Fourth Assessment Report of the Intergovernmental Panel on Climate Change, Cambridge University Press, Cambridge

IVDP (2015) Instituto dos Vinhos do Douro e Porto, dados estatísticos sobre a produção de vinho do Douro e Porto na Região Demarcada do Douro. http://www.ivdp.pt/statistics. Accessed 29 Jan 2015

Johnson L, Pierce L, Michaelis A, Scholasch T, Nemani R (2006) Remote sensing and water balance modelling in California drip-irrigated vineyards. ASCE World Environmental & Water Resources, Omaha, NB

Jones GV (2012) A climate assessment for the Douro wine region: an examination of the past, present, and future climate conditions for wine production. Associação para o Desenvolvimento da Viticultura Duriense. http://www.advid.pt/imagens/outros/1368437718350.pdf. Accessed 19 June 2015, 67 pp

Jones GV, Davis RE (2000) Climate influences on grapevine phenology, grape composition, and wine production and quality for Bordeaux, France. Am J Enol Vitic 51:249–261

Jones G, White M, Cooper O, Storchmann K (2005a) Climate change and global wine quality. Clim Chang 73:319–343

Jones GV, White MA, Cooper OR, Storchmann K (2005b) Climate change and global wine quality. Clim Chang 73:319–343

Lobell D, Cahill K, Field C (2007) Historical effects of temperature and precipitation on California crop yields. Clim Chang 81:187–203

Lorenzo MN, Taboada JJ, Lorenzo JF, Ramos AM (2013) Influence of climate on grape production and wine quality in the Rías Baixas, north-western Spain. Reg Environ Chang 13:887–896

Maxwell JT, Ficklin DL, Harley GL, Jones GV (2016) Projecting future winegrape yields using a combination of Vitis vinifera L., growth rings and soil moisture simulations, northern California, USA. Aust J Grape Wine Res 22:73–80

May P (2004) Flowering and fruitset in grapevines. Lythrum, Adelaide, Australia

Moriondo M, Jones GV, Bois B, Dibari C, Ferrise R, Trombi G, Bindi M (2013) Projected shifts of wine regions in response to climate change. Clim Chang 119:825–839

Moriondo M, Ferrise R, Trombi G, Brilli L, Dibari C, Bindi M (2015) Modelling olive trees and grapevines in a changing climate. Environ Model Softw 72:387–401

Olesen JE, Trnka M, Kersebaum KC, Skjelvåg AO, Seguin B, Peltonen-Sainio P, Rossi F, Kozyra J, Micale F (2011) Impacts and adaptation of European crop production systems to climate change. Eur J Agron 34:96–112

Pearson R, Goheen A (1990) Compendium of grape diseases. American Phytopathological Society, St. Paul, MN

Pierce L, Nemani R, Johnson L (2015) VSIM - Vineyard Soil Irrigation Model, release 3/1/06: user guide. Available online at http://geo.arc.nasa.gov/sge/vintage/vsim_050103_guide.pdf. Accessed 29 January 2015

Quiroga S, Iglesias A (2009) A comparison of the climate risks of cereal, citrus, grapevine and olive production in Spain. Agric Syst 101:91–100

Santos J, Malheiro AC, Karremann MK, Pinto JG (2010) Statistical modelling of grapevine yield in the Port Wine region under present and future climate conditions. Int J Biometeorol 55(2):119–131

Santos JA, Grätsch SD, Karremann MK, Jones GV, Pinto JG (2013) Ensemble projections for wine production in the Douro Valley of Portugal. Clim Chang 117:211–225

Supit I, van Diepen CA, de Wit AJW, Wolf J, Kabat P, Baruth B, Ludwig F (2012) Assessing climate change effects on European crop yields using the crop growth monitoring system and a weather generator. Agric For Meteorol 164:96–111

Urhausen S, Brienen S, Kapala A, Simmer C (2011) Climatic conditions and their impact on viticulture in the upper Moselle region. Clim Chang 109:349–373

van Leeuwen C, Friant P, Chone X, Tregoat O, Koundouras S, Dubourdieu D (2004) Influence of climate, soil, and cultivar on terroir. Am J Enol Vitic 55:207–217

Vasconcelos MC, Greven M, Winefield CS, Trought MCT, Raw V (2009) The flowering process of Vitis vinifera: a review. Am J Enol Vitic 60:411–434

Vossen P, Rijks D (2001) Early crop yield assessment of the EU countries: the system implemented by the Join Research Centre. Technical report, Publications of the European Communities, Brussels

Wells C (1996) The Kalman Filter in Finance, vol. 32. Advanced studies in theoretical and applied econometrics. Kluwer, Dordrecht, Netherlands
Acknowledgements
The authors would like to thank the Instituto dos Vinhos do Porto e Douro for providing the wine production data and the Associação para o Desenvolvimento da Viticultura Duriense (ADVID-Douro Region Wine Cluster) and Real Companhia Velha, Wine Company for providing the leaf water potential. M. Cunha acknowledges the Fundação para a Ciência e Tecnologia for the sabbatical leave grant (SFRH/BSAB/113908/2015).
About this article
Cite this article
Cunha, M., Richter, C. The impact of climate change on the winegrape vineyards of the Portuguese Douro region. Climatic Change 138, 239–251 (2016). https://doi.org/10.1007/s10584-016-1719-9
Received:

Accepted:

Published:

Issue Date:
Keywords
Soil Water

Kalman Filter

Spring Temperature

Wine Production

Wine Region