Abstract
The use of adapted crop cultivars is an effective approach to cope with climate change. The objective of this study was to evaluate the impacts of climate change and the use of later-maturing cultivars on winter wheat yields and soil water deficit in dryland farming on the Loess Plateau of China. The later-maturing cultivars of winter wheat (Triticum aestivum L.) were generated by increasing the growing degree day requirement according to Root Zone Water Quality Model 2. The results showed that the wheat yields and water use efficiency were significantly improved by the later-maturing cultivars and fluctuated along with precipitation trends. The downward trend of wheat growth duration due to climate warming conditions was effectively counteracted and even reversed by introduction of the later-maturing cultivars. Increased precipitation during the longer growth period of the later-maturing cultivars partly compensated for the wheat evapotranspiration, so that the soil water deficit level was maintained or even reduced. The results of this study contribute to gaining improved understanding of the effective phenotypic characteristics of dryland winter wheat to cope with climate change using model-based assessments.
Access options
Buy single article
Instant access to the full article PDF.
US$ 39.95
Tax calculation will be finalised during checkout.
Subscribe to journal
Immediate online access to all issues from 2019. Subscription will auto renew annually.
US$ 119
Tax calculation will be finalised during checkout.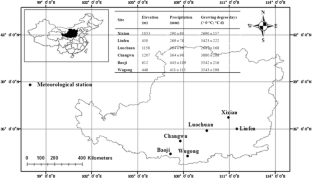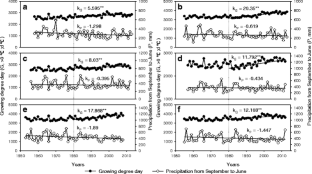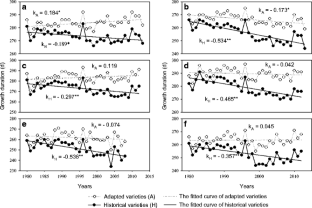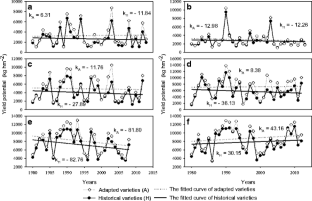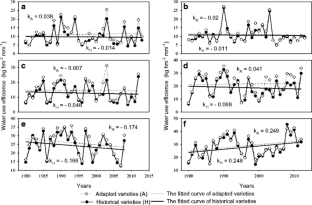 References
Ahuja LR, Rojas KW, Hanson JD, Shaffer MJ, Ma LW (2000) Root zone water quality model. Water Resources Publications, LLC. Highlands Ranch, Colorado

Baker CK, Gallagher JN, Monteith JL (1980) Daylength change and leaf appearance in winter wheat. Plant Cell Environ 3:285–287

Bu LD, Chen XP, Li SQ, Liu JL, Zhu L, Luo SS, Hill,RL, Zhao Y (2015) The effect of adapting cultivars on the water use efficiency of dryland maize (Zea mays L) in northwestern China. Agric Water Manag 148:1–9

Ding D, Feng H, Zhao Y, He J, Zou Y, Jin J (2016) Modifying winter wheat sowing date as an adaptation to climate change on the loess plateau. Agron J 108:53–63

Duvick DN (2005) The contribution of breeding to yield advances in maize (Zea mays L). Adv Agron 86:83–145

Esmaeili S, Thomson NR, Tolson BA, Zebarth BJ, Kuchta SH, Neilsen D (2014) Quantitative global sensitivity analysis of the RZWQM to warrant a robust and effective calibration. J Hydrol 511:567–579

Fang QX, Ma LW, Flerchinger G, Qi Z, Ahuja L, Xing HT, Li J, Yu Q (2014) Modeling evapotranspiration and energy balance in a wheat–maize cropping system using the revised RZ-SHAW model. Agric For Meteorol 194:218–229

Foulkes M, Snape J, Shearman V, Reynolds M, Gaju O, Sylvester-Bradley R (2007) Genetic progress in yield potential in wheat: recent advances and future prospects. J Agric Sci 145:17

Gallagher JN (1979) Field studies of cereal leaf growth: I initiation and expansion in relation to temprerature and ontogeny. J Exp Bot 30:625–636

Guo RP, Lin ZH, Mo XG, Yang CL (2010) Responses of crop yield and water use efficiency to climate change in the North China plain. Agric Water Manag 97:1185–1194

He L, Cleverly J, Chen C, Yang XY, Li J, Liu WZ, Yu Q (2014) Diverse responses of winter wheat yield and water use to climate change and variability on the semiarid loess plateau in China. Agron J 106:1169–1178

He L, Asseng S, Zhao G, Wu DR, Yang XY, Zhuang W, Jin N, Yu Q (2015) Impacts of recent climate warming, cultivar changes, and crop management on winter wheat phenology across the loess plateau of China. Agric For Meteorol 200:135–143

Horie T (1994) Crop ontogeny and development. In: Boote KJ, Bennett JM, Sinclair TR, Paulsen GM (eds) Physiology and determination of crop yield. American Society of Agronomy, Crop Science Society of America, Soil Science Society of America, Madison, p 153–180

Howden SM, Soussana JF, Tubiello FN, Chhetri N, Dunlop M, Meinke H (2007) Adapting agriculture to climate change. Proc Natl Acad Sci USA 104: 19691–19696

Huang M, Dang T, Gallichand J, Goulet M (2003) Effect of increased fertilizer applications to wheat crop on soil-water depletion in the loess plateau, China. Agric Water Manag 58:267–278

Ko J, Ahuja LR, Saseendran SA, Green TR, Ma L, Nielsen DC, Walthall CL (2012) Climate change impacts on dryland cropping systems in the central Great Plains, USA. Clim Chang 111:445–472

Liu Y, Wang E, Yang XG, Wang J (2010) Contributions of climatic and crop varietal changes to crop production in the North China plain, since the 1980s. Glob Chang Biol 16:2287–2299

Liu ZJ, Yang XG, Chen F, Wang EL (2013) The effects of past climate change on the northern limits of maize planting in Northeast China. Clim Chang 117:891–902

Ma LW, Trout TJ, Ahuja LR, Bausch WC, Saseendran S, Malone RW, Nielsen DC (2012) Calibrating RZWQM2 model for maize responses to deficit irrigation. Agric Water Manag 103:140–149

Meng QF, Hou P, Wu L, Chen XP, Cui ZL, Zhang FS (2013) Understanding production potentials and yield gaps in intensive maize production in China. Field Crop Res 143:91–97

Montesino-San M, Olesen JE, Porter JR (2014) A genotype, environment and management (GxExM) analysis of adaptation in winter wheat to climate change in Denmark. Agric For Meteorol 187:1–13

Peng SB, Huang JL, Sheehy JE, Laza RC, Visperas RM, Zhong XH, Centeno GS, Khush GS, Cassman KG (2004) Rice yields decline with higher night temperature from global warming. P Natl Acad Sci USA 101:9971–9975

Petersen J, Haastrup M, Knudsen L, Olesen JE (2010) Causes of Yield Stagnation in Winter Wheat in Denmark (http://www.pureaudk/portal/files/34206063/DJF_RapMark147_internetpd)

Tao FL, Zhang Z, Xiao DP, Zhang S, Rötter RP, Shi WJ, Liu YJ, Wang M, Liu FS, Zhang H (2014) Responses of wheat growth and yield to climate change in different climate zones of China, 1981–2009. Agric For Meteorol 189:91–104

Torriani D, Calanca PL, Schmid S, Beniston M, Fuhrer J (2007) Potential effects of changes in mean climate and climate variability on the yield of winter and spring crops in Switzerland. Clim Res 34:59–69

Turner NC, Molyneux N, Yang S, Xiong YC, Siddique KHM (2011) Climate change in south-West Australia and north-West China: challenges and opportunities for crop production. Crop Pasture Sci 62:445–456

Wang XC, Li J (2010) Evaluation of crop yield and soil water estimates using the EPIC model for the loess plateau of China. Math Comput Model 51:1390–1397

Wang YP, Handoko J, Rimmington G (1992) Sensitivity of wheat growth to increased air temperature for different scenarios of ambient CO2 concentration and rainfall in Victoria, Australia—a simulation study. Clim Res 2:131–149

Wang QX, Fan XH, Qin ZD, Wang MB (2012) Change trends of temperature and precipitation in the loess plateau region of China, 1961–2010. Glob Planet Chang 92-93:138–147

Wang J, Wang EL, Feng LP, Yin H, Yu WD (2013) Phenological trends of winter wheat in response to varietal and temperature changes in the North China plain. Field Crop Res 144:135–144

Xiao DP, Tao FL (2014) Contributions of cultivars, management and climate change to winter wheat yield in the North China plain in the past three decades. Eur J Agron 52:112–122

Xiao DP, Tao FL, Liu YJ, Shi WJ, Wang M, Liu FS, Zhang S, Zhu Z (2013) Observed changes in winter wheat phenology in the North China plain for 1981–2009. Int J Biometeorol 57:275–285

Xiao DP, Moiwo JP, Tao FL, Yang YH, Shen YJ, Xu QH, Liu JF, Zhang H, Liu FS (2015) Spatiotemporal variability of winter wheat phenology in response to weather and climate variability in China. Mitig Adapt Strat Gl 20:1191–1202

Yu Y, Huang Y, Zhang W (2012) Changes in rice yields in China since 1980 associated with cultivar improvement, climate and crop management. Field Crop Res 136:65–75

Yu Y, Zhang W, Huang Y (2014) Impact assessment of climate change, carbon dioxide fertilization and constant growing season on rice yields in China. Clim Chang 124:763–775

Zhang HL, Zhao X, Yin XG, Liu SL, Xue JF, Wang M, Pu C, Lal R, Chen F (2015) Challenges and adaptations of farming to climate change in the North China plain. Clim Chang 129:213–224

Zhao JF, Guo JP, Xu YH, Mu J (2015) Effects of climate change on cultivation patterns of spring maize and its climatic suitability in Northeast China. Agric Ecosyst Environ 202:178–187
Acknowledgments
This work is jointly supported by the National 863 Research Program (2013AA102904, 2011AA100503), the National Natural Science Foundation of China (41371234), the NWAFU Research Project (2014YQ002), and the "111" Project (B12007).
About this article
Cite this article
Ding, D., Feng, H., Zhao, Y. et al. Impact assessment of climate change and later-maturing cultivars on winter wheat growth and soil water deficit on the Loess Plateau of China. Climatic Change 138, 157–171 (2016). https://doi.org/10.1007/s10584-016-1714-1
Received:

Accepted:

Published:

Issue Date:
Keywords
Climate change

Dryland

Later-maturing cultivars

Winter wheat

Water deficit

Precipitation distribution