Abstract
Would you follow advice about personal energy conservation from a climate specialist with a large carbon footprint? Many climate researchers report anecdotes in which their sincerity was challenged based on their alleged failure to reduce carbon emissions. Here, we report the results of two large online surveys that measure the perceived credibility of a climate researcher who provides advice on how to reduce energy use (by flying less, conserving home energy, and taking public transportation), as a function of that researcher's personal carbon footprint description. Across the two studies, we randomly assigned participants to one of 18 vignettes about a climate scientist. We show that alleged large carbon footprints can greatly reduce the researcher's credibility compared to low footprints. We also show that these differences in perceived credibility strongly affect participants' reported intentions to change personal energy consumption. These effects are large, both for participants who believe climate change is important and for those who do not. Participants' politics do affect their attitudes toward researchers, and have an extra effect on reported intentions to use public transportation (but not on intentions to fly less or conserve home energy). Credibility effects are similar for male and female climate scientists.
Access options
Buy single article
Instant access to the full article PDF.
US$ 39.95
Tax calculation will be finalised during checkout.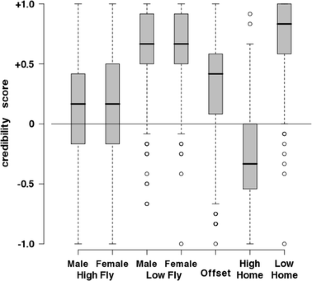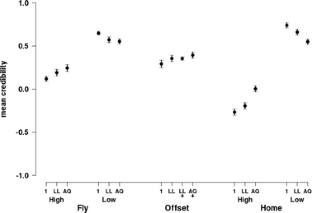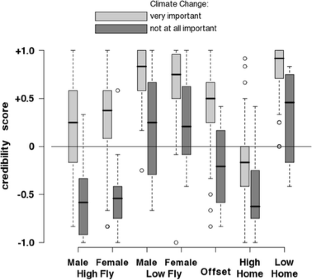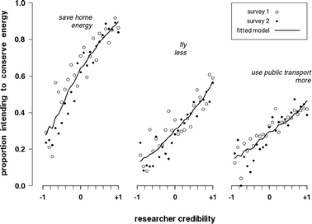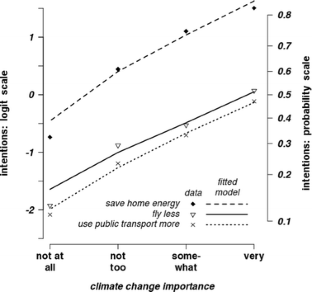 References
Anderson, K (2013) Hypocrites in the air: should climate change academics lead by example?

Bromme R, Goldman SR (2014) The public's bounded understanding of science. Educ Psychol 49:59–69

Buhrmester M, Kwang T, Gosling SD (2011) Amazon's mechanical Turk a new source of inexpensive, yet high-quality, data? Perspect Psychol Sci 6:3–5

Editorial (2015) A clean, green science machine. Nature 519:261

Hoffman A (2015) How culture shapes the climate change debate. Stanford University Press

Hollingworth HL (1935) The psychology of the audience. American Book Company New York, NY

Hovland, CI, Janis, IL, Kelley, HH (1963) Communication and persuasion. Psychological Studies of Opinion Change. By CI Hovland, Irving L. Janis, and Harold H. Kelley. New Haven & London

Kahan DM, Peters E, Wittlin M, Slovic P, Ouellette LL, Braman D, Mandel G (2012) The polarizing impact of science literacy and numeracy on perceived climate change risks. Nat Clim Chang 2:732–735

Corinne Le Quéré, Stuart Capstick, Adam Corner, David Cutting, Martin Johnson, Asher Minns, Heike Schroeder, Kate Walker-Springett, Lorraine Whitmarsh, Wood, R (2015) Towards a culture of low-carbon research for the twenty-first century. Tyndall Centre for Climate Change Research

Leiserowitz, A, Maibach, E, Roser-Renouf, C, Feinberg, G, Howe, P (2013) Americans' global warming beliefs and attitudes in April 2013. In: University (ed) Yale project on climate change communication, New Haven, CT

Nordhagen S, Calverley D, Foulds C, O'Keefe L, Wang X (2014) Climate change research and credibility: balancing tensions across professional, personal, and public domains. Clim Chang 125:149–162

Schneider SH (1984) 'natural experiments' and CO 2-induced climate change: the controversy drags on—an editorial. Clim Chang 6:317–321

Stern P, Dietz T, Abel T, Guagnano G, Kalof L (1999) A value-belief-norm theory of support for social movements: the case of environmentalism. Hum Ecol Rev 6:81–97

Stohl A (2008) The travel-related carbon dioxide emissions of atmospheric researchers. Atmos Chem Phys 8:6499–6504

Tennessee Center for Policy Research (2007) Al Gore's personal energy use is his own "inconvenient truth"

Walton DN (1998) Ad hominem arguments. University of Alabama Press

Watson C (ed) (2014) Beyond flying: rethinking air travel in a globally connected world. Green Books
Acknowledgments
Funding was provided by the School of Public and Environmental Affairs at Indiana University Bloomington. We thank Matthew Sisco for technical support, Andrew Barnes, Jared Eichmiller, Nicholas Posawatz, and Robin Saywitz for research support, and Colin Allen, Jonathan Baron, David Good, Helen Greatrex, Marybeth Shinn, and Michael Vandenbergh for comments.
Author contributions
S.Z.A., D.H.K., and E.U.W. designed research; S.Z.A. collected the data; S.Z.A. and D.H.K. analyzed data; and S.Z.A., D.H.K., and E.U.W. wrote the paper.
Ethics declarations
This research was approved by Indiana University's Internal Review Board at the Office of Research Administration and informed consent was received from all participants.
Competing financial interests statement
The authors declare no conflict of interest.
Electronic supplementary material
About this article
Cite this article
Attari, S.Z., Krantz, D.H. & Weber, E.U. Statements about climate researchers' carbon footprints affect their credibility and the impact of their advice. Climatic Change 138, 325–338 (2016). https://doi.org/10.1007/s10584-016-1713-2
Received:

Accepted:

Published:

Issue Date:
Keywords
Persuasion

Advocacy

Credibility

Carbon footprint

ad hominem attacks

Energy conservation