Abstract
Tourism has complex relationships with weather and climate, and there is consensus that tourism could be substantially affected by climatic change. While considerable research has been presented on how climatic change is likely to affect destinations and tourism stakeholders in the future, there remains limited understanding of the weather preferences of tourists. This is a research priority if the implications of climatic change for the temporal and geographic patterns of tourism demand are to be assessed with more relevance. This paper presents the results of a survey (n = 1643 respondents) of the weather preferences of French tourists. Results show the ranking of weather and climate as a factor of destination choice and satisfaction. They also indicate the high tolerance of tourists to heat and even to heat waves, whereas rainy conditions appear to be clearly repulsive. The weight of precipitation in indices like the Tourism Comfort Index should therefore be upgraded. The findings are also compared with studies in other countries. Slight differences in similar surveys can lead to a discrepancy in the appreciation of excessive heat and associated thresholds by 2–3 °C, which might limit the possibility to base climate change impact assessment on such fragile data.
Access options
Buy single article
Instant access to the full article PDF.
US$ 39.95
Tax calculation will be finalised during checkout.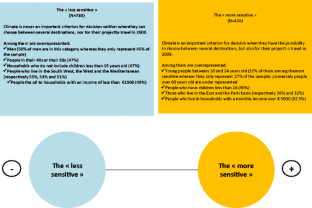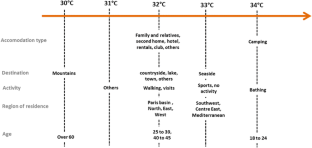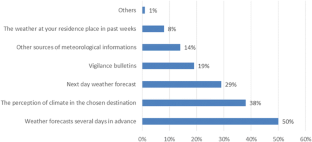 Notes
1.

Note that winter sports were practically excluded by the timing of the enquiry
References
Amelung B, Moreno A (2012) Costing the impact of climate change on tourism in Europe. results of the PESETA project. Clim Chang 112(1):83–100

Amelung B, Nicholls S, et al. (2007) Implications of global climate changefor tourism flows and seasonality. J Travel Res 45(3):285–296

Amelung B, Viner D (2006) Mediterranean tourism: exploring the future with the tourism climatic index. J Sustain Tour 14(4):349–366

Amengual A, Homar V, et al. (2012) A statistical adjustment of regional climate model outputs to local Scales: application to platja de Palma, Spain. Int J Climatol 32(14):2095–2107

Barbiere, E. B. (1981). O fator climatico nos sistemas territoriais de recreacao. Revista brasileira de geographia XLIII(2): 145–265.

Becker S (1998) Beach comfort index: a new approach to evaluate the thermal conditions of beach holiday resorts using a South African example. GeoJournal 44:297–307

Berrittella M, Bigano A, et al. (2006) A general equilibrium analysis of climate change impactson tourism. Tour Manag 27(5):913–924

Besancenot J-P (1989) Climat et tourisme. Masson, Paris

Bigano A, Hamilton J, et al. (2006) Predicting tourist flows under climate change. Climate Change 79:175–180

Boyer M (2005) Histoire générale du tourisme du XVIe au XXIe siècle. L'harmattan, Paris

Brunet L (1970) Climat et vie balnéaire. Espaces 1:50–56

Buzinde CN, Manuel-Navarette D, et al. (2010) Tourist's percemptions in a climate of change:eroding destinations. Ann Tour Res 37(2):333–354

Cavan G, Handley JF, et al. (2006) Changes to climate and visitor behaviour: implications for vulnerable landscapes in the North West region of England. Int J Biodivers Sci Manag 2(3):170–173

Clausse R, Guérout A (1955) La durée des précipitations, indice climatique ou élément de climatologie touristique. La météorologie 37:1–9

Denstadli JM, Jakobsen JKS, et al. (2011) Tourist perceptions of summer weather in Scandinavia. Ann Tour Res 38(3):920–940

Dickinson J (2010) Climate change and the air travel decisions of UK tourists. J Transp Geogr 18(3):466–473

Dormann, C. F. (2007). Promising the future? Global change projections of species distributions. Basic and applied ecology(in press).

Dubois, G., J. P. Ceron, et al. (2009). Météorologie, climat et déplacements touristiques: comportements et stratégies des touristes. Paris, MEIE/MEEDDAT/DIACT.: 93 p.

Dubois G., Alaouane T., Ceron J.P, Henia L., Hlaoui Z., Zaninovic K. (2015a). Potential and pitfalls in adapting tourism climate indices in the Mediterranean. Earth Perspectives (Submitted)

Dubois G., Ceron. J.P, Dubois D., Frias M.D. Herrera S. (2015b) Reliability and usability of tourism climate indices. Earth Perspectives (Submitted)

Falk M (2013) Impact of long term weather on domestic and foreign winter tourism demand. Int J Tour Res 15(1):1–17

Forland EJ, Steen JK, et al. (2013) Cool weather tourism under global warming: comparing Arctic summer tourists' weather preferences with regional climate statistics and projections. Tour Manag 36:567–579

Gomez-Martin B (2006) Climate potential and tourist demand in Catalonia (Spain) during the summer season. Clim Res 32:75–87

Gomez-Martin MA, Martinez-Ibarra (2012) Tourism demand and atmospheric parameters: non-intrusive observation techniques. Clim Res 51:135–145

Gössling, S., D. Scott, et al. (2011). Consummer behaviour and demand response of tourists to climate change Annals of Tourism Research 39(1).

Gössling S, Bredberg M, et al. (2006) Tourist perceptions of climate change: a study of international tourists in Zanzibar. Current Issues in Tourism 9:419–435

Hamilton J, Maddison D, et al. (2004) Climate and the destination choice of German tourists. Kolimbari, Universität Freiburg, Advances in tourism climatology

Hamilton J, Maddison D, et al. (2005) Climate change and international tourism. A simulation study. Glob Environ Chang 15(3):253–266

Hamilton J, Lau M (2005) The role of climate information in tourist destination choice decision making. Routledge, Tourism and global environmental change. Gössling. S. and H. C.M. London, pp. 229–250

Jänicke, L., B. Abegg and R. Steiger 2015. Wheather preferences of summer tourists in mountain environments: a case study in the Bavarian Alps, Germany In Wheather preferences of summer tourists in mountain environments: a case study in the Bavarian Alps, Germany Proceedings of the fourth International conference on climate, tourism and recreation. Istanbul.

Lise W, Tol R (2002) Impact of climate on tourist demand. Clim Chang 55(4):429–449

Lohmann M, Hübner A (2012) Perception des conditions météorologiques et comportements des touristes: une étude pilote qualitative auprès des vacanciers sur l'île de la Martinique. Etudes Caribéennes 19

Lohmann, M. and E. Kaim (1999). Weather and holiday preference, image, attitude and experience. Rev Tourisme 54:

Lohmann, Martin & Schmücker, Dirk (2009): Internet research differs from research on internet users: some methodological insights into online travel research. Tour Rev; Vol. 64, N° 1 2009, pp. 32–47

Maddison D (2001) In search of warmer climates? The impact of climate change on flows of British tourists. Clim Chang 49:193–208

Mansfeld Y, Freundlish A, et al. (2004) The relationship between weather conditions and tourists' perception of comfort: the case of the winter sun resort of eilat. NATO Advanced Research Workshop on Climate Change and Tourism, Warsaw

Matzarakis, A., C.R. de Freitas, et al. Eds. (2004). Advances In tourism climatology. Freiburg.

Matzarakis A, De Freitas CR (2001) Proceedings of thefirst international workshop on climate, tourism and recreation. Porto Carras, Greece, International Society of Biometeorology

Mieczkowski Z (1985) The tourism climatic index: a method of evaluatingworld climates for tourism. Le géographe canadien XXIX(3):220–233

Ministère du tourisme (2014). Memento du tourisme

Moreno A (2010) Mediteranean tourism and climate (change): a survey based study. Tourism and Hospitality, Planning and Development 7(3):253–265

Moreno A, Amelung B (2009) Climate change and tourist comfort on Europe's beaches in summer: A reassessment. Coast Manag 37(6)

Moreno, A., B. Amelung, et al. (submitted). Climate suitability for beach tourism in Europe. A reassessment of the impacts of climate change. Climate research.

Morgan R, Gatell E, et al. (2000) An improved user-based beach climate index. J Coast Conserv 6:41–50

Newell SA (1960) Physical geography. John Wiley & Sons, Second Edition, New York, p. 185

Monkhouse FJ (1978) A dictionary of geography. Edward Arnold (Publishers) Ltd, London

ONERC (2009) Changement climatique: coûts des impacts et pistes d'adaptation. In: Raport au Premier ministreet au parlement. La Documentation française, Paris

Rutty M, Scott D (2010) Will the Mediterranean become too hot for tourism. A Reassessment Tourism and Hospitality Planning & Development 7(3)

Rutty M, Scott D (2015) Bioclimatic comfort and the thermal perceptions and preferences of beach tourists. Int J Biometeorol 59(37):37–45

Scott D, Gössling S, et al. (2008) Climate preferences for diverse tourism environments: Evidence from Canada, New Zealand and Sweden. Clim Res 38:61–73

Scott D, Jones B, et al. (2005) Climate, tourism and recreation: a bibliography −1936 to 2005. Canada, University of Waterloo, Waterloo

UNWTO, UNEP, et al. (2008). Climate change and tourism. Responding to global challenges. Madrid, UNWTO.

Williams P, Dossa K, et al. (1997) The influence of weather context on winter resort evaluations by visitors. J Travel Res 36:29–36

WTO (2003). 1st International Conference on Climate Change and Tourism., Djerba.
Electronic Supplementary Material
About this article
Cite this article
Dubois, G., Ceron, JP., Gössling, S. et al. Weather preferences of French tourists: lessons for climate change impact assessment. Climatic Change 136, 339–351 (2016). https://doi.org/10.1007/s10584-016-1620-6
Received:

Accepted:

Published:

Issue Date:
Keywords
Heat Wave

Destination Choice

Urban Tourism

Tourism Demand

Climate Change Impact Assessment