Abstract
Observations have shown that the Tibetan Plateau (TP) has experienced elevation-dependent warming (EDW) during recent decades, that is, greater warming at higher elevations than at lower elevations. However, the factors and their mechanisms driving these changes remain unclear, due to scarce radiation-related observations. In the present study, four CCSM3 experiments using the 1990 control and quadrupled (4×) CO2 levels, with fine and coarse resolutions, were examined to shed light on the mechanisms driving EDW. The differences in annual and seasonal surface temperatures (TS) between the 4× CO2 and 1990 control runs, using T85 resolution, feature clear changes with elevation. In addition, EDW 500 m above the ground surface is much weaker and almost disappears at the surface elevations higher than 2000 m. This implies that the greater warming mainly occurs at the near surface with higher elevations and should be attributed to changes in the surface energy budget. In the 4× CO2, there are greater increases (compared to the 1990 control run) in the net solar, net longwave and sensible heat fluxes at the surface at higher elevations, but lower levels of the parameters are simulated at lower elevations. These differences lead to increases in the heat storage at the surface and finally result in greater warming at higher elevations. Compared with the net longwave flux, the relative net shortwave flux at the surface increases more evidently at higher elevations, implying that the increase in net shortwave flux at the surface plays a dominant role in producing greater warming at higher elevations. The elevation range between 2000 and 3000 m appears to be a turning point; below 2000 m, the total cloud increases and subsequently constrains the surface net solar radiation. Above 3000 m, the total cloud decreases but shows little elevation dependency, favoring the increases in the surface net solar radiation, and decreases in the snow depth, with more differences with increasing elevation, lead to the reduced surface albedo. This further facilitates the absorption of solar radiation at higher elevations. Therefore, the combined effects of changes in the snow depth and cloud cover in response to 4× CO2 levels result in greater heat storage at the surface at higher elevations than at lower elevations, leading to EDW over and around the TP.
Access options
Buy single article
Instant access to the full article PDF.
USD 39.95
Price includes VAT (USA)
Tax calculation will be finalised during checkout.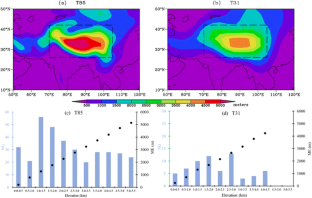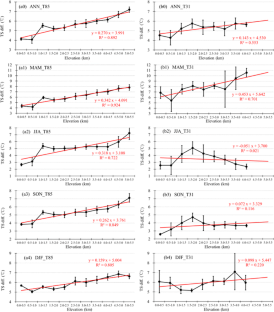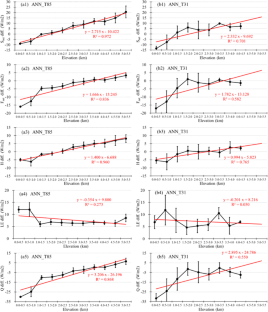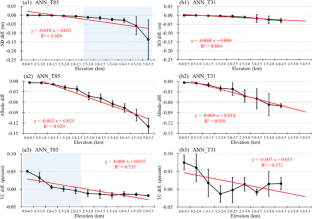 References
An Z, Kutzbach JE, Prell WL, Porter SC (2001) Evolution of Asian monsoons and phased uplift of the himalaya–tibetan plateau since late miocene times. Nature 411:62–66

Donohoe A, Armour KC, Pendergrass AG, Battisti DS (2014) Shortwave and longwave radiative contributions to global warming under increasing CO2. Proc Natl Acad Sci 111:16700–16705

Duan A, Wu G (2006) Change of cloud amount and the climate warming on the tibetan plateau. Geophys Res Lett 33:L22704. doi:10.1029/2006gl027946

Duan A, Wu G, Zhang Q, Liu Y (2006) New proofs of the recent climate warming over the tibetan plateau as a result of the increasing greenhouse gases emissions. Chin Sci Bull 51:1396–1400

Giorgi F, Hurrell JW, Marinucci MR, Beniston M (1997) Elevation dependency of the surface climate change signal: a model study. J Clim 10:288–296

Ji Z, Kang S (2012) Projection of snow cover changes over China under RCP scenarios. Clim Dyn 41:589–600. doi:10.1007/s00382-012-1473-2

Ji Z, Kang S (2013) Double-nested dynamical downscaling experiments over the tibetan plateau and their projection of climate change under two RCP scenarios. J Atmos Sci 70:1278–1290. doi:10.1175/jas-d-12-0155.1

Kang S, Xu Y, You Q, Flügel W-A, Pepin N, Yao T (2010) Review of climate and cryospheric change in the tibetan plateau. Environ Res Lett 5:015101. doi:10.1088/1748-9326/5/1/015101

Lau WK, Kim M-K, Kim K-M, Lee W-S (2010) Enhanced surface warming and accelerated snow melt in the himalayas and tibetan plateau induced by absorbing aerosols. Environ Res Lett 5:025204

Liu X, Chen B (2000) Climatic warming in the tibetan plateau during recent decades. Int J Climatol 20:1729–1742

Liu X, Cheng Z, Yan L, Yin Z-Y (2009) Elevation dependency of recent and future minimum surface air temperature trends in the tibetan plateau and its surroundings. Glob Planet Chang 68:164–174. doi:10.1016/j.gloplacha.2009.03.017

Lu J, Cai M (2009) Seasonality of polar surface warming amplification in climate simulations. Geophys Res Lett 36(L16):704. doi:10.1029/2009gl040133

Messerli B, Ives JD (1997) Mountains of the world: a global priority. Parthenon publishing group, New York

Pepin N et al. (2015) Elevation-dependent warming in mountain regions of the world. Nature Climate Change 5

Pepin NC, Daly C, Lundquist J (2011) The influence of surface versus free-air decoupling on temperature trend patterns in the western United States. J Geophys Res 116:D10109. doi:10.1029/2010jd014769

Rangwala I, Miller JR (2012) Climate change in mountains: a review of elevation-dependent warming and its possible causes. Clim Chang 114:527–547. doi:10.1007/s10584-012-0419-3

Rangwala I, Miller JR, Russell GL, Xu M (2009) Using a global climate model to evaluate the influences of water vapor, snow cover and atmospheric aerosol on warming in the tibetan plateau during the twenty-first century. Clim Dyn 34:859–872. doi:10.1007/s00382-009-0564-1

Rangwala I, Sinsky E, Miller JR (2013) Amplified warming projections for high altitude regions of the northern hemisphere mid-latitudes from CMIP5 models. Environ Res Lett 8:024040. doi:10.1088/1748-9326/8/2/024040

Rangwala I, Sinsky E, Miller JR (2015) Variability in projected elevation dependent warming in boreal midlatitude winter in CMIP5 climate models and its potential drivers. Climate Dynamics. doi:10.1007/s00382-015-2692-0

Shen M et al. (2015) Evaporative cooling over the tibetan plateau induced by vegetation growth. Proc Natl Acad Sci U S A. doi:10.1073/pnas.1504418112

Solomon S (2007) Climate change 2007-the physical science basis: working group I contribution to the fourth assessment report of the IPCC vol 4. Cambridge University Press, Cambridge

Tang WJ, Yang K, Qin J, Cheng CCK, He J (2011) Solar radiation trend across China in recent decades: a revisit with quality-controlled data. Atmos Chem Phys 11:393–406. doi:10.5194/acp-11-393-2011

Tian Z, Jiang D (2013) Evaluation of the performance of low-to high-resolution CCSM4 over east Asia and China (in Chinese). Chin J Atmos Sci 37:171–186

Trenberth KE, Fasullo JT, Kiehl J (2009) Earth's global energy budget. Bull Am Meteorol Soc 90:311–323. doi:10.1175/2008bams2634.1

Yanai M, Wu G-X (2006) Effects of the tibetan plateau. In:The Asian Monsoon. Springer, New York, pp 513–549. doi:10.1007/3-540-37722-0_13

Yan L, Liu X (2014) Has climatic warming over the tibetan plateau paused or continued in recent years? J Earth, Ocean Atmos Sci 1:13–28

Yang K, Wu H, Qin J, Lin C, Tang W, Chen Y (2014) Recent climate changes over the tibetan plateau and their impacts on energy and water cycle: a review. Glob Planet Chang 112:79–91. doi:10.1016/j.gloplacha.2013.12.001

You Q, Kang S, Flügel W-A, Sanchez-Lorenzo A, Yan Y, Huang J, Martin-Vide J (2009) From brightening to dimming in sunshine duration over the eastern and central tibetan plateau (1961–2005). Theor Appl Climatol 101:445–457. doi:10.1007/s00704-009-0231-9
Acknowledgments
This work was jointly supported by the Strategic Priority Research Program of the Chinese Academy of Sciences (XDB03020601) and the National Natural Science Foundation of China (41420104008). Zhengyu Liu acknowledges support from Chinese MOST 2012CB955201 and NSFC (41130105).
About this article
Cite this article
Yan, L., Liu, Z., Chen, G. et al. Mechanisms of elevation-dependent warming over the Tibetan plateau in quadrupled CO2 experiments. Climatic Change 135, 509–519 (2016). https://doi.org/10.1007/s10584-016-1599-z
Received:

Accepted:

Published:

Issue Date:
Keywords
Tibetan Plateau

High Elevation

Snow Depth

Outgoing Longwave Radiation

Longwave Radiation