Abstract
Species climate change vulnerability, their predisposition to be adversely affected, has been assessed for a limited portion of biodiversity. Our knowledge of climate change impacts is often based only on exposure, the magnitude of climatic variation in the area occupied by the species, even if species sensitivity, the species ability to tolerate climatic variations determined by traits, plays a key role in determining vulnerability. We analyse the role of species' habitat associations, a proxy for sensitivity, in explaining vulnerability for two poorly-known but species-rich taxa in boreal forest, saproxylic beetles and fungi, using three IPCC emissions scenarios. Towards the end of the 21st century we projected an improvement in habitat quality associated with an increase of deadwood, an important resource for species, as a consequence of increased tree growth under high emissions scenarios. However, climate change will potentially reduce habitat suitability for ~9–43 % of the threatened deadwood-associated species. This loss is likely caused by future increase in timber extraction and decomposition rates causing higher deadwood turnover, which have a strong negative effect on boreal forest biodiversity. Our results are species- and scenario-specific. Diversified forest management and restoration ensuring deadwood resources in the landscape would allow the persistence of species whose capacity of delivering important supporting ecosystem services can be undermined by climate change.
Access options
Buy single article
Instant access to the full article PDF.
USD 39.95
Price includes VAT (USA)
Tax calculation will be finalised during checkout.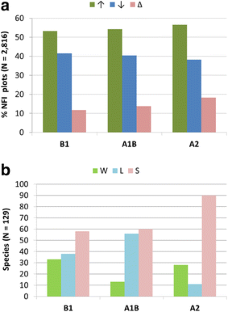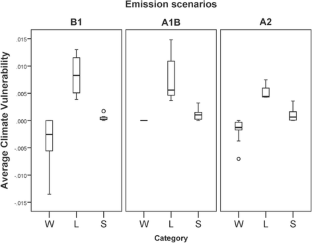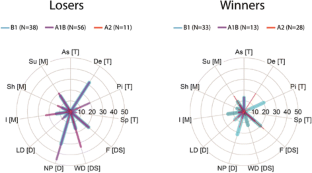 References
Ahteensuu M, Aikio S, Cardoso P, Hyvärinen M, Hällfors M, Lehvävirta S, Schulman L, Vaara E (2015) Quantitative tools and simultaneous actions needed for species conservation under climate change–reply to Shoo et al. (2013). Clim Chang 129:1–7

Arribas P, Abellán P, Velasco J, Bilton DT, Millán A, Sánchez-Fernández D (2012) Evaluating drivers of vulnerability to climate change: a guide for insect conservation strategies. Glob Chang Biol 18:2135–2146

Barbet-Massin M, Thuiller W, Jiguet F (2012) The fate of European breeding birds under climate, land-use and dispersal scenarios. Glob Chang Biol 18:881–890

Bässler C, Müller J, Dziock F, Brandl R (2010) Effects of resource availability and climate on the diversity of wood-decaying fungi. J Ecol 98:822–832

Bellard C, Bertelsmeier C, Leadley P, Thuiller W, Courchamp F (2012) Impacts of climate change on the future of biodiversity. Ecol Lett 15:365–377

Berglund H, Jonsson BG (2005) Verifying an extinction debt among lichens and fungi in northern Swedish boreal forests. Conserv Biol 19:338–348

Bradford MA, Warren II RJ, Baldrian P, Crowther TW, Maynard DS, Oldfield EE, Wieder WR, Wood SA, King JR (2014) Climate fails to predict wood decomposition at regional scales. Nat Clim Chang 4:625–630

Bradshaw CJA, Brook BW, Delean S, Fordham DA, Herrando-Pérez S, Cassey P, Early R, Sekercioglu CH, Araújo MB (2014) Predictors of contraction and expansion of area of occupancy for British birds. Proc R Soc B 281 (1786):20140744

Brook BW, Sodhi NS, Bradshaw CJA (2008) Synergies among extinction drivers under global change. Trends Ecol Evol 23:453–460

Bush AA, Nipperess DA, Duursma DE, Theischinger G, Turak E, Hughes L (2014) Continental-scale assessment of risk to the Australian Odonata from climate change. PLoS One 9(2):e88958

Dawson TP, Jackson ST, House JI, Prentice IC, Mace GM (2011) Beyond predictions: biodiversity conservation in a changing climate. Science 332:53–58

Devictor V, Julliard R, Couvet D, Jiguet F (2008) Birds are tracking climate warming, but not fast enough. Proc R Soc B 275:2743–2748

Eggers J, Lindner M, Zudin S, Zaehhle S, Liski J (2008) Impact of changing wood demand, climate and land use on European forest resources and carbon stocks during the 21st century. Glob Chang Biol 14:2288–2303

Eräjää S, Halme P, Kotiaho JS, Markkanen A, Toivanen T (2010) The volume and composition of dead wood on traditional and forest fuel harvested clear-cuts. Silva Fenn 44:203–211

Foden WB, Butchart SHM, Stuart SN, Vié J, Akçakaya HR, Angulo A, DeVantier LM, Gutsche A, Turak E, Cao L, Donner SD, Katariya V, Bernard R, Holland RA, Hughes AF, SE O'H, ST G, ÃH Ş, GM M (2013) Identifying the world's most climate change vulnerable species: a systematic trait-Ba ed assessment of all birds, amphibians and corals. PLoS One 8:e65427

Fordham DA, Akçakaya HR, Brook BW, Rodriguez A, Alves PC, Civantos E, Triviño M, Araújo MB (2013) Adapted conservation measures are required to save the Iberian lynx in a changing climate. Nat Clim Chang 3:899–903

Garcia RA, Araújo MB, Burgess ND, Foden WB, Gutsche A, Rahbek C, Cabeza M (2014) Matching species traits to projected threats and opportunities from climate change. J Biogeogr 41:724–735

Grömping U (2006) Relative importance for linear regression in R: the package relaimpo. J Stat Softw 17:1–27

Halme P, Allen KA, Auniņš A, Bradshaw RHW, Brūmelis G, Čada V, Clear JL, Eriksson A, Hannon G, Hyvärinen E, Ikauniece S, Iršėnaitė R, Jonsson BG, Junninen K, Kareksela S, Komonen A, Kotiaho JS, Kouki J, Kuuluvainen T, Mazziotta A, Mönkkönen M, Nyholm K, Oldén A, Shorohova E, Strange N, Toivanen T, Vanha-Majamaa I, Wallenius T, Ylisirniö A, Zin E (2013) Challenges of ecological restoration: lessons from forests in northern Europe. Biol Conserv 167:248–256

Harmon ME, Franklin JF, Swanson FJ, Sollins P, Gregory SV, Lattin JD, Anderson NH, Cline SP, Aumen NG, Sedell JR, Lienkaemper GW, Cromack Jr K, Cummins KW (1986) Ecology of coarse woody debris in temperate ecosystems. Adv Ecol Res 15:133–263

Hyvärinen E, Kouki J, Martikainen P (2006) Fire and green-tree retention in conservation of red-listed and rare deadwood-dependent beetles in Finnish boreal forests. Conserv Biol 20:1710–1719

IBM Corp (2011) IBM SPSS Statistics for Windows, Version 20.0. IBM Corp, Armonk, NY

Jylhä K (2009) Arvioita Suomen muuttuvasta ilmastosta sopeutumistutkimuksia varten. ACCLIM-hankkeen raportti 2009. - Rapoetteja _ Rapporter _ Reports. (The changing climate in Finland: estimates for adaptation studies. ACCLIM project report 2009) Ilmatieteen laitos, Raportteja 2009: 4, 102 s. In Finnish, abstract, extended abstract and captions for figures and tables in English)

Kellomäki S, Peltola H, Nuutinen T, Korhonen KT, Strandman H (2008) Sensitivity of managed boreal forests in Finland to climate change, with implications for adaptive management. Philos T Roy Soc B 363:2339–2349

Kouki J, Tikkanen O-P (2007) Uhanalaisten lahopuulajien elinympäristöjen turvaaminen suojelualueilla ja talousmetsissä: kustannustehokkuus ja ekologiset, ekonomiset sekä sosiaaliset vaikutukset Kitsin seudulla Lieksassa (Conservation of threatened saproxylic species assemblages in eastern Finland: long-term cost-efficient solutions and their ecological, economic and social implications). 104 s. Ympäristöministeriö, Helsinki

Lindeman RH, Merenda PF, Gold RZ (1980) Introduction to bivariate and multivariate analysis. Scott, Foresman, Glenview

Mair L, Hill JK, Fox R, Botham M, Brereton T, Thomas CD (2014) Abundance changes and habitat availability drive species' responses to climate change. Nat Clim Chang 4:127–131

Mazziotta A, Mönkkönen M, Strandman H, Routa J, Tikkanen O-P, Kellomäki S (2014) Modeling the effects of climate change and management on the dead wood dynamics in boreal forest plantations. Eur J For Res 133:405–421

Menéndez R, Megías AG, Hill JK, Braschler B, Willis SG, Collingham Y, Fox R, Roy DB, Thomas CD (2006) Species richness changes lag behind climate change. Proc R Soc B 273:1465–1470

Mönkkönen M (1999) Managing Nordic boreal forest landscapes for biodiversity: ecological and economic perspectives. Biodivers Conserv 8:85–99

Mönkkönen M, Juutinen A, Mazziotta A, Miettinen K, Podkopaev D, Reunanen P, Salminen H, Tikkanen O-P (2014) Spatially dynamic forest management to sustain biodiversity and economic returns. J Environ Manag 134:80–89

Mooney H, Laurigauderie A, Cesario M, Elmquist T, Hoegh-Guldberg O, Lavorel S, Mace GM, Palmer M, Scholes R, Yahara T (2009) Biodiversity, climate change, and ecosystem services. Curr Opin Environ Sustain 1:46–54

Ponce-Reyes R, Reynoso-Rosales VH, Watson JE, VanDerWal J, Fuller RA, Pressey RL, Possingham HP (2012) Vulnerability of cloud forest reserves in Mexico to climate change. Nat Clim Chang 2:448–452

Rabinowitsch-Jokinen R, Laaka-Lindberg S, Vanha-Majamaa I (2010) Immediate effects of logging, mounding, and removal of logging residues on epixylic species in managed boreal Norway spruce stands in southern Finland. J Sustain For 31:205–229

Shoo LP, Hoffmann AA, Garnett S, Pressey RL, Williams YM, Taylor M, Falconi L, Yates CJ, Scott JK, Alagador D, Williams SE (2013) Making decisions to conserve species under climate change. Clim Chang 119:239–246

Stupak I, Asikainen A, Jonsell M, Karltun E, Lunnan A, Mizaraite D, Pasanen K, Parn H, Raulund-Rasmussen K, Roser D, Schroeder M, Varnagiryte I, Vilkriste L, Callesen I, Clarke N, Gaitnieks T, Ingerslev M, Mandre M, Ozolincius R, Saarsalmi A, Armolaitis K, Helmisaari H-S, Indriksons A, Kairiukstis L, Katzensteiner K, Kukkola M, Ots K, Ravn HP, Tamminen P (2007) Sustainable utilisation of forest biomass for energy—possibilities and problems: policy, legislation, certification, and recommendations and guidelines in the Nordic, Baltic, and other European countries. Biomass Bioenergy 31:666–684

Summers DM, Bryan BA, Crossman ND, Meyer WS (2012) Species vulnerability to climate change: impacts on spatial conservation priorities and species representation. Glob Chang Biol 18:2335–2348

Tikkanen O-P, Martikainen P, Hyvarinen E, Junninen K, Kouki J (2006) Red-listed boreal forest species of Finland: associations with forest structure, tree species, and decaying wood. Ann Zool Fenn 43:373–383

Triviño M, Cabeza M, Thuiller W, Hickler T, Araújo MB (2013) Risk assessment for Iberian birds under global change. Biol Conserv 168:192–200

Tuomi M, Laiho R, Repo A, Liski J (2011) Wood decomposition model for boreal forests. Ecol Model 222:709–718

Urban MC, Tewksbury JJ, Sheldon KS (2012) On a collision course: competition and dispersal differences create no-analogue communities and cause extinctions during climate change. Proc R Soc B 279:2072–2080

Williams JW, Jackson ST (2007) Novel climates, no-analog communities, and ecological surprises. Front Ecol Environ 5:475--482

Wilson RJ, Maclean IMD (2011) Recent evidence for the climate change threat to Lepidoptera and other insects. J Insect Conserv 15:259–268

Yrjölä T (2002) Forest management guidelines and practices in Finland, Sweden and Norway European Forest Institute Internal Report 11
Acknowledgments
A.M., M.M., M.T. thank the Academy of Finland (project 138032) for financial support. This work was also supported by the ongoing consortium project ADAPT (proj. 14907, 2012-2016), funded by the Academy of Finland, University of Eastern Finland (consortium project and team 1 led by Prof. Heli Peltola) and Finnish Meteorological Institute (team 2 led by Dr. Jussi Kaurola). We thank the Finnish Meteorological Institute for providing the grid-based ACCLIM climate scenarios throughout Finland and the Finnish Forest Research Institute for the perusal of the sub-sample of data from the 9th National Forest Inventory. Furthermore, we gratefully acknowledge Prof. S. Kellomäki (School of Forest Sciences, University of Eastern Finland) for further development of the SIMA model and instructions given for its use, which were needed for implementation of this research work. We thank SYKE, the Finnish Environment Institute, for the perusal of the data from the Hertta database.
Author attribution
A.M., M.M., M.T. conceived the original idea. H.S., O.-P.T. and J.K. contributed data, analysis tools and technical support. A.M. analyzed the data and wrote the manuscript with help from all the co-authors.
Ethics declarations
Conflict of interest
The authors declare no conflict of interest.
Electronic supplementary material
About this article
Cite this article
Mazziotta, A., Triviño, M., Tikkanen, OP. et al. Habitat associations drive species vulnerability to climate change in boreal forests. Climatic Change 135, 585–595 (2016). https://doi.org/10.1007/s10584-015-1591-z
Received:

Accepted:

Published:

Issue Date:
Keywords
Boreal Forest

Emission Scenario

Habitat Quality

National Forest Inventory

Habitat Association