Abstract
Robust decision-making is being increasingly used to support environmental resources decisions and policy analysis under changing climate and society. In this context, a robust decision is a decision that is as much as possible insensitive to a large degree of uncertainty and ensures certain performance across multiple plausible futures. Yet, the concept of robustness is neither unique nor static. Multiple robustness metrics, such as maximin, optimism-pessimism, max regret, have been proposed in the literature, reflecting diverse optimistic/pessimistic attitudes by the decision maker. Further, these attitudes can evolve in time as a response to sequences of favorable (or adverse) events, inducing possible dynamic changes in the robustness metrics. In this paper, we explore the impact of alternative definitions of robustness and their evolution in time for a case of water resources system management under changing climate. We study the decisions of the Lake Como operator, who is called to regulate the lake by balancing irrigation supply and flood control, under an ensemble of climate change scenarios. Results show a considerable variability in the system performance across multiple robustness metrics. In fact, the mis-definition of the actual decision maker's attitude biases the simulation of its future decisions and produces a general underestimation of the system performance. The analysis of the dynamic evolution of the decision maker's preferences further confirms the potentially strong impact of changing robustness definition on the decision-making outcomes. Climate change impact assessment studies should therefore include the definition of robustness among the uncertain parameters of the problem in order to analyze future human decisions under uncertainty.
Access options
Buy single article
Instant access to the full article PDF.
USD 39.95
Price includes VAT (USA)
Tax calculation will be finalised during checkout.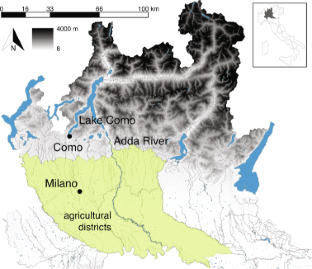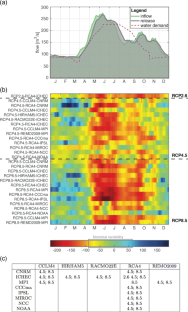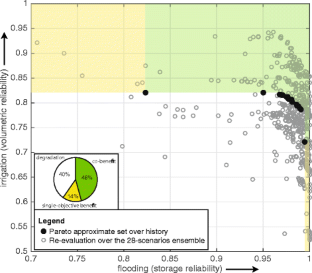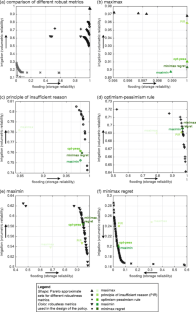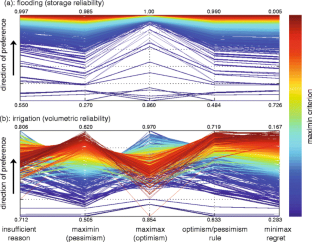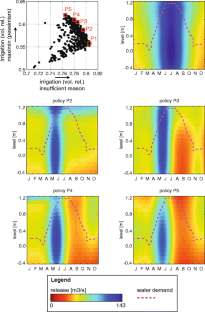 References
Anderson J, Chung F, Anderson M, Brekke L, Easton D, Ejeta M, Peterson R, Snyder R (2008) Progress on incorporating climate change into management of California's water resources. Clim Chang 87(1):91–108

Anghileri D, Pianosi F, Soncini-Sessa R (2011) A framework for the quantitative assessment of climate change impacts on water-related activities at the basin scale. Hydrol Earth Syst Sci 15(6):2025–2038. doi:10.5194/hess-15-2025-2011

Arnell NW, Lloyd-Hughes B (2014) The global-scale impacts of climate change on water resources and flooding under new climate and socio-economic scenarios. Clim Chang 122(1-2):127–140. doi:10.1007/s10584-013-0948-4

Beh EHY, Maier HR, Dandy GC (2015) Adaptive, multiobjective optimal sequencing approach for urban water supply augmentation under deep uncertainty. Water Resour Res 51:1529–1551. doi:10.1002/2014WR016254

Ben-Tal A, El Ghaoui L, Nemirovski A (2009) Robust optimization. Princeton University Press

Beniston M, Stoffel M, Hill M (2011) Impacts of climatic change on water and natural hazards in the Alps: can current water governance cope with future challenges? Examples from the European "ACQWA" project. Environ Sci Policy 14(7):734–743

Bertsimas D, Brown DB, Caramanis C (2011) Theory and applications of robust optimization. SIAM Rev 53(3):464–501

Boé J, Terray L, Habets F, Martin E (2007) Statistical and dynamical downscaling of the seine basin climate for hydro-meteorological studies. Int J Climatol 27(12):1643–1655

Brunnermeier MK, Nagel S (2008) Do wealth fluctuations generate time-varying risk aversion? micro-evidence on individuals? asset allocation (digest summary). Am Econ Rev 98(3):713–736

Castelletti A, Galelli S, Restelli M, Soncini-Sessa R (2010) Tree-based reinforcement learning for optimal water reservoir operation. Water Resources Research 46(W09507)

Dohmen T, Falk A, Huffman D, Sunde U, Schupp J, Wagner GG (2011) Individual risk attitudes: Measurement, determinants, and behavioral consequences. J Eur Econ Assoc 9(3):522–550

Drouet L, Bosetti V, Tavoni M (2015) Selection of climate policies under the uncertainties in the fifth assessment report of the ipcc. Nature Climate Change

Eschenauer H, Koski J, Osyczka A (1990) Multicriteria design optimization: procedures and applications. Springer, Berlin, Heidelberg, New York

Faggian P, Giorgi F (2009) An analysis of global model projections over Italy, with particular attention to the Italian Greater Alpine Region (GAR). Clim Chang 96 (1-2):239–258. doi:10.1007/s10584-009-9584-4

French S (1988) Decision theory: an introduction to the mathematics of rationality. Halsted Press

Giuliani M, Herman J, Castelletti A, Reed P (2014) Many-objective reservoir policy identification and refinement to reduce policy inertia and myopia in water management. Water Resour Res 50:3355–3377. doi:10.1002/2013WR014700

Giuliani M, Castelletti A, Pianosi F, Mason E, Reed P (2015a) Curses, tradeoffs, and scalable management: advancing evolutionary multi-objective direct policy search to improve water reservoir operations. Journal of Water Resources Planning and Management. doi:10.1061/(ASCE)WR.1943-5452.0000570

Giuliani M, Pianosi F, Castelletti A (2015b) Making the most of data: an information selection and assessment framework to improve water systems operations. Water Resour Res 51. doi:10.1002/2015WR017044

Gober P (2014) Decision making under uncertainty: A new paradigm for water resources planning and management. In: Wang LK, Yang CT (eds) Modern Water Resources Engineering, Handbook of Environmental Engineering, vol 15. Humana Press, pp 411–436. doi:10.1007/978-1-62703-595-8_8

Guiso L, Sapienza P, Zingales L (2013) Time varying risk aversion. Technical Report. National Bureau of Economic Research

Haasnoot M, Middelkoop H, Offermans A, Van Beek E, van Deursen WP (2012) Exploring pathways for sustainable water management in river deltas in a changing environment. Clim Chang 115(3-4):795–819

Hadka D, Reed P (2012) Diagnostic assessment of search controls and failure modes in many–objective evolutionary optimization. Evol Comput 20(3):423–452

Hadka D, Reed P (2013) Borg: An auto–adaptive many–objective evolutionary computing framework. Evol Comput 21(2):231–259

Harrison PA, Dunford R, Savin C, Rounsevell MDA, Holman IP, Kebede AS, Stuch B (2015) Cross-sectoral impacts of climate change and socio-economic change for multiple, European land- and water-based sectors. Clim Chang 128(3-4):279–292. doi:10.1007/s10584-014-1239-4

Herman JD, Zeff HB, Reed PM, Characklis GW (2014) Beyond optimality: Multistakeholder robustness tradeoffs for regional water portfolio planning under deep uncertainty. Water Resour Res 50(10):7692–7713

Herman JD, Reed PM, Zeff HB, Characklis GW (2015) How Should Robustness Be Defined for Water Systems Planning under Change? Journal of Water Resources Planning and Management. doi:10.1061/(ASCE)WR.1943-5452.0000509

Hurwicz L (1951) Optimality criteria for decision making under ignorance, p 370

Iglesias A, Garrote L (2015) Adaptation strategies for agricultural water management under climate change in europe. Agric Water Manag 155:113–124

Inselberg A (1997) Multidimensional detective. In: Proceedings of the IEEE Symposium on Information Visualization. IEEE, pp 100–107

IPCC (2014) Climate Change 2014: Impacts, adaptation and vulnerability. Part a: Global and sectoral aspects. Technical Reports., Intergovernmental Panel on Climate Change (IPCC), Fifth Assessment Report, WGII

Jager J, Rounsevell MDA, Harrison PA, Omann I, Dunford R, Kammerlander M, Pataki G (2015) Assessing policy robustness of climate change adaptation measures across sectors and scenarios. Clim Chang 128(3-4):395–407. doi:10.1007/s10584-014-1240-y

Kasprzyk J, Reed P, Characklis G, Kirsch B (2012) Many-objective de Novo water supply portfolio planning under deep uncertainty. Environ Modell Softw 34 (0):87–104. doi:10.1016/j.envsoft.2011.04.003

Laplace P (1951) A Philosophical Essays on Probabilities. Dover

Lempert R, Nakicenovic N, Sarewitz D, Schlesinger M (2004) Characterizing climate-change uncertainties for decision-makers. an editorial essay. Clim Chang 65 (1):1–9

Lempert RJ (2002) A new decision sciences for complex systems. Proc Natl Acad Sci 99(suppl 3):7309–7313

Lempert RJ, Collins MT (2007) Managing the risk of uncertain threshold responses: comparison of robust, optimum, and precautionary approaches. Risk Anal 27(4):1009–1026

Lempert RJ, Schlesinger ME (2000) Robust strategies for abating climate change. Clim Chang 45(3):387–401

Lybbert TJ, Barrett CB (2007) Risk responses to dynamic asset thresholds. Appl Econ Perspect Policy 29(3):412–418

Lybbert TJ, Just DR, Barrett CB (2013) Estimating risk preferences in the presence of bifurcated wealth dynamics: can we identify static risk aversion amidst dynamic risk responses Eur Rev Agric Econ 40(2):361–377

Matalas NC, Fiering MB (1977) Water-resource systems planning. Climate, Climatic Change, and Water Supply Studies in Geophysics, National Academy of Sciences, Washington, DC, pp 99–110

McDowell G, Stephenson E, Ford J (2014) Adaptation to climate change in glaciated mountain regions, vol 126, pp 77–91. doi:10.1007/s10584-014-1215-z

Nelson G, Rosegrant M, Palazzo A, Gray I, Ingersoll C, Robertson R, Tokgoz S, Zhu T, Sulser T, Ringler C, Msangi S, Liangzhi Y (2010) Food security, farming, and climate change to 2050: Scenarios, results, policy options. International Food Policy Research Institute, Washington D.C

Paton F, Maier H, Dandy G (2013) Relative magnitudes of sources of uncertainty in assessing climate change impacts on water supply security for the southern Adelaide water supply system. Water Resour Res 49(3):1643–1667

Savage L (1951) The theory of statistical decision. J Am Stat Assoc 46(253):55–67

Schneller G, Sphicas G (1983) Decision making under uncertainty: Starr's domain criterion. Theory Decis 15(4):321–336

Simon HA (1959) Theories of decision-making in economics and behavioral science. The American Economic Review, pp 253–283

Wald A (1950) Statistical Decision Functions. Wiley, New York, NY

Walker W, Haasnoot M, Kwakkel J (2013) Adapt or Perish: A Review of Planning Approaches for Adaptation under Deep Uncertainty. Sustainability 5:955–979
About this article
Cite this article
Giuliani, M., Castelletti, A. Is robustness really robust? How different definitions of robustness impact decision-making under climate change. Climatic Change 135, 409–424 (2016). https://doi.org/10.1007/s10584-015-1586-9
Received:

Accepted:

Published:

Issue Date:
Keywords
Robust decision making

Climate change

Water management