Abstract
This study estimates the predicted impact of climate change on levels of violence in a sample of 57 countries. We sample western and non-western countries and perform a multilevel ARFIMA regression to examine if warmer temperatures are associated with higher levels of homicide. Our results indicate that each degree Celsius increase in annual temperatures is associated with a nearly 6 % average increase in homicides. Regional variation in this predicted effect is detected, for example, with no apparent effects in former Soviet countries and far stronger effects found in Africa. Such variation indicates that climate change may acutely increase violence in areas that already are affected by higher levels of homicides and other social dislocations.
Access options
Buy single article
Instant access to the full article PDF.
USD 39.95
Price includes VAT (USA)
Tax calculation will be finalised during checkout.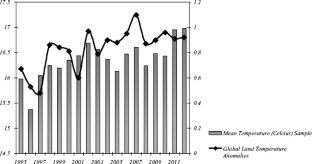 Notes
1.

Please refer to the supplementary materials for more details on the data and analysis.

2.

Many smaller countries with infrequent homicides and a small population were excluded. Please see the Appendix for more details.

3.

The Appendix outlines the practical steps we took to select sites and temperature readings.

4.

Baseline models with temperature as the only independent variable are available in the Appendix.

5.

The Appendix furnishes additional information on all variables, including a correlation matrix between the dependent variable and all independent variables. The Appendix also includes several independent variables that we did not use in the models reported here. Moreover, we provide a selection of models that include at least some of these independent variables in the Appendix.

6.

Countries included in our sample: Algeria, Australia, Austria, Bahamas, Bangladesh, Barbados, Belgium, Belize, Canada, Colombia, Costa Rica, Czech Republic, Egypt, El Salvador, Estonia, Finland, France, Germany, Greece, Honduras, Hungary, India, Ireland, Italy, Jamaica, Japan, Kazakhstan, Kenya, Lithuania, Macedonia, Mexico, Moldova, Mongolia, Morocco, Netherlands, New Zealand, Norway, Pakistan, Paraguay, Philippines, Poland, Portugal, Romania, Serbia, Singapore, South Africa, Spain, Sri Lanka, Sweden, Switzerland, Tajikistan, Thailand, Uganda, United Kingdom, Uruguay, United States, and Venezuela.

7.

8.

9.

For more precise calculations of unit and standard deviation change effects, please refer to the supplementary materials.

10.

The supplemental materials provide more information about and the specific results of the models referenced in this paragraph.

11.

Some of these results are modeled in the Appendix (i.e., country/year fixed effects and removing one control variable at a time), or are contained in the supplemental materials.

12.

These same robustness checks were run on the fixed effects and multilevel modeling (without ARFIMA) techniques that are referenced in earlier parts of this paper. The results are strikingly similar to those that are reported here.
References
Abbott C (2008) An uncertain future: law enforcement, national security and climate change. Fride, Madrid

Agnew R (2011) Dire forecast: a theoretical model of the impact of climate change on crime. Theor Criminol 15:1–22

Anderson CA (1989) Temperature and aggression. Psych Bull 106:74–96

Anderson E (1999) The code of the street. Norton, New York

Anderson CA, Anderson KB (1998) In: Geen RG, Donnerstein ED (eds) Human aggression: theories, research, and implications for social policy. Academic, San Diego, pp 247–298

Anderson CA, Delisi G (2011) In: Krugianski A, Williams K (eds) The psychology of social conflict and aggression. Psychology Press, New York, pp 249–265

Anderson CA, Bushman BJ, Groom RW (1997) Hot years and serious and deadly assault. J Pers Soc Psych 73:1213–1223

Anderson CA, Anderson KB, Dorr N, DeNeve KM, Flanagan KMM (2000) In: Zanna MP (ed) Experimental social psychology, vol. 32. Academic, New York, pp 63–133

Archer D, Rahmstorf S (2010) The climate crisis. Cambridge Univ. Press, Cambridge

Barnett J (2003) Security and climate change. Glob Environ Change 13:7–17

Baron RA (1972) Aggression as a function of ambient and prior anger arousal. J Pers Soc Psych 21:333–376

Baron RA, Bell PA (1976) Aggression and heat. J Pers Soc Psych 33:245–255

Baumer E, Wright E (1996) Crime seasonality and serious scholarship. Brit J Criminol 36:579–581

Bell PA, Baron RA (1976) Aggression and heat. J App Soc Psych 3:18–30

Blakeslee DS, Fishman R (2014) Weather shocks, crime and agriculture: evidence from India, (Social Science Research Network, 2014, http://sites.bu.edu/neudc/files/2014/10/paper_344.pdf)

Breetzke GD, Cohn EG (2011) Seasonal assault and neighborhoods deprivation in South Africa. Environ Behav 20:1–27

Buhaug H, Gleditsch HP, Theisen OM (2008) Implications of climate change for armed conflict. The World Bank, Washington

Bushman BJ, Wang MC, Anderson CA (2005a) Is the curve relating temperature to aggression linear or curvilinear? J Person Soc Psych 89:62–66

Bushman BJ, Wang MC, Anderson CA (2005b) Is the curve relating temperature to aggression linear or curvilinear? a response to Bell (2005) and to Cohn and Rotton (2005). J Person Soc Psych 89:74–77

Ceccato V (2005) Homicide in Sao Paolo, Brazil. J Environ Psych 25:307–321

Cohen L, Felson M (1979) Social change and crime rate trends: a routine activity approach. Am Sociol Rev 44:588–608

Cohn EG, Rotton J (1997) Assault as a function of time and temperature. J Pers Soc Psych 72:1322–1334

Cohn EG, Rotton J (2000) Weather, seasonal trends and property crimes in Minneapolis, 1987–1988. J Environ Psych 20:257–277

Cohn EG, Rotton J (2003) Even criminals take a holiday. J Crim Justice 31:351–360

Cohn EG, Rotton J (2005) The curve is still out there. J Person Soc Psych 89:67–70

Decker SH, van Winkle B (1996) Life in the gang. Cambridge University Press, Cambridge

Dell M, Jones BF, Olken BA (2014) What do we learn from the Weather? the new climate-economy literature. J Eco Lit 52:740–798

Farrell G, Pease K (1994) Crime seasonality: domestic disputes and residential burglary in Merseyside 1988–90. Brit J Criminol 34:487–498

Gelman A, Hill J (2007) Data analysis using regression and multi-level/hierarchical models. Cambridge University Press, New York

Hendrix CS, Glaser SM (2007) Trends and triggers: climate change and civil conflict in Sub-Saharan Africa. Pol Geo 26:695–715

Hipp JR, Bauer DJ, Curran PJ, Bollen KA (2004) Crimes of opportunity or crimes of emotion? Soc Forces 82:1333–1372

Hsiang SM, Burke M (2014) Climate, conflict, and social stability, Clim. Change 123:39–55

Hsiang SM, Meng KC, Cane MA (2011) Civil conflicts are associated with the global climate. Nature 476: 438--441

Hsiang SM, Burke M, Miguel E (2013) Quantifying the influence of climate on human conflict. Science 341:1212–1226

Ikegaya H, Suganami H (2008) Correlation between climate and crime in Eastern Tokyo. Can J Criminol Crim Justice 50:225–238

Karl TR, Melillo JM, Peterson TC (eds) (2009) Global climate change impacts in the United States. Cambridge University Press, Cambridge

Kenrick DR, MacFarlane SW (1986) Ambient temperature and horn honking. Environ Behav 18:179–181

LaFree G, Tseloni A (2006) Democracy and crime. Ann AAPS 605:26–49

Landis ST (2014) Temperature seasonality and violent conflict. J Peace Res 51:603–618

Lebeau JL (1990) The oscillation of police calls to domestic disputes with time and the temperature humidity index, J. Crim Justice 27:149–161

Lebeau JL, Corcoran WT (1994) Changes in calls for service with changes in routine activities and the arrival and passage of weather fronts. J Quant Criminol 6:269–291

Lebeau JL, Langworthy R (1986) The linkages between routine activities, weather and calls for police services. J Police Sci Admin 14:137–145

Lebo MJ, Weber C (2015) An effective approach to the repeated cross-sectional design. Am J Polit Sci 59:242–258

Liem M, Ganpat S, Granath S, Hagsted H, Kivivuori J, Lethti M, Nieuwbeerta P (2013) Homicide in Finland, The Netherlands and Sweden. Homicide Stud 17:75–95

Mares D (2009) Civilization, economic change, and trends in interpersonal violence in western societies. Theor Criminol 13:419–449

Mares D (2013a) Climate change and levels of violence in socially disadvantaged neighborhood groups. J Urb Health 90:768–783

Mares D (2013b) Climate change and crime. Crime, Law Soc Change 59:185–208

Martinez R (2014) Latino homicide. Routledge, New York

Messner S, Rosenfeld R (1997) Political restraints of the market and levels of criminal homicide. Soc Forces 75:1393–1416

Ouimet M (2012) A world of homicides. Homicide Stud 16:238–258

Ouimet M, Montmagny-Grenier C (2014) Homicide and violence: International and cross national Research. Inter Crim Justice Rev 24:222–234

Pratt TC, Godsey TW (2003) Social support, inequality, and homicide. Criminology 41:611–644

Quetelet A (1842) A treatise on man and the development of his faculties. Burt Franklin, New York

Ranson M (2014) Crime, weather, and climate change. J Envir Eco Manag 67:274–302

Reifman AS, Larrick RP, Fein S (1991) Temper and temperature on the diamond. Pers Soc Psych Bull 17:580–585

Rosenfeld R (2000) In: Blumstein A, Wallman J (eds) The crime drop in America. Cambridge University Press, New York, pp 130–163

Rosenfeld R, Messner S (1997) Political restraint of the market and levels of criminal homicide. Soc Forces 75:1393–1416

Rotton J, Cohn EG (2000) Violence is a curvilinear function of temperature in Dallas. J Person Soc Psych 78:1074–1081

Rotton J, Cohn EG (2003) Global warming and U.S. crime rates. Envir Behav 35:802–825

Stowell JI, Messner SF, McGeever KF, Raffalovich LE (2009) Immigration and the recent violent crime drop in the United States. Criminology 47:889–928

Tol RSJ, Wagner S (2010) Climate change and violent conflict in Europe over the last millennium. Clim Change 99:65–79

Varano S, Schafer JA, Cancino JM, Decker SH, Greene JR (2010) A tale of three cities. J Crim Justice 38:42–50

Venkatesh S (2006) Off the books. Harvard University Press, Cambridge

Wadsworth T (2010) Is immigration responsible for the crime drop? Soc Sci Quart 91:531–553

Wilson WJ (1987) The truly disadvantaged. University of Chicago Press, Chicago

World Health Organization (WHO) (2006) Interpersonal violence and alcohol in the Russian Federation. policy briefing. WHO, Violence and Injury Prevention Programme, Rome

Zahran S, O'Connor Shellley T, Peek L, Brody SD (2009) Natural disasters and social order. Int J Mass Emerg Disas 27:26–52
Acknowledgments
The data used for this study are described and accessible through the Appendix and supplementary materials sections.
The research in this manuscript was supported by an internal seed grant received from Southern Illinois University Edwardsville by the corresponding author.
Electronic supplementary material
Below is the link to the electronic supplementary material.
About this article
Cite this article
Mares, D.M., Moffett, K.W. Climate change and interpersonal violence: a "global" estimate and regional inequities. Climatic Change 135, 297–310 (2016). https://doi.org/10.1007/s10584-015-1566-0
Received:

Accepted:

Published:

Issue Date:
Keywords
Climate Change

Land Surface Temperature

Interpersonal Violence

Homicide Rate

Routine Activity Theory