Abstract
Understanding public perceptions of changes in local weather patterns is fundamental to both climate science and policy, especially in sub-Saharan Africa where adaptation will be crucial to reduce the projected impacts of climate change. In this study, a nationally-representative sample of households in Niger is used to document how perceptions of 2007–2011 rainfall changes vary across households depending on their socio-economic characteristics and their location within the latitudinal rainfall gradient of the country. We further characterize the complex relationship between perceived rainfall trends and rainfall data derived from satellite data. We found that over the last five years, most people perceive less rainfall (76 %), worse distribution of rainfall in the year (78 %), more frequent droughts (83 %) and a rainy season delayed (71 %) and also finishing earlier (80 %). These perceptions are consistent with an observed worsening of rainfall conditions as seen from satellite data. Our results demonstrate that smallholders, commercial farmers, pastoralists and sedentary agro-pastoralists living in rural dry areas have a higher level of awareness of local changes than other respondents. Indeed, perceptions of these climate-sensitive households are more consensual and more closely related to observed local changes. We found that climate-sensitive households are able to detect very accurately changes in the beginning of the rainy season and to a lesser extent changes in rainfall distribution and drought frequency.
Access options
Buy single article
Instant access to the full article PDF.
USD 39.95
Price includes VAT (USA)
Tax calculation will be finalised during checkout.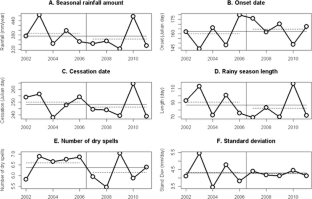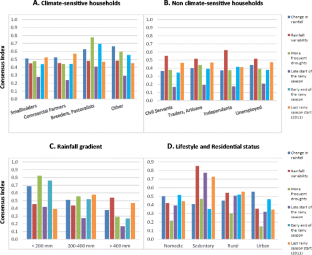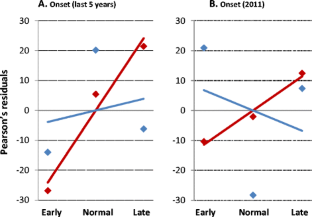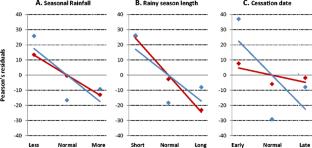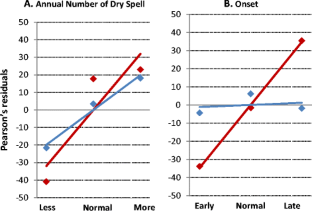 References
Beegle K, Carleto C, Himelein C (2011) Reliability of Recall in Agricultural Data. Policy Research Working Paper 5671

Berkes F, Kislalioglu Berkes M (2009) Ecological complexity, fuzzy logic, and holism in indigenous knowledge. Futures 41:6–12

Boyard-Micheau J, Camberlin P, Philippon N, Moron V (2013) Regional-scale rainy season onset detection: a new approach based on multivariate analysis. J Clim 26:8916–8928

Bryan E, Deressa TG, Gbetibouo AG, Ringler C (2009) Adaptation to climate change in Ethiopia and South Africa: options and constraints. Environ Sci Pol 12(4):413–426

Comoé H, Siegrist M (2013) Relevant drivers of farmers' decision behavior regarding their adaptation to climate change: a case study of two regions in Côte d'Ivoire. Mitig Adapt Strateg Glob Chang 20(2):179–199

Diem JE, Ryan SJ, Hartter J, Palace MW (2014) Satellite-based rainfall data reveal a recent drying trend in central equatorial Africa. Clim Chang 126:263–272

Fosu-Mensah BY, Vlek PLG, MacCarthy DS (2012) Farmers' perception and adaptation to climate change: a case study of Sekyedumase district in Ghana. Environ Dev Sustain 14(4):495–505

Gbetibouo AG (2009) Understanding farmers' perceptions and adaptations to climate change and variability. The Case of the Limpopo Basin, South Africa. IFPRI Discussion Paper 00849

Gosset M, Viarre J, Quantin G, Alcoba M (2013) Evaluation of several rainfall products used for hydrological applications over west Africa using two high-resolution gauge networks. Q J R Meteorol Soc 139:923–940

Haile M (2005) Weather patterns, food security, and humanitarian response in Sub-Saharan Africa. Philosophical Transactions: Biological Sciences 360(1463):2169–2182

Howe PD, Thaker J, Leiserowitz A (2014) Public perceptions of rainfall change in India. Clim Chang 127(2):211–255

Ingram KT, Roncoli MC, Kirshen PH (2002) Opportunities and constraints for farmers of west Africa to use seasonal precipitation forecasts with Burkina Faso as a case study. Agric Syst 74:331–349

Leblois A, Quirion P, Sultan B (2014) Price vs. weather shock hedging for cash crops: ex ante evaluation for cotton producers in Cameroon. Ecol Econ 101:67–80

Leclerc C, Mwongera C, Camberlin P, Boyard-Micheau J (2013) Indigenous past climate knowledge as cultural built-in object and its accuracy. Ecol Soc 18(4):22

Liebmann B, Marengo JA (2001) Interannual variability of the rainy season and rainfall in the Brazilian Amazon Basin. J Clim 14:4308–4318

Maddison D (2007) The perception of and adaptation to climate change in Africa. CEEPA Discussion Paper No. 10. Centre for Environmental Economics and Policy in Africa, University of Pretoria, South Africa

Marteau R, Sultan B, Alhassane A, Baron C, Traoré SB (2011) The onset of the rainy season and farmers' sowing strategy for pearl millet cultivation in southwest Niger. Agric For Meteorol 151(10):1356–1369

Marx SM, Weber EU, Orlove BS, Leiserowitz A, Krantz DH, Roncoli C, et al. (2007) Communication and mental processes: experiential and analytic processing of uncertain climate information. Glob Environ Chang 17(1):47–58

Mertz O, D'haen SAL, Maiga A, Bouzou MI, Barbier B, Diouf A, Diallo D, Da E, Dabi D (2012) Climate variability and environmental stress in the Sudan-Sahel zone of west Africa. Ambio 41:4

Meze-Hausken E (2004) Contrasting climate variability and meteorological drought with perceived drought and climate change in northern Ethiopia. Clim Res 27:19–31

Moyo M, Mvumi BM, Kunzekweguta M, Mazvimavi K, Craufurd P, Dorward P (2012) Farmer perceptions on climate change and variability in semi-arid Zimbabwe in relation to climatology evidence. Afr Crop Sci J 20:317–335

Niger National Institute of Statistic (2013) National survey on household living conditions and agriculture (ECVM/a-2011). Basic information Document. Available at siteresources.worldbank.org/INTLSMS/Resources/3358986-1233781970982/5800988-1355942716831/ECVMA_Information_de_Base_V9_eng.pdf. Accessed 3 July 2014

Novella NS, Wassila MT (2013) African rainfall climatology version 2 for famine early warning systems. J Appl Meteorol Climatol 52:588–606

Osbahr H, Dorward P, Stern R, Cooper S (2011) Supporting agricultural innovation in Uganda to respond to climate risk: linking climate change and variability with farmer perceptions. Exp Agric 25:293–316

Patt A, Suarez P, Hess U (2010) How do small-holder farmers understand insurance, and how much do they want it? Evidence from Africa. Glob Environ Chang 20(1):153–161

Ramarohetra J, Sultan B, Baron C, Gaiser T, Gosset M (2003) How satellite rainfall estimate errors may impact rainfed cereal yield simulation in west Africa? Agric For Meteorol 180:118–131

Rao KPC, Ndegwas WG, Kizito K, Oyoo A (2011) Climate variability and change: farmer perceptions and understanding of intra-seasonal variability in rainfall and associated risk in semi-arid Kenya. Exp Agric 47(2):267–291

Reckien D, Wildenberg M, Bachhofer M (2012) Subjective realities of climate change: how mental maps of impacts deliver socially sensible adaptation options. Sustainable Science 8(2):159–172

Report HD (2013) The rise of the south: human progress in a diverse world. United Nations Development Program, pp 1–216

Roca R, Chambon P, Jobard I, Kirstetter P-E, Gosset M, Bergès J-C (2010) Comparing satellite and surface rainfall products over west Africa at meteorologically relevant scales during the AMMA campaign using error estimates. J Appl Meteorol Climatol 49:715–731

Roncoli C, Ingram K, Kirshen P (2002) Reading the rains: local knowledge and rainfall forecasting among farmers of Burkina Faso. Society & Natural Resources: An International Journal 15(1):409–427

Roudier P, Sultan B, Quirion P, Baron C, Alhassane A, Traoré SB, Muller B (2012) An ex-ante evaluation of the use of seasonal climate forecasts for millet growers in SW Niger. Int J Climatol 32(5):759–771

Roudier P, Muller B, d'Aquino P, Roncoli C, Soumaré M, Batté L, Sultan B (2014) The role of climate forecasts in smallholder agriculture: lessons from participatory research in two communities in Senegal. Climate Risk Management 2:42–55

Silvestri S, Bryan E, Ringler C, Herrero M, Okoba B (2012) Climate change perception and adaptation of agro-pastoral communities in Kenya. Reg Environ Chang 12(4):791–802

Slegers MFW (2008) « If only it could rain »: farmers' perceptions of rainfall and drought in semi-arid central Tanzania. J Arid Environ 72:2106–2123

Slovic P (2000) The perception of risk. Routledge, London

Sutcliffe C, Dougill AJ, Quinn CH (2015) Evidence and perceptions of rainfall change in Malawi: do maize cultivar choices enhance climate change adaptation in sub-Saharan Africa? Regional Environmental Change DOI. doi:10.1007/s10113-015-0842-x

Tambo JA, Abdoulaye T (2012) Smallholder farmers' perceptions of and adaptations to climate change in the Nigerian savanna. Reg Environ Chang 13:375–388

Tasle WJ, Wierman MJ (2007) Consensus and dissention: a measure of ordinal dispersion. Int J Approx Reason 45:531–545

Thiemig V, Rodrigo R, Zambrano-Bigiarini M, Levizzani V, De Roo A (2012) Validation of satellite-based precipitation products over sparsely gauged African river basins. J Hydrometeorol 13:1760–1783

Tschakert P (2007) Views from the vulnSerable: understanding climatic and other stressors in the Sahel. Glob Environ Chang 17:381–396

Weber EU (2010) What shapes perceptions of climate change? Wiley Interdiscip Rev Clim Chang 1(3):332–342

West CT, Roncoli C, Ouattara F (2008) Local perceptions and regional climate trends on the central plateau of Burkina Faso. Land Degrad Dev 19:289–304

World Bank (2012) Available at data.worldbank.org/indicator/NV.AGR.TOTL.ZS/countries/1W-NE?display=graph. Accessed 10 July 2014.

World Bank (2013) Agricultural sector risk. Assessment in Niger: Moving from Crisis Response to Long-Term. Risk Management:1–90

Xie P, Arkin PA (1997) A 17-year monthly analysis based on gauge observations, satellite estimates, and numerical model outputs. Bull Am Meteorol Soc 78(11):2539–2558
Acknowledgments
This work is part of the ESCAPE project (ANR-10-CEPL-005; http://www.locean-ipsl.upmc.fr/~ESCAPE) funded by the French National Research Agency (ANR). We thank Michael Bolton as well as the Niger National Institute of Statistic and the LSMS-ISA team (World Bank) for the availability of datasets. Furthermore, the authors are grateful to the three anonymous reviewers for their comments and suggestions.
Electronic supplementary material
About this article
Cite this article
Kosmowski, F., Leblois, A. & Sultan, B. Perceptions of recent rainfall changes in Niger: a comparison between climate-sensitive and non-climate sensitive households. Climatic Change 135, 227–241 (2016). https://doi.org/10.1007/s10584-015-1562-4
Received:

Accepted:

Published:

Issue Date:
Keywords
Rainy Season

Rainfall Change

Rainfall Gradient

Short Rainy Season

Early Cessation