Abstract
We evaluated the relationship between changes in bat distribution and climate in China over the past 50 years and examined whether the changes could be attributed to climate change. We used long-term distribution records for 17 bat species together with grey relational analysis, the fuzzy-set classification technique, a consistency index, and attribution methods. Over the past 50 years, bat species distributions have primarily shifted northward, and most of these changes are correlated with the thermal index. In response to climatic factors over the past 50 years, the ranges and distribution centers of particular bat species have shifted to the north or to the west. The observed and predicted changes in the distributions were highly consistent for certain species. Changes in the northern limit or the center of the distribution can be attributed to climate change for nearly half of the species studied.
Access options
Buy single article
Instant access to the full article PDF.
USD 39.95
Price excludes VAT (USA)
Tax calculation will be finalised during checkout.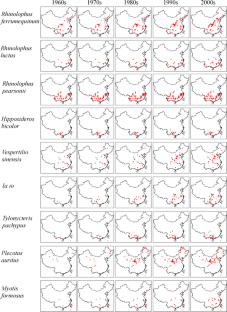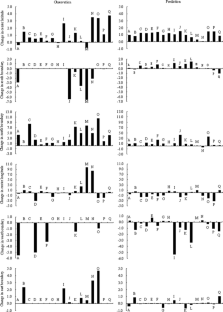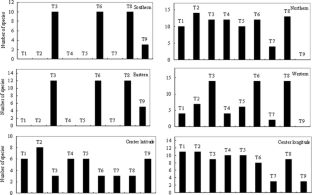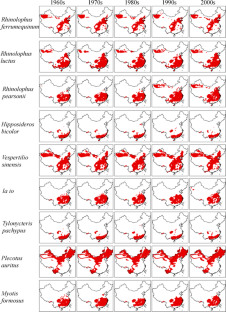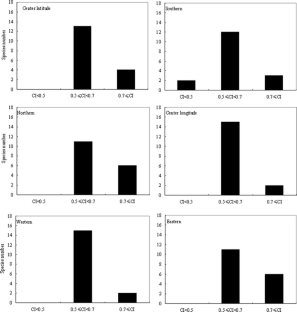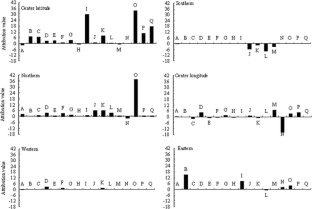 References
Adams RA, Hayes MA (2008) Water availability and successful lactation by bats as related to climate change in arid regions of western North America. J Anim Ecol 77:1115–1121

Allen GM (1938, 1940) The mammals of China and Mongolia. vol. xi.part i. ii. The American Museum of Natural History, New York., USA.

Araújo M, Pearson RG (2005) Equilibrium of species distributions with climate. Ecography 28:693–695

Baronsky AD, Hadly AE, Bell CJ (2003) Mammalian response to global warming on varied temporal scales. J Mam 84:354–368

Bellard C, Bertelsmeier C, Leadley P, et al. (2012) Impacts of climate change on the future of biodiversity. Ecol Lett 15:365–377

Berková H, Zukal J (2010) Cave visitation by temperate zone bats: effects of climatic factors. J Zool 280:387–395

Burgman MA, Fox JC (2003) Bias in species range estimates from minimum convex polygons: implications for conservation and options for improved planning. Anim Conserv 6:19–28

Cisneros LM, Fagan ME, Willig MR (2014) Effects of human-modified landscapes on taxonomic, functional and phylogenetic dimensions of bat biodiversity. Dive Distr. doi:10.1111/ddi.12277

Deng JL (1987) Basic method of grey systems. Huangzhong Polytechnical Institute Press, Wuhan, China

García-Morales R, Badano EI, Moreno CE (2013) Response of neotropical bat assemblages to human land use. Conser Biol 27:1096–1106

Ge QS, Dai ZH (2005) Before the 20th century, the mid Chinese agricultural and forestry land use change and driving factors. Sci China Series D 35(1):54–63

Ge QS, Zhao MC, Zheng JY (2000) Land use change of China during the 20th century. Acta Geograph Sin 55(6):698–706

Guisan A, Thuiller W (2005) Predicting species distribution: offering more than simple habitat models. Ecol Lett 8:993–1009

Holdridge LR (1967) Life Zone ecology. rev. ed tropical science center, and Jose, Costa Rica.

Hughes AC, Satasook C, Bates PJJ, et al. (2012) The projected effects of climatic and vegetation changes on the distribution and diversity of Southeast Asian bats. Glob Chang Biol 18:1854–1865

La Sorte FA, Jetz W (2012) Tracking of climatic niche boundaries under recent climate change. J Anim Ecol 81:914–925

LaVal RK (2004) Impact of global warming and locally changing climate on tropical cloud forest bats. J Mammal 85:237–244

Lenoir J, Svenning JC (2014) Climate-related range shifts – a global multidimensional synthesis and new research directions. Ecography. doi:10.1111/ecog.00967

Li YC, Meng YH, Zhang LC, et al. (2005) Analysis of environmental factors and distribution of Chinese chiroptera. Acta Zool Sin 51(3):413–422

Li YL, Zhang YX, Liu ZX, et al. (2012) A new record of rhinolophus macrotis in Hunan province. Sich J Zoo 31:825–827

Liu JY, Liu ML, Zhuang DF, Zhang ZX, Deng XZ. (2002) China's recent spatial pattern of land use change.Science in China. 32(12):1031–1040.

Liu JY, Kuang WH, Zhang ZX, et al. (2014) Spatiotemporal characteristics, patterns and causes of land use changes in China since the late 1980s. Acta Geograph Sin 69(1):3–13

Loeb SC, Winters EA (2013) Indiana bat summer maternity distribution: effects of current and future climates. Ecol Evol 3:103–114

Lučan RK, Weiser M, Hanák V (2013) Contrasting effects of climate change on the timing of reproduction and reproductive success of a temperate insectivorous bat. J Zool 290:151–159

Lundy M, Montgomery I, Russ J (2010) Climate change-linked range expansion of nathusius' pipistrelle bat, pipistrellus nathusii (keyserling & blasius, 1839). J Biogeogr 37(12):2232–2242

McCain CM (2007) Could temperature and water availability drive elevational species richness patterns? A global case study for bats. Glob Ecol Biogeogr 16:1–13

Moritz C, Patton JL, Conroy C.J.et al (2008) Impact of a century of climate change on small mammal communities in Yosemite national park, USA. Science 322:261–264.

Myers P, Lundriganw B, Hoffmanz SG, et al. (2009) Climate-induced changes in the small mammal communities of the northern great lakes region. Glob Chang Biol 15:1434–1454

Parmesan C (2006) Ecological and evolutionary responses to recent climate change. Annu Rev Ecol Evol Syst 37:637–669

Parmesan C, Yohe G (2003) A globally coherent fingerprint of climate change impacts across natural systems. Nature 421:37–42

Parmesan C, Burrows MT, Duarte CM, et al. (2013) Beyond climate change attribution in conservation and ecological research. Ecol Lett 16:58–71

Pearson RG, Dawson TP (2003) Predicting the impacts of climate change on the distribution of species: are climate envelope models useful? Glob Ecol Biogeogra 12:361–371

Rebelo H, Tarroso P, Jones G (2010) Predicted impact of climate change on European bats in relation to their biogeographic patterns. Glob Chang Biol 16:561–576

Robertson MP, Villet MH, Palmer AR (2004) A fuzzy classification technique for predicting species distributions: applications using invasive alien plants and indigenous insects. Dive Dist 10:461–474

Root TL, Price JT, Hall RK, et al. (2003) Fingerprints of global warming on wild animals and plants. Nature 421:57–60

Rowe R (2007) Legacies of land use and recent climatic change: the small mammal fauna in the mountains of Utah. Am Nat 170:242–257

Royle JA, Chandler RB, Yackulic C, et al. (2012) Likelihood analysis of species occurrence probability from presence-only data for modelling species distribution. Methods Ecol Evol 3:545–554

Rubidge E, Monahan W, Parra J, et al. (2011) The role of climate, habitat, and species co-occurrence as drivers of change in small mammal distributions over the past century. Glob Chang Biol 17:696–708

Sachanowicz K, Ciechanowski M (2006) First winter record of the migratory bat pipistrellus nathusii (keyserling & blasius 1839) in Poland: yet more evidence of global warming? Mammalia 70:168–169

Scheel D, Vincent TLS, Cameron GN (1996) Global warming and the species richness of bats in Texas. Conser Biol 10:452–464

Sherwin HA, Montgomery WI, Lundy MG (2013) The impact and implications of climate change for bats. Mamm Rev 43:171–182

Shou ZH (1962) Chinese economic fauna -mammals investigate. Science Press, Beijing, China

Smith A, Xie Y (2009) A guide to the mammals of China. Hunan education publish house, Changsha, China

Song WG, Wu CW, Zhan YJ (2012) A new record of rhinolophus pusillus in beijing. J Capital Nor Unive 33:27–30

Stone D, Auffhammer M, Carey M, et al. (2013) The challenge to detect and attribute effects of climate change on human and natural systems. Clim Chang 121:381–395

The Research Institute of Toponomy, Chinese State Bureau of Surveying and Mapping (1997) An index to the atlas of the People's Republic of China. Chinese map publishing house, Beijing, China

Tingley MW, Beissinger SR (2009) Detecting range shifts from historical species occurrences: new perspectives on old data. Trends Ecol Evol 24:625–633

Turbill C (2008) Winter activity of Australian tree-roosting bats: influence of temperature and climatic patterns. J Zool 276:285–290

Ulrich W, Sachanowicz K, Michalak M (2007) Environmental correlates of species richness of European bats. Acta Chiropterologica 9:347–360

Welbergen JA, Klose SM, Markus N, et al. (2008) Climate change and the effects of temperature extremes on Australian flying-foxes. Pro. Roy. Soci.Seri.B. Biol Sci 275:419–425

Xia WP (1964) China and other animal atlas-mammals. Science Press, Beijing, China

Xia WP (1988) China and other animal atlas (2nd edition)—mammals. Science Press, Beijing, China

Zaniewski AE, Lehmann A, Overton JM (2002) Predicting species spatial distributions using presence –only data: a case study of native New Zealand ferns. Ecol Model 157:261–280

Zhang RZ (1979) China's natural geography. Science Press, Beijing, China, Animal Geography

Zhang XS (1993) A vegetation-climate classification system for global change studies in China. Quaternary Sci 2:157–169

Zhang RZ (1997) The distribution of Chinese mammals species. Chinese forestry publish house, Beijing, China

Zhang JS, Li G, Liu Y et al (2007) The new records of least horseshoe bat in northern of China. Chin J Zoo 6:102.

Zheng ZX, Zhang RZ (1959) China zoogeography. Science Press, Beijing, China
Acknowledgments
The work described in this paper was substantially supported by a project of the National Science and Technology Support Program of China (2012BAC19B06). We thank those who contributed to discussions of the ideas presented in this paper. Instructive comments from the anonymous reviewers greatly improved this manuscript. The authors thank Pr. Shaohong Wu, Dr. Tao Pan and Dr. Jie Pan for providing climate data and Dr. Qiaofu Zhou for ArcGIS mapping.
Electronic supplementary material
About this article
Cite this article
Wu, J. Detection and attribution of the effects of climate change on bat distributions over the last 50 years. Climatic Change 134, 681–696 (2016). https://doi.org/10.1007/s10584-015-1543-7
Received:

Accepted:

Published:

Issue Date:

DOI: https://doi.org/10.1007/s10584-015-1543-7
Keywords
Consistency Index

Grey Relational Analysis

Eastern Boundary

Distribution Record

Geographic Range Size