Abstract
The importance of integrating local perspectives into international debates about climate change has received increasing attention. Local perspectives on the impacts of climate change often focus on issues of loss and harm and support the widely recognized need for global responses to climate change as suggested by scientists and international institutions. Here we argue that local perspectives need to be addressed not only from outside communities but also from inside in order to understand people's responses to climate change: their concerns, their understanding of themselves as members of particular groups and their position in the world, their view on responsibilities for causing climate change, and their perceptions of possible responses. The ethnographic work at two study sites, one in Carhuaz, Cordillera Blanca, Peru, and one in Stilfs, South Tyrolean Alps, Italy, identifies dominant perceptions on climate change at each site with a particular focus on glacier retreat. The case studies show that the view on the need for global action as response to climate change is not necessarily shared throughout the world, and thus presents a challenge to global collaboration.
Access options
Buy single article
Instant access to the full article PDF.
USD 39.95
Price includes VAT (USA)
Tax calculation will be finalised during checkout.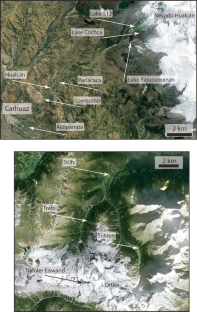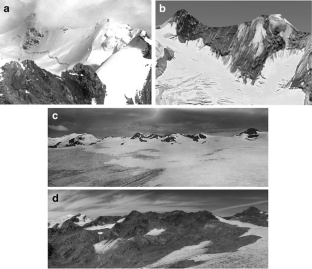 References
ASTAT (2011) Südtirol in Zahlen – Alto Adige in cifre. Südtirol Landesinstitut für Statistik, Bozen

Barth F (1969) Ethnic groups and boundaries. Waveland Press, Illinois

Boillat S, Berkes F (2013) Perception and interpretation of climate change among Quechua farmers of Bolivia: indigenous knowledge as a resource for adaptive capacity. Ecol Soc 18(4):21

Carey M (2010) In the shadow of melting glaciers. Climate change and Andean society. Oxford University Press, Oxford

Carturan L, Baroni C, Becker M, et al. (2013a) Decay of a long-term monitored glacier: careser glacier (Ortles-Cevedale, European Alps). Cryosphere 7:1819–1838. doi:10.5194/tc-7-1819-2013

Carturan L, Filippi R, Seppi R, Gabrielli P, Notarnicola C, Bertoldi L, Paul F, Rastner P, Cazorzi F, Dinale R, Dalla Fontana G (2013b) Area and volume loss of the glaciers in the Ortles-Cevedale Group (Eastern Italian Alps): controls and imbalance of the remaining glaciers. Cryosphere 7:1339–1359. doi:10.5194/tc-7-1339-2013

Castree N, Adams MW, Barry J, Brockington D, Büscher B, Corbera E, Demeritt D, Duffy R, Felt U, Neves K, Newell P, Pellizzoni L, Rigby K, Robbin L, Rose DB, Ross A, Schlosberg D, Sörlin S, West P, Whitehead P, Wynne B (2014) Changing the intellectual climate. Nat Clim Chang 4:763–768. doi:10.1038/NCLIMATE2339

Christomannos T (1999) Sulden-Trafoi. Schilderungen aus dem Ortlergebiete. Tourismusverein im Ortlergebiete, Bozen

Cruikshank J (2005) Do glacier listen? Local knowledge, colonial encounters, and social transformation. University of British Columbia Press, Vancouver

Dunbar K, Medina K (2012) Singing for shaved ice: glacial loss and Raspadilla in the Peruvian Andes. In: Sinclair J, Pertierra A (eds) Consumer culture in Latin America, 1st edn. Palgrave Mamillan, New York, pp. 195–206

Hurton J (2004) Sulden. Geschichte, Land, Leute und Berge. Eigenverlag, Bozen

IPCC (2014) Climate change 2014: impacts, adaptation, and vulnerability. Part A: global and sectoral aspects. Contribution of Working Group II to the Fifth Assessment Report of the Intergovernmental Panel on Climate Change. Cambridge University Press, Cambridge, 1132

Jurt C (2009) Perceptions of natural hazards in the context of social, cultural, economic and political risks – a case study in South Tyrol. Dissertation, University of Berne

Jurt C, Brugger J, Dunbar K, Milch K, Orlove B (2015) Cultural values of glaciers. In: Huggel C, Carey M, Clague JJ, Kääb A (eds) The high-mountain cryosphere: changes and risks. Cambridge University Press (in press), Cambridge

Kuntner A, Haringer M, Knoll C, Mayenberger L, Pinggera S, Platzer-Vögeli E, Reinstadler E, Reinstadler P, Reinstadler W, Thöni M (2004) Die Bergführer von Sulden and Trafoi Legende und Geschichte. Raiffeisenkasse, Schlanders

Lamont M, Mólnar V (2002) The studies of boundaries in social sciences. Annu Rev Sociol 28:167–195. doi:10.1146/annurev.soc.28.110601.141107

Markowitz EM, Shariff AF (2012) Climate change and moral judgement. Nat. Climate Change 2:243–247. doi:10.1038/nclimate1378

Milinski M (2014) Modeling a polycentric approach to the problem of climate change. Comment on "Climate change governance, cooperation and self-organization" by Pacheco, Vasconcelos & Santos. Phys Life Rev. doi:10.1016/j.plrev.2014.07.013

Nazarea VD (2006) Local knowledge and memory in biodiversity conservation. Annu Rev Anthropol 35(1):317–335. doi:10.1146/annurev.anthro.35.081705.123252

Orlove B, Roncoli, C Kabugo, M., & Majugu, A (2010) Indigenous climate knowledge in southern Uganda : the multiple components of a dynamic regional system. Clim Chang, 100, 243–265. doi: 10.1007/s10584-009-9586-2

Ostrom E (2014) A polycentric approach for coping with climate change. Ann Econ Finance 15(1):71–108. doi:10.1596/1813-9450-5095

Pachucki MA, Pendergrass S, Lamont M (2007) Boundary processes: recent theoretical developments and new contributions. Poetics 35:331–351

Paerregaard K (2013a) Bare rocks and fallen angels: environmental change. Clim Perceptions Ritual Pract Peruvian Andes Relig. doi:10.3390/rel4020290

Paerregaard K (2013b) Governing water in the Andean community of cabanaconde, Peru. Mt Res Dev 33(3):207–214. doi:10.1659/MRD-JOURNAL-D-12-00107-1

Passarin M, Viazzi L (1998) Panorami della Grande Guerra. Sul fronte dallo Stelvio al Garda. Dalle Raccolte della Sezione fotográfica del Comando Supremo del R. Esercito Italiano. Publigrafica Editrice, Tavernelle, Vicenza, 71 pp

Russell Bernard H (2011) Research methods in anthropology: qualitative and quantitative approaches. Rowman, Altamira

Schneider D, Huggel C, et al (2014) Mapping hazards from glacier lake outburst floods based on modelling of process cascades at lake 513, Carhuaz, Peru. Adv Geosci 35:145–155

Warner K, Zakieldeen SA (2012) Loss and damage due to climate change: an overview of the UNFCC negotiations. European Capacity Building Initative (ECBI), Oxford
Additional information
This article is part of a Special Issue on "Climate Justice in Interdisciplinary Research" edited by Christian Huggel, Markus Ohndorf, Dominic Roser, and Ivo Wallimann-Helmer.
This paper is linked to the following contribution of this special issue: Calder, doi 10.1007/s10584-015-1418-y.
About this article
Cite this article
Jurt, C., Burga, M.D., Vicuña, L. et al. Local perceptions in climate change debates: insights from case studies in the Alps and the Andes. Climatic Change 133, 511–523 (2015). https://doi.org/10.1007/s10584-015-1529-5
Received:

Accepted:

Published:

Issue Date:
Keywords
Climate Change

Peru

Tyrol

Glaciate Mountain

Glacier Retreat