Abstract
The response of West African climate zones to anthropogenic climate change during the late 21st century is investigated using the revised Thornthwaite climate classification applied to ensembles of CMIP5, CORDEX, and higher-resolution RegCM4 experiments (HIRES). The ensembles reproduce fairly well the observed climate zones, although with some notable discrepancies. CORDEX and HIRES provide realistic fine-scale information which enhances that from the coarser-scale CMIP5, especially in the Gulf of Guinea encompassing marked landcover and topography gradients. The late 21st century projections reveal an extension of torrid climates throughout West Africa. In addition, the Sahel, predominantly semi-arid in present-day conditions, is projected to face moderately persistent future arid climate. Similarly, the Gulf of Guinea shows a tendency in the future to experience highly seasonal semi-arid conditions. Finally, wet and moist regions with an extreme seasonality around orographic zones become less extensive under future climate change. Consequently, West Africa evolves towards increasingly torrid, arid and semi-arid regimes with the recession of moist and wet zones mostly because of the temperature forcing, although precipitation can be locally an important factor. These features are common to all multimodel ensembles, a sign of robustness, with few disagreements in their areal extents, and with more pronounced changes in the higher-resolution RCM projections. Such changes point towards an increased risk of water stress for managed and unmanaged ecosystems, and thus add an element of vulnerability to future anthropogenic climate change for West African water management, ecosystem services and agricultural activities.
Access options
Buy single article
Instant access to the full article PDF.
USD 39.95
Price includes VAT (USA)
Tax calculation will be finalised during checkout.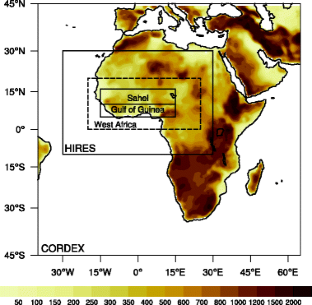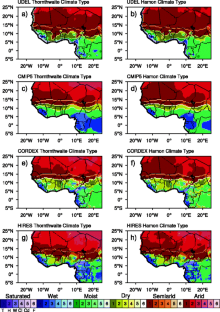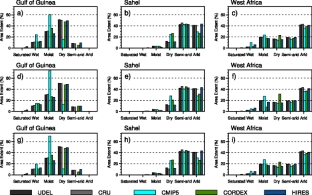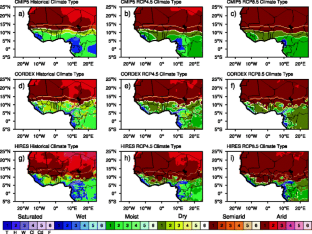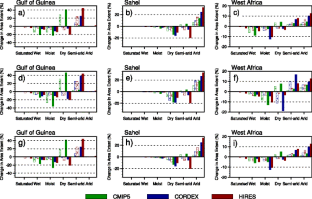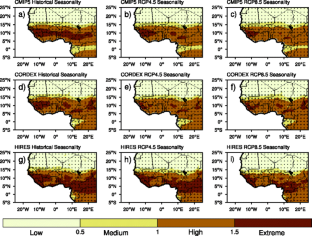 References
Abiodun BJ, Lawal KA, Salami AT, Abatan AA (2013) Potential influences of global warming on future climate and extreme events in Nigeria. Reg Environ Chang 13:477–491. doi:10.1007/s10113-012-0381-7

Browne NAK, Sylla MB (2012) Regional climate model sensitivity to domain size for the simulation of the West African monsoon rainfall. Int J Geophys 2012:625831. doi:10.1155/2012/625831

Buontempo C, Mathison C, Jones R, Williams K, Wang C, McSweeney C (2015) An ensemble climate projection for Africa. Clim Dyn 44(7–8):2097–2118. doi:10.1007/s00382- 014-2286-2

Campbell BM, Thornton P, Zougmore R, van Asten P, Lipper L (2014) Sustainable intensification: what is its role in climate smart agriculture? Curr Opin Environ Sustain 8:39–43

Carr JA, Hughes AF and Foden WB (2014) A climate change vulnerability assessment of West African species. UNEP-WCMC technical report

Colwell RK, Brehm G, Cardelus CL, Gilman AC, Longino JT (2008) Global warming, elevational range shifts, and lowland biotic attrition in the wet tropics. Science 322:258–261

Diallo I, Sylla MB, Giorgi F, Gaye AT, Camara M (2012) Multi-model GCM-RCM ensemble based projections of temperature and precipitation over West Africa for the early 21st century. Int J Geophys 2012:972896. doi:10.1155/2012/972896

Diallo I, Bain CL, Gaye AT et al (2014) Simulation of the West African monsoon onset using the HadGEM3-RA regional climate model. Clim Dyn 43:575–594. doi:10.1007/s00382-014-2219-0

Dosio A, Panitz HJ, Schubert-Frisius M, Luethi D (2015) Dynamical downscaling of CMIP5 global circulation models over CORDEX-Africa with COSMO-CLM: evaluation over the present climate and analysis of the added value. Clim Dyn 44(9–10):2637–2661. doi:10.1007/s00382-014-2262-x

Elguindi N, Grundstein A (2013) An integrated approach to assessing 21st century climate change over the contiguous U.S. using the NARCCAP RCM output. Clim Chang 117:809–827. doi:10.1007/s10584-012-0552-z

Elguindi N, Grundstein A, Bernardes S, Turuncoglu U, Feddema J (2014) Assessment of CMIP5 global model simulations and climate change projections for the 21st century using a modified thornthwaite climate classification. Clim Chang 122:523–538. doi:10.1007/s10584-013-1020-0

Feddema JJ (2005) A revised thorthwaite-type global climate classification. Phys Geogr 26(6):442–466

Gao XJ, Giorgi F (2008) Increased aridity in the Mediterranean region under greenhouse gas forcing estimated from high resolution simulations with a regional climate model. Glob Planet Change 62:195–209

Gbobaniyi EO, Sarr A, Sylla MB et al (2014) Climatology, annual cycle and interannual variability of precipitation and temperature in CORDEX regional climate models simulation over West Africa. Int J Climatol 34:2241–2257. doi:10.1002/joc.3834

Giorgi F, Jones C, Asrar G (2009) Addressing climate information needs at the regional level. The CORDEX framework. WMO Bull 58(3):175–183

Giorgi F, Coppola E, Solmon F et al (2012) RegCM4: model description and preliminary tests over multiple CORDEX domains. Clim Res 52:7–29. doi:10.3354/cr01018

Haensler A, Saeed F, Jacob D (2013) Assessing the robustness of projected precipitation changes over central Africa on the basis of a multitude of global and regional climate projections. Clim Chang 21(2):349–363

Hamon W (1963) Computation of direct runoff amounts from storm rainfall. Int Assoc Sci Hydrol Publ 63:52–62

Harris I, Jones PD, Osborn TJ, Lister DH (2014) Updated high-resolution grids of monthly climatic observations - the CRU TS3.10 dataset. Int J Climatol 34:623–642

Jones C, Giorgi F, Asrar G (2011) The coordinated regional downscaling experiment: CORDEX an international downscaling link to CMIP5. CLIVAR Exch 56(16):34–40

Klutse NAB, Sylla MB, Diallo I, Sarr A, Dosio A, Diedhiou A, Kamga A, Lamptey B, Ali A, Gbobaniyi EO, Owusu K, Lennard C, Hewitson B, Nikulin G, Panitz HJ, Büchner M (2015) Daily characteristics of West African monsoon rainfall in CORDEX regional climate models. Theor Appl Climatol. doi:10.1007/s00704-014-1352-3

Laprise R, Hernández-Díaz L, Tete K et al (2013) Climate projections over CORDEX Africa domain using the fifth-generation Canadian regional climate model (CRCM5). Clim Dyn 41(11):3219–3246

Legates DR, Willmott CJ (1990) Mean seasonal and spatial variability in gauge-corrected, global precipitation. Int J Climatol 10:111–127

Loarie SR, Duffy PB, Hamilton H, Asner GP, Field CB, Ackerly DD (2009) The velocity of climate change. Nature 462:1052–1055

Mariotti L, Diallo I, Coppola E, Giorgi F (2014) Seasonal and intraseasonal changes of African monsoon climates in 21st century CORDEX projections. Clim Chang 125:53–65. doi:10.1007/s10584-014-1097-0

Moss RH, Edmonds JA, Hibbard KA et al (2010) The next generation of scenarios for climate change research and assessment. Nature 463:747–756

Nikulin G, Jones C, Giorgi F, Asrar G, Büchner M, Cerezo-Mota R, Christensen OB, Déqué M, Fernandez J, Hänsler A, van Meijgaard E, Samuelsson P, Sylla MB, Laxmi S (2012) Precipitation climatology in an ensemble of CORDEX-Africa regional climate simulations. J Clim 25:6057–6078. doi:10.1175/JCLI-D-11-00375.1

Paeth H, Hall NMJ, Gaertner MA, Alonso MD, Moumouni S, Polcher J, Ruti PM, Fink AH, Gosset M, Lebel T, Gaye AT, Rowell DP, Moufouma-Okia W, Jacob D, Rockel B, Giorgi F, Rummukainen M (2011) Progress in regional downscaling of West African precipitation. Atmos Sci Lett 12:75–82. doi:10.1002/asl.306

Sylla MB, Gaye AT, Jenkins GS, Pal JS, Giorgi F (2010) Consistency of projected drought over the Sahel with changes in the monsoon circulation and extremes in a regional climate model projections. J Geophys Res Atmos 115:D16108. doi:10.1029/2009JD012983

Sylla MB, Giorgi F, Stordal F (2012) Large-scale origins of rainfall and temperature bias in high-resolution simulations over southern Africa. Clim Res 52:193–211. doi:10.3354/cr01044

Sylla MB, Giorgi F, Coppola E, Mariotti L (2013a) Uncertainties in daily rainfall over Africa: assessment of observation products and evaluation of a regional climate model simulation. Int J Climatol 33:1805–1817. doi:10.1002/joc.3551

Sylla MB, I Diallo and JS Pal (2013) West African monsoon in state of the science regional climate models, Climate variability - regional and thematic patterns, Dr. Aondover Tarhule (Ed.), ISBN: 978-953-51-1187-0, In Tech. doi:10.5772/55140. Available from: http://www.intechopen.com/books/climate-variability-regional-and-thematic-patterns/westafrican-monsoon-in-state-of-the-science-regional-climate-models

Sylla MB, Giorgi F, Pal JS, Gibba P, Kebe I, Nikiema M (2015) Projected changes in the annual cycle of high intensity precipitation events over West Africa for the late 21st century. J Clim 28:6475–6488. doi:10.1175/JCLI-D-14-00854.1

Taylor KE, Stouffer RJ, Meehl GA (2012) An overview of CMIP5 and the experiment design. Bull Am Meteorol Soc 93:485–498

Teichmann C, Eggert B, Elizalde A, Haensler A, Jacob D, Kumar P, Moseley C, Pfeifer S, Rechid D, Remedio A, Ries H, Petersen J, Preuschmann S, Raub T, Saeed F, Sieck K, Weber T (2013) How does a regional climate model modify the projected climate change signal of the driving GCM: a study over different CORDEX regions using REMO. Atmosphere 4(2):214–236

Thornthwaite CW (1948) An approach toward a rational classification of climate. Geogr Rev 38:55–94

Thornthwaite C, Mather J (1955) The water balance. Publ Climatol 8:1–104

Torma C, Coppola E, Giorgi F et al (2011) Validation of a high-resolution version of the regional climate model RegCM3 over the Carpathian basin. J Hydrometeorol 12:84–100
Acknowledgments
This work is supported by the German Federal Ministry of Education and Research through the West African Science Service Center on Climate Change and Adapted Landuse (WASCAL); and the United States Agency for International Development (USAID) through Partnerships for Enhanced Engagement in Research (PEER Project 2–344). The computation for the HIRES simulations was done at the Abdus Salam International Centre for Theoretical Physics (ICTP, Trieste, Italy). Therefore we would like to thank the Earth System Physics section for their support. We are also grateful to the CMIP5 and CORDEX modeling centers and the anonymous reviewers whose comments have improved the quality of this paper.
Electronic supplementary material
Below is the link to the electronic supplementary material.
About this article
Cite this article
Sylla, M.B., Elguindi, N., Giorgi, F. et al. Projected robust shift of climate zones over West Africa in response to anthropogenic climate change for the late 21st century. Climatic Change 134, 241–253 (2016). https://doi.org/10.1007/s10584-015-1522-z
Received:

Accepted:

Published:

Issue Date:
Keywords
Couple Model Intercomparison Project Phase

Areal Extent

Ensemble Size

Climate Type

Anthropogenic Climate Change