Abstract
Religious beliefs, an important element of culture, influence adaptation to climate change. Less understood is how changing beliefs shape the adaptive capacity of communities responding to climate change. In the last century sub-Saharan Africa has experienced a transformation in beliefs. Since 1900 Christians have increased 70-fold while in rural areas Traditional Beliefs and associated Traditional Ecological Knowledge (TEK) continue to influence the lived practices of vulnerable rural communities. Using two case studies of rural communities in Malawi (Bolero) and Zambia (Monze) we explore how Christianity and Traditional beliefs (and associated TEK) co-exist and assess if, and how, holding multiple belief systems affects climate-sensitive livelihood practices of food production. In Bolero we observed a lack of tensions between belief systems with Traditional leaders and elders noting the flexibility of adhering to both belief systems. In Monze however, basing livelihood decisions on the practice of rain-rituals resulted in strong tensions. In both communities elders noted their concern of how changing beliefs affect adherence to TEK management practices. We find that culture and beliefs play an important role in adaptive capacity but are not static. In the context of changing beliefs, adaptive capacity will be influenced by how different belief systems co-exist and how epistemological and intergenerational frictions are negotiated. As climate services become the focus of research and government interventions in vulnerable regions, avoiding culturally and economically expensive mal-adaptation will require giving attention to the complexity and dynamism of changing religious landscapes.
Access options
Buy single article
Instant access to the full article PDF.
US$ 39.95
Tax calculation will be finalised during checkout.
Subscribe to journal
Immediate online access to all issues from 2019. Subscription will auto renew annually.
US$ 119
Tax calculation will be finalised during checkout.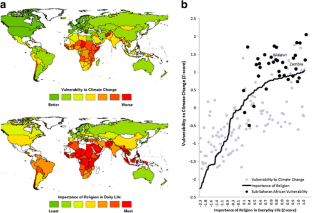 References
Adger WN, Dessai S, Goulden M, Hulme M, Lorenzoni I, Nelson DR, Naess LO, Wolf J, Wreford A (2009) Are there social limits to adaptation to climate Change? Clim Chang 93(3–4):335–354

Adger WN, Barnett J, Brown K, Marshall N, O'Brien K (2013) Cultural dimensions of climate change impacts and adaptation. Nat Clim Chang 3(2):112–117

Armitage DR (2005) Adaptive capacity and community-based natural resource management. Environ Manag 35(6):703–715

Armitage DR, Plummer R, Berkes F, Arthur RI, Charles AT, Davidson-Hunt IJ, Diduck AP, Doubleday NC, Johnson DS, Marschke M, McConney P, Pinkerton EW, Wollenberg EK (2008) Adaptive co-management for social-ecological complexity. Front Ecol Environ 7(2):95–102

Berkes F (2012) Sacred ecology: traditional ecological knowledge and resource management. Taylor & Francis, London

Berkes F, Folke C (2002) Back to the future: ecosystem dynamics and local knowledge. In: Gunderson LH, Holling CS (eds) Panarchy: Understanding transformations in human and natural systems. Island Press, Washington DC, pp. 121–146

Berkes F, Colding J, Folke C (2000) Rediscovery of traditional ecological knowledge as adaptive management. Ecol Appl 10(5):1251–1262

Boillat S, Berkes F (2013) Perception and interpretation of climate change among Quechua farmers of Bolivia: indigenous knowledge as a resource for adaptive capacity. Ecol Soc 18(4):21

Castree N, Adams WM, Barry J, Brockington D, Buscher B, Corbera E, Demeritt D, Duffy R, Neves K, Newell P, Pellizzoni L, Rigby K, Robbins L, Bird Rose D, Ross A, Schlosberf D, Sorlin S, West P, Whitehead M, Wynne B (2014) Changing the intellectual climate. Nat Clim Chang 4(9):763–768

Chirembo SB (1993) Colonialism and the remaking of the chikulamayembe dynasty 1904–1953. Soc Malawi J 46(2):1–24

Colson E (1977) A continuing dialogue: prophets and local shrines among the Tonga of Zambia. In: Werbner RP (ed) Regional cults. A.S.A. Monography, London, pp. 136–152

Colson E (2013) Rain-shrines of the plateau Tonga of northern Rhodesia. In: Dove MR (ed) The anthropology of climate change: an historical reader. Wiley-Blackwell, Oxford, pp. 191–200

Cosgrove D, Jackson P (1987) New directions in cultural geography. Area 19:95–101

Davidson J (2012) Of rice and men: climate change, religion, and personhood among the diola of Guinea-Bissau. J Study Relig Nat Cult 6(3):363–381

Feierman S, Janzen JM (2011) African religions. In: Brooke JH, Numbers RL (eds) Science and religion around the world. Oxford University Press, New York, pp. 229–251

Folke C (2004) Traditional knowledge in social-ecological systems [Editorial]. Ecol Soc 9(3):7

Folke C, Colding J, Berkes F (2003) Synthesis: building resilience and adaptive capacity in socio-ecological systems. In: Berkes F, Folke C, Colding J (eds) Navigating social-ecological systems: building resilience for complexity and change. Cambridge University Press, Cambridge, pp. 352–387

Forster PG (1986) Missionaries and anthropology: the case of the scots of northern Malawi. J Relig Afr 16:101–120

Gómez-Baggethun E, Reyes-García V, Olsson P, Montes C (2012) Traditional ecological knowledge and community resilience to environmental extremes: a case study in doñana, SW Spain. Glob Environ Chang 22(3):640–650

Government of Malawi (2008) Population and housing census. National Statistical Office, Zomba

Hackmann H, Moser SC, Clair ALS (2014) The social heart of global environmental change. Nat Clim Chang 4(8):653–655

Haluza-DeLay R (2014) Religion and climate change: varieties in viewpoints and practices. WIREs Clim Change 5(2):261–279

Hokkanen M (2004) Scottish missionaries and African healers: perceptions and relations in the livingstonia mission, 1875–1930. J Relig Afr 34(3):320–347

Hulme M (2010) Why we disagree about climate change. Cambridge University Press

Jackson P (1989) Maps of meaning: an introduction to cultural geography. Unwin Hyman, London

Kolawole OD, Wolski P, Ngwenya B, Mmopelwa G (2014) Ethno-meteorology and scientific weather forecasting: small farmers and scientists' perspectives on climate variability in the Okavango delta. Botswana Clim Risk Mgmt. doi:10.1016/j.crm.2014.08.002

Kuruppu N (2009) Adapting water resources to climate change in Kiribati: the importance of cultural values and meanings. Environ Sci Pol 12(7):799–809

Lave J, Wenger E (1991) Situated Learning: Legitimate peripheral participation. University of Cambridge Press, Cambridge

Ledwith M (2011) Community development: a critical approach. Policy Press, Bristol

Mazibuko LCJ, Magomelo CJ (2011) Inventory of Malawi's intangible cultural heritage volume 1. Malawi Nat Comm UNESCO 2011.

Meyer B (2004) Christianity in Africa: from African independent to Pentecostal-charismatic churches. Annu Rev Anthropol 33:447–474

Mitchell D (1995) There's no such thing as culture: towards a reconceptualization of the idea of culture in geography. Trans Inst Br Geogr 20:102–116

O'Brien D, O'Brien C (1997) The monze rain festival: the history of change in a religious cult in Zambia. Int J Afr Hist Stud 29(3):519–541

Olsson P, Folke C, Hahn T (2004) Socio-ecological transformation for ecosystem management: the development of adaptive co-management of a wetland landscape in southern Sweden. Ecol Soc 9(4):2

Paerregaard K (2013) Broken cosmologies: climate, water, and the state in the Peruvian Andes. In: Hastrup K (ed) Anthropology and nature. Routledge, London, pp. 196–210

Pew Forum on Religion and Public Life (2010) Tolerance and Tension: Islan and Christianity in Sub-Saharan Africa. http://www.pewforum.org/files/2010/04/sub-saharan-africa-full-report.pdf Accessed 14 Dec 2014

Reale A (2013) Churches building resiliency to climate change in Solomon Islands. In: Veldman RG et al. (eds) How the world's religions are responding to climate change: social scientific investigations. Routledge, New York

Santos BS (2008) Another knowledge is possible: beyond northern epistemologies. Verso, London

Schipper ELF (2010) Religion as an integral part of determining and reducing climate change and disaster risk: an agenda for research. In: Voss M (ed) Der klimawandel: sozialwissenschaftliche perspektiven. VS Verlag, Wiesbaden, pp. 377–393

Silverman D (2004) Qualitative research: theory, method and practice. SAGE, London

Tang CP, Tang SY (2010) Institutional adaptation and community-based conservation of natural resources: the cases of the Tao and Atayal in Taiwan. Hum Ecol 38:101–111

Udelhoven B (2010) The changing face of Christianity in Zambia: new churches of Bauleni Compound. Fenza. http://fenza.org/docs/ben/changing_face.pdf Accessed 14 Dec 2014

von Heland J, Folke C (2014) A social contract with the ancestors—culture and ecosystem services in southern Madagascar. Glob Environ Chang 24:251–264

Watson EE, Kochore HH (2012) Religion and climate change in northern Kenya: new moral frameworks for new environmental challenges? J Study Relig Nat Cult 6(3):319–343

Williams (1982) The sociology of culture. Schocken, New York

Wisner B (2010a) Climate change and cultural diversity. Int Soc Sci J 61:131–140

Wisner B (2010b) Untapped potential of the world's religious communities for disaster reduction in an age of accelerated climate change: an epilogue & porlogue. Religion 40:128--131
Acknowledgments
This work was undertaken as part of the project 'Transformative Engagement Network (TEN)', funded under the Programme of Strategic Co-operation between Irish Aid and Higher Education and Research Institutes. The authors would like to acknowledge the feedback provided by many colleagues at their institutions and project partners. We would also like to thank Simon Noone for help in producing Fig. 1. Two anonymous reviewers provided insightful comments that helped improve the paper.
About this article
Cite this article
Murphy, C., Tembo, M., Phiri, A. et al. Adapting to climate change in shifting landscapes of belief. Climatic Change 134, 101–114 (2016). https://doi.org/10.1007/s10584-015-1498-8
Received:

Accepted:

Published:

Issue Date:
Keywords
Religious Belief

Adaptive Capacity

Belief System

Traditional Ecological Knowledge

Seasonal Forecast