Abstract
Rice production is threatened by climate change and the productivity of rainfed rice is increasingly challenged. A better understanding of the future trends of rice production associated with climate change is important for improving food security. Rice production under irrigated and rainfed conditions was simulated using the rice crop model ORYZA2000. Simulated rice yield representing crop and environment interaction was used to evaluate the drought impact of climate change on rainfed rice in South Asia. If rainfed rice system was applied in all current rice cultivating areas in South Asia, drought stress could result to yield losses of more than 80 in 22 %, but crop failure was lower than 40 in 73 % of the areas under mild and severe SRES A1B and A2. The spatial patterns of drought stress on rainfed rice were similar under both A1B and A2, and the yield loss and crop failure decreased slightly in the far future (2045 to 2074) in areas where drought risk was high in the near future (2015 to 2044), but the impacts would gradually increase over initially low-impact areas. Both A1B and A2 would shift the best sowing season of rainfed rice to be earlier or later by up to 90 days in 30 years. Appropriate adjustment of sowing season is a major adaptation strategy for rainfed rice production in South Asia to benefit from climate change. In this case, rainfed rice yield could potentially increase by about 10 % in most areas of South Asia associated with 10 to 50 % lower inter-annual variation and slightly higher risk for crop failure.
Access options
Buy single article
Instant access to the full article PDF.
USD 39.95
Price excludes VAT (USA)
Tax calculation will be finalised during checkout.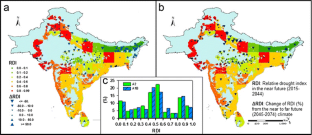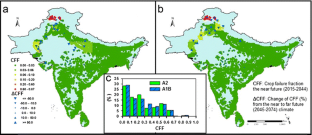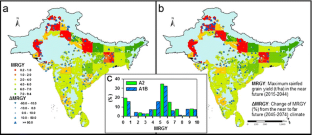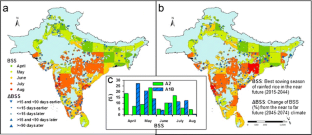 Notes
All analyses conducted were based on CGCM projections. The accuracy of the CGCM projections is beyond the scope of this paper.
References
Aggarwal PK, Mall RK (2002) Climate change and rice yields in diverse agro-environments of India. II. Effect of uncertainties in scenarios and crop models on impact assessment. Clim Chang 52:331–343

Ainsworth EA, Ort DR (2010) How do we improve crop production in a warming world? Plant Physiol 154:526–530

Ainsworth EA, Rogers A (2007) The response of photosynthesis and stomatal conductance to rising (CO2): mechanisms and environmental interactions. Plant Cell Environ 30:258–270

Allen LH, Valle RR Jr, Mishoe JW, Jones JW (1994) Soybean leaf gas-exchange responses to carbon dioxide and water stress. Agron J 86:625–636

Baker JT, Allen LH, Boote KJ (1992) Growth and yield responses of rice to carbon dioxide concentration. J Agric Sci 115:313–320

Batjes NH (2006) ISRIC-WISE derived soil properties on 5 by 5 arc-minutes global grid (ver. 1.1). Report 2006/02, ISRIC – World Soil Information, Wageningen

Bouman BAM, Kropff MJ, Tuong TP, Wopereis MCS, Ten Berge HFM, Van Laar HH (2001) ORYZA2000: modeling lowland rice. IRRI, Los Baños

Gumma MK, Nelson A, Thenkabail PS, Singh A (2011) Mapping rice areas of South Asia using MODIS multitemporal data. J Appl Remote Sens 5:053547–1–053547–26

Hasegawa T, Ishimaru T, Kondo M, Kuwagata T, Yoshimoto M, Fukuoka M (2011) Spikelet sterility of rice observed in the record hot summer of 2007 and the factors associated with its variation. J Agric Meteorol 67:225–232

Hasegawa H, Sakai H, Tokida T et al (2013) Rice cultivar responses to elevated CO2 at two free-air CO2enrichment (FACE) sites in Japan. Funct Plant Biol 40:148–159

IPCC (2001) Climate change 2001. Cambridge University Press, Cambridge

IRRI (International Rice Research Institute) (2009) Climate change-ready rice. http://irri.org/our-science/better-varieties/climate-ready-rice%23Drought

Jagadish SVK, Craufurd PQ, Wheeler TR (2007) High temperature stress and spikelet fertility in rice (Oryza sativa L.). J Exper Bot 58:1627–1635

Kim HY, Lieffering M, Kobayashi K, Okada M, Mitchell MW, Gumpertz M (2003) Effects of free-air CO2 enrichment and nitrogen supply on the yield of températe paddy rice crops. Field Crops Res 83:261–270

Kimball BA, Pinter PJ Jr, Garcia RL et al (1995) Productivity and water use of wheat under free-air CO2 enrichment. Global Chang Biol 1:429–442

Kimball BA, Kobayashi K, Bindi M (2002) Responses of agricultural crops to free-air CO2 enrichment. Adv Agron 77:293–368

Knox J, Hess T, Daccache A, Wheeler T (2012) Climate change impacts on crop productivity in Africa and South Asia. Environ Res Lett 7:034032

Knutti R, Sedláček J (2012) Robustness and uncertainties in the new CMIP5 climate model projections. Nat Clim Chang. doi:10.1038/NCLIMATE1716

Li T, Bouman BAM, Boling A (2009) The calibration and validation of ORYZA2000. IRRI Web. https://sites.google.com/a/irri.org/oryza2000/calibration-and-validation. Accessed 19 Dec 2014

Li T, Raman AK, Marcaida M III, Kumar A, Angeles O, Radanielson M (2013) Simulation of genotype performances across a larger number of environments for rice breeding using ORYZA2000. Field Crops Res 149:312–321

Li T, Hasegawa T, Yin X, Zhu Y, Boot K et al (2015) Uncertainties in predicting rice yield by current crop models under a wide range of climatic conditions. Global Chang Biol 21:1328–1341

Masutomi Y, Takahashi K, Harasawa H, Matsuoka Y (2009) Impact assessment of climate change on rice production in Asia in comprehensive consideration of process/parameter uncertainty in general circulation models. Agric Ecosyst Environ 131:281–291

Matsui T, Namuco OS, Ziska LH, Horie T (1997) Effects of high temperature and CO2 concentration on spikelet sterility in Indica rice. Field Crops Res 51:213–221

Matthews RB, Kropff MJ, Horie T, Bachelet D (1997) Simulating the impact of climate change on rice production in Asia and evaluating options for adaptation. Agric Syst 54:399–425

Mohandrass S, Kareem AA, Ranganathan TB, Jeyaraman S (1995) Rice production in India under the current and future climate. In: Mathews RB, Kroff MJ, Bachelet D, van Laar HH (eds) Modeling the impact of climate change on rice production in Asia. CAB International, UK

Muller C, Cramer W, Hare WL, Lotze-Campen H (2011) Climate change risks for African agriculture. Proc Natl Acad Sci USA 108:4313–4315

Pandey S, Bhandari H (2006) Drought perpetuates poverty. Rice Today 5:37

Pandey S, Bhandari H (2007) Drought: economic costs and research implications. In: Pandey S, Bhandari H, Hardy B (eds) Economic costs of drought and rice farmers' coping mechanisms. IRRI, Los Baños

Parry ML, Rosenzweig C, Iglesias A, Livermore M, Fischer G (2004) Effects of climate change on global food production under SRES emissions and socio-economic scenarios. Global Environ Chang 14:53–67

Passioura JB (2007) The drought environment: physical, biological and agricultural perspectives. J Exp Bot 58:113–117

Peng S, Huang J, Sheehy JE et al (2004) Rice yield decline with higher night temperature from global warming. Proc Natl Acad Sci 101:9971–9975

Rogelj J, Meinshausen M, Knutti R (2012) Global warming under old and new scenarios using IPCC climate sensitivity range estimates. Nat Clim Chang 2:248–253

Soora NK, Aggarwal PK, Saxena R, Rani S, Jain S, Chauhan N (2013) An assessment of regional vulnerability of rice to climate change in India. Clim Chang 118:683–699

Taub D (2010) Effects of rising atmospheric concentrations of carbon dioxide on plants. Nat Educ Knowl 3:21

White JW, Hoogenboom G, Kimball BA, Wall GW (2011) Methodologies for simulating impacts of climate change on crop production. Field Crops Res 124:357–368

Wösten JHM, Pachepsky YA, Rawls WJ (2001) Pedotransfer functions: bridging the gap between available basic soil data and missing soil hydraulic characteristics. J Hydrol 251:123–150

Yang L, Huang J, Yang H, Zhu J, Liu H, Dong G, Liu G, Han Y, Wang Y (2006) The impact of free-air CO2 enrichment (FACE) and N supply on yield formation of rice crops with large panicle. Field Crops Res 98:141–150
Acknowledgments
This study was supported by the Drought Breeding Network under the project Stress-Tolerant Rice for Africa and South Asia (STRASA). The STRASA project was mainly funded by the Bill & Melinda Gates Foundation. This study was also supported by the project developing multi-scale climate change adaptation strategies for farming communities in Cambodia, Laos, Bangladesh, and India funded (LWR/2008/019) by the Australian Centre for International Agricultural Research.
Electronic supplementary material
Below is the link to the electronic supplementary material.
About this article
Cite this article
Li, T., Angeles, O., Radanielson, A. et al. Drought stress impacts of climate change on rainfed rice in South Asia. Climatic Change 133, 709–720 (2015). https://doi.org/10.1007/s10584-015-1487-y
Received:

Accepted:

Published:

Issue Date:

DOI: https://doi.org/10.1007/s10584-015-1487-y
Keywords
Drought Stress

Rice Yield

Sowing Date

Rice Cell

Rainfed Condition