Abstract
Recent trends in the frequency and intensity of extreme weather events have raised the concern that climate change could increase flooding risks and property damage. However, a major challenge in attributing and projecting changes in disaster risk is that damage is influenced not only by the physical climate hazard, but also by non-climatic factors that shape exposure and vulnerability. Recent assessments of integrated disaster risk have been hampered by the paucity of literature analyzing local-scale interactions between hazard, exposure and vulnerability in the historical record. Here we develop an integrated empirical analysis of historical flood damage that emphasizes spatial and temporal heterogeneity in flood hazard, economic exposure and social vulnerability. Using the Midwestern United States as a testbed, we show that annual property damage from flooding is projected to increase by 13 to 17.4 % over the next two decades. At the state level, over half of the increase is driven by projected growth in housing units. However, at the county level, the dominant factor causing future damage varies, emphasizing the value of a fully integrated, spatially and temporally resolved approach to assessing flooding risk and control strategies.
Access options
Buy single article
Instant access to the full article PDF.
USD 39.95
Price includes VAT (USA)
Tax calculation will be finalised during checkout.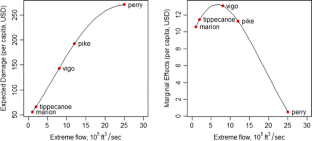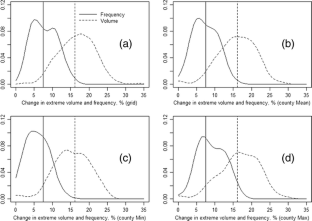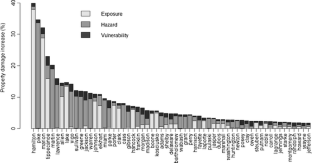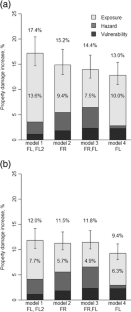 References
Ashfaq M, Bowling LC, Cherkauer K, Pal JS, Diffenbaugh NS (2010) Influence of climate model biases and daily-scale temperature and precipitation events on hydrological impacts assessment: a case study of the United States. J Geophys Res-Atmos 115(D14), D14116. doi:10.1029/2009JD012965

Ashfaq M, Ghosh S, Kao S-C, Bowling LC, Mote P, Touma D, Rauscher SA, Diffenbaugh NS (2013) Near-term acceleration of hydroclimatic change in the Western U.S. J Geophys Res-Atmos 118(19):10676–10693. doi:10.1002/jgrd.50816

Bouwer LM (2013) Projections of future extreme weather losses under changes in climate and exposure. Risk Anal 33(5):915–930. doi:10.1111/j.1539-6924.2012.01880.x

Changnon SA, Pielke RA, Changnon D, Sylves RT, Pulwarty R (2000) Human factors explain the increased losses from weather and climate extremes. Bull Am Meteorol Soc 81(3):437–442

Cramer W, Yohe GW, Auffhammer M, Huggel C, Molau U, Dias MAFS, Leemans R (2014) Detection and attribution of observed impacts. In: Climate climate change 2014: impacts, adaptation, and vulnerability. Cambridge University Press. http://library.wur.nl/WebQuery/wurpubs/483086.

Diffenbaugh NS, Pal JS, Trapp RJ, Giorgi F (2005) Fine-scale processes regulate the response of extreme events to global climate change. Proc Natl Acad Sci U S A 102(44):15774–15778. doi:10.1073/pnas.0506042102

Diffenbaugh NS, Swain DL, Touma D (2015) Anthropogenic warming has increased drought risk in California. Proc Natl Acad Sci 112(13):3931–3936. doi:10.1073/pnas.1422385112

Giorgi F, Im E-S, Coppola E, Diffenbaugh NS, Gao XJ, Mariotti L, Shi Y (2011) Higher hydroclimatic intensity with global warming. J Clim 24(20):5309–5324. doi:10.1175/2011JCLI3979.1

Hazards & Vulnerability Research Institute (2013) The Spatial hazard events and losses database for the United States, version 12.0 [online database]. University of South Carolina, Columbia. Available from http://www.sheldus.org. Accessed December 2013

Huggel C, Stone D, Auffhammer M, Hansen G (2013) Loss and damage attribution. Nat Clim Chang 3(8):694–696. doi:10.1038/nclimate1961

IPCC (2013) Climate change 2013: the physical science basis. Contribution of working group I to the fifth assessment report of the intergovernmental panel on climate change. In: Long-term climate change: projections, commitments and irreversibility. Cambridge Univ. Press, Cambridge

IPCC (2014) Climate change 2014: impacts, adaptation, and vulnerability. Part A: global and sectoral aspects. Contribution of working group II to the fifth assessment report of the intergovernmental panel on climate change. Cambridge University Press, Cambridge, 1132 pp

Jongman B, Ward PJ, Aerts JCJH (2012) Global exposure to river and coastal flooding: long term trends and changes. Glob Environ Chang 22(4):823–835. doi:10.1016/j.gloenvcha.2012.07.004

Knutson TR, McBride JL, Chan J, Emanuel K, Holland G, Landsea C, Held I, Kossin JP, Srivastava AK, Sugi M (2010) Tropical cyclones and climate change. Nat Geosci 3(3):157–163. doi:10.1038/ngeo779

Mallakpour I, Villarini G (2015) The changing nature of flooding across the Central United States. Nat Clim Chang 5(3):250–254. doi:10.1038/nclimate2516

Mechler R, Bouwer LM (2014) Understanding trends and projections of disaster losses and climate change: is vulnerability the missing link? Clim Chang 1–13. doi:10.1007/s10584-014-1141-0

Mendelsohn R, Emanuel K, Chonabayashi S, Bakkensen L (2012) The impact of climate change on global tropical cyclone damage. Nat Clim Chang 2(3):205–209. doi:10.1038/nclimate1357

Peterson TC, Heim RR, Hirsch R, Kaiser DP, Brooks H, Diffenbaugh NS, Dole RM et al (2013) Monitoring and understanding changes in heat waves, cold waves, floods, and droughts in the United States: state of knowledge. Bull Am Meteorol Soc 94(6):821–834. doi:10.1175/BAMS-D-12-00066.1

Pielke RA (2007) Future economic damage from tropical cyclones: sensitivities to societal and climate changes. Philos Trans R Soc A Math Phys Eng Sci 365(1860):2717–2729. doi:10.1098/rsta.2007.2086

Romero-Lankao P, Smith JB, Davidson DJ, Diffenbaugh NS, Kinney PL, Kirshen P, Kovacs P, Villers-Ruiz L (2014) Chapter 26: North America. In: Climate change 2014: impacts, adaptation, and vulnerability. Part B: regional aspects. Contribution of working group II to the fifth assessment report of the intergovernmental panel on climate change. Cambridge University Press, Cambridge, pp 1439–1498

Touma D, Ashfaq M, Nayak MA, Kao S-C, Diffenbaugh NS (2015) A multi-model and multi-index evaluation of drought characteristics in the 21st century. J Hydrol. doi:10.1016/j.jhydrol.2014.12.011

Wooldridge JM (2010) Econometric analysis of cross section and panel data. 2nd edition. MIT Press
Acknowledgments
This work was supported by the Program on Integrated Assessment Model Development, Diagnostics, and Intercomparison (PIAMDDI) funded by the US DOE, award No. DE-SC0005171-001. Research conducted at Oak Ridge National Laboratory was supported by the Regional and Global Climate Modeling Program funded by the DOE office of science. The authors would like to thank the anonymous reviewers for their helpful comments on the manuscript.
Electronic supplementary material
Below is the link to the electronic supplementary material.
About this article
Cite this article
Liu, J., Hertel, T.W., Diffenbaugh, N.S. et al. Future property damage from flooding: sensitivities to economy and climate change. Climatic Change 132, 741–749 (2015). https://doi.org/10.1007/s10584-015-1478-z
Received:

Accepted:

Published:

Issue Date:
Keywords
Extreme Event

Flood Risk

Disaster Risk

Flooding Hazard

Flood Damage