Abstract
The rapid loss of small glaciers worldwide might result in mountain villages changing from having plenty of water during the growing season, to facing a scarcity even in scenarios with adaptation. Climate-change effects might cause the need for significant changes in rural mountain economies that currently rely on irrigated agriculture, pastoralism and labor migration. Previous research mainly focuses on geophysical aspects and little is known about the local ability to understand climate-change indicators or local collective adaptive capacity. A 2010 participatory case study in the Zerafshan Range, Tajikistan, disclosed a local lack of awareness of climate change and its consequences. We present a social learning method based on scenarios and visualization. The process exposed a remarkable potential for comprehensive adaptation, including in water harvesting, choice of crops and livestock, environmental enhancement, skills and conflict management. We recommend the approach as a model to promote local collective adaptive capacity development. The case study revealed high risks of massive out-migration from mountain villages if adaptation starts too late: countries with a high proportion of mountain agriculture might see significant losses of agricultural area, a reduction in food production and an increase in conflicts in areas where immigration occurs.
Access options
Buy single article
Instant access to the full article PDF.
USD 39.95
Price includes VAT (USA)
Tax calculation will be finalised during checkout.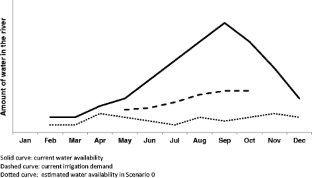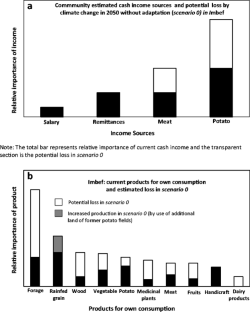 References
Adger WN (2003) Social capital, collective action and adaptation to climate change. J Econ Geogr 79(4):387–403

Adger WN (2006) Vulnerability. Glob Environ Chang 16(3):268–281

Adger WN, Dessai S, Goulden M, Hulme M, Lorenzoni I, Nelson DR, Naess LO, Wolf J, Wreford A (2009) Are there social limits to adaptation to climate change? Clim Chang 93(3):335–354

AHRT (Agency of Hydrometeorology of the Republic of Tajikistan) (2003) National action plan for climate change mitigation. Dushanbe. Tajikistan. http://unfccc.int/resource/docs/nap/tainap01e.pdf. Accessed 18 October 2013

Beniston M (2003) Climatic change in mountain regions. A review of possible impacts. Clim Chang 59(1):5–31

Bury JT, Mark BG, McKenzie JM, French A, Baraer M, Huh KI, Luyo MAZ, Lopez RJG (2011) Glacier recession and human vulnerability in the Yanamarey watershed of the Cordillera Blanca, Peru. Clim Chang 105(1):179–206

Byg A, Salick J (2009) Local perceptions on a global phenomenon – climate change in eastern Tibetan villages. Glob Environ Chang 19(2):156–166

Carey M, Huggel C, Bury J, Portocarrero C, Haeberli W (2012) An integrated socio-environmental framework for glacier hazard management and climate change adaptation: lessons from Lake 513, Cordillera Blanca, Peru. Clim Chang 112(3–4):733–767

Chevalier JM, Buckles DJ (2008) SAS2, a guide to collaborative inquiry and social engagement. SAGE Publications, Los Angeles, London, New Delhi, Singapore

Chevalier JM, Buckles DJ (2013) Participatory action research: theory and methods for engaged inquiry. Routledge, New York

Chishakwe N, Murray L, Chambwera M (2012) Building climate change adaptation on community experiences: lessons from community-based natural resource management in southern Africa. International Institute for Environment and Development, London. http://pubs.iied.org/pdfs/10030IIED.pdf. Accessed 18 October 2013

Christmann S, Aw-Hassan AA (2011) Should agricultural research in central asia and caucasus (CAC) re-prioritize its agenda with view to climate change? Agric Ecosyst Environ 140:314–316

Christmann S, Aw-Hassan A, Rajabov T, Rabbimov A (2014) Collective action for common rangelands improvement: a climate adaptation strategy in Uzbekistan. Soc Nat Resour. doi:10.1080/08941920.2014.933927

IPCC (Intergovernmental Panel on Climate Change) (2007) Climate change 2007: impacts, adaptation and vulnerability. In: Parry ML, Canziani OF, Palutikof JP, van der Linden PJ, Hamson CE (eds.), Cambridge

Füssel HM, Klein RJT (2005) Climate change vulnerability assessments: an evolution of conceptual thinking. Clim Chang 75(3):301–329

Inouye DW (2009) The effects of climate change on the phenological interactions of plants and pollinators. Nat Precedings. doi:10.1038/npre.2009.3583.1

Johnson KA, Dana G, Jordan NR, Draeger KJ, Kapuscinski A, Schmitt Olabisi LK, Reich PB (2012) Using participatory scenarios to stimulate social learning for collaborative sustainable development. Ecol Soc 17(2):9

Orlove B (2009) Glacier retreat: reviewing the limits of human adaptation to climate change. Environment 51(3):22–35

Orlove B, Wiegandt E, Luckman BH (eds) (2008) Darkening peaks, glacier retreat, science, and society. University of California Press, Berkeley, Los Angeles, London

Perez C, Nicklin C, Dangles O, Vanek S, Sherwood S, Halloy S, Garrett K, Forbes G (2010) Climate change in the high Andes: implications and adaptation strategies for small-scale farmers. Int J Environ Cult Econ Soc Sustain 6:71–88

Reed MS, Evely AC, Cundill G, Fazey I, Glass J, Laing A, Newig J, Parrish B, Prell C, Raymond C, Stringer LC (2010) What is social learning? Ecol Soc 15(4):r1

Rhoades RE, Ríos XZ, Ochoa JA (2008) Mama cotacachi: history, local perceptions, and social impacts of climate change and glacier retreat in the ecuadorian Andes. In: Orlove B, Wiegandt E, Luckman BH (eds) Darkening peaks, glacier retreat, science, and society. University of California Press, Berkeley, Los Angeles, London, pp 216–225

Ribot JC (1995) The causal structure of vulnerability. Its application to climate change analysis. GeoJournal 35(2):119–122

Ribot JC (2010) Vulnerability does not fall from sky: towards multiscale, pro-poor climate policy. In: Mearns R, Norton A (eds) Social dimensions of climate change: equity and vulnerability in a warming world. World Bank, Washington, pp 47–74

Ribot JC, Peluso NL (2003) A theory of access. Rural Sociol 68(2):153–181

Shaw A, Sheppard S, Burch S, Flanders D, Wiek A, Carmichael J, Robinson J, Cohen S (2009) Making local futures tangible – synthesizing, downscaling, and visualizing climate change scenarios for participatory capacity building. Glob Environ Chang 19(4):447–463

Smiraglia C, Diolauiti G, Pelfini M, Belò M, Citterio M, Carnielli T, D'Agata C (2008) Glacier changes and their impacts on mountain tourism: two case studies from the Italian Alps. In: Orlove B, Wiegandt E, Luckman BH (eds) Darkening peaks, glacier retreat, science, and society. University of California Press, Berkeley, Los Angeles, London, pp 206–215

SNC-TJK (2008) The second national communication of the Republic of Tajikistan under the United Nations framework convention on climate change. Dushanbe. http://unfccc.int/resource/docs/natc/tainc2.pdf. Accessed 18 October 2013

Sorg A, Bolch T, Stoffel M, Solomina O, Beniston M (2012) Climate change impacts on glaciers and runoff in Tien Shan (Central Asia). Nat Clim Chang 2:725–731

Suarez P, Ribot JC, Patt AG (2009) Climate information, equity and vulnerability reduction. In: Ruth M, Ibarrarán ME (eds) The distributional effects of climate change: social and economic implications. Edward Elgar, Cheltenham, pp 151–165

Tajik Stat (2013) State committee of statistics of Tajikistan, http://www.stat.tj/english/tables.htm. Accessed 18 October 2013

UNDESA (United Nations Department of Economic and Social Affairs) (2013) World population prospects: the 2012 revision. United Nations Population Division, http://esa.un.org/wpp/Excel-Data/population.htm. Accessed 18 October 2013

UNDP (United Nations Development Programme) (2014) Human development report 2014. http://www.undp.org/content/dam/undp/library/corporate/HDR/2014HDR/HDR-2014-English.pdf

von Grebmer K, Saltzman A, Birol E, Wiesmann D, Prasai N, Yin S, Yohannes Y, Menon P, Thompson J, Sonntag A (2014) 2014 global hunger index: the challenge of hidden hunger. Bonn, Washington, D.C., and Dublin: Welthungerhilfe, International Food Policy Research Institute, and Concern Worldwide

WBGU (German Advisory Council on Global Change) (2007) Climate change as a security risk. Earthscan, London

World Bank (2009) Adapting to climate change in Europe and Central Asia. http://siteresources.worldbank.org/ECAEXT/Resources/258598-1243892418318/ECA_CCA_Full_Report.pdf. Accessed 15 August 2011

World Bank (2013a) Tajikistan at a glance. http://devdata.worldbank.org/AAG/tjk_aag.pdf. Accessed 18 October 2013

World Bank (2013b) Migration and development brief 20. http://siteresources.worldbank.org/INTPROSPECTS/Resources/334934-1288990760745/MigrationDevelopmentBrief20.pdf Accessed 3 February 2015

World Bank (2014) Data per country. Arable land (hectares per person). http://data.worldbank.org/indicator/AG.LND.ARBL.HA.PC. Accessed 3 February 2015

Xu J, Grumbine RE, Shrestha A, Eriksson M, Yang X, Wang Y, Wilkes A (2009) The melting Himalayas: cascading effects of climate change on water, biodiversity, and livelihoods. Conserv Biol 23(3):520–530

Young G, Zavala H, Wandel J, Smit B, Salas S, Jimenez E, Fiebig M, Espinoza R, Diaz H, Cepeda J (2010) Vulnerability and adaptation in a dryland community of the Elqui Valley, Chile. Clim Chang 2010(98):245–276
About this article
Cite this article
Christmann, S., Aw-Hassan, A.A. A participatory method to enhance the collective ability to adapt to rapid glacier loss: the case of mountain communities in Tajikistan. Climatic Change 133, 267–282 (2015). https://doi.org/10.1007/s10584-015-1468-1
Received:

Accepted:

Published:

Issue Date:
Keywords
Adaptive Capacity

Labor Migration

Adaptation Option

Ecologic Dynamic

Bonding Social Capital