Abstract
Climate change is a likely addition to the unpredictable challenges urban communities will face. Enhancing urban forests has gained prominence as a climate adaptation tool in cities. The fact that urban forests are also vulnerable is now starting to emerge. Many urban forest management professionals do not know how to take climate change into account and what aspects of urban forest vulnerability to climate change to prioritize. Bringing climate change to the forefront of the decision-making process in urban forest management, and urban forests to the forefront of urban climate issues, is important to urban forest success. This paper presents an exploratory assessment of vulnerability to climate change in the Canadian urban forests of Halifax, London, and Saskatoon. The objectives of the assessment were to: 1) identify the elements of urban forest exposure and sensitivity to climate change, the nature of the expected impact, and the adaptive capacities that exist in these three urban forests; 2) assess which of these elements contributes more to urban forest vulnerability to climate change; and, 3) elicit adaptive strategies based on this information. The method used was participatory and expert-based and allowed for a systematic evaluation of vulnerability. Exposures related to drought, heat stress, and wind, susceptibility of urban trees to insects and diseases, and the sensitivity of young trees and tree species with specific temperature and moisture requirements, are the main concerns regarding the vulnerability of urban forests to climate change in these three cities.
Access options
Buy single article
Instant access to the full article PDF.
US$ 39.95
Tax calculation will be finalised during checkout.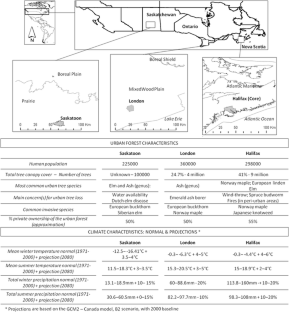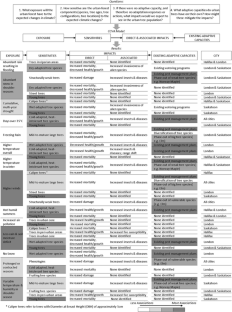 References
AAFC (2013) A national ecological framework for Canada. Agric. Agri-Food Can (AAFC) http://ecozones.ca/. Accessed November 2013

Adger WN (2006) Vulnerability. Global Environ Change 16(3):268–281

BC-MCSCD (2010) Urban forests: a climate adaptation guide. BC regional adaptation collaborative. British Columbia (BC), Ministry of Community, Sport and Cultural Development (MCSCD), Nanaimo, BC, Canada, p 55, http://www.retooling.ca/_Library/docs/Urban_Forests_Guide.pdf. Accessed September 2013

Berkes F (2007) Understanding uncertainty and reducing vulnerability: lessons from resilience thinking. Natural Hazards 41:283–295

Berkhout F, Hertin J, Jordan A (2002) Socio-economic futures in climate change impact assessment: using scenarios as 'learning machines'. Global Environ Change 12(2):83–95

Brandt L, He H, Iverson L, Thompson FR III, Butler P, Handler S, Janowiak M, Shannon PD, Swanston C, Albrecht M, Blume-Weaver R, Deizman P, DePuy J, Dijak WD, Dinkel G, Fei S, Jones-Farrand DT, Leahy M, Matthews SN, Nelson P, Oberle B, Perez J, Peters M, Prasad A, Schneiderman JE, Shuey J, Smith AB, Studyvin C, Tirpak JM, Walk JW, Wang WJ, Watts L, Weigel D, Westin S (2014) Central hardwoods ecosystem vulnerability assessment and synthesis: a report from the central hardwoods climate change response framework project, Forest service, northern research station. US Department of Agriculture (USDA), Newtown Square, PA, USA, p 254, http://www.nrs.fs.fed.us/pubs/45430. Accessed April, 2014

Brown RD (2011) Ameliorating the effects of climate change: modifying microclimates through design. Landscape Urban Plann 100(4):372–374

Bugmann H, Pfister C (2000) Impacts of interannual climate variability on past and future forest composition. Regional Environmental Change 1(3):112–125

Burley S, Robinson SL, Lundholm JT (2008) Post-hurricane vegetation recovery in an urban forest. Landscape Urban Plan 85(2):111–122

Burton I, Huq S, Lim B, Pilifosova O, Schipper EL (2002) From impacts assessment to adaptation priorities: the shaping of adaptation policy. Climate policy 2(2):145–159

Chiotti Q, Lavende B (2008) Ontario. In: Lemmen DS, Lacroix J, Bush E (eds) From impacts to adaptation: Canada in a changing climate 2007. Government of Canada, Ottawa, ON, pp 227–274, http://adaptation.nrcan.gc.ca/assess/2007/toc_e.php. Accessed May 2013

City of Kingston (2011) In: Senes Consultant Limited (ed) Kingston's urban forest management plan 2011–2030. City of Kingston, Kingston, ON, Canada, p 50, http://www.cityofkingston.ca/residents/environment/urbanforest/. Accessed December 2013

City of London (2012) Our forest, your trees, London's growing assets - an analysis of London's urban forest using the urban forest effects model (UFORE). In: Bradwill Ecological Consulting (ed) City of London urban forestry, upper Thames river conservation authority, united states department of agriculture (USDA) forest service. City of London, London, ON, Canada, p 102, http://www.london.ca/d.aspx?s=/Trees_Lawns_and_Gardens/uforereport.htm. Accessed May 2013

City of Toronto (2008) Ahead of the storm preparing Toronto for climate change. Toronto Environment Office, City of Toronto, Toronto, ON, Canada, p 46, http://www.toronto.ca/teo/pdf/ahead_of_the_storm.pdf. Accessed August 2013

Dale VH, Joyce LA, McNulty S, Neilson RP, Ayres MP, Flannigan MD, Hanson PJ, Irland LC, Lugo AE, Peterson CJ (2001) Climate change and forest disturbances. Bioscience 51(9):723–734

Dukes JS, Pontius J, Orwig D, Garnas JR, Rodgers VL, Brazee N, Cooke B, Theoharides KA, Stange EE, Harrington R, Ehrenfeld J, Gurevitch J, Lerdau M, Stinson K, Wick R, Ayres M (2009) Responses of insect pests, pathogens, and invasive plant species to climate change in the forests of northeastern North America: what can we predict? Can J Forest Res 39(2):231–248

Eakin H, Luers AL (2006) Assessing the vulnerability of social-environmental systems. Annu Rev Env Resour 31(1):365–394

Environment Canada (2014) Canadian climate normals - 1971–2000 Climate Normals and Averages. Environment Canada. http://climate.weather.gc.ca/climate_normals/index_e.html?#1971. Accessed August 2014

Fahey RT, Bialecki MB, Carter DR (2013) Tree growth and resilience to extreme drought across an urban land-use gradient. Arboriculture and Urban Forestry 39(6):279–285

Füssel HM, Klein RJT (2006) Climate change vulnerability assessments: an evolution of conceptual thinking. Clim Change 75(3):301–329

Gaffen DJ, Ross RJ (1998) Increased summertime heat stress in the US. Nature 396(6711):529–530

Gill SE, Handley JF, Ennos AR, Pauleit S (2007) Adapting cities for climate change: the role of the green infrastructure. Built Environment 33(1):115–133

Glick P, Stein BA, Edelson NA (eds) (2011) Scanning the Conservation Horizon: A Guide to Climate Change Vulnerability Assessment. National Wildlife Federation, Washington, DC, USA, p 167. http://www.habitat.noaa.gov/pdf/scanning_the_conservation_horizon.pdf. Accessed February, 2013

Hallegatte S, Corfee-Morlot J (2011) Understanding climate change impacts, vulnerability and adaptation at city scale: an introduction. Clim Change 104(1):1–12

Hamrick JL (2004) Response of forest trees to global environmental changes. Forest Ecol Manag 197(1–3):323–335

Hogg E, Brandt J, Michaelian M (2008) Impacts of a regional drought on the productivity, dieback, and biomass of western Canadian aspen forests. Can J Forest Res 38(6):1373–1384

HRM (2013) Halifax regional municipality (HRM) urban forest management plan. Halifax Regional Municipality (HRM), Halifax, NS, Canada, p 460, http://www.halifax.ca/RealPropertyPlanning/UFMP/. Accessed December 2013

Hunt A, Watkiss P (2011) Climate change impacts and adaptation in cities: a review of the literature. Clim Change 104(1):13–49

IPCC (2014) Climate change 2014: impacts, adaptation, and vulnerability - summary for policymakers. Cambridge University Press, Cambridge, United Kingdom and New York, NY, USA, p 44, www.ipcc.ch/. Accessed September, 2013

Johnston M, Campagna M, Gray P, Kope H, Loo J, Ogden A, O'Neil GA, Price D, Williamson TB (2009) Vulnerability of Canada's tree species to climate change and management options for adaptation: an overview for policy makers and practitioners. Canadian Council of Forest Ministers (CCFM), p 40. www.ccfm.org/pdf/TreeSpecies_web_e.pdf. Accessed September, 2013

Kelly PM, Adger WN (2000) Theory and practice in assessing vulnerability to climate change and facilitating adaptation. Clim Change 47(4):325–352

Konijnendijk CC, Ricard RM, Kenney A, Randrup TB (2006) Defining urban forestry-a comparative perspective of North America and Europe. Urban for Urban Green 4(3–4):93–103

Krippendorff K (2004) Content analysis: an introduction to its methodology. Sage Publications Inc., Thousand Oaks, CA, USA

Lawrence AB, Escobedo FJ, Staudhammer CL, Zipperer WC (2012) Analyzing growth and mortality in a subtropical urban forest ecosystem. Landscape Urban Plann 104(1):85–94

Lawrence A, De Vreese R, Johnston M, Konijnendijk van den Bosch CC, Sanesi G (2013) Urban forest governance: towards a framework for comparing approaches. Urban For Urban Green 12(4):464–473

Liu J, Dietz T, Carpenter SR, Alberti M, Folke C, Moran E, Pell A, Deadman P, Kratz T, Lunchenco J, Ostrom E, Ouyang E, Provencher W, Redman CL, Schneider SH, Taylor W (2007) Complexity of coupled human and natural systems. Science 317(5844):1513–1516

McKenney DW, Pedlar JH, Lawrence K, Campbell K, Hutchinson MF (2007) Potential impacts of climate change on the distribution of North American trees. BioScience 57(11):939–948

Meehl GA, Stocker TF, Collins WD, Friedlingstein P, Gaye AT, Gregory JM, Kitoh A, Knutti R, Murphy JM, Noda A, Raper SCB, Watterson IG, Weaver AJ, Zhao Z (2007) Global climate projections. In: Solomon S, Qin D, Manning M, Chen Z, Marquis M, Averyt KB, Tignor M, Miller HL (eds) Climate change 2007: the physical science basis. Contribution of working group I to the fourth assessment report of the intergovernmental panel on climate change. Cambridge University Press, Cambridge and New York, pp 747–846, www.ipcc.ch/. Accessed February, 2013

Metzger MJ, Leemans R, Schröter D (2005) A multidisciplinary multi-scale framework for assessing vulnerabilities to global change. Int J Appl Earth Obs 7(4):253–267

Mincey SK, Vogt JM (2014) Watering strategy, collective action, and neighborhood-planted trees: a case study of Indianapolis, Indiana, U.S. Arboriculture and Urban Forestry 40(2):84–95

Næss LO, Bang G, Eriksen S, Vevatne J (2005) Institutional adaptation to climate change: flood responses at the municipal level in Norway. Global Environ Change 15(2):125–138

Niinemets Ü, Peñuelas J (2008) Gardening and urban landscaping: significant players in global change. Trends Plant Sci 13(2):60–65

Nowak DJ (2012) Contrasting natural regeneration and tree planting in fourteen North American cities. Urban For Urban Green 11(4):374–382

Nowak DJ, Noble MH, Sisinni SM, Dwyer JF (2001) People and trees: assessing the US urban forest resource. J Forest 99(3):37–42

O'Brien AM, Ettinger AK, HilleRisLambers J (2012) Conifer growth and reproduction in urban forest fragments: predictors of future responses to global change? Urban Ecosystems 15(4):879–891

Ordóñez C, Duinker PN (2014) Assessing the vulnerability of urban forests to climate change. Environ Rev 22(3):311–321

Poland TM, McCullough DG (2006) Emerald Ash borer: invasion of the urban forest and the threat to North America's ash resource. J For 104(3):118–124

Richards NA (1983) Diversity and stability in a street tree population. Urban Ecology 7(2):159–171

Roloff A, Korn S, Gillner S (2009) The climate-species-matrix to select tree species for urban habitats considering climate change. Urban For Urban Green 8(4):295–308

Roman LA, Scatena FN (2011) Street tree survival rates: Meta-analysis of previous studies and application to a field survey in Philadelphia, PA, USA. Urban For Urban Green 10(4):269–274

Sauchyn D, Kulshreshtha S (2008) Prairies. In: Lemmen DS, Lacroix J, Bush E (eds) From impacts to adaptation: Canada in a changing climate 2007. Government of Canada, Government of Canada, Ottawa, ON, pp 275–328, http://adaptation.nrcan.gc.ca/assess/2007/toc_e.php. Accessed May 2013

Schneider SH, Semenov S, Patwardhan A, Burton I, Magadza CHD, Oppenheimer M, Pittock AB, Rahman A, Smith JB, Suarez A, Yamin F (2007) Assessing key vulnerabilities and the risk from climate change. In: Parry ML, Canziani OF, Palutikof JP, van der Linden PJ, Hanson CE (eds) Climate change 2007: impacts, adaptation and vulnerability. contribution of working group ii to the fourth assessment report of the intergovernmental panel on climate change. Cambridge University Press, Cambridge, UK, pp 779–810, www.ipcc.ch/. Accessed February, 2013

Smit B, Wandel J (2006) Adaptation, adaptive capacity and vulnerability. Global Environ Change 16:282–292

Statistics Canada (2006) Population and dwelling counts, for Canada and census subdivisions (municipalities), 2006 and 2001 censuses - 100 % data. Statistics Canada. www.12.statcan.ca/english/census06/data/popdwell/Table.cfm?T301&S3&OD. Accessed December 2013

Sukopp H, Wurzel A (2003) The effects of climate change on the vegetation of Central European cities. Urban Habitats 1(1):66–86

van Aalst MK, Cannon T, Burton I (2008) Community level adaptation to climate change: the potential role of participatory community risk assessment. Global Environ Change 18(1):165–179

Vasseur L, Catto N (2008) Atlantic Canada. In: Lemmen DS, Lacroix J, Bush E (eds) From impacts to adaptation: Canada in a changing climate 2007. Government of Canada, Ottawa, ON, pp 119–170, http://adaptation.nrcan.gc.ca/assess/2007/toc_e.php. Accessed May 2013

Wilby RL (2007) A review of climate change impacts on the built environment. Built Environment 33(1):31–45

Wilby RL (2008) Constructing climate change scenarios of urban heat island intensity and air quality. Environ Plann B 35:902–919

Yang J (2009) Assessing the impact of climate change on urban tree species selection: a case study in Philadelphia. J Forest 107(7):364–372
About this article
Cite this article
Ordóñez, C., Duinker, P.N. Climate change vulnerability assessment of the urban forest in three Canadian cities. Climatic Change 131, 531–543 (2015). https://doi.org/10.1007/s10584-015-1394-2
Received:

Accepted:

Published:

Issue Date:
Keywords
Adaptive Capacity

Adaptive Strategy

Urban Forest

Climate Adaptation

Urban Tree